Say goodbye to the "King of Engagement." Social analytics and reporting firm Locowise recently revealed that Instagram engagement continues to trend downward.
How can brands beat this trend? Here are five strategies to get your team started.
1. Be Interactive
Interacting with your following is a must. The most effective way is to like a person's pictures and videos.
When you take this simple action, the user will receive a notification. In most cases, they will look at your profile. And if something interests them, they will return the favor with a like or even a follow.
Kissmetrics cofounder Neil Patel writes, "For every one hundred likes I did on random photos of other users (whom I didn't follow), I generated 21.7 likes on my photos and 6.1 more followers. I did not have to follow people back for this to work."
Take the time to find your brand's community. Then make your presence felt. That may involve exclusive behind-the-scenes photos or simply asking your fans questions.
Scotiabank used Instagram to raise awareness about a credit card program. Their #ThingsOrganizedNeatly campaign consisted of photos of multiple items.
The financial institution challenged followers to guess which movies these items symbolized. The campaign led to a 20 point lift in ad recall and a 6 point lift in brand awareness.
Make sure you monitor your Instagram engagement statistics. With Agorapulse, you can see the results in the "Reports" tab of the tool.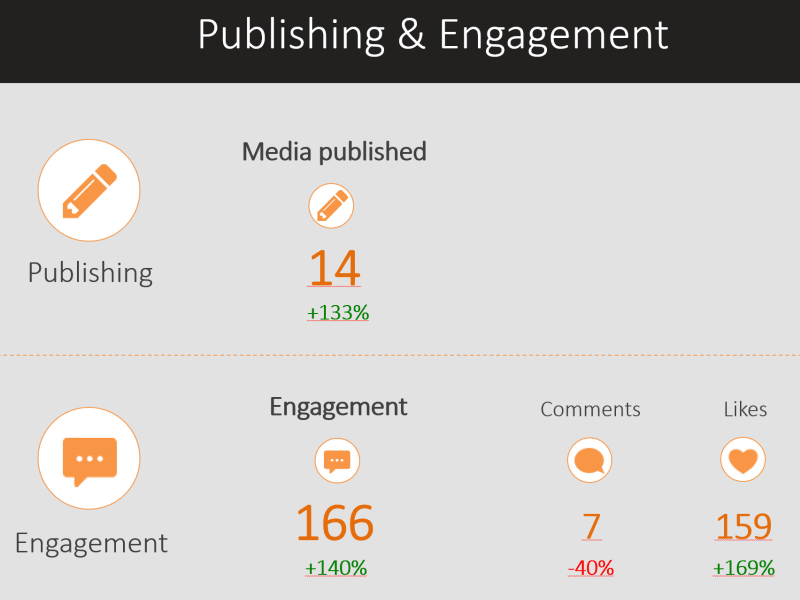 2. Be Photogenic
Research shows that "visual content is more than 40 times more likely to get shared on social media than other types of content." But don't just post any photos.
Select images that will appeal to your follower's interests. The key is to be authentic and to give the individual of value.
Focus on photos that tell a story and represent an idea or express an emotion.
For example, rental car company Skurt uses images to show their audience the endless possibilities of renting a vehicle. They promote a brand culture of freedom and adventure.
3. Be Influential
Sometimes your campaigns will need extra love. That's where Instagram influencers step in.
The best influencers offer a highly engaged audience. And they know what type of content to promote.
Alex Ditty, client operations manager at Seen, states, "The influencers that will most effectively help you reach a new audience are the content creators that are viewed as 'taste-makers' within the interest areas you're promoting. Their credibility and influence can be your brand's asset for effective Instagram marketing."
So start finding influencers in your industry and begin cultivating relationships. Build a partnership that allows everyone to win.
Birchbox partnered with blogger Emily Schuman from Cupcakes and Cashmere. Schuman curated a box of selected goodies for the subscription service company.
Connect with influencers to reach a new audience. These relationships will add credibility to your brand. Agorapulse tracks your conversations with influencers on Instagram.

4. Be Open
Your followers are great brand ambassadors. And often the best sources of content.
Want more posts with your products? Then ask for them.
Ask your followers to post pictures and videos that represent your brand. Be open to sharing the spotlight with your fans. You might even want to incentivize contributors with rewards.
Camera manufacturer GoPro highlighted their customers. They asked fans to submit photos from their GoPro cameras at the Bonnaroo Music Festival.
Image Source
Increase brand visibility by creating and using brand-specific hashtags. Brand hashtags provide a simple way to locate and promote user-generated content.
GoPro leveraged the excitement of the popular event. All the experiences were captured under #GoProMusic.
(Just be sure that users know that you will use their content. Here's a primer on proper etiquette for Instagram reposting.)
5. Be Assertive
Everyday, brands bombard customers with roughly 5,000 ad messages per day. That means your team only has a few seconds to gain your follower's attention.
Therefore, it's important to put the right message in front of the right audience. And if you want your fans to take action, just tell them.
"Start by selecting the action that you'd like your audience to take – and work on getting them to take that action consistently on social media. You can select anything from visiting your site and making a purchase to tweeting, sharing or commenting," writes Courtney Ramirez, director of content strategy at Endurance Marketing.
Reebok writes straightforward calls-to-action. In the post below, they ask followers to tag their running partners.
Earn Instagram Engagement
Even though trends show that Instagram engagement is decreasing, your brand can do something about it. Why not start by using one of these tips today?