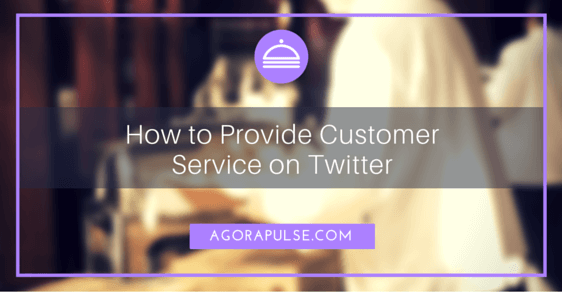 Social media has not only changed the way we connect with each other, but how brands engage with their customers. And as the social sphere continues to evolve, more businesses are looking for ways to better interact and connect with customers to build stronger relationships and improve the customer experience.
One way companies provide better service is by empathizing with their customers to better understand their thoughts, personality, and circumstances. Businesses need to take time to listen to their customers and collect feedback to improve customer relations.
With numerous customer-centric brands utilizing Twitter, and conversely, with their consumers being active on Twitter (especially when they have something to complain about), Twitter is an essential channel on which to focus.
Here are a few suggestions and examples to help you provide better customer service on Twitter:
Respond in a Timely Manner
How many of us have ever experienced a delayed flight? (Raises hand!) And what do many of us do at the airport when our flight is delayed? We vent.
Here's an example of how @JetBlue stepped up on Twitter to handle a complaint.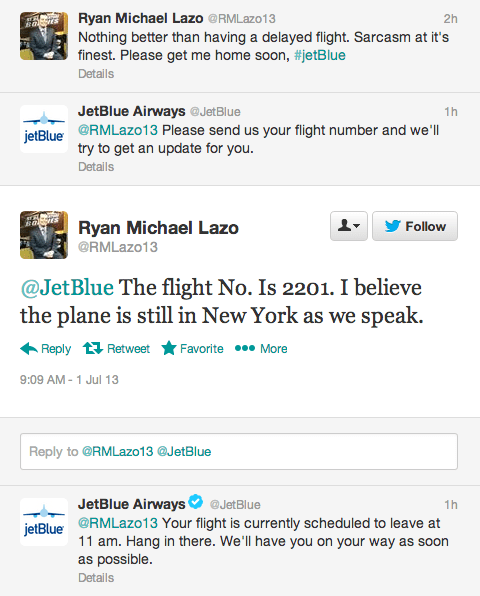 Jet Blue understands good service is important for continued customer loyalty. As a result, they not only engage with happy customers, but they also respond to and help frustrated customers as quickly as possible. Their #FlyingitForward initiative also provides patrons with tickets to enhance brand loyalty.
Their quick response in the above example allowed Ryan to have nearly real-time updates that his fellow passengers may not have received. While Ryan could have otherwise left the situation feeling upset at Jet Blue for his delayed flight, he likely left on a positive note knowing his sentiments were acknowledged.
Use Customer-Service Focused Twitter Handles
Although Nike is a huge company, it's clear they care about their customers' needs. Their brand is comprised of different types of sports equipment and lines of apparel. While Nike manages a number of Twitter handles to accommodate followers interested in specific sports or store locations, @NikeSupport is strictly dedicated to responding to customers that need assistance.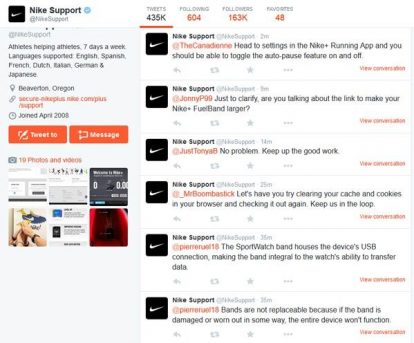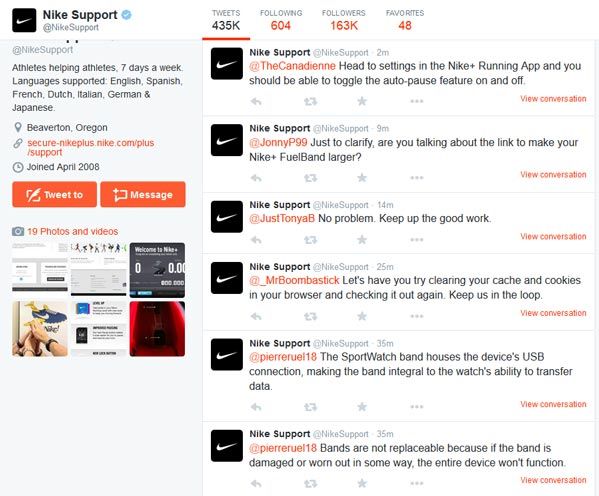 This is a prime example of a Twitter account designed to aptly handle customer service. This account constantly responds to followers on Twitter, whether it's about their apparel, Fuel Band, or other products. As you can see in this screenshot of their feed, they respond to someone new every few minutes.
Personalize Your Twitter Account to Create Enhanced Customer Experiences
Zappos is one company in particular that's known for exceptional service and a quirky reputation. This is showcased significantly in their @Zappos_Service Twitter account. Like Nike, the customer-service based account is dedicated to support.
However, they inject a lot of silliness to the account, which adds a more personalized element.
Ahhhh, there's not much better than a fresh @Zappos box for a Friday morning catnap. pic.twitter.com/23ukZzM3it

— Purina Cat Chow (@CatsOutOfTheBag) September 25, 2015
I mean, how can you really complain to a brand posting cat photos? Additionally, this account is staffed 24/7, so they constantly provide a uniquely hands-on and personable voice, tweeting when a support rep's shift starts and ends.
Hey folks! Michaela here! I'm feeling fine and dandy on this beautiful Thursday morning. Happy National Hamburger Day! =) #weloveburgers — Zappos.com (@Zappos_Service) May 28, 2015
Create Twitter-Centric Experiences for Fans
A few years ago, Whole Foods generated a lot of buzz by hosting "Twitter Tastings" where they lead a virtual tasting tour of featured Bordeaux wines.
What's Twitter Tasting, you ask? Participants printed out their tasting sheet ahead of time, then at the appropriate time, could either join the chatroom or simply follow the designated account and the #WFMWine hashtag and to partake in an open discussion with people all over the country who are sampling the same wines together.
The first Twitter Tasting they did was around the holidays when they encouraged participants to sip, swirl and talk about six of their "Top 10 Holiday Wines."
To this day, people on Twitter still use this hashtag when discussing wines. What's equally impressive is that individual Whole Foods locations across the US often chime in to share wine news via the hashtag.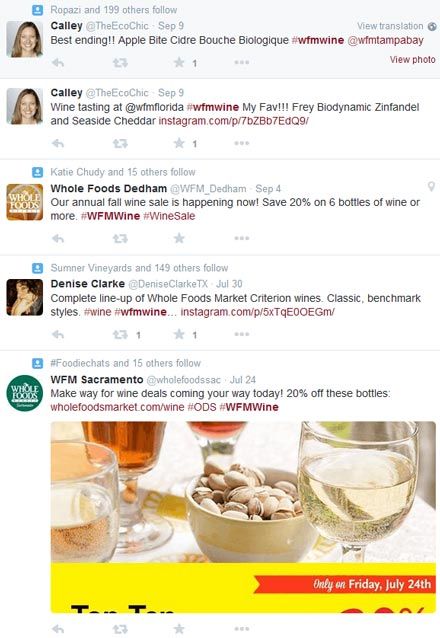 Stay Organized
You might in theory be completely committed to customer service on Twitter. But if you're not super organized, putting that commitment into practice can be tough.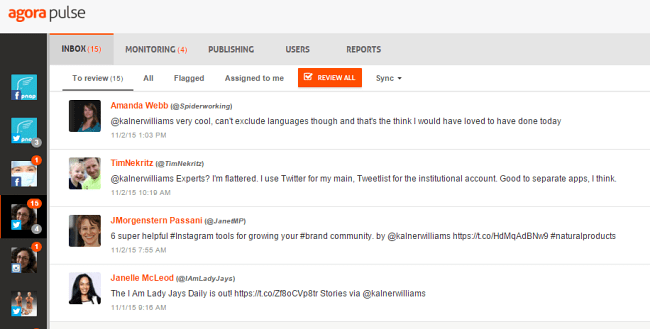 Luckily, Agorapulse offers a unified inbox that collects all your brand mentions, replies, and direct messages in one location. That makes monitoring your conversations a much easier process.
(Want to try Agorapulse? Sign up for a free trial!)
Regardless of how you approach your Twitter customer service strategy, as long as you acknowledge your fans' sentiments, create unique experiences, and stay human, you're likely to keep your customers happy and loyal.
What is your business' approach to customer service on Twitter? Let us know in the comments!