Twitter Audio Spaces is Twitter's answer to Clubhouse. These are voice-only chat rooms where you can have conversations with people on Twitter directly. No hair or makeup required. You can take part in spaces while you lie on the couch, in your PJs. Just click in, and join a conversation.
Conversations aren't recorded, they are raw and in the moment—meaning that conversation runs freely.
Social Audio's Popularity
Clubhouse is the pioneer in the audio space. The invite-only social network saw massive growth towards the end of 2020 and in early 2021. One of its early adopters was Twitter's Jack Dorsey. He clearly saw potential in an audio-only tool, and soon Twitter started work on its own version.
The benefit of attaching an audio chatroom to an existing social network is that they didn't need to grow users from scratch. It gave existing Twitter users the opportunity to dive straight in and get to know their audience better.
Clubhouse seems enticing … but it means setting up a new profile, learning a new tool, finding out best practices, finding your way around. With Twitter Spaces, you can dive straight in.
Twitter Spaces are available to both iOS and Android users, and they are working on a desktop version. Almost anyone can use them.
They've also launched with auto-captioning built-in.
How to Join a Twitter Space
When someone you follow is currently participating in a Twitter space, you'll see a purple circle around their profile picture at the top of the screen.
That circle will expand to include the faces of all the people in the chat.
If you want to join in, click on the purple circle to preview the space.
Here you can see who is in the space and the topic (if it's been set) before you enter.
Click "Join this space" to listen in.
Now you're in you'll see the room participants and their status as Host, Speaker, or Listener. When someone is speaking, you'll see the sound wave icon next to their name.
To find out more about people in the room click on their profile picture. You'll see a snapshot of their bio and the option to follow. Click on their profile to see more from them. Don't worry the space won't close. It will remain active at the bottom of the screen.
What If You Want to Speak?
Do you want to join the conversation? You can request to speak by clicking the microphone icon at the bottom left-hand side of the screen.
A host may also invite you to speak. When this happens, you'll get a notification on your screen. You can choose if you want to accept the invite.
Other controls at the bottom of the screen are:
The heart icon. This gives you a selection of reactions, when you choose one of those it animates in your profile picture. It's a great way to show appreciation to a speaker.
The people icon. Click this to see everyone in the room filtered by their role as host, speaker, or listener. This is handy in busy rooms where participants fill more than the main screen.
The share icon. Click this to tell people about the space. You can tweet about the room, share it in a direct message or get a direct link that you can share elsewhere online.

What Happens When You Become a Speaker?
Always wait to be introduced by the host before taking the microphone, ensure that your microphone is unmuted, if the microphone icon is red at the bottom left-hand side of your screen tap it to unmute.
How to Host a Twitter Space
Not everyone has hosting privileges yet. Twitter is rolling it out slowly.
Twitter users who have been given hosting permissions have been adding a purple circle emoji to the beginning of their name, so that others can see their status.
If you search for 🟣 you'll get a list of Space hosts.
When it's your turn, Twitter will send you an onscreen notification to tell you that you can now host spaces.
To start a space, hard press on the tweet icon at the bottom of the screen and select the icon of the purple space.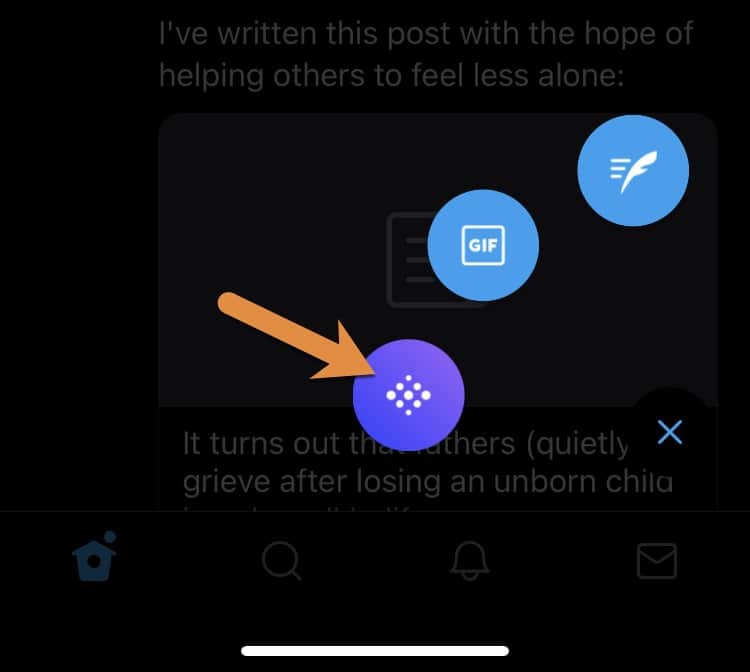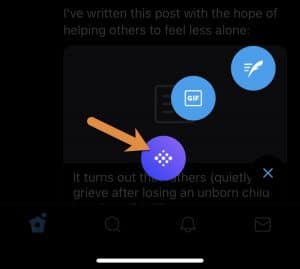 Give your space a name. This will be visible to anyone who visits your room so make it relevant to the discussion you are having. You can change this description during the chat too. You have 70 characters so be concise.
How to Adjust Settings in Twitter Spaces
Click on the three dots at the bottom of the screen and "adjust settings."
Here you decide who can speak in your room. Choose from Everyone, People you follow, or Only people you invite to speak.
You can also switch on "view captions" and "sound effects" here.
What Should You Use Twitter Spaces for?
Hearing the voices of the people you've only known via text updates and photos in the past is a revelation.
You'll feel more connected to your followers because you can hear them. You'll also find new people to connect with and have conversations with.
But as a marketer or a digital agency, what sort of spaces should you create?
Quick ideas
Weekly networking events
Interviews with experts
Interviews with your staff
Conference after-hours chats
Share your expertise
Focus groups and feedback on products
Chats based on specific topics
Book clubs
Whichever you choose, I'd recommend preparing some questions or themes, so that you can keep the conversation going.
How to Get People to Join Your Twitter space
When I got Twitter Spaces, I started a space immediately and sat there, waiting for people to join.
But no one came.
As Twitter spaces are reasonably new, many Twitter users don't understand what the purple circle at the top of their feed means. Even if they do, they could be reluctant to join in.
This is where Clubhouse has the edge. People join the Clubhouse specifically to join audio chats.
On Twitter, it's one of the many features we can use. You need to attract people and to do that you need to promote it.
But how?
Here are a few ideas:
1. Tell people in advance
If you are planning on hosting a space, tell people about it. Tweet about it, tell people what time, what the topic is, who your guests will be. Don't limit it to Twitter. Tell people on other social networks, tell your email list.
2. Create promo graphics and videos
You can go all out and create a graphic about your space and share it widely. Like this one from May King Tsang.
If you're an Agorapulse user, you can take advantage of our Canva integration to make graphics and share them easily.
3. Invite guests in advance
When you start a space, the purple circle will appear at the top of the feed of your followers.
When others join you, their followers will also see the space. So, you'll be broadening your audience.
Invite some guests in advance, agree on a topic, and some of the questions that you'll address. That will get your space in front of more people and make it more enticing to join.
4. Make your Twitter space a regular event
It's easier for your audience to remember to join your space when it's at the same time each week.
You'll find the same people popping in and your community will grow as they help you spread the word.
May King Tsang runs a weekly FOMO chat every Wednesday, which has regular participants and always attracts new people.
5. Connect your Twitter space to something else
Madlyn Sklar runs a weekly space after her weekly Twitter chat. She invites her guest and it gives her audience a chance to put questions that came up during the chat directly to the expert.
A2b: I host the #TwitterSmarter "after" chat every Thursday at 5pm ET in Spaces along with my co-host @cgritmon. It's been a fun way to continue the conversation with our community. It's quite magical when you hear everyone's voices. #BookMarketingChat pic.twitter.com/gSJQyFQc9F

— Madalyn Sklar  Digital Marketing since 1996 (@MadalynSklar) April 8, 2021
By promoting the space as part of her chat, she's guaranteed to have a busy space.
You could also connect your chat to a conference, event, or TV show.
6. Invite people
Click the share button at the bottom right-hand side of the screen, choose from "Invite by DM," "Share via Tweet" or "Copy link."
Try all three. A tweet to your timeline could attract new people, invite specific people by DM and share the link widely online.
When you do this be sure to tell people what's in it for them if they join. Will they get to talk about their business? Ask a question to an expert, learn about a specific topic. The more interesting you make it sound, the more likely they are to join.
Bonus Tips for Twitter Spaces
Twitter spaces are evolving fast.
Here are two bonus features you may have missed.
Share tweets to your space
If there are specific topics or stories you are covering in your space, you can add tweets.
To do this click into Twitter, find the tweet, click the share button underneath the tweet, and right at the top, you'll see the option to share to the space you are active in.
Any speaker in the space can share tweets, so you could get a team member to handle the tweet sharing as you host.
Switch account during a space
If you're in a conversation and you realize that other participants would be great people to follow from your business account or a client account, you can switch without leaving the space.
The account must already be linked to your app to do this. Minimize the chat window, switch accounts, and maximize the chat window again.
Switching account keeps you connected to the space from the original account, but you can dip in and follow people in the space from the account you have switched to.
In Conclusion
Audio content is a trend right now but it's a trend I can see sticking. Social audio gives us a way to connect more strongly with people without having to worry about what our hair looks like. So, it's going to attract more people than video conferencing as you don't have to be on screen.
Twitter offers the ideal place to have these chats with our existing audiences—meaning we can forge deeper relationships.
Ready to take control of your social media? Start your free trial with Agorapulse!