Advertising on Facebook can be a tricky feat. There are options galore and it can be confusing to figure out where to start.
In deciding what type of advertising to do on Facebook, it's best to first assess your goals:
Are you trying to drive traffic back to your website?
Or are you trying to activate your fans to be more vocal on social media?
Depending on what you're trying to accomplish, specifically-targeted Facebook advertising can be beneficial for various reasons (with "targeting" referring both to the folks you're trying to target as well as what you're striving to accomplish with your ad campaign).
While individuals often complain about a lack of privacy on the ever-popular social network, the fact that Facebook does know so much about its users is actually a goldmine for marketers as it allows them to pinpoint their precise audience or ideal customer.
Even so, where do we start?
First, let's review our Facebook advertising options:
Right-Rail Ads
Right-rail Facebook ads are ads that appear in the right sidebar of Facebook when a user is logged into the platform. They are similar to Google ads in the sense that you upload a specific image, text, and link to a website.
Their recently-updated look makes right-hand column ads more visually consistent with the ads that appear in News Feed.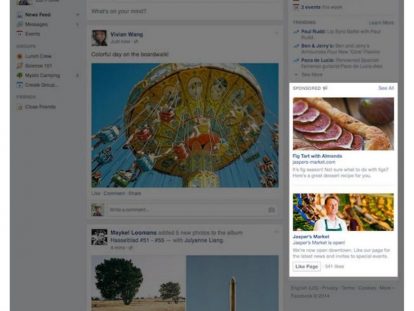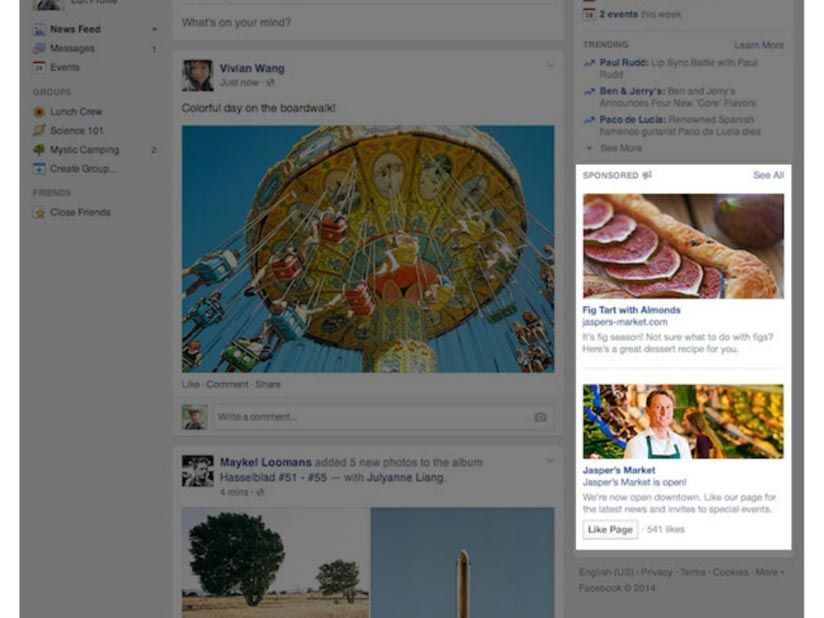 These are great to use when you're trying to drive traffic back to your website as opposed to trying to boost engagement on your Facebook page.
News Feed Ads
News Feeds ads are ads that appear in a user's newsfeed. These are more inconspicuous than right-rail ads since they blend in with the other posts in the feed.
While a right-rail ad is limited to 90 characters, news feed ads allow you to feature up to 500 characters, allowing you to tell a more substantial story.
You can also include a larger image and call-to-action button. A user is also given the opportunity to seamlessly "Like" the page from right there in the feed without having to click elsewhere.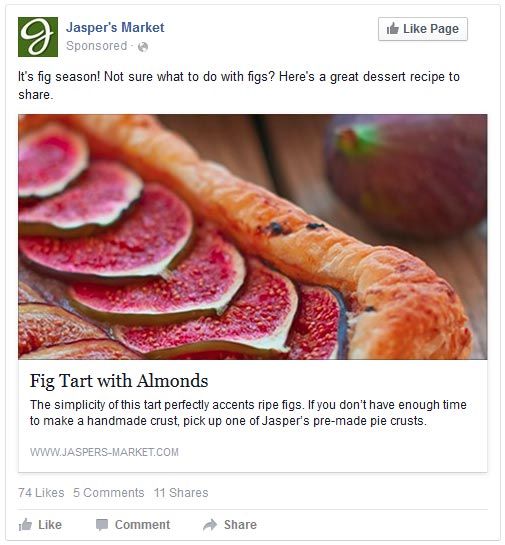 This ad option is well suited to driving additional exposure to both your brand and Facebook page.
Boosted Posts
Facebook has decreased the organic reach for pages resulting in only a small percentage of a page's fans actually seeing most page's posts.
The optimal way to increase reach expand brand visibility in a community's news feed is to utilize an advertising budget to boost posts.
Boosted posts increase overall exposure and drive increased engagement which leads to a halo effect of residual reach and engagement.
It's a simple and easy process – posts are boosted right from the Facebook Page – and you can boost a post for any amount you want.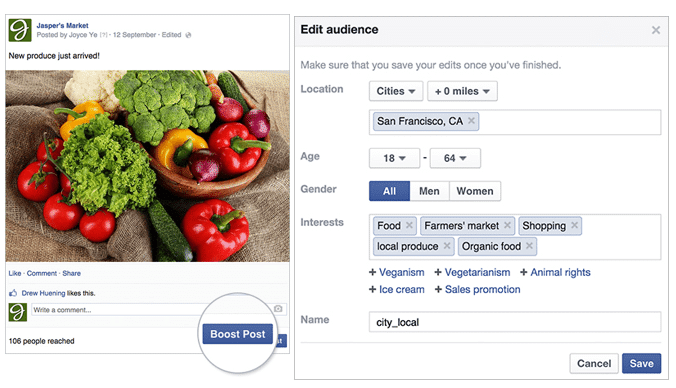 It's often beneficial to supplement these two ad types as well. The additional visibility and functionality that boosted posts provide will help to substantially enhance post reach and engagement of fans that've been acquired while the right-rail ads can focus more on driving traffic back to your website, for example.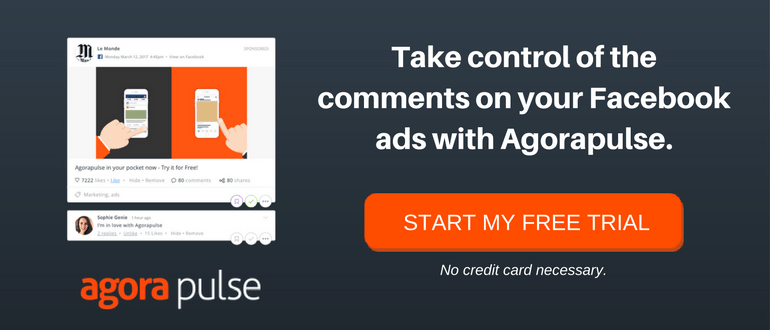 Learning from the Competition
If you're looking for case studies for inspiration, AdEspresso has a variety of sample ads and accommodating data surrounding their performance. You can search by placement, industry, objective, and attributes.
For example, if you're in real estate and want some inspiration for how other agents and real-estate-geared brands are positing their Facebook ads based on their specific objectives, you could do an AdEspresso search by industry to attain some samples. That's what we did for the following real estate examples.
Zillow for Pros, a premier agent resource, recently ran an ad promoting their free listing guide:
Listings are gold. Are you doing everything you can to get more of them? Download our FREE guide to learn more.
Posted by Premier Agent – Zillow & Trulia on Tuesday, December 30, 2014
There are several ways Zillow optimized this ad. First, they created a custom image with supplemental text that relayed the benefit of what they're offering.
In addition to making a bold statement, asking a question directly to the reader, and then offering a solution to a problem in the post text itself, they also customized the link text and explanation.
In regarding to targeting, Zillow targeted folks in B2B, B2C, Education, and Real Estate industries. They placed this ad on desktop only as they reckon one would be more likely to download and peruse a marketing guide while on a computer as compared to a mobile device.
Contrarily, when Redfin wanted to run an ad encouraging users to download their app, they did a mobile ad placement to make it easy for mobile-savvy users to download the app right then and there when they see the ad on their phone.
Adding Instagram to the Mix
Another aspect to consider is that businesses can now set up and launch their Instagram ad campaigns through Facebook's Power Editor.
This allows for seamless set up of targeting, budget, creative, etc., in the same way a Facebook ad could be set up.
The views of these can also be customized, such as desktop vs. mobile, the design of the ad, etc.
In November, Starwood Hawaii launched their "Share the Aloha" initiative. They were able to create ads for both Facebook and Instagram with the same particular targets to help ensure the campaign was being positioned to the most ideal audience.


Whether you're brainstorming your advertising strategy for Facebook and/or Instagram, there are various elements to consider to ensure you launch a successful campaign.
Assessing your objectives, learning from others, and figuring out how to best optimize your campaigns will assure you reach Facebook advertising success!