Facebook's Collection Ads are an incredibly valuable, high-converting ad format. But many companies failing to use them. Here's why you need to make Collection Ads part of a social media strategy.
Facebook Ads currently has more than 7 million advertisers spread out all over the world and across all industries. Everyone is trying to snag their own piece of that Facebook Ad pie, but some businesses are struggling.
One reason for that struggle is that Facebook Ads has a highly competitive marketplace … and that's even before you account for the fact that your ad will have to fight to grab user attention in an already overloaded and heavily competitive newsfeed. Costs can go up, and sometimes brands pay for too many clicks or impressions that just don't convert, which drives their ROI way down.
If you've ever felt stumped by Facebook Ads (and even if you haven't), you should turn your attention to Facebook's Collection Ads. They are yielding incredibly high engagement and conversion rates, even on mobile.
In this post, we'll dive deep into how to use Facebook's Collection Ads to attract your audience's attention on mobile, earn clicks, and drive sales.
What Are Facebook's Collection Ads?
Facebook's Collection Ads are a relatively new ad format, having just rolled out within the last year. They're a mobile-only ad format (at least, for right now), and designed to appeal to mobile users.
In terms of design, Collection Ads are a little like powered-up carousel ads. The goal is still to feature multiple products—but in a mobile-friendly way that showcases as many items as possible at once.
You still get a few lines of ad text. Then you choose a "featured" image or video for the ad that will show up large, taking center stage. And then, you can choose multiple products to feature underneath, showing users more of what you have to offer.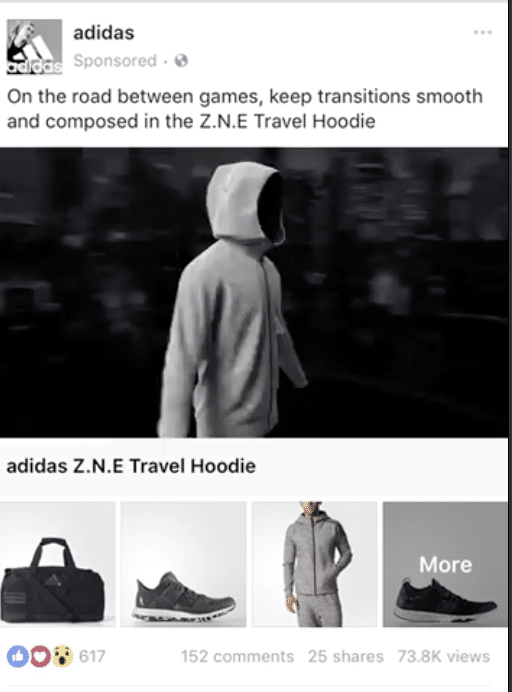 When users click, they're taken to a large product feed, which shows them all the products in a relevant collection that they can scroll through. If they click on one, they can be taken to the product page or to the site page of your choosing.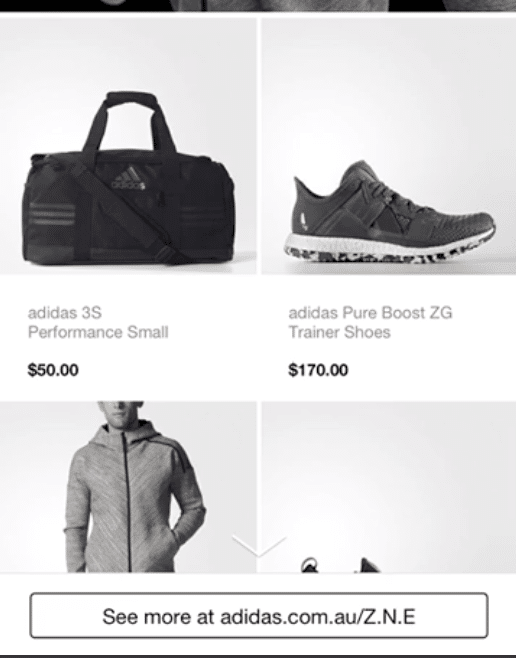 These sales-oriented ads show users products in a way that's fast and efficient.
Why Collection Ads Are So Appealing to Brands
While mobile currently holds the largest share of online traffic at 53% of all Internet usage, mobile has also consistently had weaker conversion rates than desktop.
This isn't too surprising overall … Users typically want to do more research on desktop, where they can search faster and have more tabs open at once. Even the thought of entering your credit card number into a tiny mobile checkout page can make any person shudder at least a little.
Mobile is a bit of a missed opportunity for many brands, though. Mobile actually accounts for over 90% of all of Facebook's ad revenue.
The thought that all those ad dollars spend may not be leading to direct conversions is more than a little painful, even when accounting for the fact that plenty of ads will focus on video views, lead generation, brand awareness, and other objectives.
Facebook Collection Ads are a way to close that gap, at least a little bit.
Multiple case studies have proven them to have incredibly high-converting potential even though they're a mobile-only format.
Examples
Ashley's HomeStore ran Collection Ads that resulted in 35% lift in sales, 8X incremental return on ad spend, and 3.26 million people reached.
Sephora used Collection Ads to drive a 32% higher ROAS than previous digital campaigns, a 41% higher click-through rate, and a 30% increase in reach.
Audi's Collection Ads drive a 9.1% lift in conversions on the site, 11.7% life in lead form submission, 31-point lift in ad recall, and a 17.5-point lift in favorability, showing that they can work even when immediate sales aren't an option due to the product you're selling.
Collection Ads are definitely a powerful opportunity to drive conversions on mobile.
How to Set Up Collection Ads
When you're creating your Facebook Ad campaigns, the option for Collection Ads will be during the creative part of the process.
You must have either Facebook's or Instagram's feeds enabled as a placement to utilize them. They're available for:
Traffic
Catalog Sales
Conversions
Store Traffic objectives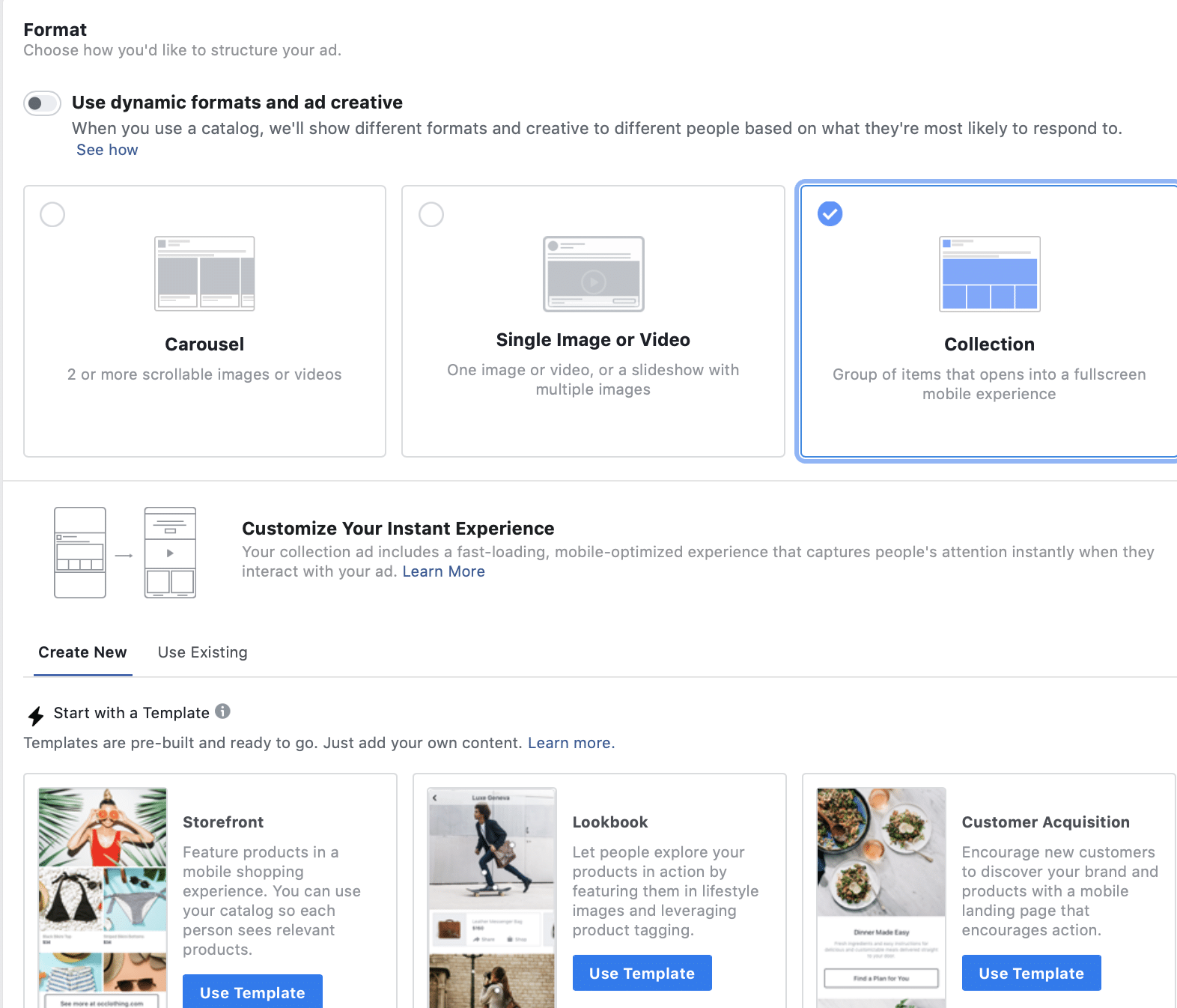 You'll then set up the Instant Experience that will open when the ad is clicked. You can choose from different templates (pictured above) or create your own.
Once you do, you can add products from a single product catalog, choosing which ones you'd like to feature most prominently.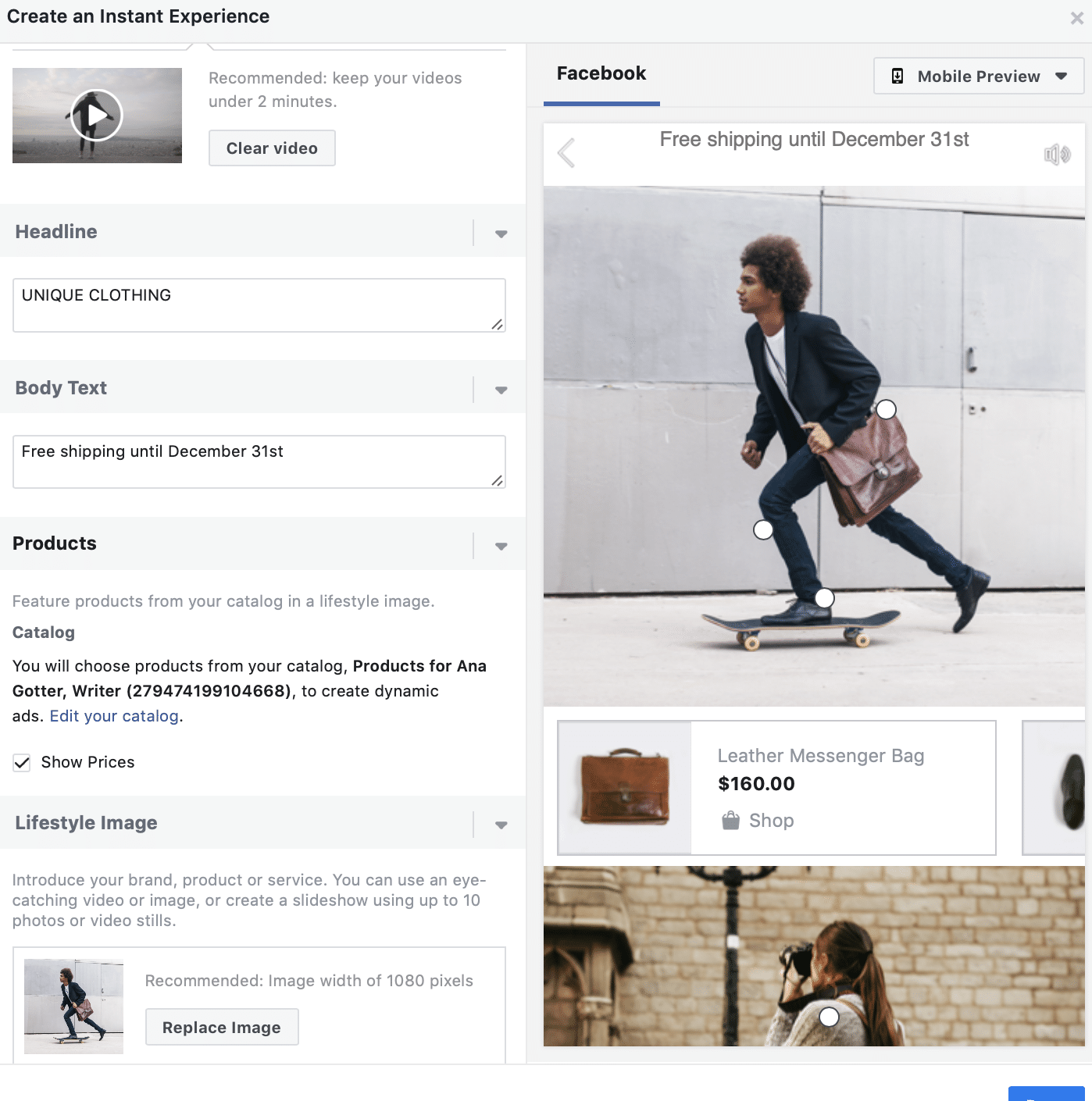 If you don't have a product catalog set up, you'll need to do this first through your Business Manager.
Keep in mind that product catalogs aren't just useful for Collection Ads; they can also be used to create high-converting, retargeting-driven dynamic ads, too.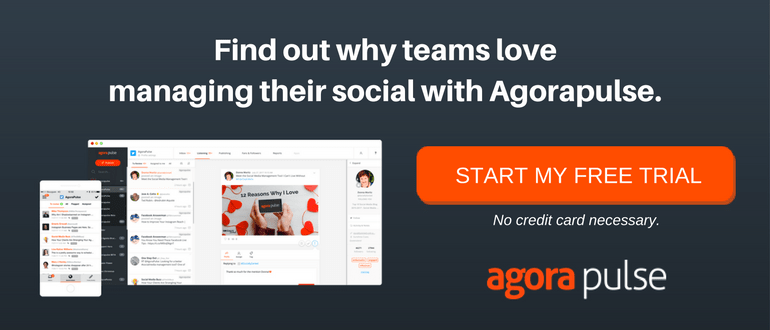 Facebook's Collection Ads Best Practices
Now that you know how to set up your Collection Ads, let's take a look at a few best practices that will help you maximize your potential conversions.
1. Create themed ads
Some businesses try anything to see what works, especially regarding Collection Ads. So, I get the appeal of featuring as many diverse products as possible, especially lower in the sales funnel when you aren't sure what products will appeal to which users.
That being said, sometimes the best way to stand out is to run targeted, niche ads that strongly appeal to a single audience (rather than slightly appeal to a large one).
Below is a perfect example from Zales.
This company has an extensive array of jewelry from a number of different brands and designers, but it created an ad campaign focused on something incredible niche: Disney's live-action engagement rings. Those rings would only appeal to a very small niche of customers, but they have a higher likelihood of driving conversions and grabbing attention from these customers because of the unique ad.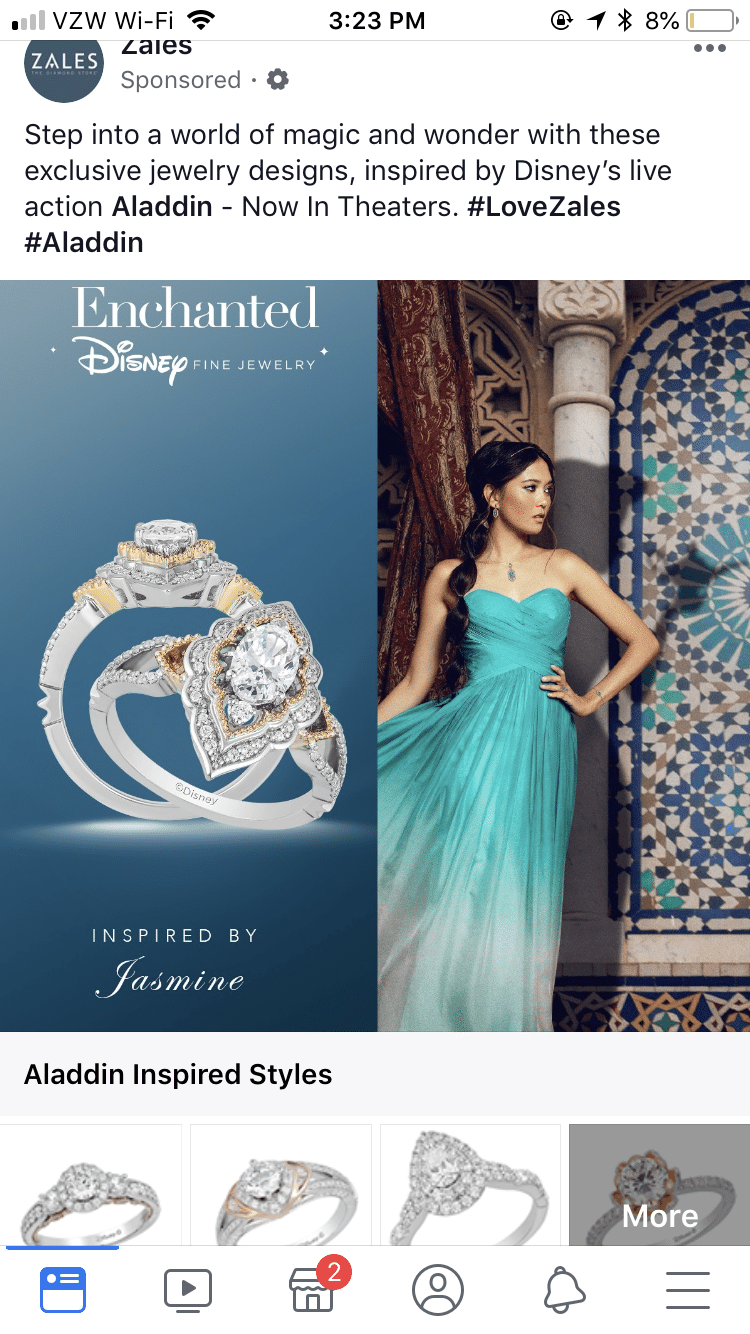 Think about interesting ways that you could group your products together that would work well targeting niche audiences. A sporting goods store could have unique Collection Ads for kickboxing, yoga, and fishing individually, for example.
2. Promote timely products
Timing can be everything in driving sales quickly. Very few people, for example, are going to jump to buy a winter coat and cashmere scarf in the dead of July. But show them scarves around the end of November, and it's a different story.
Timely products can catch users who are ready to purchase—or who will be soon. And the term "timely" can be flexible, applying to a time of the year or a big event that's going on right now.
This ad from Williams Sonoma, for example, is promoting the Star Wars-themed Le Creuset, counting on the interest and passionate fanbases eagerly awaiting the last movie of the current trilogy.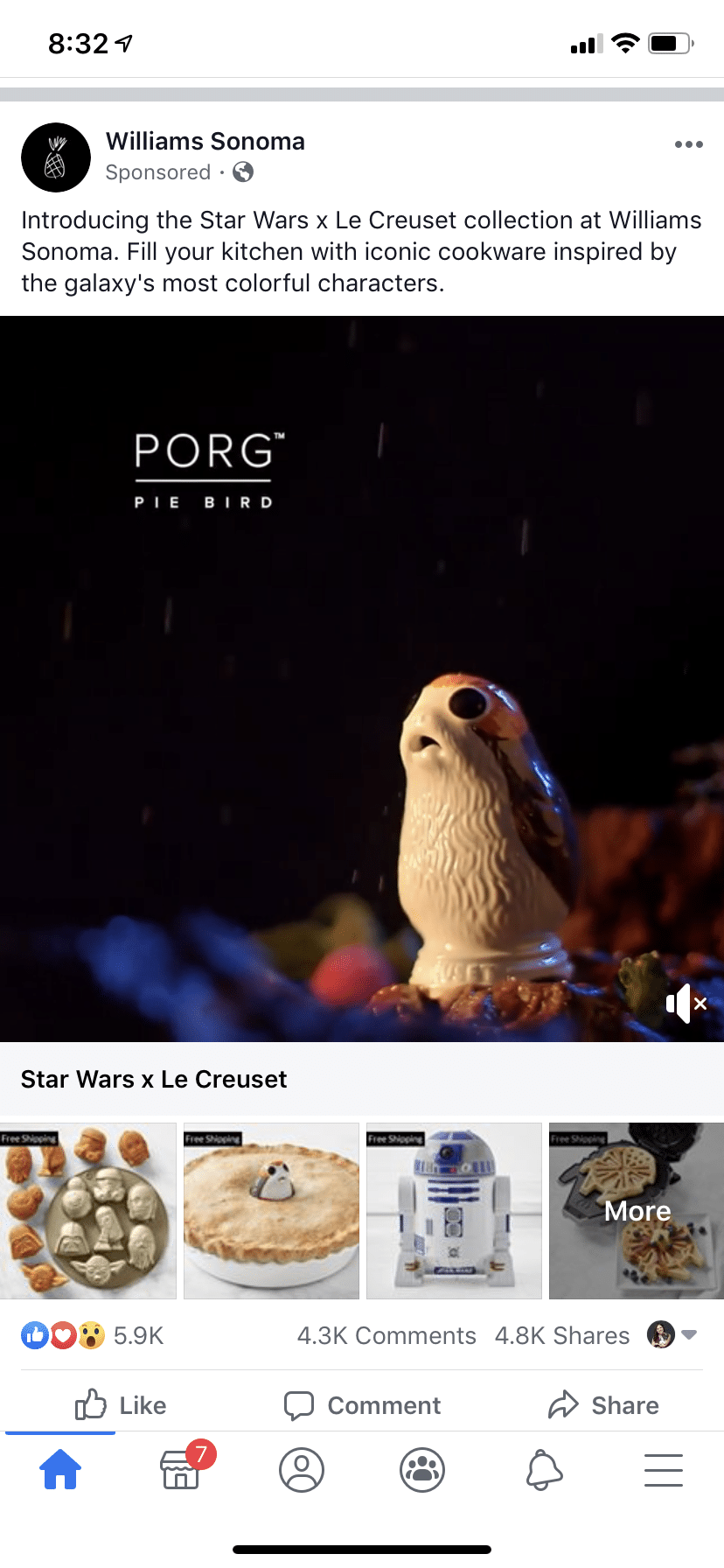 3. Leverage video to pique interest
Video is a huge asset in Facebook Ads. Collection Ads, of course, are no different.
Using a video as your "featured" media is often a great choice, allowing you to add context to the ad and draw attention. Almost all your product images will be on plain backgrounds, so you want to leverage this opportunity for all it's worth.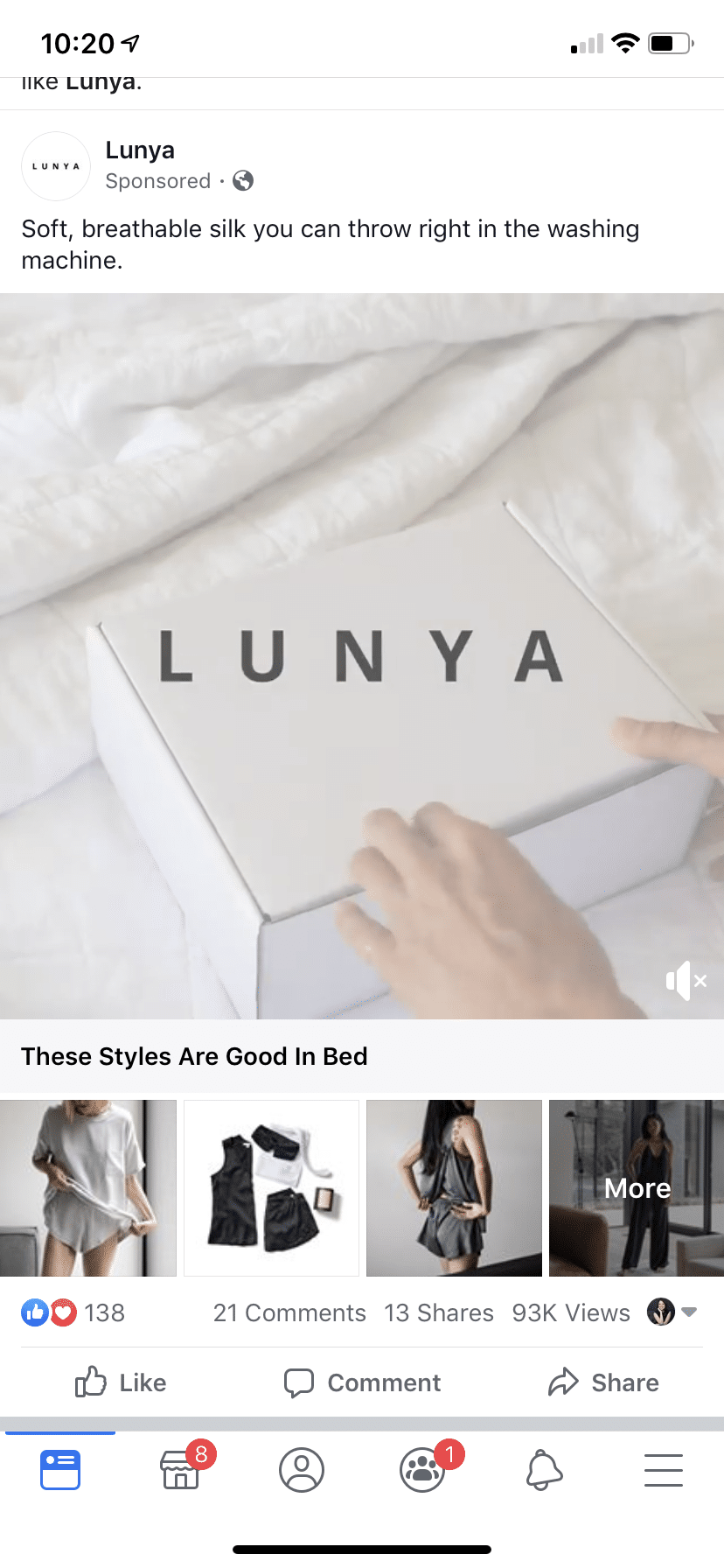 In the above example, Lunya uses an unboxing video. The silk pull out of that box cascades over the holder's hands, showing the quality of the fabric. Once users are paying attention, they're then ushered to review the other products, all made out of that gorgeous, luscious silk.
4. Incorporate UGC
User-generated content (UGC) is a huge asset to ad campaigns in general; they can go a long way to strengthen your Collection Ads, too. Featuring testimonials in some part of your ad can increase the likelihood of conversions.
Tieks uses UGC well in the example below. It has a video featuring testimonials alongside different customers' favorite pairs of Tieks. This is a smart way to show off a variety of products. Underneath the featured video, the company uses the product images to show off each product featured in the video. Doing so makes it easy for customers to find the pair that caught their eye … and to purchase.
In Conclusion
Facebook's Collection Ads are an incredibly valuable and high-converting ad format. They can help close that forever-stagnant gap between high mobile engagement and low mobile sales, which has huge potential profit.
If you're selling any kind of physical products, consider at least testing Collection Ads to see how they work for your business. Especially with the holiday season coming up, there's no time like the present to find out!
* * *
Get started on saving time and energy on your social media management! Check out our free trial of Agorapulse to help you schedule, track, and measure all your social media efforts.