A great way to measure your social media progress, and get a snap shot of your current social media status, is to complete a Facebook competitive analysis for your Facebook Page. What better way to see how you are progressing than by seeing what your Facebook competition is currently doing and how you measure up against their efforts and their numbers?
Let's learn how you can gain valuable insight into your competitors' current status without them being any the wiser.
In other words, let me show you how to spy on your Facebook competition!
1. Facebook's 'Pages To Watch' Feature
Probably the feature you are most familiar with is the 'Pages to Watch' feature by Facebook.
To find this feature, head on over to your Facebook Page.

Click on 'Insights'
Stay in 'overview' but scroll down
Find 'Pages to Watch' – you will see your own page statistics
You will see a 'suggest pages to Watch list.
In order to see any statistics from your competitors, you will have to select and add pages. Facebook preloads five competitors pages as suggestions for you to add to 'Pages to Watch'.

You can chose to add those five preloaded suggested pages, or pick your own. You pick your own by adding your competitors page names in the search bar. Click 'done' to add each page to the 'Pages to Watch' list'.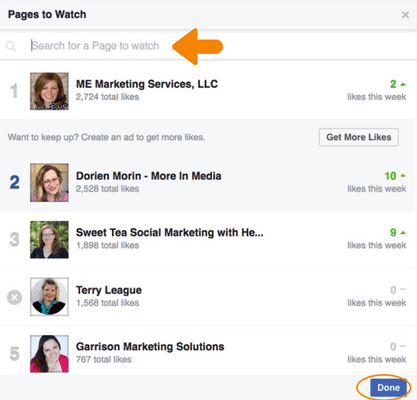 I suggest you select a few local competitors as well as a few industry competitors in a different location from your business. This will give you two different 'metrics' so to speak. You will be able to compare 'apples to apples' with the local competitors as you are dealing with the same local demographics and the same industry, whereas for the industry competitors, you will have other factors to consider as it's more of a 'check to see what my competitors are doing' vs 'check to see what my competitors numbers are'.
Here is what it looks like when you have added pages to the 'Pages to Watch' Facebook feature.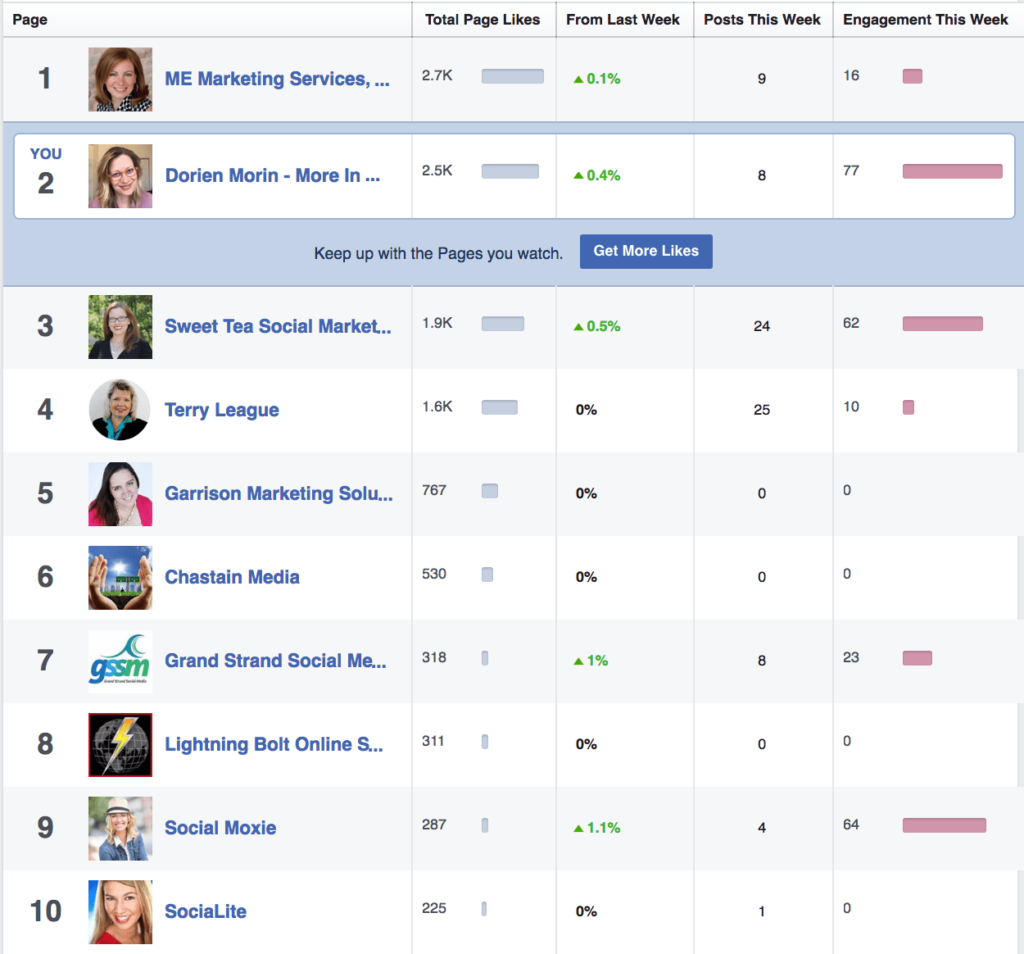 Your own page will be ranked among the other pages by largest number of 'likes'. As you can see in the above image, my page has more likes than most of my direct competition. My 'local competitors' pages are ranked number 6, 7 and 8.
You can track growth from week to week (likes) and how often your competitors are posting to their page as well as the engagement level they have on their page.
A few extra notes about this 'Pages to Watch' feature:
You do not have to 'like' your competitors page in order to put them on this list.
You can add up to 100 pages to this 'Pages to Watch' list.
The pages you add to this list will get a notification that they've been added to a list, but they will not know it's you who is watching them!
2. Agorapulse's 'Competitors' Tab
Agorapulse users have access to another 'secret weapon'! They have access to competitors' data in the 'Competitors' Tab for Facebook Pages.
This is what it looks like.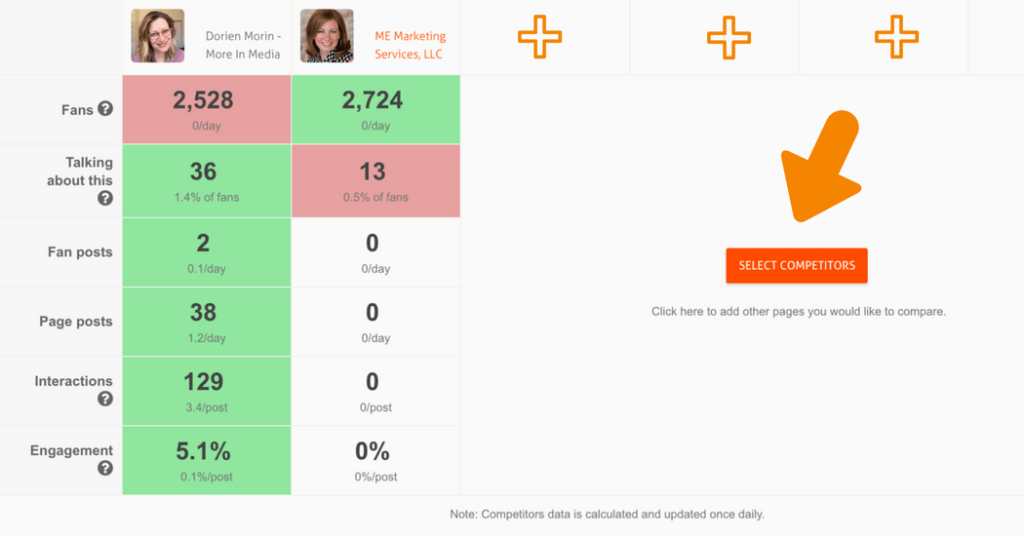 You can add up to five competitor pages in this tab simply by adding the URL of the page you want to watch in the search bar that pops up when you 'select competitors'.
Information will be pulled from Facebook into this tab and you will have instant access to statistics on
number of fans
'talking about this'
number of fan posts
number of page posts
number of interactions
overall engagement
If you like bar graphs… Agorapulse has those too!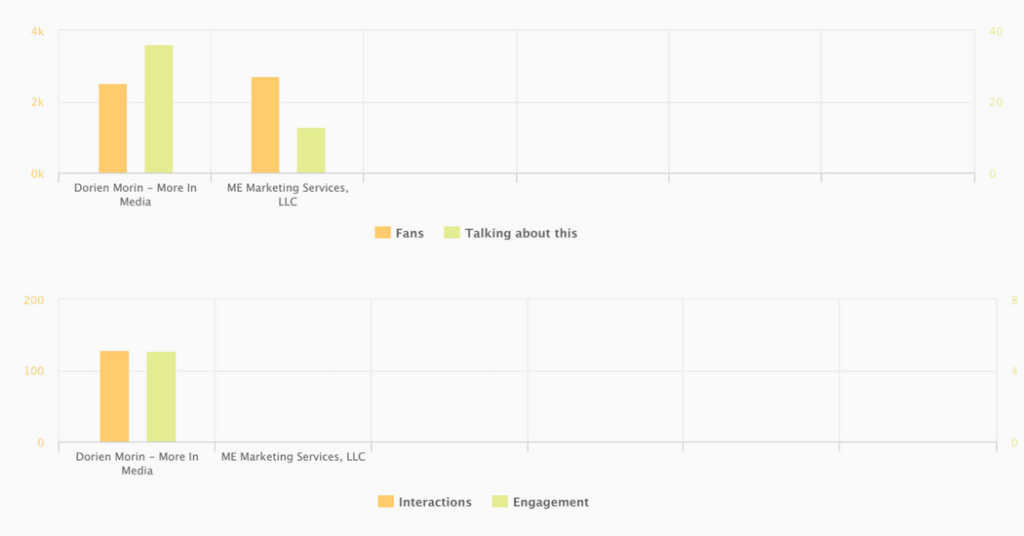 Access to this data is available whenever you login to your Agorapulse account and unlike when you add someone to Facebook's 'Pages to Watch,' your competitor will not know their Facebook Page is being watched.
That makes you a true spy!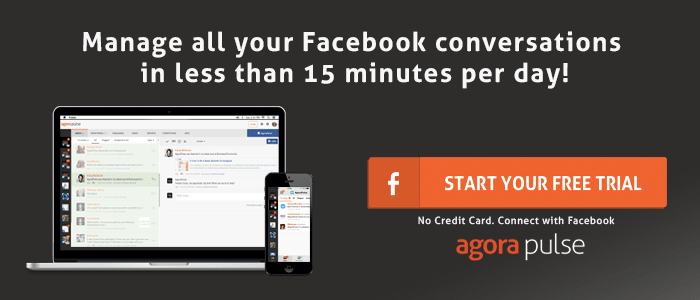 3. Facebook's Pages Feed
Another less known way to see what your competitors are up to is to check your 'pages feed' frequently.
If you've 'liked' your competitors' pages with your personal Facebook profile, their page posts are now visible in your pages feed. I like to use this feature to see who shows up in my newsfeed ('How visible are they?') and it's refreshing to visit this newsfeed as there are no personal Facebook profiles thus no personal Facebook drama!

Find your Pages Feed by clicking on 'Pages Feed' as found on the left hand side of your personal profile or by simply going to https://www.facebook.com/pages/feed.
Are You Ready To Play 'I Spy'?
Keeping an eye on your Facebook competition is smart business. Data is money after all!
Whether you chose to use the Facebook features available, or use our wonderful and super secret 'competitors' tab on Agorapulse, I urge you to keep tabs! You can learn so much simply by watching your competition. And admit it, it is a bit of fun as well!
Happy Spying!
Related Post: How to Use Facebook Audience Insights for Better Targeting