Trending topics are the most talked-about news, and on Twitter, it can help companies boost their engagement, awareness, and clickthroughs.
But most businesses don't have the resources like Oreo to tweet a timely message during a Super Bowl gaffe. So how can you use Twitter trending topics?
Let's explore a few creative options.
Promote Relevant Content
Your team works so hard creating quality content. Why not share it?
Trending topics are an effective tool for spreading your blog posts, infographics, and funny GIFs to new audiences. Consumers then become aware of their shared values.
"Content that's never seen by its intended audience is rendered impractical. In many cases, promotion is a must-have in order to drive notable results. Content marketers can no longer afford to forego promotion; great content is not guaranteed to be found organically," states Eric Murphy, a lead generation specialist at Relevance.
However, avoid inappropriately newsjacking a trending topic.
Aligning your brand with every news event in an attempt to generate media attention is tacky and can repel interested buyers.
Geico promotes relevant content in the right way.
In the example below, the insurance company couples the trending topic #HolidayCrafts with one of its posts discussing inexpensive holiday projects.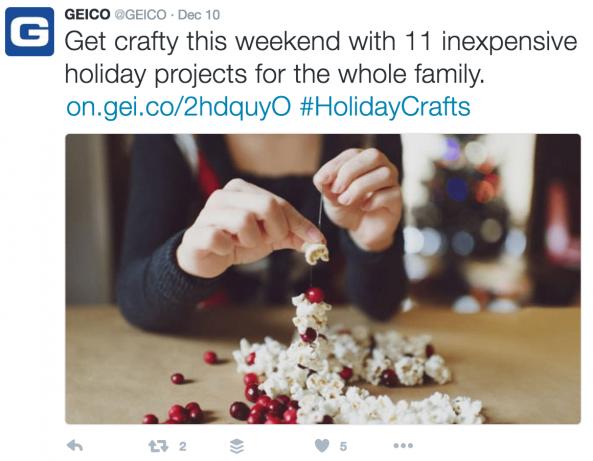 Engage With Customers
Twitter trending topics are also a chance for your team to engage directly with customers. By monitoring the latest happenings, your brand learns more about consumer interests beyond the purchasing process.
When interacting with customers, showcase your brand's personality. Introduce your company in a funny way, use emojis to express your attitude, and encourage people to participate in conversations.
"Twitter is the bar scene, where people let loose and talk to strangers, drop one-liners (or pick-up lines), and engage with personalities from all walks of life," says Gina Mueller, director of marketing at Insightpool.
Like any engagement, it's important to support the opinions and actions of your fan base. Retweet consumer statements that resonate with your brand, and be sure to like any tweets that validate your company's mission and values.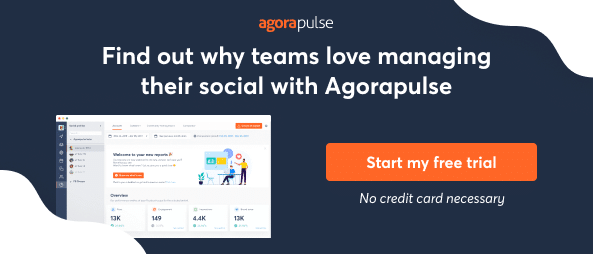 Market Your Services
While Twitter isn't centered around selling your products to customers 24/7, there are a few moments where it might be relevant to your audience.
The use of trending topics is a subtle and less intrusive way to gain consumer attention.
To properly execute this technique, stay away from highly controversial topics like politics, religion, and race.
Instead, get involved with subjects that are light-hearted and silly, such as seasonal celebrations and sports.
Poshcorn UK practiced this rule by participating in #NationalPopcornDay. It's a neutral topic soliciting a myriad of responses from Twitter followers. So this business used the trending topic as a promotional tool to give away products.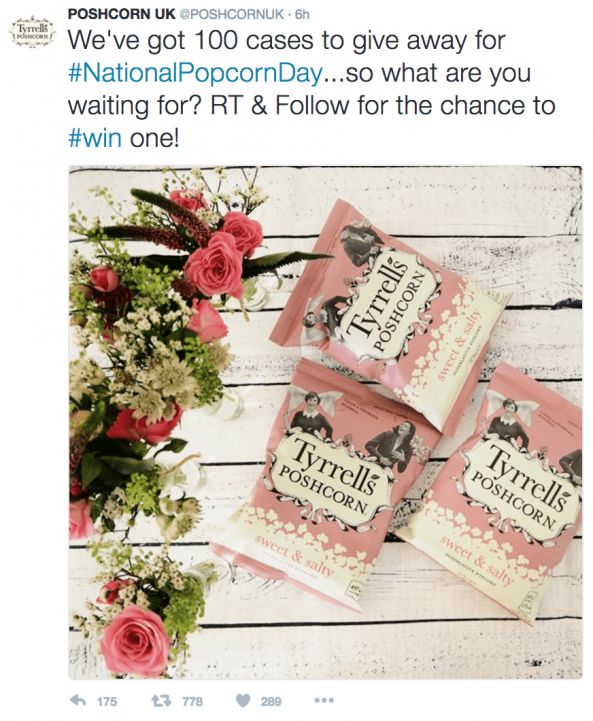 The right hashtag can assist with promoting your services. Be active and spot trending topics to accelerate your sales.
Discover Media Opportunities
Media outlets use Twitter as a tool to find unique stories and sources for their articles. Through trending hashtags, your business can connect with journalists and bloggers seeking quotes.
Before contacting top publications, talk with your managers or clients to determine which topics relate to their brand image.
Your automotive client might not desire a write-up in Good Housekeeping. So set realistic expectations for your public relations outreach efforts.
Find the trending topic hashtags relevant to your brand. Then keep track of the conversation to discover any requests from media outlets.
Agorapulse is helpful for monitoring this type of activity. Set up searches for any hashtag for your social media management.
Integrate trending topics into your marketing strategy to increase your brand awareness. It's possible to secure a media opportunity.
Find New Ideas
What's so powerful about Twitter is the platform's concentration of knowledge from a variety of people with different cultures and backgrounds. This diversity is a ripe location for creativity.
For instance, some brand teams struggle to find new content ideas for their blogs, ebooks, and case studies. They get stuck dishing out the same old articles.
"Generating consistent (and usefully great) ideas for your audience is a murky science—even self-confessed 'good writers' suffer from writer's block," writes Peter Shallard, founder of Commit Action.
Trending topics ignites imagination and can spark innovative approaches to your company's challenges. Use it as a resource to build additional products, improve customer service, or even update your social media plans.
Novel ideas aren't found in the silos of your business. Explore Twitter to unlock more possibilities.
In Conclusion
Use Twitter trending topics as a tool to build customer relationships. It's an opportunity to inform, engage, and entertain your loyal followers.
Take part in the most popular subjects on social media. It'll benefit your marketing efforts.