Are you itching to livestream on Facebook? Well, haste makes waste. Learn to produce great livestreams by avoiding these four common Facebook Live mistakes.
Before you jump on the Facebook Live bandwagon, you'll want to keep in mind a few things.
Although live video often looks effortless and spontaneous, it does take a lot of planning to get it right. I co-host a monthly Facebook Live broadcast for Constant Contact, so I'm happy to share four tips on Facebook Live mistakes you want to avoid.
Facebook Live Mistake 1: Choosing the wrong location for your Facebook Live broadcast
Your livestream viewers are going to focus on you and your background. If your background is noisy, cluttered, or visually unappealing, your viewers might get distracted from what you're saying and they might tune out altogether.
Fix this mistake
Select a well-lit, quiet location with interesting visuals that will catch viewers' attention when they see your livestream in their Facebook feed.
At Constant Contact, we've tried a few different locations before finding one for our February Facebook Live broadcast that had the perfect setup, lighting, and a whiteboard to use to illustrate different email marketing topics.
Practice in your location before your Facebook Live event. Set up your smartphone, tablet, or laptop, and create a test broadcast with your personal Facebook profile. Change the privacy settings on the post to "Only Me" if you don't want anyone to see your test. The video will be saved to your profile, and you can watch it and determine if there are any changes you want to make before your event.
Facebook Live Mistake 2: Having a weak Wi-Fi signal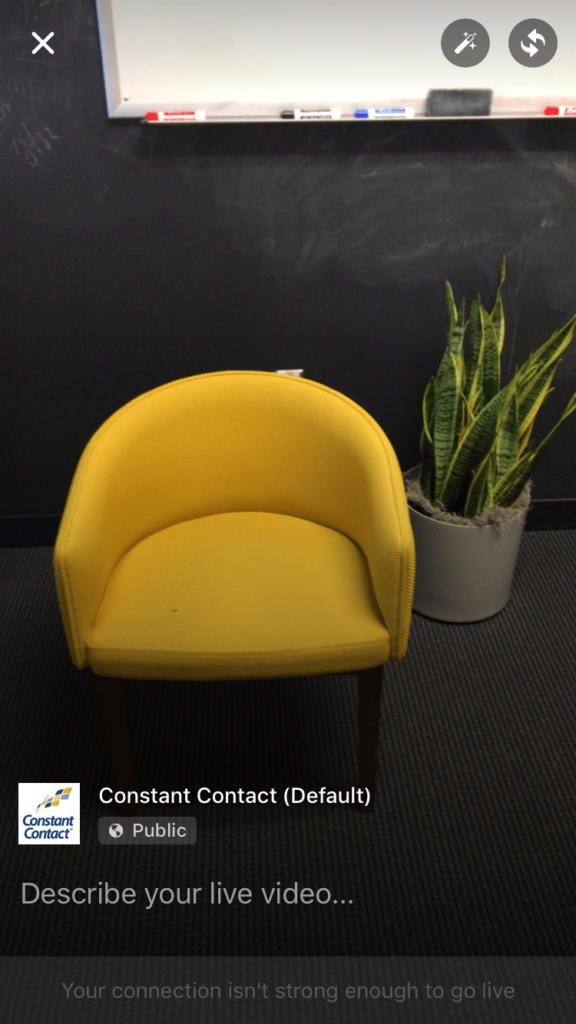 If you don't have a strong Wi-Fi signal, you won't be able to broadcast. There's no way around it.
Fix this mistake
Check the Wi-Fi at the location you plan to broadcast from with tools like speedtest.net or the Federal Communications Commission's speed test app for Android phones and iPhones. Facebook recommends having access to a 4G connection for your broadcast. If the Wi-Fi isn't suitable for broadcasting, consider purchasing a portable mobile wireless router.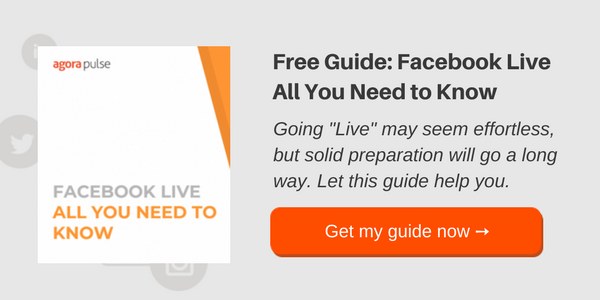 Facebook Live Mistake 3: Not promoting your livestream
If no one knows about your Facebook Live event, they won't attend.
Facebook Live does a great job of notifying fans when a page is live and for a short time after the broadcast is over, but don't just depend on those last-minute notifications.
Fix this mistake
To prevent that common Facebook Live mistake, create a buzz for your broadcast.
Make images using tools like Canva, PicMonkey, or Adobe Spark that list the topic, time, and date of your Facebook Live event and share them on your social networks and in your email marketing in advance.
You could also try creating a Facebook Event for your live broadcast and encourage people to register for your Event. The Events feature will remind them to attend.
Facebook Live Mistake 4. Not planning what you're going to talk about
Sometimes, you may want to spontaneously start a Facebook Live broadcast when something exciting or interesting is happening at your business.
Most of the time, that's not going to be the case, so you do want to plan ahead to have something purposeful and relevant to talk about with your viewers.
Fix this mistake
Your Facebook Live broadcast can give them tips, a sneak preview of an upcoming product or event, a behind-the-scenes look at your business, or a Q&A session. One of our recent Facebook Live events covered the top 10 email marketing questions from 2016. We wrote each question down on a large pad of paper and flipped through them during the broadcast.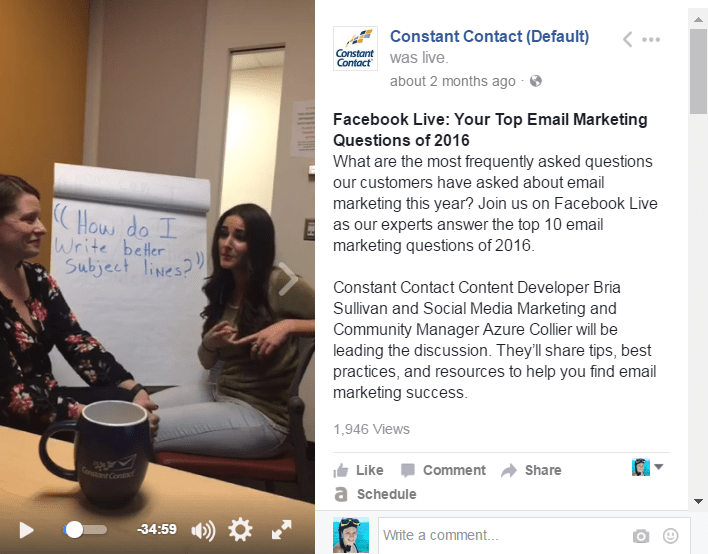 Once you choose your topic, write down talking points you want to cover and some frequently asked questions from customers on the topic.
Facebook Live audiences can be shy when you first start your broadcast and might not start asking questions right away.
Answer a few of your advance questions, but don't forget to check in with your viewers and encourage them to post their thoughts to the Facebook Live broadcast.
* * *
Sign up now for a FREE demo.