Recently Facebook rolled out news feed ads that drive people to chat directly with your brand on Facebook Messenger.
Cool, huh? We all want more engagement and this is as direct as it gets. In this article, I'm going to share my first Facebook Messenger ad experience with you and answer some FAQs along the way.
Why Should I Care About Messenger?
11% of the World's population uses Messenger each month
22 million gifs are sent daily on Messenger
1 billion B2C messages are sent each month
The Experiment
I allocated $20 over a four day period to promote my own website using Messenger ads. Historically I have experienced a CPL (cost per lead) of around $2.70 and a CPC (cost per click) of as little as 0.10 cents using the "send to website" advertising model. This means that with a spend of $20 and the right message I could receive as many as 7 enquiries from potential clients. This time I put my money where my mouth is and set my ads to point to Messenger.
So How Do Facebook Messenger Ads Work?
As an advertiser, I traditionally had a number of ways I could direct users to engage with my brands, with Like our page, visit our website or download an app being the most popular options. Now I can select Messenger as a destination under the website clicks objective and use the "Send Message" call to action.
All clicks on these news feed ads will open directly in a Messenger thread with a copy of the ad inserted.
A Working Example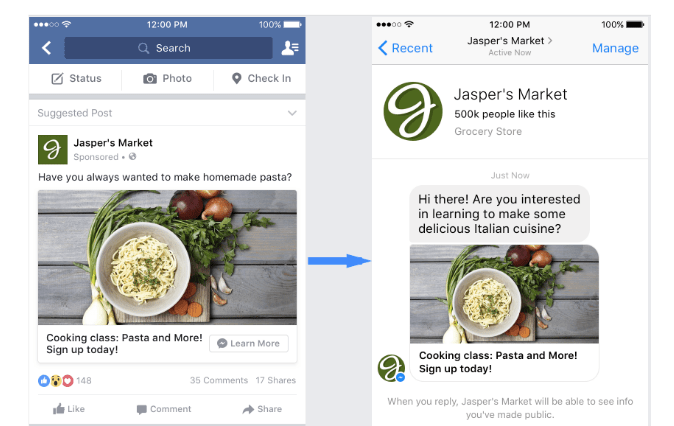 The first image above looks like a typical Facebook feed ad however, click the thumbnail and you're taken to a conversation within Messenger. The user is presented with your pre-prepared message or bot and may then choose to respond and continue the conversation.
How Do I Drive Ad Traffic To Messenger?
If you're familiar with running ads in Facebook then this one should be a breeze. Here's a step by step guide:
1. Go to ads creation in Ads Manager or Power Editor.
2. Choose the Traffic objective.

3. Choose your campaign name and click Continue.
4. Pick your audience, budget, and placement.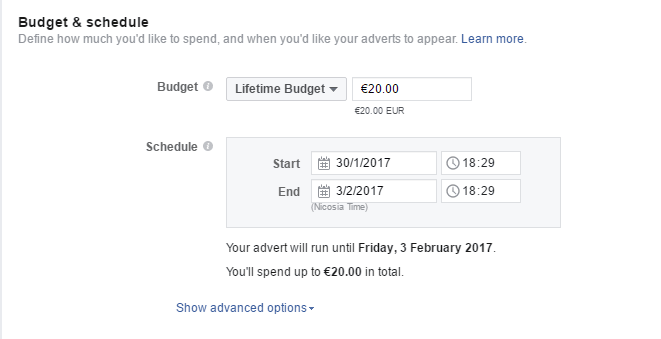 5. Choose Single Image, Single Video or Slideshow format.
6. Choose your business page.
7. Choose Messenger as your destination.
8. Write the Welcome text.
9. Place your order.
What Text Should I Use?
Here's my ad detailed below and as you can see there are different spaces to add your text.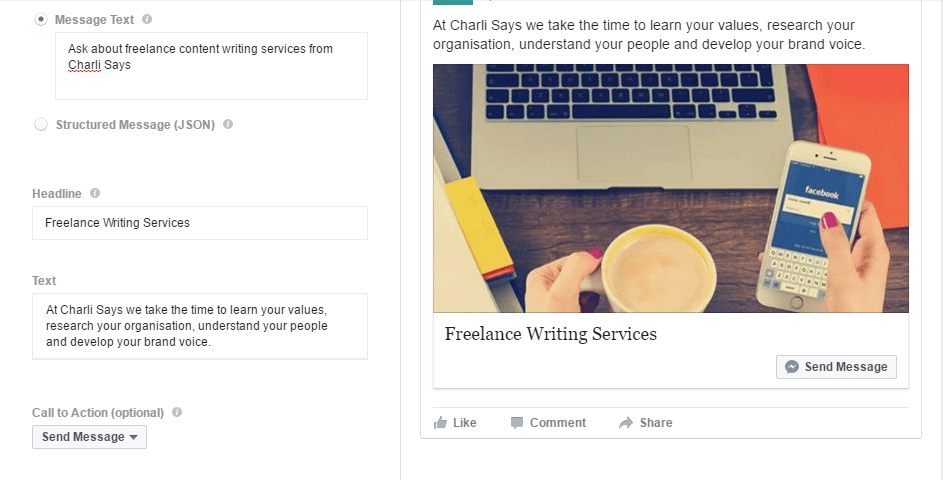 The text you write will be seen at different stages of the customer's journey. Here are the basics:
Text: This appears above your ad so it should be punchy to get people to click through.
Message Text: This is the greeting users will see in Messenger after clicking your ad.
Headline: This is the short and catchy headline that appears below your image.
News Feed Link Description: This is the 150-character meta description that is pulled from your website. You can overwrite this to provide more details about your promotion or offer.
My Verdict
So back to my experiment. With my Messenger ad placed, I sat back and eagerly waited for the messages to start pinging into my page's inbox.
Nothing.
I checked several times to ensure that the advert was actually running and sure enough it was… well it was certainly eating up dollars! After 24 hours, with 7 link clicks at a cost of $1.59 each and a total spend of $11.10, I had received zero messages. Every cent counts so I decided to stop the advert and assess where I may have gone wrong.

The Lessons
Nothing is a failure if you learn from it right? Here are the lessons I took away from my Facebook Messenger experiment.
Does The Offer Matter?
There was no special offer on my advert and no sense of urgency for people to get in touch. I had aimed for a simple "find out more" advert which clearly didn't work. Yes, the offer matters.
Are Web Clicks Better For Certain Brands?
Freelance content management and writing are much-needed business services but ones which many clients choose by looking at the work you display on your website. It is possible that brands selling purchasable items will do better with a Facebook Messenger ad than those offering ongoing professional services.
Are Facebook Messenger Ads Too "In Your Face"?
Perhaps it's my Britishness but there is something distant and civilized about looking at a brand's Facebook page or website before making a decision or asking a question. Are consumers ready to ask a question after seeing an ad in their feed or will they simply click on the link and then close it when they realize it takes them to Messenger?
Does Your Wording Matter?
Yes — perhaps even more so in Messenger ads than those that drive consumers to another place. That's because there is nowhere else to read about your product so you need to get the point across very eloquently. You also need to make sure they are intrigued enough to keep chatting to you.
To conclude, whilse it didn't work for me, I believe Facebook Messenger ads could be really great for certain brands. Pay special attention to your wording and the offers you are displaying and try your luck.
Have you run Facebook Messenger ads? Comment below and share your thoughts.