When it comes to the "perfect" frequency to publish content on your Facebook page, you'll get very conflicting advice from the various experts who wrote something on the topic. For some, once a day is good enough, others will tell you to go with 3 times a day, others may even tell you to post every 2 or 3 hours to capture your audience throughout the day as users come and go.
These suggestions may apply to you, or not… There are so many factors to take into account, such as your ability to create (or curate) enough good content to sustain the rythm you've decided to go with, or the location of your audience (from very local to all over the globe) that no single frequency will work for all.
But there's one piece of advice I've seen here and there that seems to be pretty commonly accepted by everyone: you need to post consistently to keep your audience engaged and "reachable" over time, not doing so will damage your edgerank score and will cause your page to disapear from the surface of the newsfeed.
Does the frequency of your Facebook posts affect your page performance over time?
Good news, the answer is no, and here is how I found out:
I have made several tests with a page I started for fun: the MV Agusta Brutale Fanpage. I own one of these monster-of-a-machine, so it looked like a fun thing to do 🙂
As it is a "hobby" page for me, i.e., I don't do any kind of business with it, I tend to be lazy when it comes to publishing content on a regular basis. Worst, I even let the page live with no content at all for weeks, even months sometimes.
Actually, as of April 8, my latest post was dated August 22nd! More than 7 months ago… That is what you can call an inactive page…
So, on April 8, I decided to run a little test with one question in mind: does the fact that I don't publish regularly on that page will affect my ability to reach my fans? Is leaving the page inactive hurting its edgerank score and damaging its performance over time?
I chose to publish a photo because I could benchmark it with two other photos, one from June 11 and another from January 5th of 2013. My August 22nd was a text update. Here is the post I used for the test: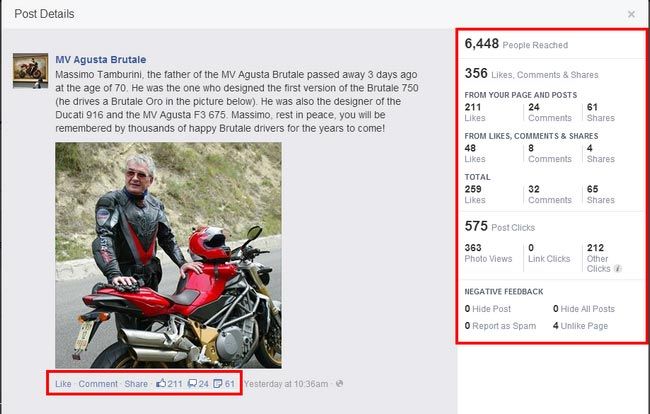 24 hours after the post was published, here are the results: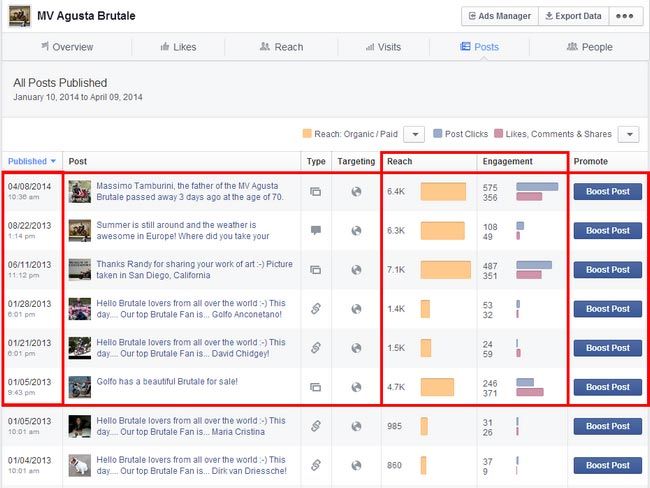 That's pretty amazing! That post had a better reach than the status update published 7 months ago and was pretty much in the range of reach of my 2 previous photos from 2013. Engagement was even a bit higher than usual.
After 7 months without anything published on that page, the performance of that latest post is amazing:
o
30% of fans reached organically (6,440 out of 21,200). Wow! That's almost 3 times the average organic reach for a page of that size.

o

14.4% of engaged users (clicks + likes + comments + shares on the total of users' reached). That's twice the average engagement according to our Facebook Page Barometer

o

5.5% people talking about this (likes + comments + shares), That's also twice the average PTAT according to our Barometer.
That's a heck of a good performance for a Facebook post!
Key takeaways for you:
o
Leaving your page without content for a while, even a long while, will not affect it's future post performance

o

Great content will always work, even after a long time of inactivity

o

If you can't come up with great content often enough, it's probably better to post less often and wait to have the ressources to increase your posting frequency while maintaining the quality high.

o

As the performance of your posts seems to be way more influenced by past performance than by post frequency, always favor less content of higher quality over more content of lower quality.
I know this may sound like common sense advice, but this time it is backed with real data!
If you want to benchmark your Facebook page performance against the competition, you should definitely check our Facebook Page Performance Barometer!
What's your take on this? Were you worried that not publishing often enough would damage your page performance?