Are you paying too much attention to your Facebook tabs and not enough to your News Feed content? Since the default landing tab option was removed in March 2012, tabs do not receive the views that they once did (though, those views are more "intentional" than they used to be). Tabs still have value, but it is important that Facebook Page managers understand the weight of their Facebook tabs compared to their overall traffic and visibility. At the end of the day, 99.8% of visibility (depending on many different factors, including use of ads) will not be generated by beautifully crafted tabs but by the content published to News Feeds. It's therefore a good idea to assess your budget accordingly…
Earlier, I wrote about the breakdown of Timeline and News Feed traffic for my Facebook Page. Here's a quick refresher:
o
Page Views are 1.5% of Total Organic Impressions
o
Custom Tabs make up 26.4% of my Total Page Views
o
Of my Page Views, 16.2% are referred
o
Content I control directed 93.5% of referral traffic to my Page
There's a very important point buried in here that I wanted to spend some more time discussing: Custom tab views make up a very small percentage of my contact with Facebook users.
Above, you'll see that Facebook Page views are a mere 1.5% of Total Organic Impressions of my Facebook content, while custom tabs make up 26.4% of my total Page views.
Let's take that a step further. My custom tab views are only .4% of my Total Organic Impressions. In fact, if you take away my contest apps (which I drove people to with ads and Facebook posts), the remaining 12 custom apps represent only .2% of my Total Organic Impressions.
Dependent Factors
This data can be easily manipulated, so I think it's important to note the factors at play here.
During the time period of this study, I was posting three or four times per day. That significantly increases my Total Organic Reach, which then chips away at the percentage of views to my custom Facebook tabs.
Additionally, I did very little advertising to drive people to these tabs. I should do more. Had I done so, these numbers would have looked far different.
But the main point here is that if you do not run viral contests or drive traffic to your tabs with ads, the amount of traffic to your tabs will be minimal.
Focus on Content
If views of your Facebook Page represent only 1.5% of your total contact with Fans, it's quite clear that you need to dedicate about 99% of your time and investment in making your News Feed content as exceptional as possible.
You can create and forget about your tabs for weeks at a time. But you should be thinking of new and unique ways to improve the content published to News Feeds on a daily basis.
Here are a few tips to keep your content interesting, fresh and consistent:
1. Create a Content Plan
To share value that receives comments, likes, shares and clicks, you need to have a plan. Map out your assets, understand your audience and establish goals.
Read more about this here: 11 Factors That Drive a Facebook Content Plan That Works
2. Schedule Content
You must consistently deliver valuable content in order to build a thriving community. But that is often very difficult to do in real time. You run a business, and many different responsibilities pull you away from your Facebook Page.
That's why it's helpful to schedule content to complement your "real time" efforts. I've found value in scheduling evergreen, older content at times of the day when I wouldn't typically be active.
3. Make Value a Priority
You can create a Facebook content plan and schedule out regular content, but still be a total failure. You can't focus entirely on selling and drawing attention to your business.
Look at it from the point of view of your readers. A user on Facebook wants to see something in their News Feed that is worthy of reading, commenting on and sharing. That means providing some kind of value that will make their lives better.
This could be in the form of tutorials, research, guides or simply entertainment.
4. Be Visual and Diverse
You've likely heard that status updates get the most Reach. Hopefully that doesn't mean that all you do is post status updates.
Reach doesn't pay the bills. Some type of interaction does. Because of that, you need to focus on the metrics that matter. Those metrics generally show that status updates rarely drive business actions as effectively as more visually stimulating content.
Share some status updates. But also share images, links and videos. By being visual and diverse you will keep the interest of your audience.
5. Share Content of Others
It's always good to offer a different perspective. By sharing the content of others, it also shows that you have your reader's best interests in mind.
6. Monitor What Works and Doesn't Work
You need to stay on top of the response of your audience to your content. What do they like? What don't they like? When are they most likely to engage?
Become a Facebook Insights Junky. Monitor metrics closely so that you can easily leverage what works and adjust based on the results.
Use a tool like AgoraPulse to make this easier! With AgoraPulse, you can get insight into keyword ranking, time of the day and day of the week metrics to help isolate what does and doesn't work.
Here's an example…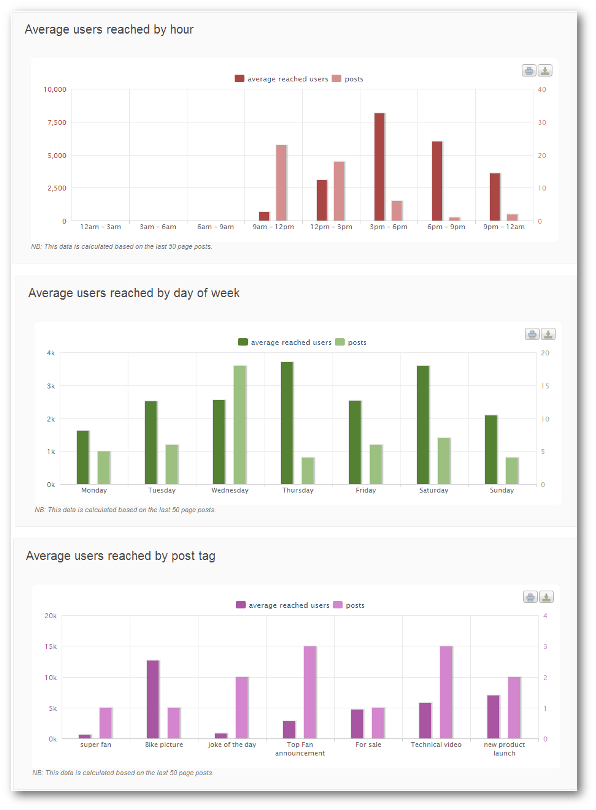 In this example, content is posted most often between 9 am and noon, but they reach the most people between 3 pm and 6 pm. They also post most frequently on Wednesdays, but actually reach the most people on Thursdays (the day the post least often). And finally, the use of tags helps this brand know that posting bike pictures gets the most response (the page is for a motorcycle brand).
It's amazing how what we think works and what actually works often oppose one another. This brand could be far more successful by simply following their stats regarding what does and doesn't work.
The Value of Facebook Tabs
Understand that this does not mean you should completely ignore tabs. Let me refer you to another stat from that article…
During the study, 1,882 (71.6%) of new Page Likes were initiated on my Page.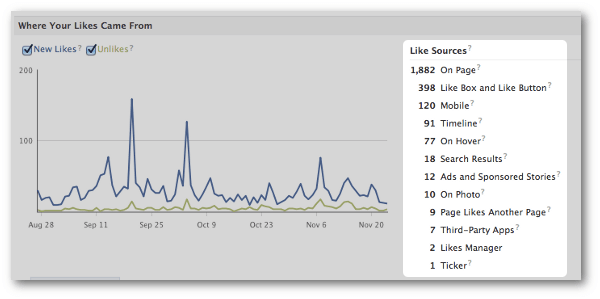 That means that new visitors need enough to go by from looking at my Timeline (cover photo, profile photo, tabs, name, About, pinned content and all content below the fold) to determine whether my Page is worth following.
While studies have shown that only 2% of your Facebook Fans will come back to view your Timeline after liking your Page, this data indicates that the time they are most likely to visit your Page is the most crucial for starting a connection.
So Facebook tabs are certainly important to your business, and you should invest in making them great. But their purpose is typically on the front end of your connection with Fans, whereas your daily content is what will most often increase affinity and lead to business.
Unknown Future of Tabs
Also note that with the recent update to Timeline for profiles, the visual future of tabs is in doubt. Currently, there are four 111×74 pixel icons under your brand cover photo. But with the new profile Timeline design, those tabs are eliminated and can now be found in a less prominent navigation.
Will this be carried over to brand Pages? It's unknown. But it's one more consideration when determining your level of investment in tabs.
This article has been written by Jon Loomer. Jon is an awesome Facebook Marketing coach delivering unique and actionable Facebook marketing tips on his blog. Don't miss his Blog and Newsletter: www.jonloomer.com