Finding new, relevant, engaging content is a daily struggle. What if I told you there is an abundance of content right under your nose that you are probably overlooking every day? Content that you don't have to do anything crazy to find, can increase your engagement, and reduce your time in content creation every day?
Facebook is a treasure trove of just that sort of available content. Let me show you my six favorite places to find it.
1. Each page's "Page Feed"
Did you know that your business page has a home newsfeed just like your personal page does? A great source of content, as well as another way to engage with your audience and build partnerships, don't forget about visiting your newsfeed daily.
A couple prerequisites to make this work. First of all, you have to be logged in as your page to see the page home feed. If you go to the page and are still logged in as your personal self, then clicking home takes you right back to your personal page.
Second, you have to like some pages from your page. Your partners, related businesses, other businesses that reach the same target market, and even competitors are good pages to like. Comment and like status posts created by these other pages, just like you would on your personal Facebook page – and of course share! One of the great things about using this method to find content is that you can share content that is already getting engagement and ranking will in Facebook's algorithms.
Your page might also have this link — for admins only — that will direct you to the feed of your favorite pages. No signing into your page needed with this method.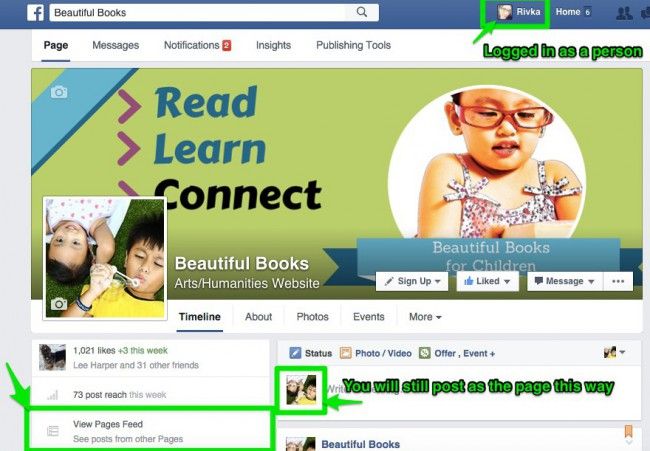 [Tweet "The more you treat your business page relationships like your personal page relationships, the more successful you will be. "]
2. Ask for the Best Content Sources
Another underutilized way to find content is just to ask. Facebook is a perfect place to ask your audience what other blogs, websites, and social media accounts they follow. Then you can add those to your list of places to curate content from. Bonus: you can also like their pages for easy sharing from your newsfeed as mentioned in the first point.
Be sure to be clear about what you are asking for – the more specific the better. For example, ask "What is your favorite blog about ___ topic" rather than "What content do you like?"
[Tweet "Remember, sometimes it really is easiest to just ask."]
3. New Search FYI
Facebook has been trying to catch up on the search game for a while and the new FYI Search is the latest upgrade to that effort. Here are the upgrades:
Autocomplete on your searches
Data on how many people are talking about a topic
Results that include topical content and relevant pages and groups
Search results that include your friends posts, and public posts about a topic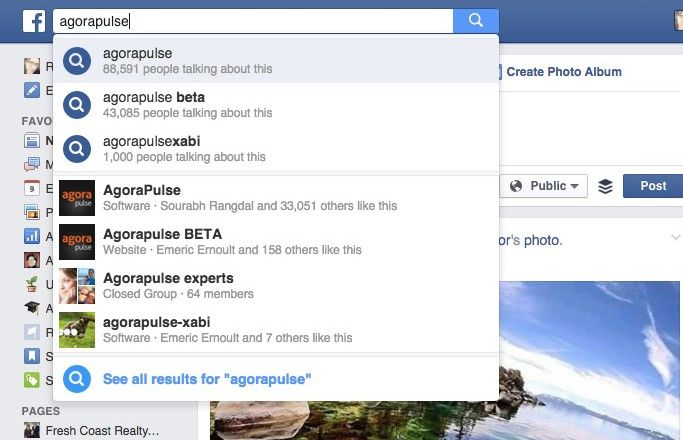 To use this for content ideas, search your main topic keywords and see which ones are getting the most conversations, share public posts on your page, and find new pages to like from your business page.
4. Facebook Suggestions
If you have been browsing as usual, you may have missed something else new in your search bar – suggestions.
Occasionally, in the search box you will see gray text that says "suggestions." These are based on what you have liked and your search history. Click on these and you will get a list of results for that suggested topic.
[Tweet "Lesson? Pay attention to the details and you will find all kinds of hidden features on Facebook "]
5. Facebook Trends
Another source of Facebook content waiting for you to find it is the "Trending" section. You probably have seen the posts on the right hand side of your page, but did you know you can also search for trends by category? Don't stop with the ones that are easily visible, check out the trends for sports, entertainment, and more.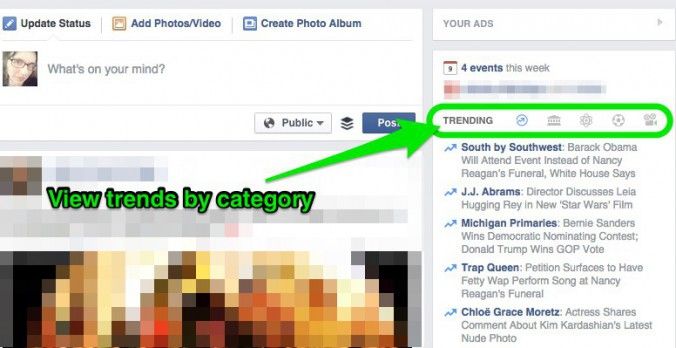 You can also share to your page directly by selecting the page that you want the content to post to. Or of course click on the link to the original source and then use a scheduling tool (like Agorapulse) to post the content in the future.
6. Facebook Insights
[Tweet "When it comes to great content, there is no need to re-invent the wheel. "]
If a piece of content really connected with your audience, it is totally okay (and even encouraged) to post that same content again. Only a fraction of all the people who like your page saw it the first time around.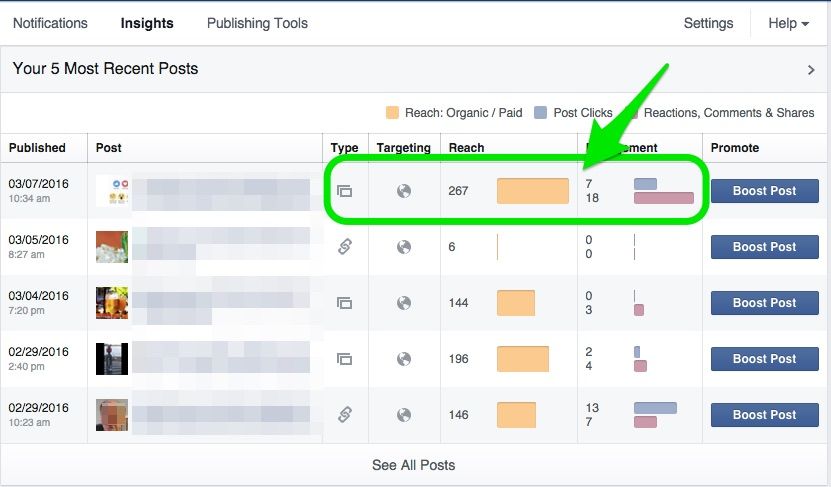 In order to find that content that outperformed everything else on your page, simply visit your page insights. You can look and see how well past posts did in terms of total reach, engagement, and more.
If you use Agorapulse reports for Facebook, you can see your top performing posts in your "Top Posts" slide.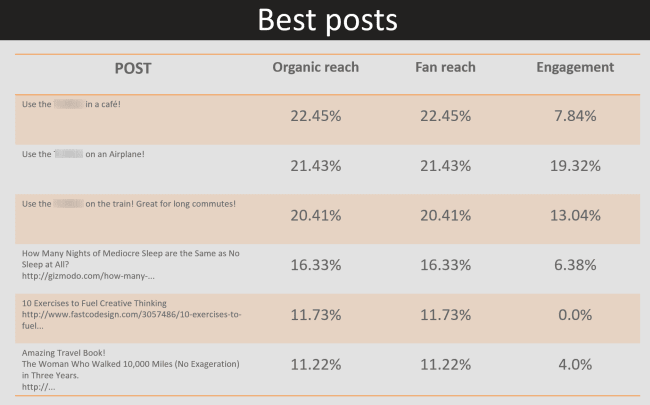 When you spot that post that did well, you can repeat the posting as a new status update on your page.
Where else do you find good Facebook content ON Facebook? Let us know in the comments!