Instagram is the perfect social network for fitness brands due to its highly visual, "curated" environment and the fact that Instagrammers are natural born shoppers!
So let's look at three fitness brands on Instagram who are running faster, pumping harder and jumping higher in 2016!
nikewomen 3.6 million followers
The fact that Nike Women is separate from the main Nike Instagram account shows you that this account is serious about marketing to women. Attainable, real, empowered women… now that in itself is sexy!
Linking to a women only section of Nike.Com and a set of matching Nike Women networks is serious business. Rightly so because 31% of all online women are using Instagram and the gender split on Instagram is 68% women and 32% men. Nike Women use striking photography with a welcoming balance of facts, education, motivation and product focus.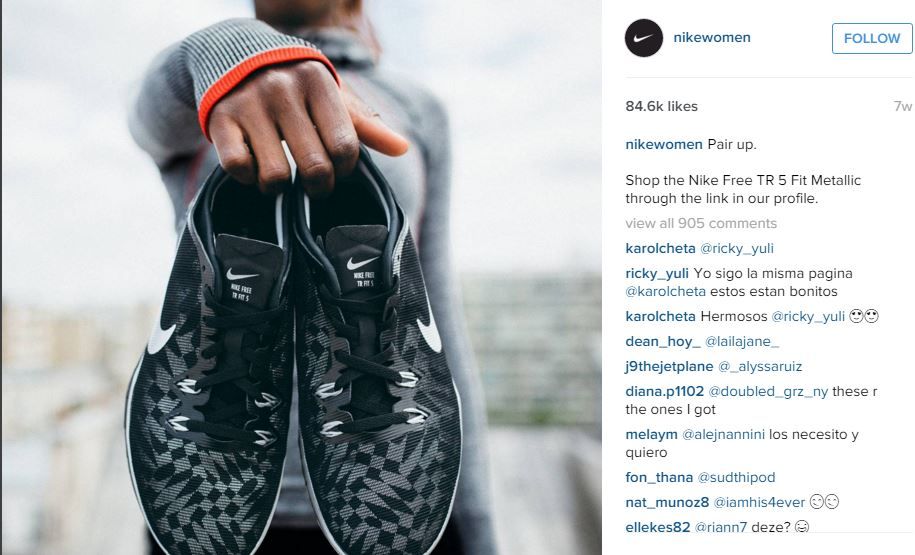 How To Ace Instagram Like Nike Women
Make Products Attainable because Instagrammers are natural born shoppers and spend an average of $65 per order (second only to Pinterest). Nike Women has done this by linking its Instagram account with its women's product site. This means products are available but are not being forced upon followers.
Stay Brand Consistent like Nike if you are planning to create more than one Instagram account. Yes it's all about women but one look at the photos, branding, filters and content will tell you that this is the Nike brand. Every day on Instagram, 70 million photos are shared … make yours count! (By the way, Agorapulse offers multi-account Instagram management whether you're on a desktop, iPhone or Android device.)
Create Campaign Hashtags like #betterforit to unite fans across social networks, share a message and create online virality. Nike Women creates simple yet unique hashtags to span the length of their campaigns. 83% of Instagram posts come with hashtags so you can bring Twitter and Instagram campaigns together.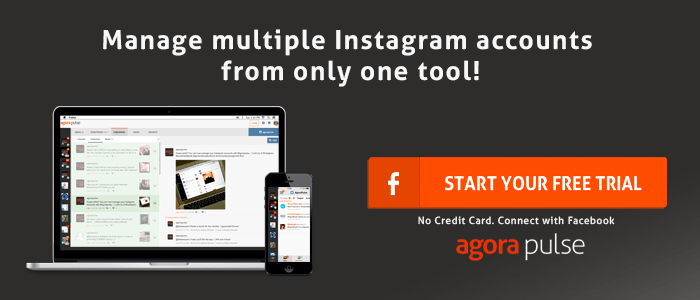 The North Face has cornered the online market for outdoor apparel and Instagram is the jewel in its social media crown. The trendy brand achieved almost 4 million total engagements on Instagram during 2015 and was even recognized by Outdoor USA Magazine for its social media awesomeness!
Looking at the North Face Instagram channel, it's easy to see why anyone with a passion for biking, hiking, rock climbing, white water rafting or skiing would want to be in its online community. In addition to its stunning photography and seemingly impossible stunts, the brand is also a trailblazer when it comes to influencer marketing. By connecting with sporting influencers such as Ralph Backstrom pictured, the brand adds tons of credibility and kudos plus a whole load of new followers.
How to Ace Instagram Like The North Face
Create A Community Online which is the go to place for your niche. The North Face is not simply about buying sportswear … it's about lifestyle, real stories and aspiration. Its busy social team promotes endurance challenges, speaker series, fund grants and community projects for likeminded people around the globe.
Connect With Influencers in your field and you can really power up your brand. Feature their photos, invite them to wear or demonstrate your products, follow their progress and support their endeavors.
Be a Source of Information and not simply an online store. The North Face is an expert in the field of outdoor sports and it knows that consumers want to be informed. North Face videos include product specifications, advice on outdoor pursuits and links to more in depth articles on its site.
You know the Pharrell Williams song Happy? Well the Soul Cycle Instagram account is the social networking version of Happy and let's face it… we need to feel happy and motivated to get started, don't we?
The brand is all about revolutionizing indoor cycling with inspirational trainers, incredible scenery, music and a whole community vibe which stretches far outside the studio walls. Its Instagram account is heavily focused on community with roadshows, celebrity appearances and contests. Soul Cycle is a master at tagging instructors and participants. In doing so, they connect the community through fun stories, videos and photos. Working alongside celebrity singers and personalities, soulcycle taps into influencer marketing in a totally natural way. Take a look at this awesome video featuring Rachel Platten… who wouldn't want to be there!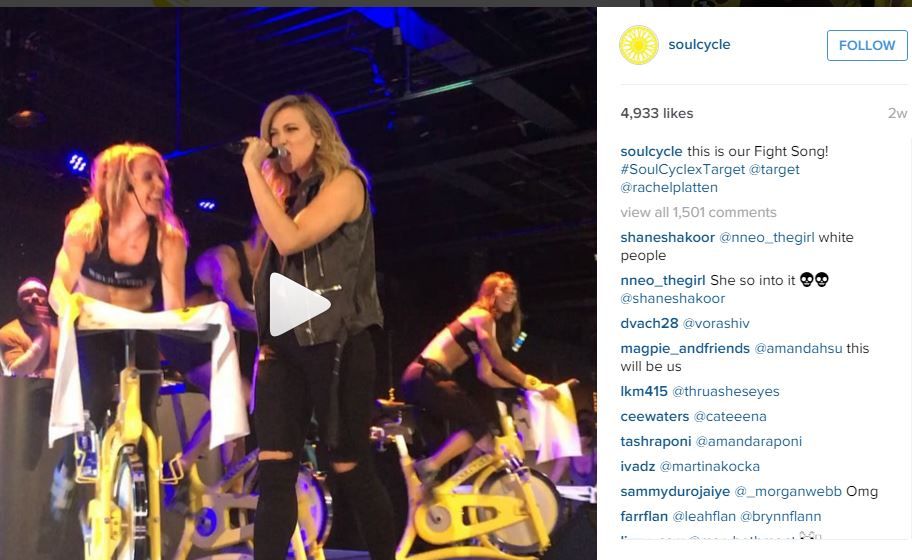 How To Ace Instagram Like Soul Cycle
Be Inclusive in your photography — not just your words. It's easy to say that anyone can cycle but if you're only showing thin and beautiful models then you're alienating your target audience. Show real people in real scenarios and you will attract real followers.
Follow Trends in your hashtags and photos to truly capture the mood of the audience. Soul Cycle's tribute to David Bowie shows that by capturing the mood of the nation you are also capturing fans.
Be Youthful even if you don't consider yourself young! 90% of Instagram users are under 35 so brands that retain a fresh and youthful feel are more likely to be winners.
Here are some bonus tips from other great fitness brands on Instagram.
Get photo inspired by sports photographer chrisburkard
Tag a pro with lots of followers like Reebok and CrossFit legend colleenfotsch
Create a cool hashtag like Lululemon to boost engagement #thesweatlife
Become a lifestyle hub for diet and fitness like weightwatchers
Be real like Flywheels who feature real people and real life scenarios
Show real exercises, yoga poses or strategies like thebenbooker
Have fun with Instagram like rock climbing gym bkbsomerville
Now lace up your trainers, stretch out, and get ready to win the Instagram race! Is your fitness brand acing Instagram? Comment below and let us know.