Twitter recently announced a "verified" button and the Twittersphere is buzzing over which users can get it and how. In this article I'm going to explain how to get verified on Twitter without any hiccups along the way.
Why Should I Bother to Verify My Twitter Account?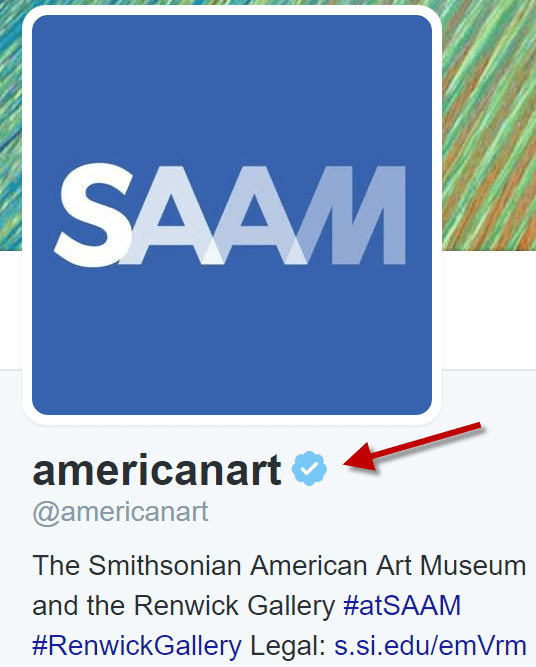 The blue verified badge on Twitter (seen in this example from @americanart) lets people know that your account is authentic.
There are benefits to being verified. First, this badge tells the Twittersphere that you've made it and your content is worthy of public interest.
Second, this special badge makes it easier for users to find you. In a sea of imitation accounts, yours has a blue check mark.
Third, the check can tell your potential clients that you are a genuine, serious business that is worthy of recognition and trust.
How Do You Get Verified on Twitter?
Twitter has made a simple verification form available online and users can follow the instructions to apply for verification. Easy, right?
If only.
There's a set of guidelines which are applied to verified accounts. Take your time and follow those guidelines to avoid rejection.
Before you start the application, go to your Twitter profile and make sure it has all of the following:
A verified phone number
A confirmed email address. My initial application was rejected based on the fact that I applied for verification of @Charli_Says using my gmail address instead of a company email. Don't make the same rookie mistake that I did!
A completed bio
A profile photo
A header photo
A birthday (if you are an individual – ex. a celebrity or sports star)
Tweets set as public in Tweet privacy settings
A working website
If you are applying as an individual and not a brand, you may need to submit a copy of your official government-issued photo identification.
The verification process in true Twitter style is actually very simple, using the Twitter verification form you will complete the following steps:
Write the account you want verified – make sure you don't misspell anything!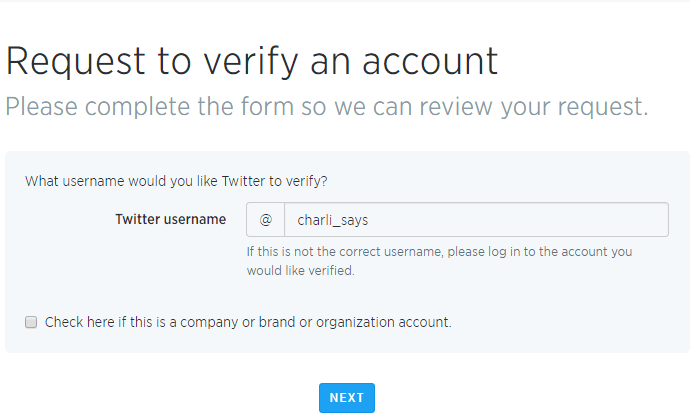 2. Provide the links of the websites that will support your verification- of course your own but any others which have acknowledged you. If you have been listed on numerous sites then pick the highest ranking or most famous to include here.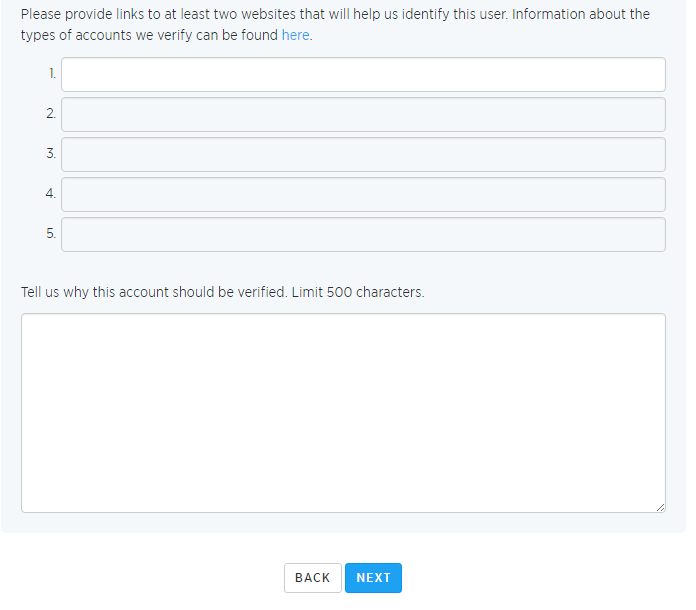 3. Tell Twitter in 500 words why you think that your account should be verified. Include information about your brand, its start date, mission, followers, media activity and why it is important to be verified.
4. Check your details and hit confirm.
5. Usually you will receive an answer from Twitter within 5 business days via email.
Top Tips For Getting Verified on Twitter
I caught up with Twitter friend, influencer and recently verified user Lilach Bullock to get her tips to those wondering how to get verified on Twitter. Note: it took her three weeks to get her shiny new blue verified check mark.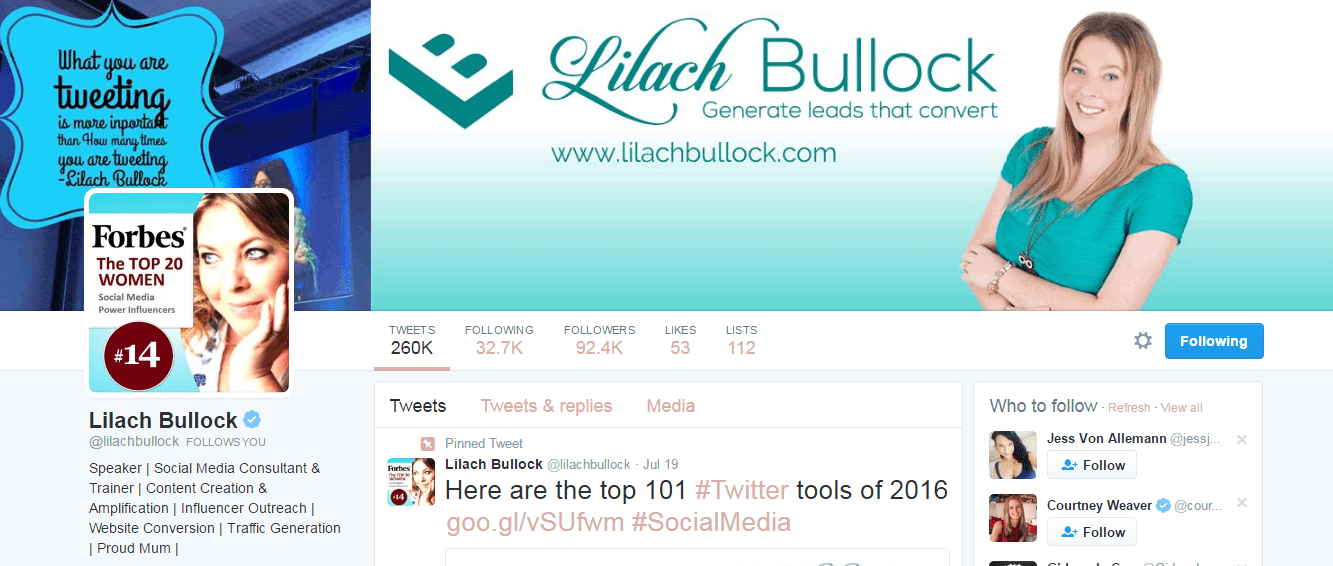 "When Twitter made verification available to the public, they announced that they will verify accounts that are of public interest in order to make it easier for people to connect with creators and influencers. So when I applied, I set out to prove my influencer status and explain how I've grown my brand over the years," Bullock explained.
In addition to describing and documenting your growth and influencer status, she suggests that you:
Ensure that your profile photo or logo is clear
Prepare a minimum of three links that show your relevancy in your field
Emphasize your mission and why you should be verified.
In addition to Bullock's list, I'll add the following tips:
Make sure your account name reflects your band or actual name
Ensure that your tweets are regular and of a high quality
If you are applying for your brand, make sure you specify your role there
Make sure you use a proper company email address
Ensure your bio is clear about your area of expertise or what your brand does
When providing URLs to support your request, choose the best ones for newsworthiness and influence
Once you are verified, don't use that as an excuse to slack off! Maintain your newsworthy status by tweeting high quality content. If you have a fair amount of evergreen content, use a tweet requeue tool like Agorapulse to keep the flow of tweets going.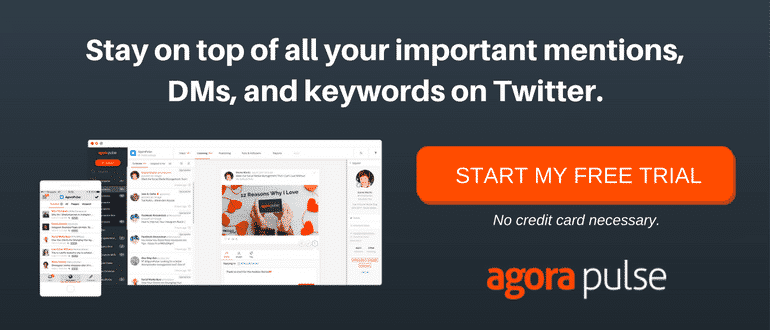 If, like me, your initial your request is denied, don't give up! You can submit another request for the same account 30 days after receiving the email from Twitter. I hope though that by reading and applying these tips it will be second time lucky for your verification process.
Have You Tried to Verify Your Twitter Account?
Let us know your successes, failures, and fears about getting verified on Twitter!