One aspect of social media engagement is the live aspect: What is happening right now? Yet another important aspect of social media management is planning ahead.
Scheduling Instagram posts is a great way to make sure you have more time to focus on real-time content.
How to Schedule a Post for Instagram
As of 2018, Instagram updated its API to allow official marketing partners (like Agorapulse, for instance) to, not just schedule posts but directly publish them from desktop.
Before you go crazy, it's worth noting that there are a few fairly important restrictions. The most important of which, you can only enable publishing to an Instagram business account, which is fairly easy to set up if you haven't already, and you can only publish one image at a time.
The good news is that getting up your business account to publish on Instagram from Agorapulse is super-simple.
Now that you know how easy it is to schedule and publish posts, what kind of posts should you schedule?
Here are a few tips.
1. Schedule Instagram Posts With a "Throwback"
I know that when you think of scheduling Instagram posts, you most likely think of the future. But the easiest post to schedule is a post about the past.
This type of post is called a "throwback."
A throwback is a photo taken in the past but is published in the present. It is usually accompanied by the hashtag #tbt (for Throwback Thursday, used with a historical post published on a Thursday) or the hashtag #throwback (used with any throwback).
Take your followers back in time
Find a historical photograph—something from the history of your business—that may be interesting. It could be a photo of the small office where you first launched your business. It could be the original team or founders in front of the first store where the product was launched.
For example, the Jamaica Plain Neighborhood Development Corporation posted a picture of an old newspaper clipping (clearly yellowed), saying, "This month marks 20 years since JPNDC completed the Stop & Shop and Martha Eliot Health Center in Jackson Square (1996)." They used a throwback to celebrate the anniversary of an achievement.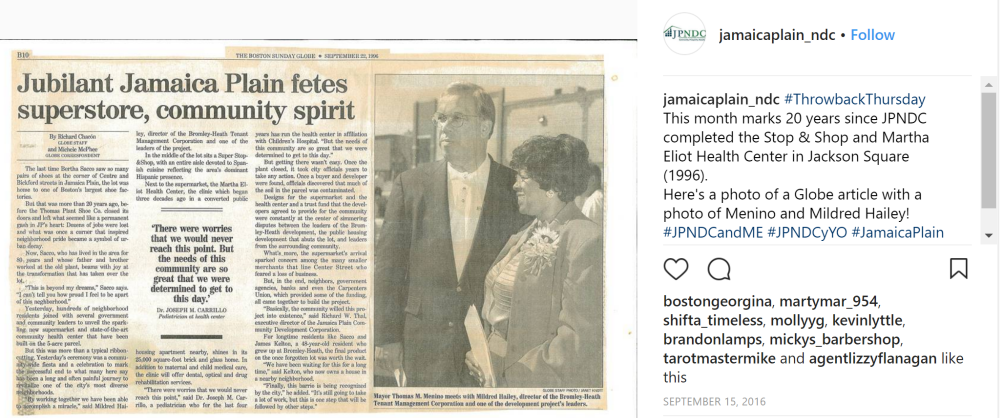 A throwback helps you show off an achievement more than once. If you are managing social media for a non-profit, then showing impact is important, and throwbacks are one way to do that.
Historical photos help personalize your brand and tell your story.
For example, Boston University waited until a particularly hot and humid summer day to share a photo of winter. The throwback invited an element of humor.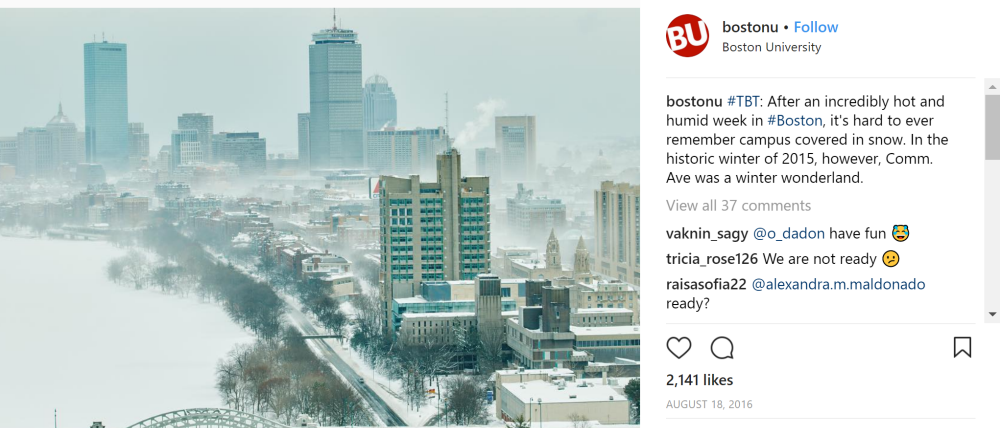 What is a latergram?
A latergram is a photo you take now but post later.
Throwbacks relate to the distant past (several months to several years) and are usually content you find from the analog era, but a latergram is an Instagram photo posted a few days to a few weeks after it is taken.
If you take a lot of great photos at an event but don't want to overwhelm your Instagram audience by posting all of them the night of the event, you might save some photos for later.
If you're an author, a latergram could be as simple as a photo with a caption that says something like, "My book signing last week was a lot of fun. Here's a #latergram of me and Susan, a who is a superfan of the series."

2. Share quotes as images
When I think of scheduling Instagram posts, I think of working around the issue of timeliness that live content exacts of social media managers.
One type of content that is "timeless" is the quote.
Popular quotes are often manifested on the Internet as pieces of wisdom and are shared repeatedly in a mimetic fashion. People look for wisdom and insight from experts.
You can share your own quotes or classic sayings that align with your purpose and resonate with your audience.
Create your own wise quips
The Instagram account @yarnspirations posts photos of projects you can make with the yarn they sell on their site. They also share their own inspirations, such as "sometimes the smallest things take the most room in your heart," or "if you never try, you'll never know."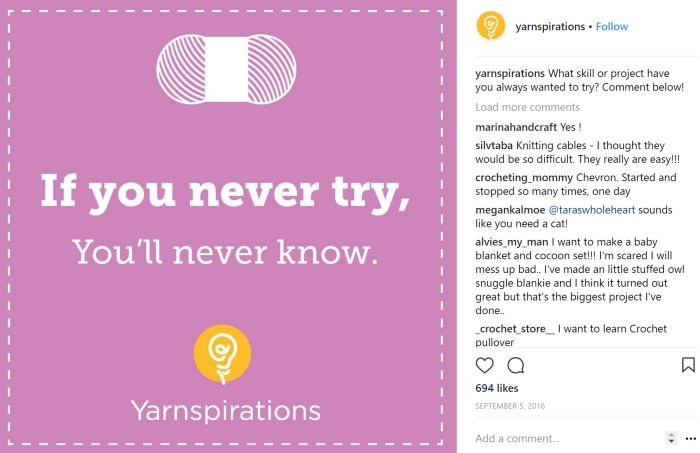 Use attributed quotes
Post a quote and give credit to who said it. Evolution Fresh (a juice brand) finds quotes that align with its mission of promoting good health. These quotes can be designed or planned ahead of time and scheduled.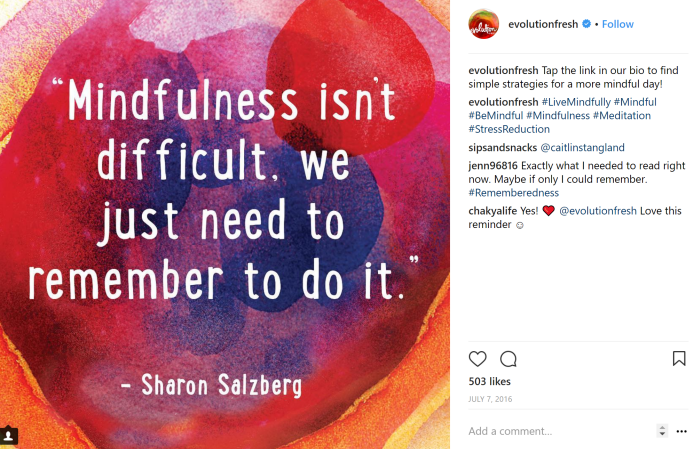 Use Agorapulse's Canva integration to create visual tips
If you're an Agorapulse user, you can take advantage of the fantastic Canva integration to create all types of visual content and post it on social media accounts.
Here's how:

3. Use evergreen content
The best content to consider when scheduling Instagram posts is content that isn't dependent on factors that affect live posts.
Content that may not be evergreen includes photos that include an environment that changes from day to day. You don't want to schedule a sunny photo and accidentally post it on a gray day.
Another potentially problematic photo would be one that includes inventory that changes often. You don't want to plan ahead to post a photo of an adorable pair of shoes you sell in your shop, only to have it post a few days after you've already run out of stock.
Examples of evergreen content include photos of products that you are always selling, month after month. That means that you can save a neat photo of a dress for later, and it will still be available.
With Agorapulse enabled for publishing you can create categorized Publish Queues that you can set up evergreen content in, and republish over a determined amount of time. Super-cool feature for keeping your feed active!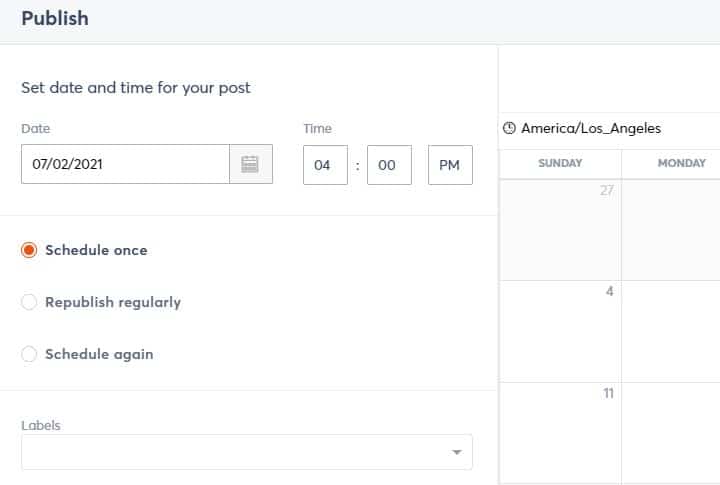 4. Schedule images for an early-bird audience
The best time to use scheduling Instagram posts is to save yourself a lot of work early in the morning. For one account, I realized that early posts received the best engagement.
However, it's hard for most people to wake up and be able to immediately start creating great content. What takes away the stress from a social media manager, and gives them more time in the morning, is working on the content at night, including both the image and the text, and then scheduling it.
You wake up in the morning, see the notification, and just post. No writing and photo editing needed before you've been able to eat breakfast and clear your head.
There are many reasons social media managers consider scheduling Instagram posts.
Ready to start scheduling Instagram posts? Start your free trial with Agorapulse here!