Getting engagement on Twitter can be tough. (There's so much noise!) But these tips can help you expand your Twitter follower count and boost positive social interactions.
Used by celebrities, politicians, and marketers alike, Twitter is the place to increase engagement and spread brand awareness. But, as with all the social media networks, competition is fierce. Many brands struggle to build a Twitter following and grow their profile organically.
To help you, check out my best agency director hacks to grow your Twitter profile in 2020, and find out why making your mark in the Twittersphere is as important as ever.
Here's a step-by-step guide on how to get more followers on Twitter.
1. Be Inclusive, Transparent, and Philanthropic
Some 50% of people think brands can become more culturally relevant by being inclusive, according to a recent study by Twitter and IPG. That number rises to 60% among Twitter users.
The online study also revealed how 47% of Twitter users prefer culturally relevant brands, compared to 39% of the general population in the United States. What's more, a brand's cultural involvement makes up a full 25% of a consumer's purchase decision, so embracing diversity and inclusion is an absolute must for 2020.
Deidre Smalls-Landau, global chief cross-cultural officer of IPG Mediabrands' UM Worldwide unit, said:
"Brands simply can no longer sit on the sidelines while the most important cultural conversations are taking place and reshaping the world we live in … Consumers want to know they are giving their money to companies that share their values and are as passionate about social issues as they are. In short, brands that do good will likely do well."
Tip for social media managers
Brand involvement in culture is particularly important for the Twitter population who are passionate and informed, and feel strongly about brands aligning with culture. The Impact of Culture survey below highlights the importance of cultural relevancy and shows how this can be achieved with "giving back to the community" being the most popular suggestion.
Some examples of brands getting cultural and inclusive marketing right on Twitter:
JP Morgan showcased the work of its Service Corps, which deploys top employees across the world to assist with non-profit partners. This ticks many boxes, such as "giving back to the community," "being inclusive of a wide audience," and "supporting social issues."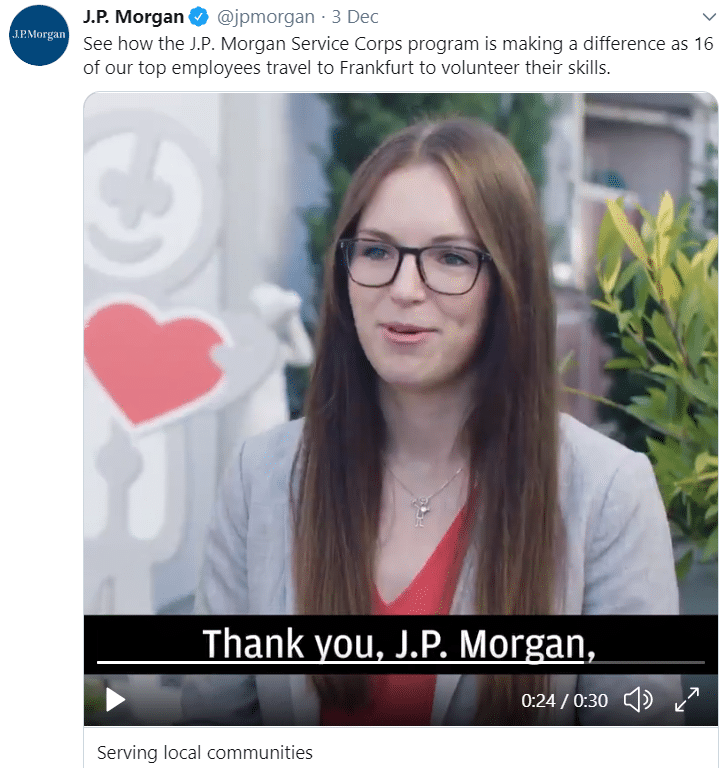 Nationwide donated toys and gifts to a local charity resulting in organic content, which was then authentically retweeted.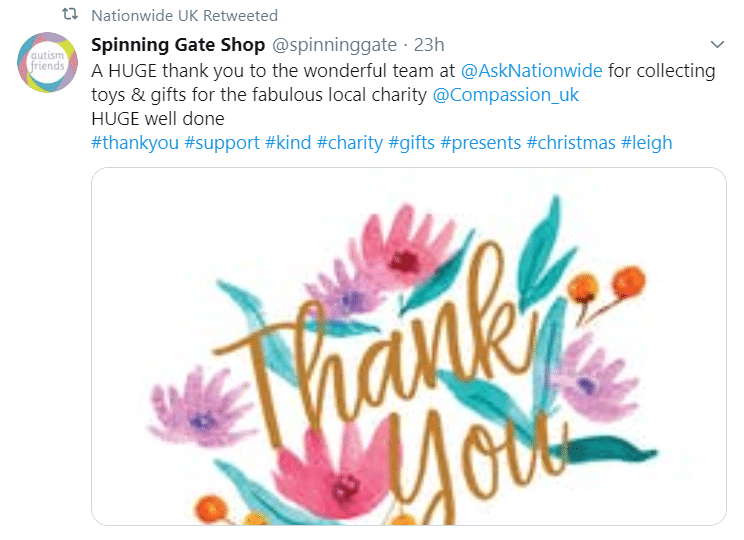 Tip for brands
Don't brag or use boastful language. Stick to the facts and showcase your work without trying to seem superior.
Make the most of organic content that showcases your brand in a great light. Retweet and comment on relevant posts.
Get more followers on Twitter by engaging and supporting other inclusive, transparent, and philanthropic brands.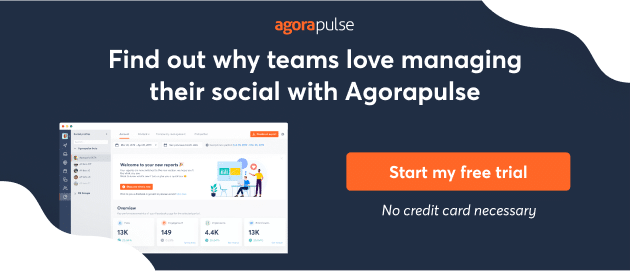 2. Maximize Video Content on Twitter
If you want to know how to get more followers on Twitter, look at what's working.
First, tweets with hashtags get 100% more engagement, so don't forget to use them in your posts. This is pretty obvious advice to Twitter users, so let's take things up a notch. People watch 2 billion videos on Twitter per day. That's a 66% year-on-year growth in 2019, meaning video has found its place on the platform.
Watching video is also the #3 reason people use Twitter with 32% of people saying they go to Twitter to watch video. Tweets with video get 10x more engagement than those without, making Twitter videos necessary for brands in 2020.
Here are some brands already getting video right on Twitter:
Twitter is the go-to platform for a product launch as confirmed by Global Head of Twitter Next, Alex Josephson who said: "Over the course of 2019, the dominant primary reason brands are using Twitter is when they are launching something new."
Indeed, there has been a 27% year-over-year increase in new product launches.
As the new kids on the streaming block, Disney+ used Twitter to its advantage by creating an extensive tweet thread comprised of 600 tweets. Each tweet represented a show from the Disney+ umbrella and video played a huge role in the announcements gaining considerable interaction.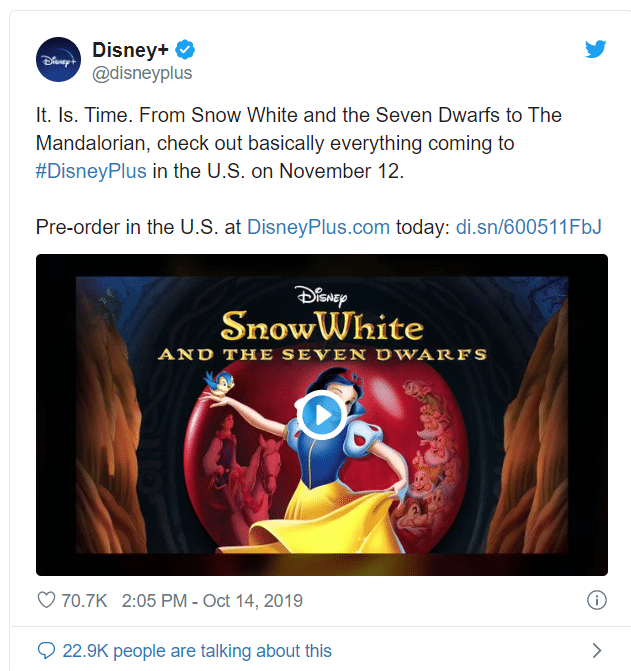 Live streaming is also a great way to garner attention and build interest around your brand.
On October 13, Fortnite deliberately crashed its own game and replaced it with a black hole. A live stream of the black hole was then posted on Twitter with all other previous tweets being hidden.
More than 12.8 million people tuned in to watch the live stream promoting Fortnite Chapter 2. This unique angle certainly amplified Twitter page engagement.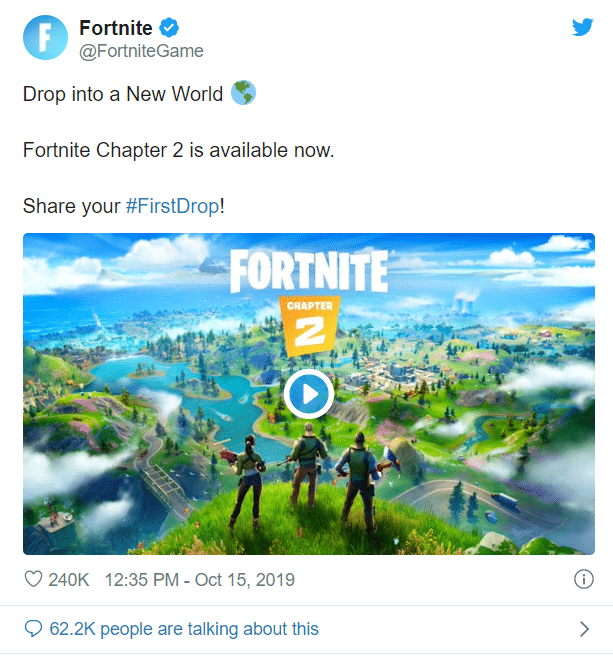 Tip for social media managers
Produce awesome content relevant to your clients' brands. Think about your target audience and listen to feedback. If your content is on point, the natural growth of your account will follow.
Keep your tweets short. Videos with minimal tweet copy versus longer tweet copy have a 13% higher brand and message recall and overall view time.
Make the most of video website cards. These encourage your viewers to take action and deliver a 2x higher clickthrough rate.
Be direct. Encourage people to follow and RT if they like what they saw.
Fun fact: These were the most discussed actors on Twitter in 2019. Did you tweet about any of these?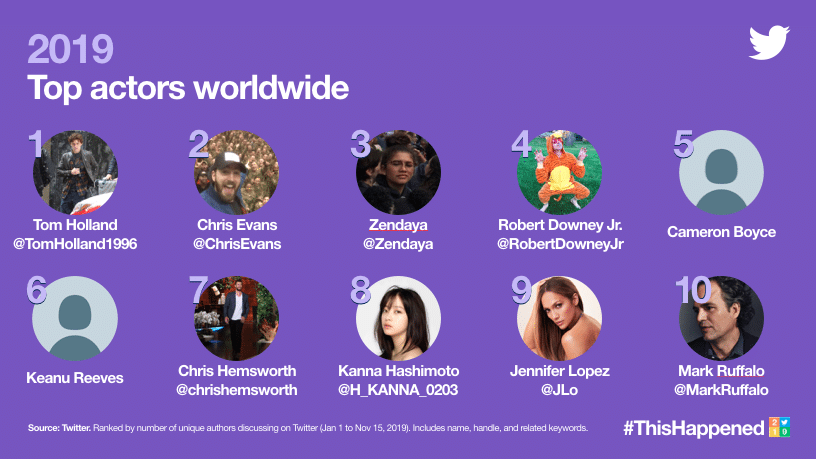 3. Incentivize Social Media Engagement
To get your brand seen and get more followers on Twitter, encourage engagement such as likes, retweets, and comments.
One of the best ways to do this is by offering incentives.
For example, for every [some] number of retweets, you could release an exclusive product or video footage. Or you could promise a special competition and prize should you reach over [some number] followers. Remember, the trick is to increase follows and so your call-to-action has to be direct.
A great example of relevant interaction came from Popsicle.
After a tweet from Justin Bieber stating how he couldn't find double-stick popsicles and posting "this is crazy. @Popsicle we need those back," the brand replied saying that if their page got 100,000 retweets by July 23, Popsicle would bring back the Double Pop.
Consumers met the goal. In fact, the results were breath-taking. The company had a 1,000% increase in mentions of the Double Pop between June and July and 99.9% positive sentiment around the conversation. They also got 140 earned media placements.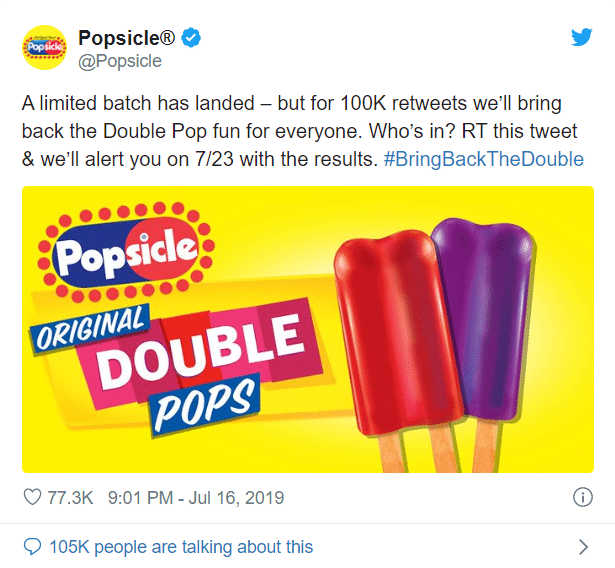 Tip for social media managers
Have a strong call-to-action that'll improve your growth and engagement.
Work with incentives.
Create your own branded hashtag to make your tweets easier to find.
Use visually striking imagery to garner interest.
Never, ever leverage charitable giving for retweets. The backlash will be swift and ugly!

4. Find Micro-influencers and Work With Them
A micro-influencer on Twitter is someone with 2,000 to 50,000 follows. They usually have a niche market and focus on particular topics and interests. The reason many brands work with micro over macro-influencers who have millions of followers is simple.
The leads generated from these influencer types tend to be more targeted and relevant. So, if you're trying to grow your Twitter profile, finding an influencer who matches the ethos of your brand is key to gaining more followers genuinely interested in what you do.
Interestingly, 94% of consumers consider micro-influencers to be more knowledgeable than macro-influencers/celebrities. That translates to audiences genuinely interested in what the micro-influencers have to say.
It's unsurprising then that people are 10x more likely to follow the recommendations of a non-celebrity blogger than a celebrity, giving your Twitter profile a boost. We have also witnessed an influencer backlash in 2019 with Instagram sponsored post engagement dropping from 4% to 2.4% in 2019.
A simple shout-out can grow your Twitter profile, with almost 40% of Twitter users saying they've made a purchase as a direct result of a tweet from an influencer. The example below is from micro-influencer Danielle Bernstein of @WeWoreWhat, a micro-influencer in the fashion world, giving a shout-out to @Postmates.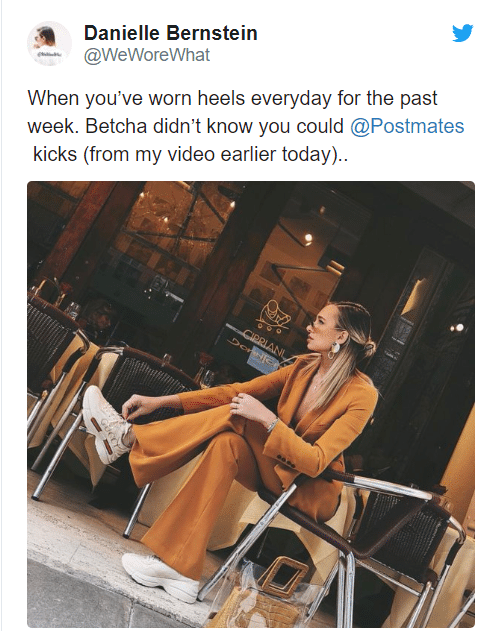 Tip for social media managers
Contact any micro-influencers already following your brand. They'll have a genuine interest in the products and services you offer and might want to collaborate with you.
Identify the hashtags most associated with your industry. Search posts with these hashtags and see if you can find anyone to represent your brand.
Research top industry bloggers. These bloggers will often have social media accounts and might be willing to work with you.
Create Twitter shoutouts for your favorite micro-influencers and see who responds. this will be a good indicator of who you can work with in the future and help you to grow your Twitter profile.
5. Reward Engaged Fans Using Agorapulse
If you want to get more followers on Twitter, Agorapulse is your BFF.
Agorapulse allows you to listen to sentiment and monitor competitor activities on Twitter, so you're never out of the loop. It allows you to see your top engaged fans on Twitter too. The below image shows the top engaged fans for Contentworks Agency. It also highlights those who are your best brand ambassadors. It has literally done all the work for you. So, maybe you can reward your top fans each month with a product discount or giveaway?

Tip for social media managers
Monitor your top fans for each account and consider rewarding them for their loyalty.
Pull reports on your response times. Remember that 64% of consumers using Twitter expect a response within an hour, so it's fastest finger first.
Assign responses to different team members to ensure a slick engagement business model.
6. Embrace Offline Activities
As well as the above online tips, there are other things you can do offline to get more followers on Twitter.
Put your Twitter handle on business cards. This is a simple yet effective way to encourage online engagement following a conference.
Include your Twitter handle on all offline marketing materials including brochures, leaflets, and other printouts.
Get people to follow you at the start of a seminar. If you're speaking at an event, why not make the most of this opportunity with a call-to-action? You could even encourage people to live tweet using a specific hashtag.
Incentivize customers to interact with you on Twitter by embedding click to tweet links in emails and blogs.
Growing your Twitter profile in 2020 is perfectly possible even if you haven't been successful to date. Get ready to shake things up, take a few risks, and start monitoring your results. If it works, amplify it. If it doesn't, switch tactics.
Get started on saving time and energy on your social media management! Check out our free trial of Agorapulse to help you schedule, track, and measure all your social media efforts.