Do your social media marketing plans lack a strategy for YouTube? If so, then you're seriously missing out on some amazing business-growth opportunities. But these tips can help you get started.
From humble beginnings as a way for people to connect through video content, YouTube is now one of the biggest marketing channels offering lots of opportunities for growing your business.
More than 500 hours of video content is reported to be uploaded every minute to the site (as of this article's publication). Globally, as many as two billion users log in every month. YouTube has the greatest reach of any video platform available, giving access to music, original shows, personal vlogs, brand channels, and a lot more.
Think With Google has projected that 50% of people under the age of 32 years old will not be subscribed to paid television services (cable) by 2025 but opt instead for streaming services that include YouTube.
This is not just a US-based phenomenon. YouTube is available in 92 countries and in 80 languages, with further expansion planned.
So, how can your brand take advantage of the tremendous opportunities for growth via YouTube?
Whether you are looking to become a Youtuber or whether you've had a channel for a while now, here are some useful ideas …
1. Turn Your YouTube Channel Into an Educational Knowledge Hub
Do you know what ranks #3 in Google for [Grow Your Business via YouTube]?
A YouTube channel.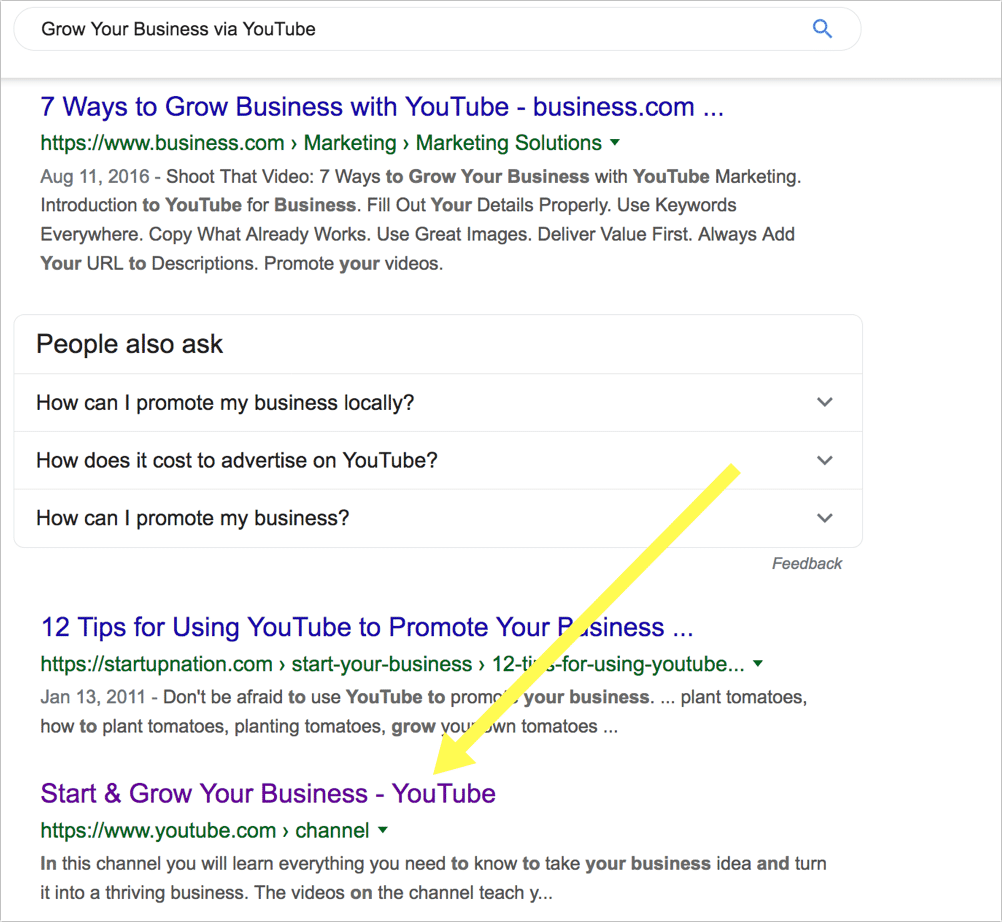 Think about it … A YouTube channel is a separate entity of its own. It is findable through search, whenever people are typing your name or a generic term in Google. This is why a solid keyword research strategy is obviously important for succeeding here.
It is a good idea to look at your web analytics and find your best performing content to turn into video format. This is your low-hanging fruit opportunity. If your content is performing well on your site, chances are videos will rank as well. Finteza provides comprehensive traffic analytics allowing to identify content that drives traffic that converts well: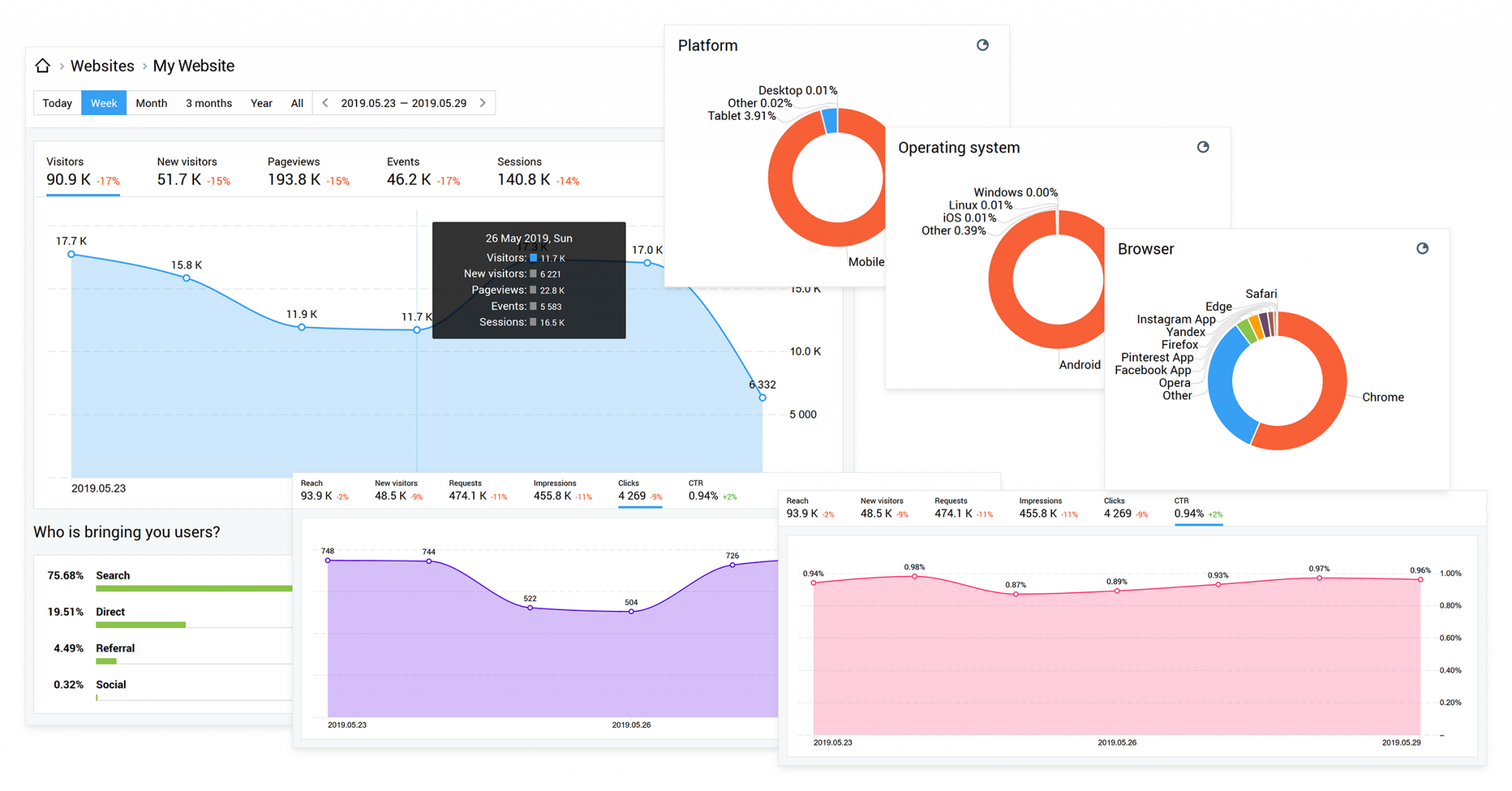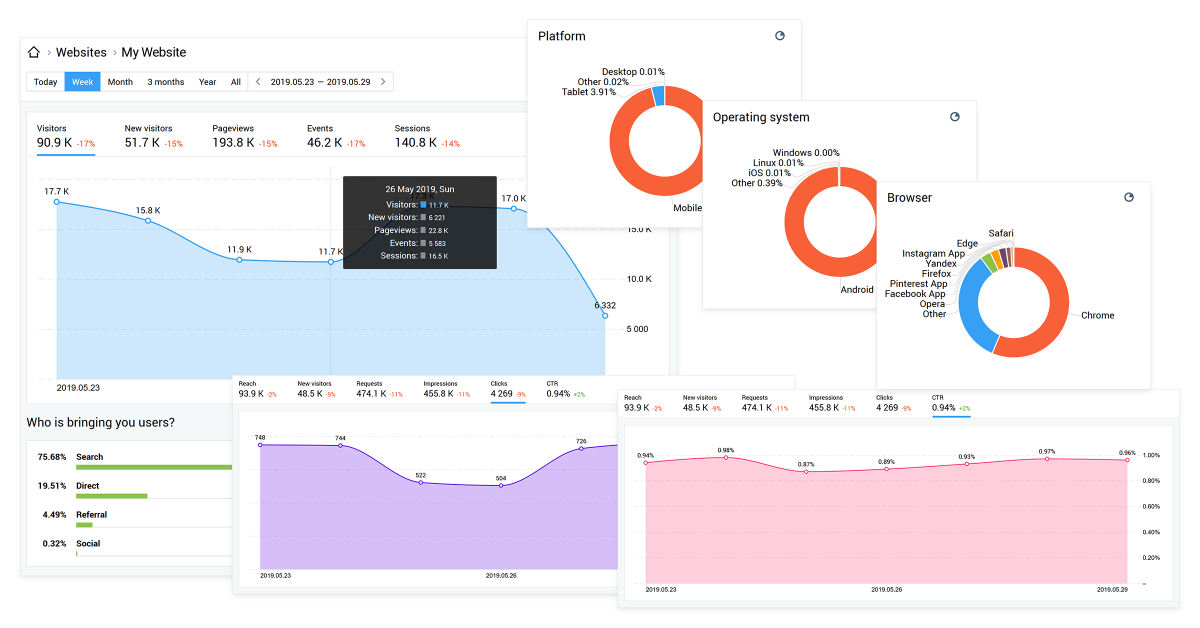 A YouTube channel can be used to build brand loyalty and its own community (subscribers), giving you yet another platform to get heard from.
But for that to work, you need to work on your YouTube channel consistently.
Here's what you need to do first to grow your business on YouTube:
Customize your YouTube channel
This is an important step because it lays the foundation. Will anyone want to subscribe when they land on your YouTube channel page?
For the answer to be "yes," you need to set up a channel that will look professionally and reflect your brand values.
To customize your channel:
Navigate to "My channel, then "Customize channel" and "Channel settings."
There click "Customize the layout of your channel."
From there, you will be able to:
Add a channel trailer. (Choose from existing videos you have uploaded to YouTube.) You can also set custom content to show to your subscribers.
Add your channel header image (2,048 x 1,152 pixels minimum)
Organize all your videos and playlists into sections to give more visibility to older videos.
Add links to your site and social media profiles.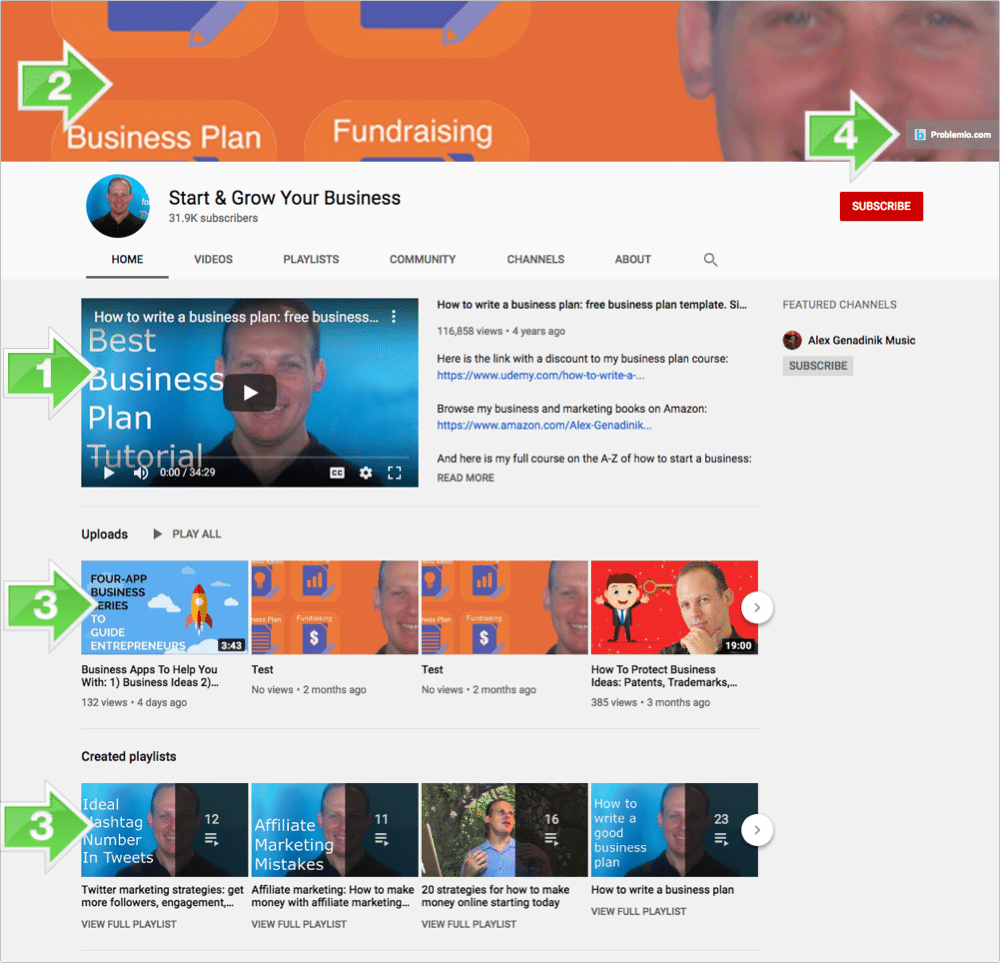 Find your unique value proposition and stick to it
Nailing down what you have to offer is another necessity if you want to reach your audience.
Before trying to build your YouTube presence, you need to answer one important question: "Why would anyone want to subscribe and come back to my YouTube channel?"
Even well-established channels have made the mistake of branching out too far, creating side content that may (or may not) be related to the central purpose of the channel as a way to upload more frequently without putting in the same level of work as their primary videos.
But that takes focus away from the branding and can often hurt more than help.
Identify your niche content gaps and align your video content ideas to cover that gap.
Niche questions research will get you started: Are there questions that may be answered in a video format? You can use tools like Text Optimizer to collect niche questions and brainstorm your unique strategy around them: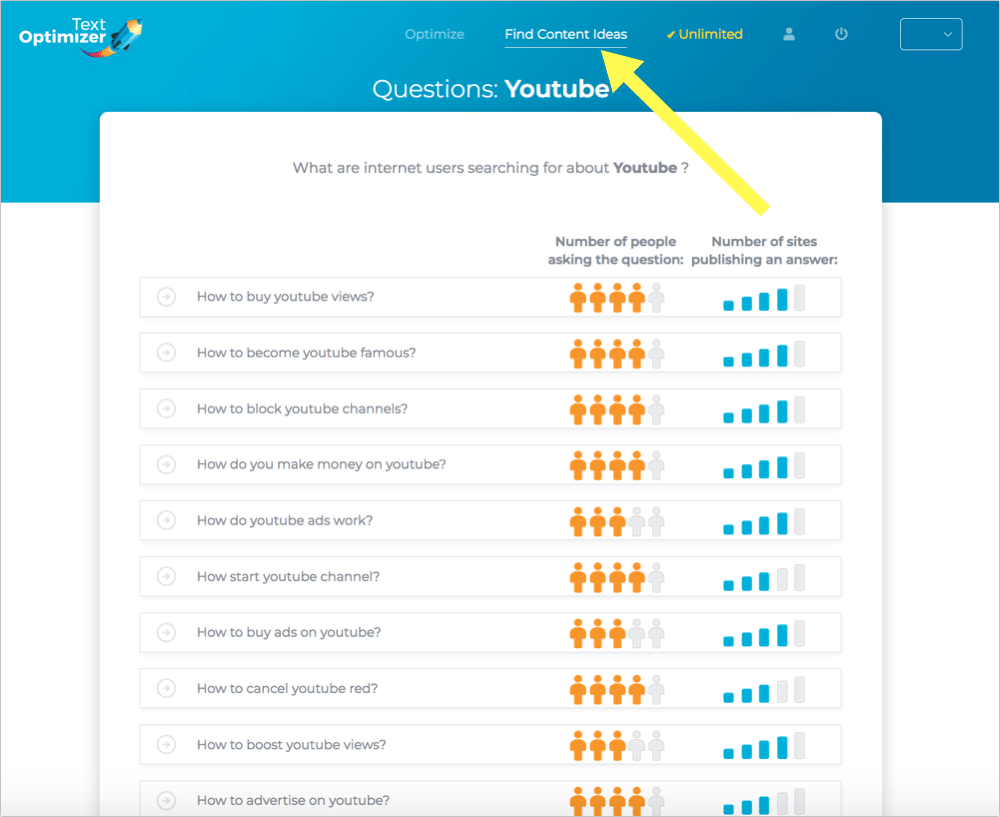 Talk to your sales and customer support teams: They may suggest topics that resonate best with your target audience. This is why unified communications within an organization are so essential.
Brainstorming your own unique format is another way to get noticed on YouTube. Your videos should follow a unified style that your whole strategy should follow.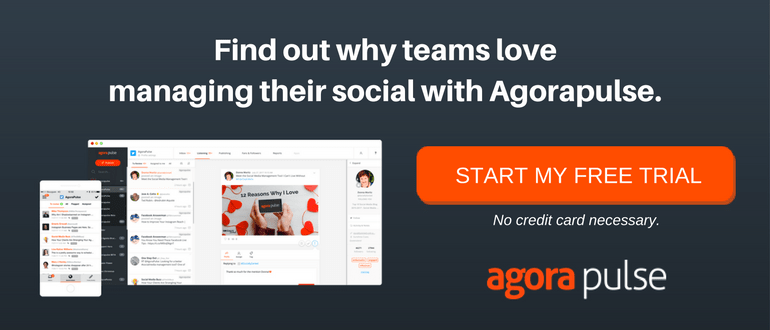 2. Create an Independent Source of Brand Awareness
There's one mistake online businesses make over and over again: They tend to rely on a single source of traffic too much. Usually, it's Google positions, which are becoming more unpredictable and versatile year after year.
Developing alternative sources of brand awareness and leads is key to consistent online marketing success.
It doesn't even have to be traffic, which an emergence of "clickless" Instagram marketing has come to prove. Consumers don't often have to click anything on Instagram to buy a product. In many cases, that's a verbal recommendation from an influencer that brings customers into the brand's sales funnel.
YouTube provides for lots of opportunities like that allowing you to connect to influencers and attract customers' attention without relying on Google ads or social media ads.
YouTube is not just a video hosting platform. It's also a search and content discovery platform. To build your YouTube presence and find yourself discovered through the powerful channel, you need to set up the plan and stick to it.
Here are your first steps …
Consistently add new videos
Developing a YouTube presence is no different from building a blog: You need solid content on a continuous basis.
The easiest way to keep yourself organized is to develop a solid content marketing plan, such as an editorial calendar for a few months ahead.
YouTube audiences love consistency. I've seen many popular channels outlining their content schedule right in the channel trailer promising to publish new videos on a specific day (or days) of the week.
Using tools like InVideo video creator is a great way to create professional videos to publish on your channel consistently: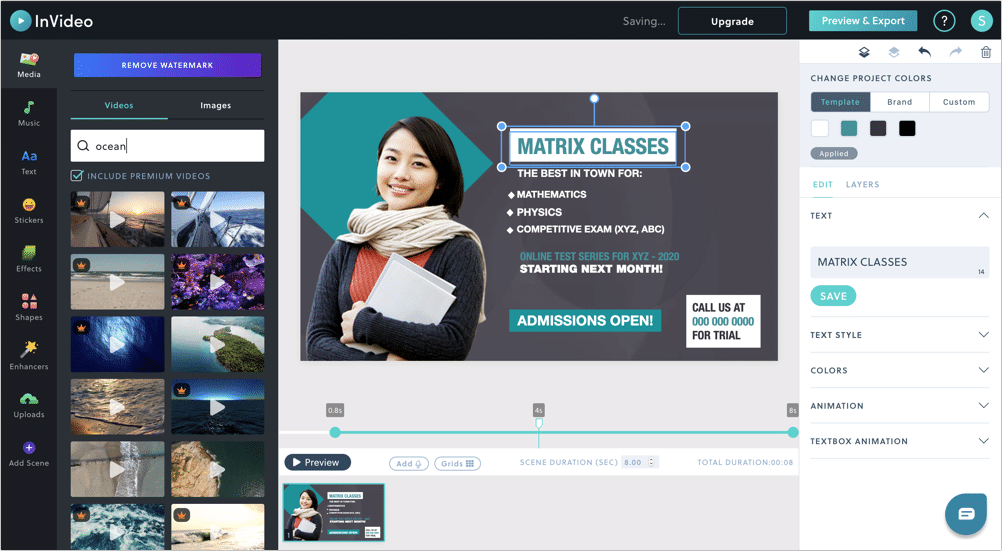 Try live streaming
Live streaming is a huge marketing opportunity on YouTube. It is one of the most powerful story-telling tools out there. No wonder the platform is developing new tools for live streamers to get more out of their broadcasts. This includes YouTube premieres, allowing video publishers to announce their upcoming live event and start building the audience prior to going live.
With YouTube premieres, you can schedule your live stream in advance to promote your link in your newsletter and social media channels for your audience to receive notifications when you actually go live.
On top of that, use third-party tools to generate even more results from every single live stream. For example, ClickMeeting allows you to broadcast your webinars and interviews to YouTube giving you tools to turn your educational events into live videos for more exposure: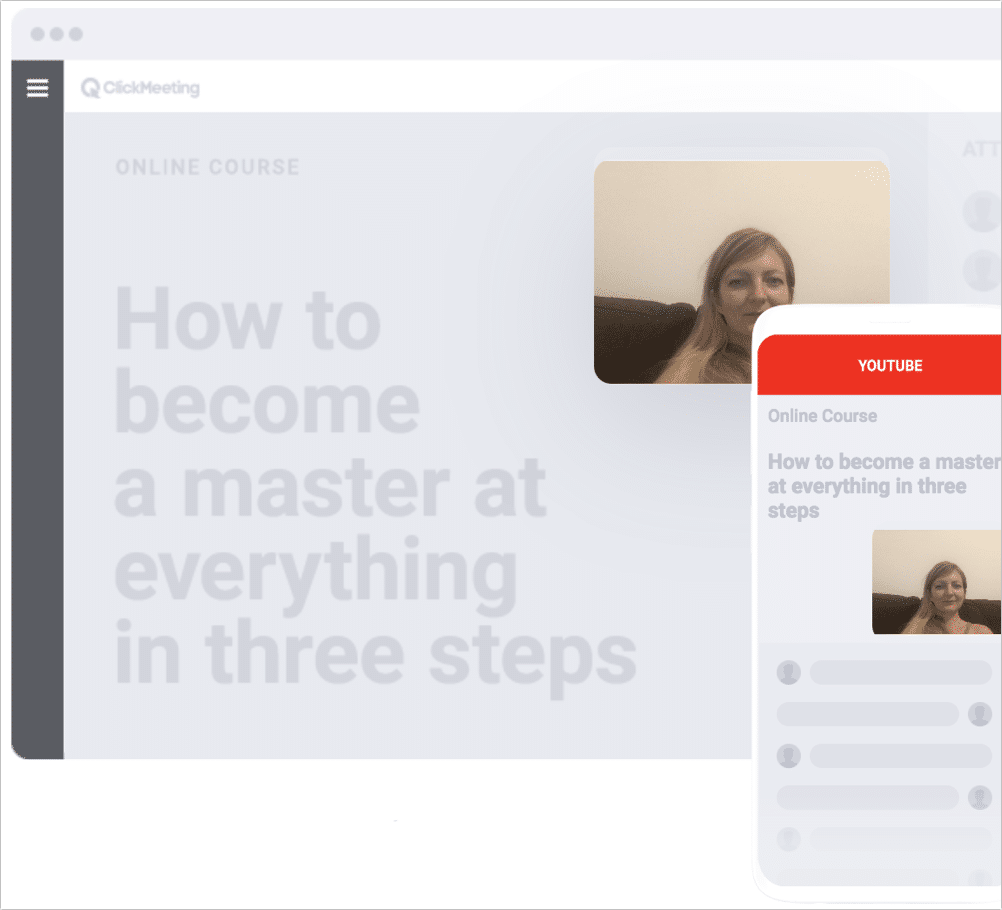 Promote videos off YouTube
This might be an obvious (yet often neglected) step in a YouTube marketing puzzle. You need to treat each video as a content asset that needs seeding before it spreads.
Link off to your videos from your own site, or use WordPress plugins to build on-site video gallery.
Get your social media team to do their magic by scheduling updates promoting the videos and encourage them already created visuals to make those updates more powerful. For example, they can re-use image thumbnails as native images on Twitter and Facebook when sharing the link.
With Agorapulse's collaborative feature, you can even allow your content creators to create those updates for your social media team to schedule them out: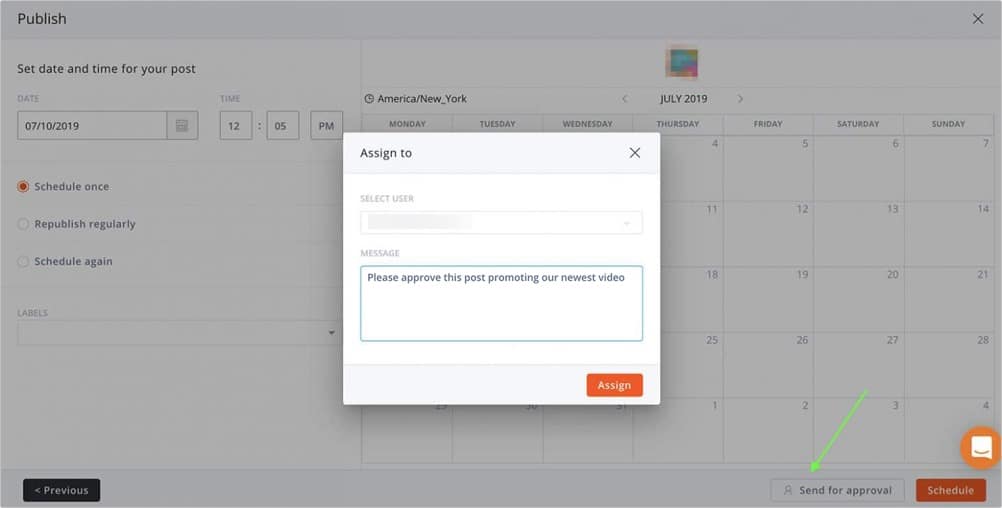 3. Control More of Those Branded Search Queries
Do you know what is so special about YouTube?
Among other things, Youtube videos rank incredibly well in Google.
If you are not looking to build a separate income on YouTube, or simply have no time or resources for that, you can utilize it to better control your branded search queries (i.e., those queries that contain your business or product names).
Whenever people are typing your name in Google's search box, they are likely to be very close to buying from you. Those searchers already know you, so all they need is a quick reassurance to finally buy.
Whatever they see inside Google's search results will either confirm their willingness to buy—or scare them away. That makes your branded search results so essential to your bottom line.
Google will often show rich and visual results, including videos, which may effect searchers' buying decisions: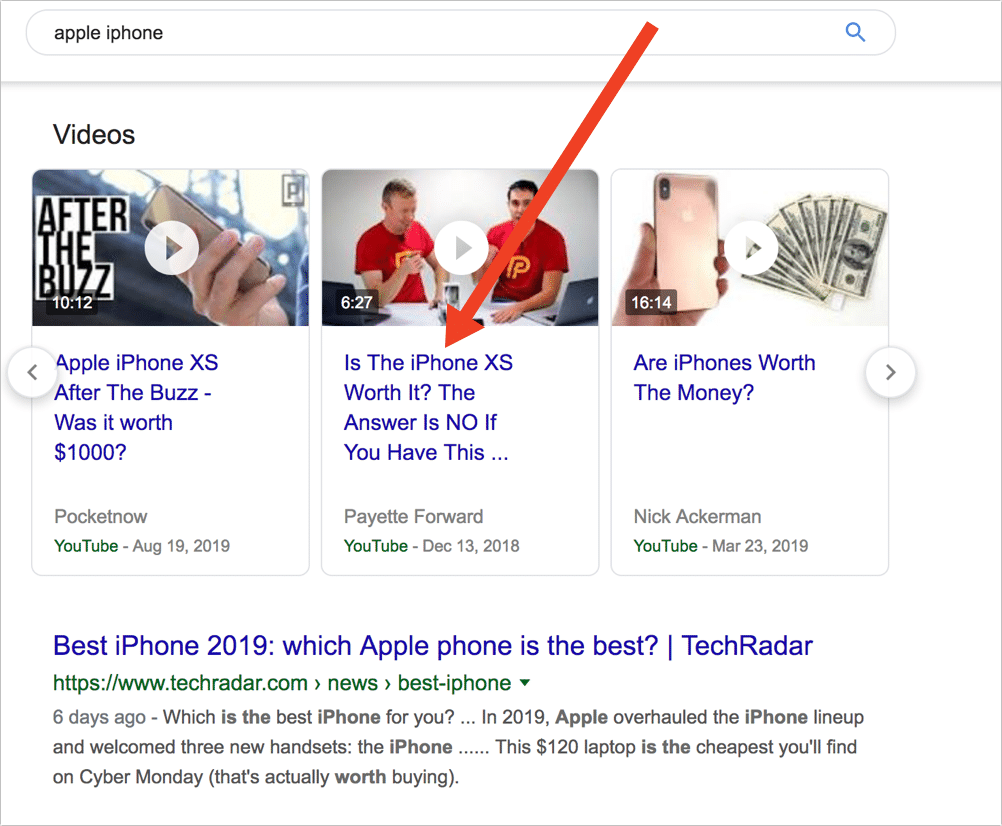 Creating and marketing more videos featuring your products can help you better control that organic search sentiment.
Research and monitor your branded search queries
It all starts with good old keyword research. Simply type your brand or domain name (and/or product name) in your current keyword research tool (SEMrush, Ahrefs ,and Serpstat are all worthy options).
Next, go ahead and organize those queries to turn your research into a video editorial calendar. I usually drop those keywords into a spreadsheet and note my video ideas and an estimated time of execution to plan things out.

It is also a good idea to link to your individual videos when possible. Link building is still the most effective way to rank your assets in organic search.
Create different types of videos
Get all your possible assets together and turn everything you can into videos. There are lots of possible ideas, so think of this the following way:
Which type of the video will satisfy each query in the best possible way?
Which content assets do you currently have and can re-purpose to target each specific query?
To give you some ideas:
Turn your current product demos into short "highlights" addressing specific queries.
Create screencasts to showcase steps and answer easy questions (e.g.,"how to login").
Email your customers and invite them to make "unboxing" videos or "customer success" videos in exchange for freebies.
Turn your PowerPoint presentations into slideshows.
Publicize your webinars. (ClickMeeting offers an easy integration for that.)
Create separate and diverse videos for all—even very similar—queries. After all, the more videos in those search carousels come from your brand, the better you control the sentiment.
In Conclusion
YouTube can help you grow your online business in several ways:
You can build brand awareness and position your business as a knowledge leader by creating educational videos. For this strategy to work, you need to come up with a consistent style and format to stand out and get noticed.
You can use YouTube to build an alternative brand awareness source. This strategy requires developing a consistent editorial calendar.
Use your video content to dominate your branded search results. For that, you will need to research your branded queries and create videos to target them.
* * *
Sign up now for a FREE demo.