Is the upcoming holiday season stressing you out? With the right planning, you can make sure your social media is one less thing to worry about.
You have a huge amount of pressure to connect with your audience this time of year.
After all, people are ready to spend because they are looking for the perfect gifts for themselves and their families. Everyone's already at their computers with their wallets already open and their credit card numbers half-memorized.
Now, it's up to you to make sure they notice your products and service.
That's why you have to prepare your social media for the holidays now.
1. Prepare Your Social Calendar
This time of year, you've got more on your plate than usual. When that happens, social media is one of the first things to go …
You can't afford to let that happen.
To fight back, create a fully developed social media marketing calendar and plug posts into that calendar right away.
You want every single post to be scheduled to go live at peak posting times for optimal traction and so that you don't have to manually do it yourself. Make sure to have a strong presence on all the social media platforms relevant to your business.
What to include
You'll need to have all the following ready:
Your branded images
Strong, engaging captions
Calls-to-action
Landing page URLs (if you're sending followers to one)
Teasers
Approvals received
In addition, when creating your social calendar, be mindful of planning sales and promotions.
Your campaigns will be strongest when you intentionally coordinate them well across multiple platforms. This includes featuring products on Stories and in-feed posts and showcasing them in different ways.
Want to leave room to adjust your strategy as the season goes on?
Map out the big important posts you know you'll want to go live and add the others later.
You can add more generic holiday content in your queue under a "holiday" category and then place time slots when you'd like this content to go live. Doing so will keep your calendar full with less management on your part.
2. Get Ads Approved Now
If you want to run social media ads to increase sales by both targeting cold traffic and running retargeting campaigns, get your ad campaigns approved ahead of time.
Create them today, and submit them for approval.
You can schedule start and end dates for each ad campaign you create on most platforms, including Facebook and Instagram Ads, Promoted Pins, LinkedIn Ads, and Twitter Ads.
Your campaigns won't go live until the designated dates as long as you set them, so there's no risk of accidentally launching early.
The same isn't true for waiting until the last minute.
Why plan ahead
The marketplace is busy this time of year, and some platforms may take longer to approve your ads than normal.
You don't want to risk losing even a few hours on a prime selling day (let alone an entire day or two) because your ads took too long to get approved.
And if your ads are rejected, you have time now to figure out why and get it right.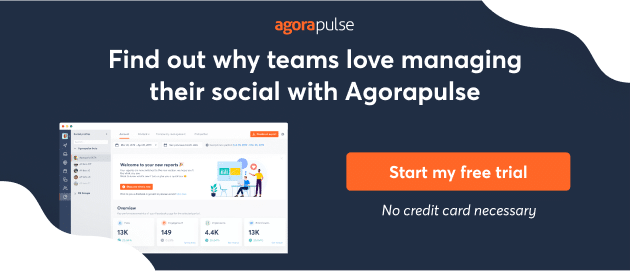 3. Prepare to Spend More on Social Ads
You'll also want to brace yourself for how much those ads will cost you.
PPC costs typically go up this time of year because there is more competition.
More advertisers are coming to the marketplace, and even more are willing to bid higher to secure those valuable placements.
Raise your bids as high as you're willing to go (though never more than is profitable).
You can set a bid cap limit on Facebook and Instagram Ads to make sure that you never pay more than a set amount on each action.
4. Start Teasing Sales and New Products
Roll out your sales, and announce them before they happen.
Get your audience excited about big events or promotions that you have coming up.
Showcase those stocking stuffer bundles. Flaunt that you'll offer free shipping in December.
Customers now are doing more research than ever before, especially this time of year.
While some impulse shopping can and does happen, a lot of people go into holiday shopping with a game plan.
If you share appealing offers upfront, you'll be part of that game plan, too.
5. Create Genuine Holiday Messages
This tip falls under the "have a calendar ready" section, but I wanted to single it out here.
In addition to having all of your promotional content, have a few genuine, authentic-feeling holiday messages.
Ask users what they're doing for the upcoming holiday season, or just thank them for their loyalty and wish them a safe and happy holiday with their family.
These messages can be humorous, sweet, or sentimental.
Just remember to put the holiday season at the forefront of the message and don't make it overtly about sales.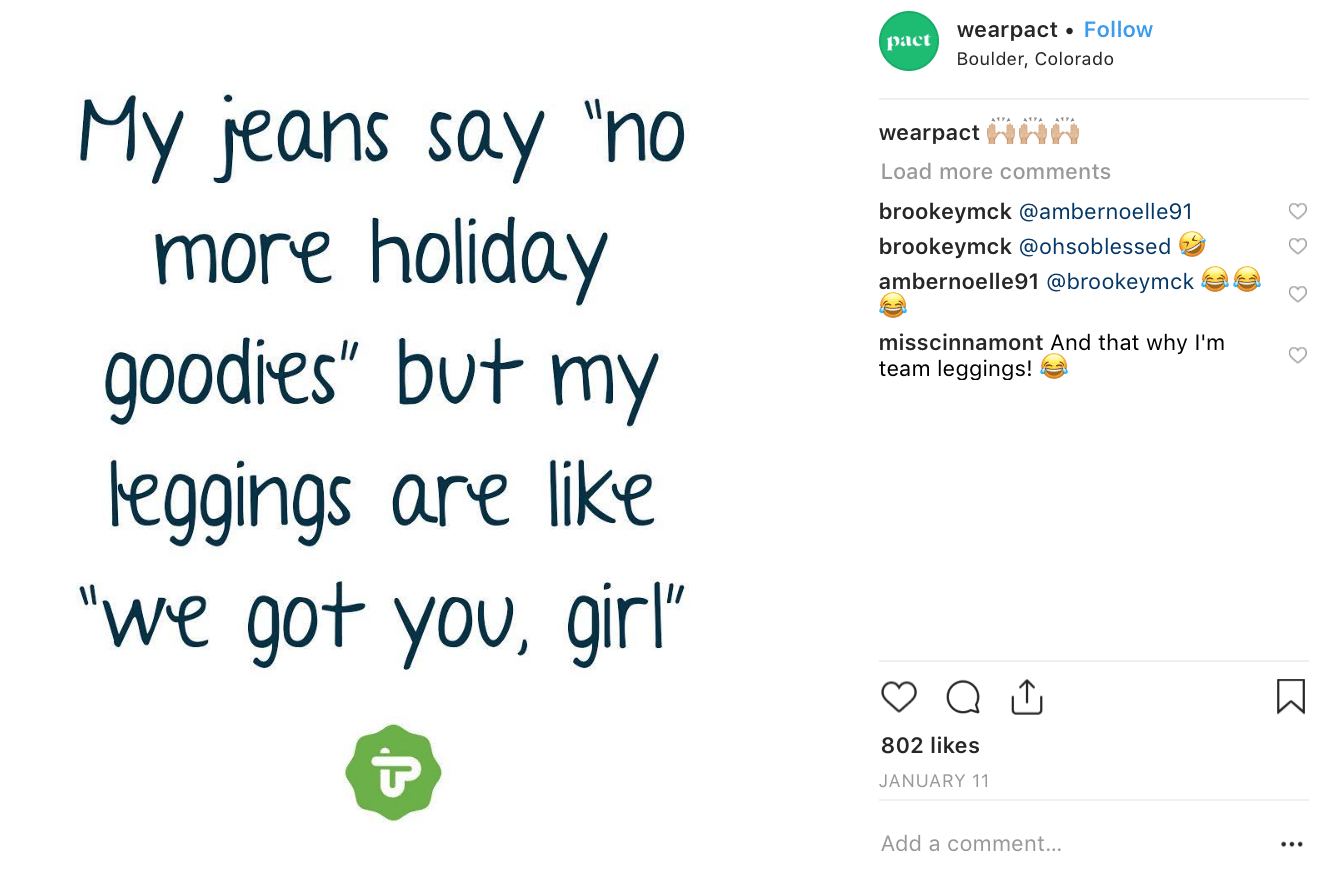 These posts can yield engagement, which is a plus, but most importantly they can go a long way in improving how people see your brand and their relationship with it.
6. Get Your Social Inbox Ready
You can't do much for this one except know that it's going to happen.
Clear out your inbox ahead of time, and commit to having someone ready to tackle the influx of incoming messages that typically happen this time of year.
How to prepare
People are going to be messaging you asking about:
Shipping dates
Order status
Product information.
You'll get requests about changing shipping speeds or locations after the order has been processed.
If you're able to stay agile in your inbox, you can increase sales and create more positive experiences for new and returning customers alike.
If you use Agorapulse, make sure to use Agorapulse's Inbox Assistant features.
You can set up automated rules to filter out the most important requests and address them quickly.
You can also create saved replies for users asking the same generic information (like shipping dates). Assign different messages to team members if needed and make sure that no message gets ignored.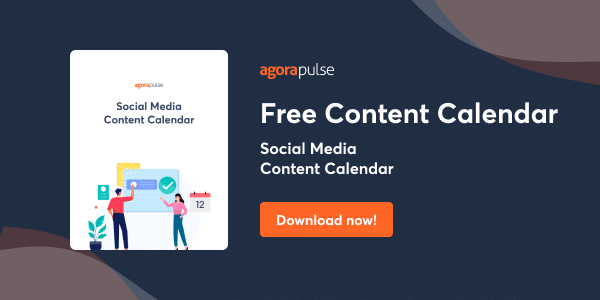 Bonus Tips From the Trenches
So, in addition to the above tips, what else are your fellow social media managers and social media marketers doing to prepare for the upcoming holiday season?
We discussed the upcoming holiday season in Agorapulse's recent #agencychat on Twitter:
A7: We always say if people can't see you?, they can't hire you ? ?

So be visible, show up online, position yourself as the go-to expert and add value to your audience. #AgencyChat https://t.co/9lDs7cXAZS

— The Hub for Social Media Managers (@thesmmhub) October 15, 2020
RT @OKsuziStrategy: A2 If you're a local small business, play up the local aspect in your marketing. Make sure to mention in your advertising how you can also make things easier for your customers (e.g., delivery, no-touch pick up, buy one/get one).#agencychat

— Lisa ? Chau || Clover Canal ?? (@Lisa03755) October 15, 2020
A3 Potential customer need to go through the know-like-trust you process so they eventually buy. Make sure you have a solid platform. Include testimonials (e.g., customer words + awards) in your ads. Show the experience of the product. Make it easy to buy online.#agencychat

— Suzanne Brown/Marketing & Biz Strategist (@OKsuziStrategy) October 15, 2020
A6 Look at your metrics – what's worked for you in the past? Why did those things work so well? How can you repurpose that for the holiday season?
You don't have to re-invent the wheel every time, just add value and build upon what you've already done
-Alyx#agencychat https://t.co/2OYIoRLe2z

— Charlie Appel Agency (@ColfaxInsurance) October 15, 2020
A4. Work on your normal holiday messages and imagery that you know you will need. That way you have more time to react based on what is happening in a few months. #agencychat
— Marketing Stable, LLC (@MarketingStable) October 15, 2020
Get more tips on the holiday season by checking out the #agencychat hashtag. Agorapulse's Twitter chat is hosted by the friendly, experienced, and supersmart Deb Mitchell every Thursday at 11AM.
Avoid These Social Media Mistakes During the Upcoming Holiday Season
Take a few hours today and go through all the steps above to make sure that you're ready for the holiday season.
Now, in the midst of holiday madness, businesses can often make costly errors in their seasonal promotions.
Why not read about these holiday marketing mistakes to help you from repeating them with your own business?
Don't forget to send a year-end thanks to loyal customers
This time of year is a time of reflection for many.
Reaching out to loyal clients and customers isn't required by any means, but even a quick personalized note thanking them for their business can help build that always-important relationship.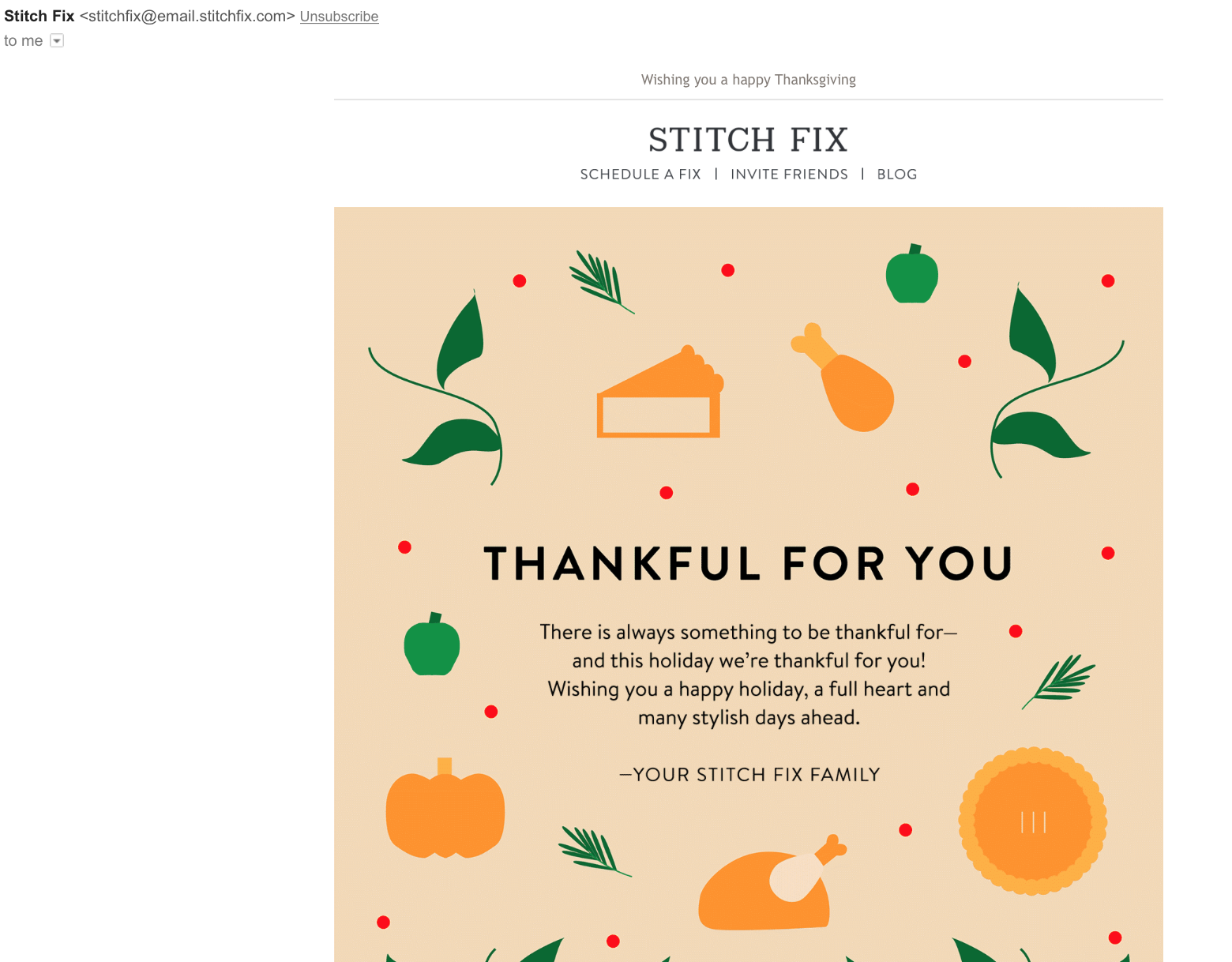 Whether this takes the form of a handwritten card or a quick email thanking them and wishing them a happy new year, this is a gesture that won't be forgotten.  (If you aren't sure whether they celebrate certain holidays, a "Happy Holidays" is always appropriate.)
Sending thanks takes just a few minutes, but for someone who has spent hundreds if not thousands of dollars, it's a gesture that will mean a lot.
Don't skimp on researching the competition
Competitor research and monitoring is something that businesses are normally incredibly conscious of during the year.
It's easy to let your competitive analysis slide during the holidays while we become overwhelmed with other things. But in some ways, it's even more important than any other time of the year.
Consumers are exceptionally aware of all of their options this time of year. They know that there are deals around every corner.
Keeping an eye on your competition will let you know if their super sale is undercutting yours.
It can also give you ideas for creative "holiday bundles" or package deals that will help you sell more.
Keep an eye on the competition, no matter how busy you get. You can't afford not to.
Neglecting retargeting
Ad retargeting should always be a cornerstone of your marketing campaigns.
The ability to show targeted messages to warm audiences is a huge strength that consistently yields sales at higher rates than targeting cold audiences.
It's particularly important during the upcoming holiday season, however.
Too many brands neglect retargeting during the holidays and instead try to maximize sales by focusing on cold traffic.
While targeting cold traffic with your ad campaigns can help you grow your client base when advertising big sales, you shouldn't neglect your established customers.
It's particularly important to run Facebook Ad campaigns targeting users who have recently visited your website.
The holidays, after all, are a time where people are consistently buying gifts for other people. This means that a big portion of your sales may not come from your established customers, but from their loved ones gifting them.
Because of this, the best way to reach them is to run retargeting campaigns shown to users who have recently checked out your site.
Doing so can put you in front of potential customers who were doing some early research into a gift and keep you on their radar.
Don't slack on engagement monitoring
People are ready to buy now, both in B2B and B2C industries, and that means that their engagement on your profiles could hold a lot of weight.
If you aren't around to answer a question about a free trial, or another about your shipping and return policies, you could very well lose out on a massive sale. That goes for both organic posts and ads.
Use Agorapulse's quick social media monitoring and management.
You can keep an eye on engagement from every single platform (including your Facebook Ads and Instagram Ads) all on one dashboard, saving you a ton of time.
If you're worried about not keeping up, download the Agorapulse mobile app. The app sends you notifications alerting you when you have items to review.
In Conclusion
The holiday season can be stressful on so many levels. So, do what you can to make them more peaceful (and still more productive) for your clients and your own social media agency by carefully planning ahead.
* * *
Get started on saving time and energy on your own social media management! Check out our free trial of Agorapulse to help you schedule, track, and measure all your social media efforts.