Ever been confused as to which Facebook Ad objective you should choose for your Facebook Ad campaigns? Selecting a campaign goal is the first step you take when setting up Facebook Ads—but it's also one of the most challenging parts of the process. If you're new to Facebook Ads, you might be tempted to avoid making a decision and just boost your posts instead. Yet taking the time to understand Facebook Ad objectives can help you achieve better and more targeted results.
So how can you select a campaign goal that's right for your business or client? Find out what each Facebook Ad objective is for and discover which one is designed to deliver optimal results for your campaign.
What Are Facebook Ad Objectives?
When you choose an objective, Facebook analyzes its user data and serves your ads to people in your target audience who are most likely to take the action you want. Whether you want your audience to download your app, make an online purchase, or visit your store, Facebook Ads can help you connect with the right customers.
Facebook breaks objectives up into three categories (with various options under each):
Awareness
Consideration
Conversion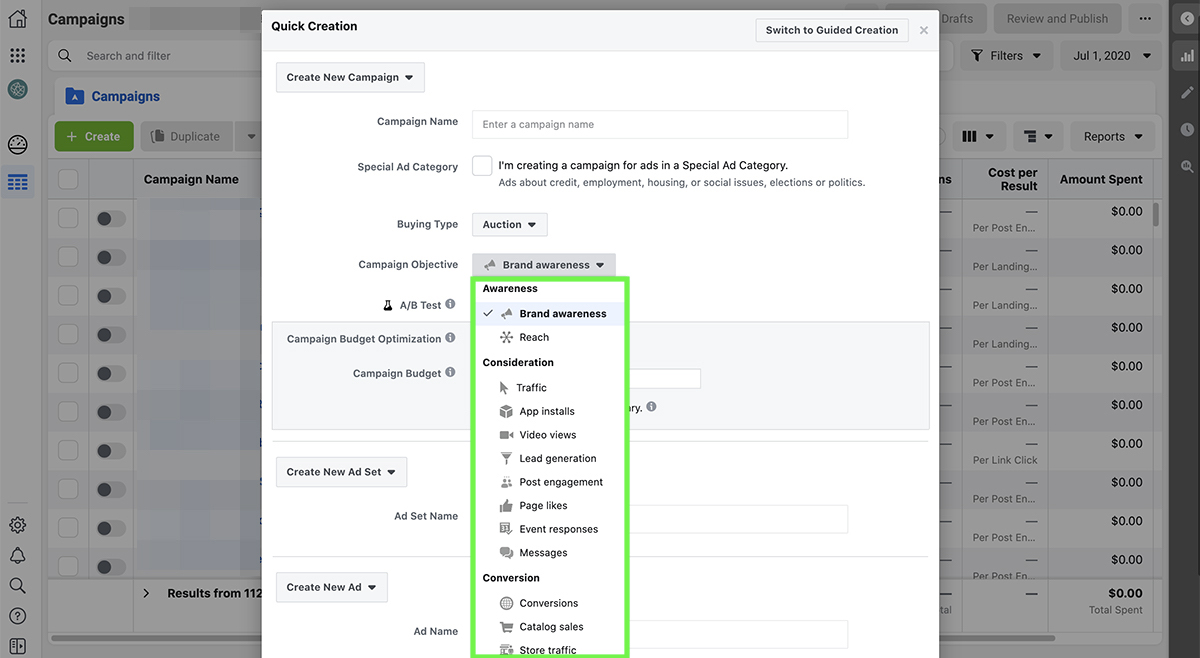 First, pick the category that works best with where people are in your sales funnel.
Awareness objectives: Top of the funnel (TOFU) goals designed to generate interest in what you offer
Consideration objectives: Middle of the funnel (MOFU) goals that target people who want to learn more about your offerings
Conversion objectives: Bottom of the funnel (BOFU) goals for driving purchases, registrations, and visits
Next, review the Facebook Ad objectives that work with the right sales funnel stage. Select one that best aligns with the action you want your target audience to take.

Awareness Objectives for Facebook Ads
If you want to generate interest or expand your audience, you can choose from two Awareness objectives:
Brand Awareness
Reach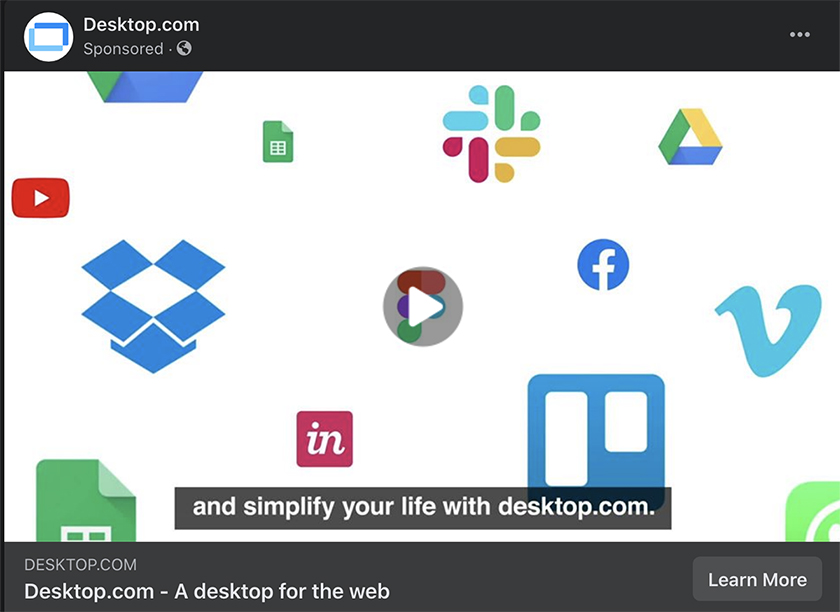 1. Brand awareness
Use this objective when you want to introduce your brand to a wider audience or increase awareness of your products and services. This Facebook objective is ideal when you need to pique the interest of a new audience or stay top of mind with current customers. When you choose this objective, don't expect your target audience to take additional actions.
For example, the people who see your Brand Awareness ads probably won't click through to your website or make a purchase—at least not yet.
Later, you can serve Consideration or Conversion ads to a similar target audience and move interested customers through your funnel.
2. Reach
To serve your ads to as much of your target audience as possible, use the Reach objective. As its name suggests, this campaign goal is designed to reach the maximum number of potential customers that your ad budget allows. If you serve customers in a certain area only, this Facebook objective allows you to limit your target area to make your ads more relevant. The Reach objective also lets you adjust the frequency settings so you can get even more value from your ads.
For example, if you're running ads for a large, well-known company, serving ads at a lower frequency is probably enough to meet your goals. But if your brand is new to the market, you may need to serve ads more frequently to ensure they stick in customers' minds.
Consideration Facebook Ad Objectives
When you want your audience to become better acquainted with your brand and offerings, you can choose one of the six Consideration objectives:
Traffic
Engagement
App installs
Video views
Lead generation
Messages
1. Traffic
Use the Traffic objective when your goal is to send your target audience to a destination outside of Facebook. For example, you can link to a blog post, a podcast episode, a landing page, or an app.
If you have the Facebook Pixel or SDK installed on your site or app, you can track customer activity and retarget the same Facebook users in future campaigns.
Facebook will show your ad to those people within your target audience most likely to click on your link, based on their past behaviors. However, they won't necessarily complete conversions like registering for your mailing list or completing a purchase.
To target those actions, you'll need to choose a Conversion objective.
2. Engagement
Use the Engagement objective when you want more people to interact with your ad.
Social media managers gave three options:
Post engagements: Encourage users to react to, comment on, or share a post
Page likes: Welcome users to like and follow your Facebook Page
Event responses: Invite users to attend online or in-person events
One of the biggest perks of choosing the Engagement objective is the possibility of generating additional reach. Engagement can increase an organic reach into news feeds beyond the initial audience you paid to access.
Choosing the Engagement objective can also help you build your Facebook Page Engagement Audiences. You can leverage these audiences for retargeting purposes for future advertising campaigns.
3. App installs
Go with the App Installs objective if you have an app and want to send customers to the App Store or the Google Play store.
When you choose this campaign goal, you can target high-value customers to ensure the highest possible return on investment (ROI).
4. Video views
When you want your target audience to watch your brand's video, opt for the Video Views objective. With this goal, you can help customers get to know your brand, showcase your brand's personality, or highlight your unique selling point (USP). This objective can also help you build up a video engagement audience that you can use for future retargeting purposes. Keep in mind that you don't have to choose Video Views just because you want to include a video in your campaign.
For example, you can feature videos in Traffic campaigns if you want to drive your target audience to a website or app. You can also include videos in Conversion campaigns if you want customers to opt-in or register.
5. Lead generation
Use the Lead Generation objective when you want to collect customer data on Facebook without driving traffic to your website.
Facebook Lead Generation ads allow you to capture information like names, email addresses, and phone numbers. The social media platform streamlines the process by auto-populating users' personal information when available.
Because you can customize your lead form, you can gather even more specific data.
For example, you can ask multiple-choice questions, invite users to type short answers, or encourage them to request appointments.
When you choose the Lead Generation objective, you can download all the data your campaign collects or automatically add it to your customer relationship management (CRM) tool. Then you can use the data to follow up with customers and move them further along in your funnel. One of the drawbacks of using the Lead Generation objective is that it doesn't drive traffic to your website.
However, it does generate a Lead Ad Custom Audience that you can use for retargeting purposes in the future.
6. Messages
Go with the Messages objective when you want to start conversations with your target audience.
This campaign goal lets you connect with customers on Facebook Messenger, Instagram Direct, or WhatsApp Business.
With this objective, you can ask your target audience questions and encourage them to engage with your business.
You can also generate leads and collect customer data.
Because the conversations are largely automated, you can scale your ability to connect with customers without devoting more time to social media management.
Conversion Facebook Ad Objectives
When you want your audience to make a purchase or visit your business, you can choose from three Conversion objectives:
Conversions
Catalog Sales
Store Traffic
1. Conversions
Choose the Conversions objective when you want your target audience to click through to your website and complete an action—such as:
Opting into a list
Adding payment details
Making a purchase.
To track the results, you'll need to install the Facebook Pixel or SDK and set up conversion events.
Although you can use this objective to drive very specific actions, the Facebook Ads algorithm may struggle to serve your ad effectively if your website or app doesn't generate enough of the desired conversion.
As a general rule, you need at least one or two dozen conversions per week for this objective to work correctly. If your site or app doesn't meet the minimum, consider a Traffic objective instead.
If you choose the Conversions objective, you can use the Facebook Pixel or SDK data to build a variety of Custom Audiences.
For example, you can retarget the users who entered their payment data but didn't complete a purchase.
2. Catalog sales
Use the Catalog Sales objective when you have an e-commerce store and would like to promote products from your catalog.
To use this goal, you have to connect your e-commerce store to Facebook Ads and create product feeds.
During the setup process, you can choose from advertising to new customers or retargeting existing prospects. You can also opt to target customers who have viewed but not purchased products or upsell related products to customers who have already purchased from your brand.
To optimize your Catalog Sales ads further, you can add dynamic content.
Provide product set, creative, and copy options and let the Facebook algorithm combine them to serve the best possible ads to your target audience.
3. Store traffic
Use the Store Traffic Facebook ad objective when you have multiple business locations and want to target potential customers nearby. To use this goal, you have to add your store locations in Facebook Business Manager.
This campaign goal enables your brand to generate more foot traffic and drive sales at all locations. If your business has a single brick-and-mortar store, use the Reach objective to optimize your ads instead.
Additional reading: Facebook Ads Reporting That Won't Drive You Batty
How to Optimize for Facebook Ad Delivery
When you pick an objective that meets your campaign goals, Facebook Ads automatically optimizes your ads for delivery.
In most cases, the default optimization method is the best choice for your campaign. Yet in some cases, you might prefer to adjust the method manually.
You can change the optimization settings at the ad set level.
For example, if you choose the Traffic objective, your ads are automatically optimized to generate the highest number of link clicks.
Yet you could get better results if you optimize for landing page views, which targets users likely to visit your website and stay long enough for your Facebook pixel to fire—giving you valuable retargeting data.
In Conclusion
If you're torn between two Facebook Ad objectives or optimization options, don't hesitate to try both and compare the results. Create two campaigns that are identical aside from the factor you want to test—and let them run for a week.
At the end of the week, identify the top performer, and continue to run the winning campaign.
* * *
Take control of your social media! Check out our free trial of Agorapulse to help you schedule, track, and measure all your social media efforts.