And if you do decide to queue your content, what categories should you use?
Setting up your social media content for maximum effect isn't easy. That's why we approached some of our favorite social media experts and asked them to share their queue categories.
Here's what they had to say.
It's important that we are consistent with our content sharing. That's why we set up the queue categories. Without the queue categories, we lose track of the type of content we are sharing and end up with too much of one type of content.
We regularly review the content categories to assess our results and adjust accordingly.

On Facebook, I use queued content throughout the week to ensure a steady flow of posts daily. I add posts to 2-3 timeslots per day (minimum of one daily post) via Agorapulse with a mix of:
new and evergreen blog posts
curated content – other influencers, speakers and bloggers I have good relationships with and want to share content for.
Brand partnerships – brands, tool companies etc that I have relationships with.
visuals/images like memes, tips and quotes.
Promotional posts such as webinars, offers, lead magnets etc on occasion.
Here are my current time slots and categories in Agorapulse. It's a super slick interface and the color-coding help a lot with adding content quickly and easily: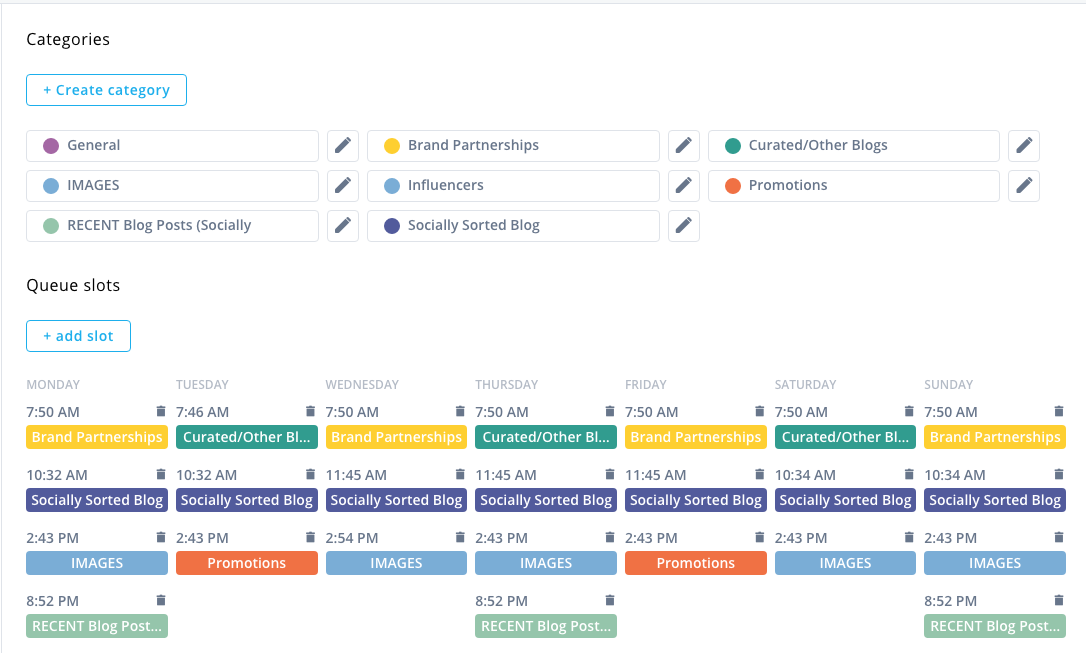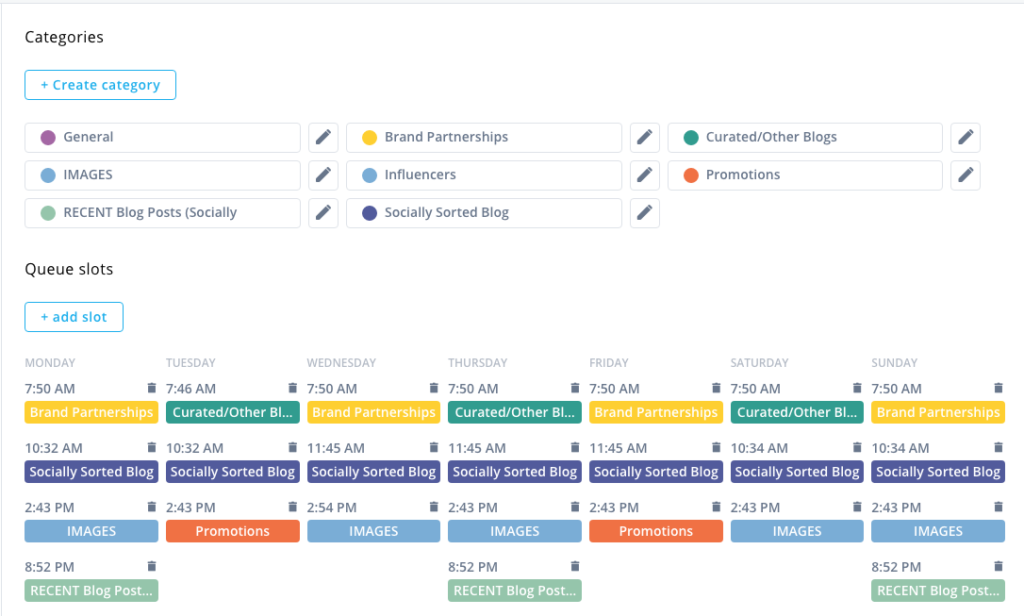 I do like to share some other types of content natively (or direct) to Facebook, including native video, Facebook Live or hitting "share" on curated posts that are already getting a lot of shares.
But having content queued up in Agorapulse takes the pressure off, and allows me to focus on sharing other types of content to mix it up. If something performs well natively, I can also add it back into the queue!
Agorapulse's queue categories have made my life as a social media manager so much easier.
I create different categories based on the types of posts I'm sharing, and then schedule them throughout the week. This way, I'm able to ensure that all of the client's content is not only being distributed, but that's it's being evenly distributed.
There aren't weeks with surges of blog posts (which my client's followers get tired of if they come too quickly) or too much event promotion that loses its effectiveness. Instead, everything works together a little more cohesively, giving us a well-rounded social media feed that users are much more likely to respond to.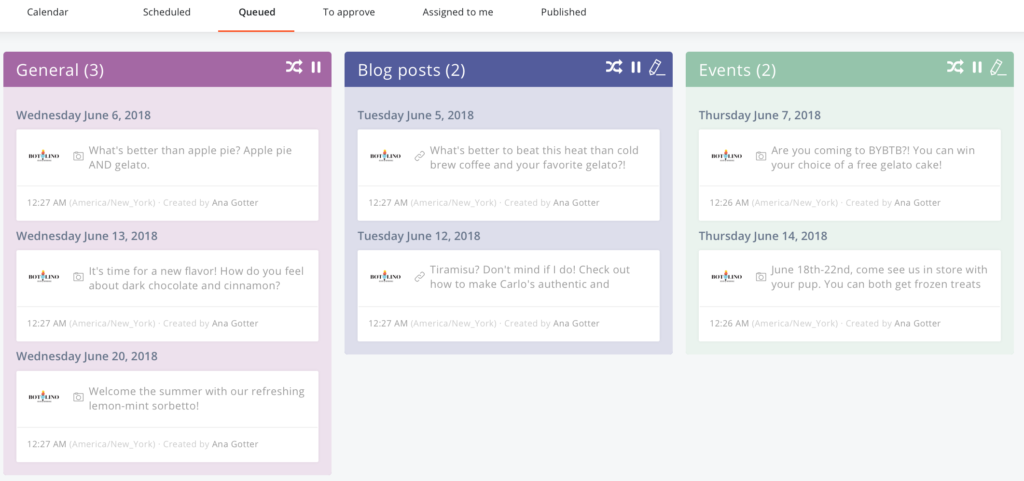 Queue categories are so important for my business as it keeps me from over scheduling the same type of post over and over. With a wide array of products to rent, I want to be sure to showcase each of them equally, and at different times. Queue categories allow me to do that very easily and keep me on task.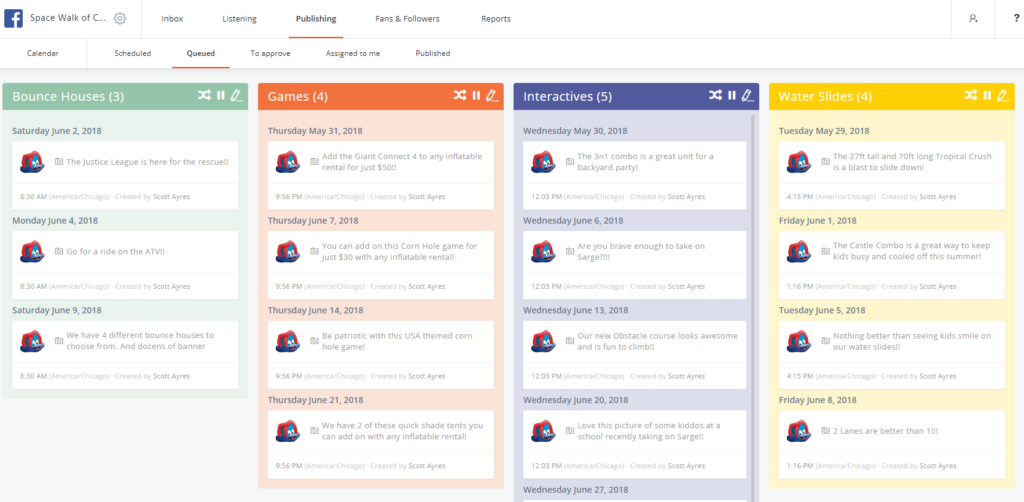 I use queue categories to save time scheduling content for a Facebook Page about nursing in the United States. We run nursing exam quizzes every Monday and Tuesday — all I have to do is select "NCLEX" (the name of the exam) for each quiz post and they get queued to the right time slot.
My vintage nursing photos go to the TBT/Throwback Thursday slot with a simple click of a drop-down menu. You get the drift. Easy peasy — except it looks like I need to fill up two of these queues…

Here's how queue categories are used in action:

Creating Your Own Queue Categories
Using queue categories can help you evenly distribute your content throughout the week and give your feed an organic feel even when you schedule your content weeks in advance.
Try setting some up and track the results!
Do you queue your content? What are your go-to categories? Let us know in the comments!