Want to learn how to build a brand on Instagram … and keep it thriving?
Instagram is one of the most exciting and hottest social media platforms.
A few years ago, I decided to take Instagram more seriously. I started Short of Height, a brand new lifestyle blog and I wanted to get more exposure for it. I saw Instagram as the perfect fit for its visual-centric approach to social media.
Since I had zero fashion/lifestyle connections and didn't know where to start, I had to grow that brand from scratch and develop an Instagram strategy.
After multiple failures, I've learned how to build a new brand from zero to nearly 74,000 Instagram followers in just over a year and a half. And now in 2020, it's 61.1K followers.
Today, I'll share with you what I've learned from building a brand from scratch. You'll learn all my time-tested tricks to help you grow your brand on Instagram.
1. Define Your Goals
Before you post your first post on Instagram, ask yourself why you want your brand to be there.
What are your goals? What do you want to accomplish using Instagram?
Purpose of your brand on Instagram
Are you:
Trying to spread brand awareness
Trying to grow a community
Acquire new customers
Planning to connect with current customers
Trying to increase blog traffic
Planning to increase social media impression
Improve your current KPIs
For me, it was brand awareness. My focus was finding and helping other short men like me.
Goals and objectives can come in many different forms, depending on your brand.
The good thing is, goals change as you grow. I recommend having one to start.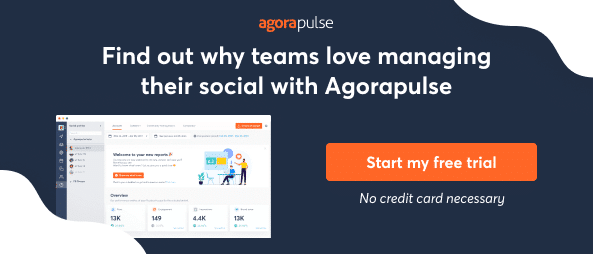 2. Find Your Focus/Theme
Once you have established your goals, you need to find your focus or theme on Instagram.
The mistake I see is individuals and businesses not having a theme. All they do is post quotes. That is a recipe for disaster because you won't be able to stand out that way.
Find a theme that suits YOUR personality. I focused solely on style at first. I shared the clothes I wore daily. Now I've slowly moved to share photos of food, too.
Stick with a theme that fits your brand. Don't try to be everything at the beginning. We want your followers to know who you are and what you do.
Example of building a brand on Instagram
Coffeenclothes is an excellent example of this; they share pictures of … Well, you guessed it, coffee and clothes. It's a really good theme and it fits with what people are already posting on Instagram. When I first saw it, I asked myself why I didn't think of that sooner.
If you don't know what your theme should be, just searched through Instagram to get inspired on how to build a brand on Instagram. They have so many great accounts for you to get inspired. If you're a yogi who travels a lot, you'll be the yogi traveler.
3. Create a Style Pattern
What's a style pattern? A style pattern is your signature style on Instagram. It's a style that you follow throughout your Instagram.
Some Instagrammers follow the white look only style. Some have a darker theme. Some choose to incorporate a quote after every two posts. It's a good way to stand out and mix it up a little.
Some call it a theme, while I call it a style pattern.
Example of a brand rocking it on Instagram
Here's a great example from Foundr. I love how they use white space after every picture. When you look at their profile, it stands out really well.
4. Publish Quality Content Consistently
Regular posting on any social media site is a must. Instagram is the same.
If you want to stand out, you need to publish content regularly.
When I first started, I was posting every single day.
Schedule your content
The way you can do this is to have a posting schedule and plan ahead. I recommend you post once daily and have at least two weeks' worth of content before starting.
If you want to post fresh content, just move your content ahead. That is what I do, and it works tremendously for me.
A social media management tool like Agorapulse can help you line up your posts in advance.
I'd recommend using their new direct publish and schedule function.
It's simple to use and lets you publish, or schedule, to an Instagram business profile from the desktop without breaking any of their rules (unlike some other apps out there that put your profile at risk). It can save you a lot of time posting everything you've got lined up manually.
Boom. You now have no excuse for not posing on the regular. Easy as that!
5. Be Active to Build a Brand on Instagram
To brand your Instagram, you need a community. The only way to do this is to be active.
You can do this by:
Following others
Commenting on other profiles
Liking other people's photos
It may sound basic, but it works!
Secret tip
One trick that I learn to stand out is to like 2-3 photos of someone then leaving a comment on the third.
It's a surefire way to stand out and get them to follow me back. And it beats using Instagram bots — it's much more personal and doesn't jeopardize your Instagram account!
6. Take Advantage of Hashtags
For maximum impact, you need to use hashtags. I recommend you maximize all 30 hashtags if possible.
If you don't know, you can in fact secretly post 60 hashtags on Instagram.
If you don't know what hashtags to use, a trick is to watch what successful Instagram influencers or your competitors in your industry are using.
Using hashtags is important because it gives exposure when people are browsing through the hashtags to look at photos.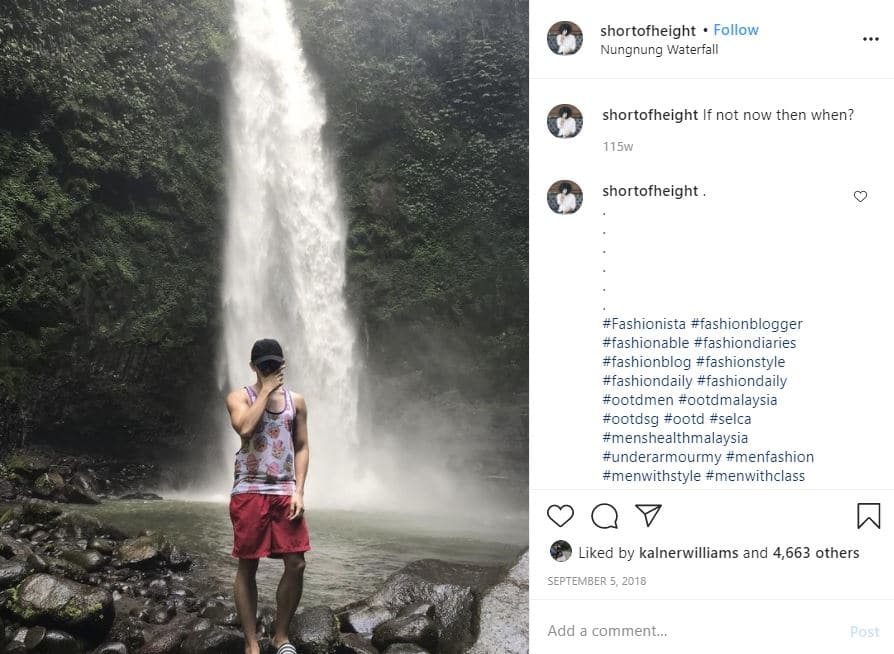 7. Create a Branded Hashtag
What's a branded hashtag? It's YOUR hashtag.
Creating a branded hashtag is a great way to build instant engagement.
A branded hashtag is when people use your hashtag to stand a chance to get featured on your Instagram account.
People LOVE tagging pages and using hashtags on Instagram to get featured; I'm one of those people. It's a way to get exposure and get more followers.
I do it all the time, and I've been featured on some pages. It's one of my secret tricks.
First, mention on your profile that people will get featured if they use your hashtag.
Next, search for a moderately popular hashtag that has less than 50,000 posts, go to those photos, and start liking the pictures. This is a surefire way to get people to get notice of your account.
This will get your followers and the people whose photos you've liked to use the hashtag and post images of them because they will want to be featured on your page.
Here's a clever hashtag branding from the team at The Infatuation.
At first, you'll be thinking. #Eeeeets? what?
I did too! They wanted to stand out, so they created their own hashtag that stood out and wasn't used. Clearly which foodie would have thought of using that right? Today they have over 774K Instagram followers.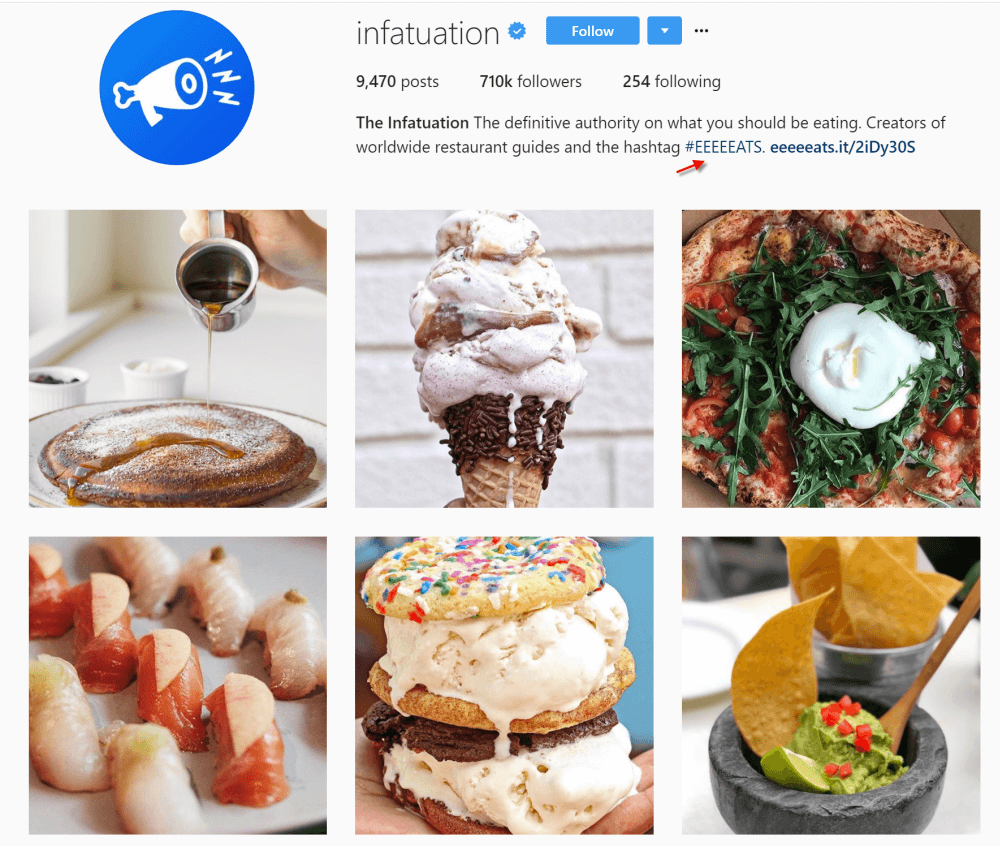 8. Repurpose Content From Other Accounts
If you don't want to use the branded hashtag option, you can use this method too.
Search for posts that meet your style pattern and feature them on your account. This is a surefire way to increase engagement and connect with people at the same time.
To ensure the quality of the photo is great, reach out to these people and ask them for permission for you to post on your account. Get them to email you a high-quality photo. It's an excellent method to connect with people.
Here's the content that was repurposed by this account.
9. Find Branded Hashtags/Accounts
Earlier I mentioned about posting branded hashtags/accounts, if you're looking for exposure, you can find branded hashtags or accounts in your industry to get featured on.
To do this, search for a common hashtag that is used by your demographic and see if they have tagged or used any hashtags to be featured.
If you share recipes on your account, there are many accounts that share recipes from others. Look out for them. You can even try sending them a direct message on Instagram to get noticed.
10. Partner With Other Accounts
One of my favorite tricks to brand my account and grow my account simultaneously is to partner with other accounts with similar following and engagement as mine. It's also called SFS, S4S or shoutout for shoutout.
What we'll do is post a photo, and in our caption, we'll say something like 'if you're looking for more style tips like this, follow my friend @username."
Guess what? It WORKS! I wished I did that sooner.
To show you how it works, here's an example of one.
See how Eric mentions the two Instagram accounts at the bottom?
When I visit the other, he recommends following Eric, too. It's really smart because it's a win-win for both of them.
In Conclusion
Patience and commitment! Those are the two most important qualities that you need to succeed on Instagram or any social media platform.
Get started on saving time and energy on your own social media management! Check out our free trial of Agorapulse to help you schedule, track, and measure all your social media efforts.