With LinkedIn's nearly 350 million users, utilizing that power is something every professional networker should include in their social strategy.
Too many people think of LinkedIn as a resume posting website. The truth is that LinkedIn is a lead-referral source and a powerful networking tool.
When it comes to making connections, there is a right and a wrong way. These are the 5 ways to make better LinkedIn connections that really make the most out of this network.
1. Personalize Your Connection Requests
I can't tell you how many "I'd like to connect with you on LinkedIn." messages I have received.
It's almost sad that this is still a problem with the way people use LinkedIn.
By sending a personalized connection request I can let a person know several different things:
Where I Met Them
Who We Know Mutually
What We Have In Common
Why I Want to Connect
What I Have to Offer
What I Would Like From Them
Any of the above would be great reasons to connect with someone and instantly gives a conversation starting place.
I've shown you below an example of a personalized request for a hypothetical meeting at Social Media Marketing World.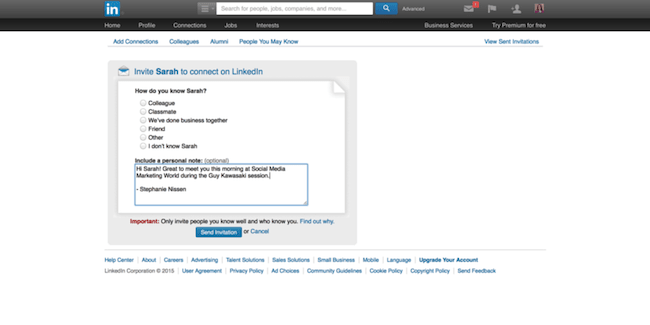 Quick tip – If you want to send a personalized connection request on a mobile device, you need to go directly to the full profile of the person you want to send the request.
Unfortunately, it's not possible to personalize your connection request if you do it directly from the "people you may know" section.
[Tweet "You can not send a personalized LinkedIn request from the "people you may know" section."]
2. Complete Your Profile
If you want quality connections on LinkedIn, you have to give people a good reason to connect with you.
A complete profile tells others that you are serious about your business, about using LinkedIn for networking, and that you are not going to spam their inbox or their feed with irrelevant information.
Here's the bare minimum you should make sure are complete:
Profile Picture
Headline
Summary
Work Experience
Contact Information
Skills
If you want to see a few rockstars' LinkedIn profiles, check out Viveka Von Rosen, Melonie Dodaro, Peg Fitzpatrick, and Ted Rubin.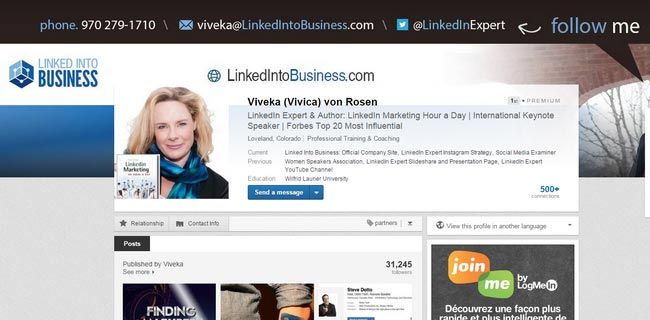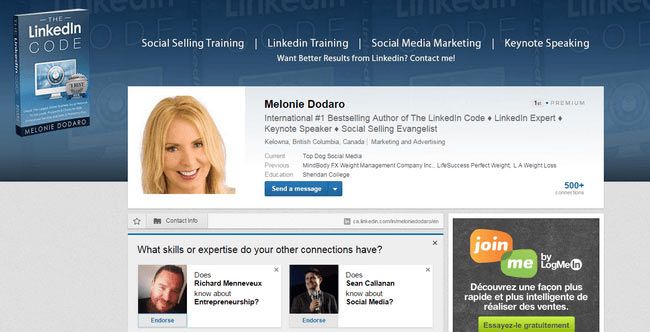 3. Ask for Introductions
Making better connections on LinkedIn can come from asking your current connections to introduce you to someone in their network.
Introductions on LinkedIn help you connect to someone you want to know and have not met before. Asking for an introduction helps to "break the ice" and help you to reach a specific goal.
You may request an introduction to someone who works at a company you want to partner with or that you want to interview for an article you are writing.
Be gracious to the person you are asking to go out of their way to set up the introduction and be clear on what you are hoping to achieve. You'll find a higher success rate in getting that introduction!
To ask for an introduction on LinkedIn, go to the person's profile you'd like to be introduced to and click on the drop down arrow to the right of the "Send InMail".
You will see "Get Introduced" in the drop down menu. You can see an example below.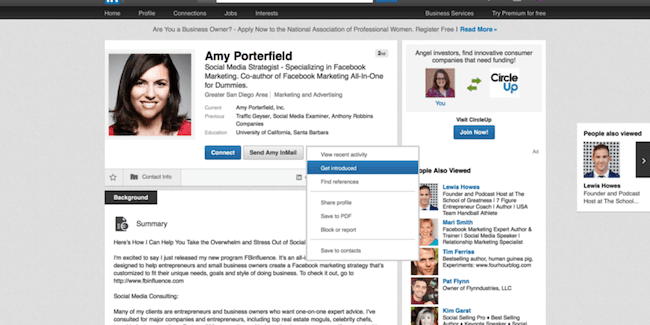 4. Join Groups
LinkedIn Groups are a goldmine of networking opportunities for people in your field, in your city, and who share your interests. Joining a group is not going to get you better LinkedIn connections alone.
You need to actually participate in discussions, reach out to members specifically, and contribute to the value of the conversation. Looking for ideas for what groups to join?
Check out what groups your current connections are a member of as well as what groups your industry's influencers participate.
[Tweet "You can only be a member of 50 groups on LinkedIn so choose wisely!"]
5. Use Collected Business Cards
If you're like me, you attend a lot of networking events. Let's take Social Media Marketing World 15 as an example – starting on March 25th, thousands of social media marketing professionals and enthusiasts will be flooding into San Diego to learn from expert speakers and make new connections in real life.
Every day of this conference, business cards will exchange hands. What am I going to do with all of those business cards? I'm going to spend a few minutes and send all of those people a connection request on LinkedIn so we can keep the conversation going.
I'm going to send a personalized connection request that says I enjoyed meeting them earlier that day and enjoyed talking about Facebook Ads or whatever topic we discussed. This connection I've now made is meaningful because it's a person I've met face-to-face who shared their information with me. They want to connect so I've taken the next step to make it happen.
Using LinkedIn as a referral network and lead source is possible if you spend the time to make connections based on quality over the quantity.
When using LinkedIn, don't make your goal to get to the 500+ connections benchmark. Make it your goal to pull in leads and referrals from this professional social network.
If you're not getting a good return on investment from your time spent on LinkedIn, re-evaluate what you're doing. There might be a better way.
How do you use LinkedIn to make better connections? Feel free to share your tips in the comments section below.