Are you on a social media team? Put together an approval process, and start streamlining workflows, avoiding errors, and optimizing campaigns.
Social media management takes a team—even if you only manage a handful of agency clients or collaborate with colleagues throughout your company.
If your social media team doesn't have an approval process in place, though, you're probably wasting valuable time, making simple mistakes, and losing out on optimizing campaigns.
Need a hand getting your team members on board with an approval workflow?
Here's how your team can benefit from creating and sticking to a social media approval process.
1. Avoid Endless Emails and Messages
Without an established approval process, your team never really knows whether content is ready to publish on social media.
So, you'll get looped into countless back-and-forth emails and Slack messages as you determine whether Legal still needs to OK the copy or if Design needs to rework the graphics.
When you're ready to focus on the next campaign, you can look forward to repeating that same clunky process again and again.
And again.
And again.
However, when you have a social media approval process in place, you know where each piece of content stands at any time.
No need to email or Slack your team members to find out.


Solution
To create an easy approval workflow, use a shared Google Sheets document or Airtable database with information like:
Publication dates
Website links
Copy
Graphics
Status
Who's responsible
Then use Agorapulse to schedule content and request approvals from the right team members.
2. Define Stakeholders and Key Roles
Not sure which of your client connections or marketing colleagues is responsible for signing off on social media posts? Then you'll easily waste time checking in with everyone on your contact list.
That's why an approval workflow defines the primary stakeholders and pinpoints who's in charge of each step of the process, from creating content to giving the final OK.
Solution
As you map out an approval process for your client or organization, make it a priority at your social media agency to identify the following roles, and add more as necessary:
Content creator
Copy editor
Graphics editor
Marketing manager
Social media scheduler
Video editor
3. Streamline Team Feedback
When you work with a social media team, you're likely to receive feedback regularly, from comments about the copy to questions about campaign timing.
But without an approval playbook to follow, your team members are liable to provide haphazard feedback that isn't always helpful.
Solution
As you establish an approval process, you can streamline the feedback loop at the same time.
For example, you can assign your copy editor to respond to style and writing issues, and you can depend on your marketing manager to confirm that the social media campaign aligns with larger departmental goals.
Your team can trust that each person will handle their responsibilities, and they won't have to waste time providing nonessential input.
4. Stop Creating Content at the Last Minute
If your social media team operates on the casual side of tightly scheduled, you most likely create content at the moment.
Publishing timely content right away is essential sometimes, but using this strategy as a regular mode of operation can get stressful (especially if you need to involve multiple team members in the production process).
Solution
Instead, working ahead of schedule can limit stress, offer more time for planning, and give you a better perspective on campaigns.
As you create a social media approval process, you're likely to find that your team needs to work several days or weeks in advance of your publishing schedule.
To create an approval schedule, remember to allow ample time for:
Graphics development
Post writing
Copyediting
Post scheduling
Getting approval from your social media manager and marketing manager
5. Avoid Publishing Errors and Mistaken Messages
Without an approval process, you're likely to make mistakes when you publish social media content.
Some errors might be minor, such as typos or publication times that aren't quite right. But others might be major, causing problems for your legal team or compromising a multifaceted marketing campaign.
If it's the latter, you might have to spend the evening editing or deleting posts or performing more in-depth crisis management.
Solution
When you stick to your approval process, you won't have to worry quite so much about minor mistakes or major screw-ups.
Because all key players on your social media team will sign off on your posts, you can rest assured that your content meets essential requirements while it contributes to bigger marketing goals.
Now, you can focus more on creating great content and less on fixing problems.
6. Adopt a Consistent Look and Voice
The absence of a formal approval workflow might not lead to making major mistakes every time you post. But it can cause your content to appear disjointed and confusing.
If your content doesn't feature a consistent appearance and brand voice, your posts may not resonate with your audience, causing their impact to fall short of the mark.
Solution
An essential part of a strong social media approval process includes ensuring that copy, graphics, and tone of voice are consistent across the board.
To ensure that your social media team is on the same page, share an approved corporate or client style guide with your team members.
Put it to work when content and graphics creators develop material, when copyeditors review content, and when marketing and social media managers approve posts.
7. Use the Right Hashtags and Mentions
When you want to improve brand awareness, increase reach, and build an online community, using hashtags and brand mentions is essential.
But if you're creating and posting content at the last minute, you may miss out on important opportunities to connect with companies and influencers or help new fans find your brand and participate in your campaigns.
Solution
Effective social media approval processes cover and confirming mention protocols.
Assign the research component to your content creator and confirmation to your social media manager. That way you can ensure that every campaign you publish includes branded hashtags and key mentions for maximum impact.
8. View Content Before It Goes Live
If your approval workflow consists of emailing potential content ideas a day or two before publication, your clients or colleagues could be in for a big surprise when the content goes live.
After all, it's almost impossible to visualize how copy, graphics, or URLs will look on social media—especially when the only thing you have to go on is a Gmail message with a few attachments.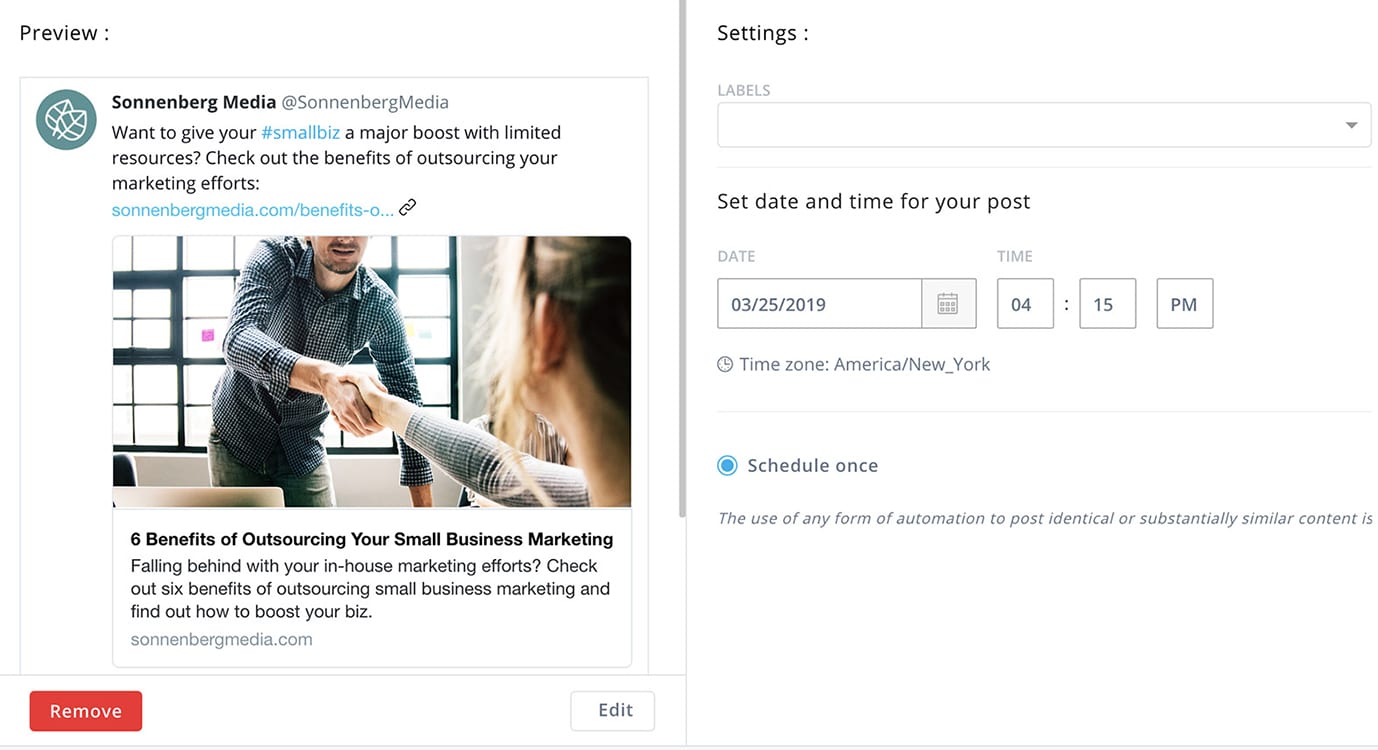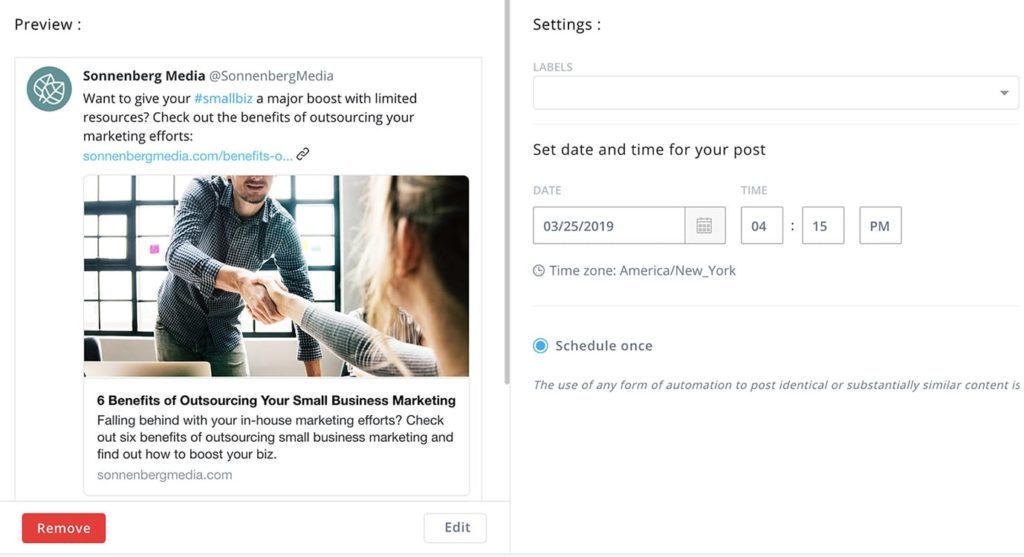 Solution
When your team adopts a more effective approval process, you can say goodbye to those unpleasant surprises.
Social media management tools like Agorapulse provide mockups of your content as you create it, so you can see how it will look on every platform. You'll have ample opportunity to adjust the copy, add a new thumbnail to the video, or resize the graphic before you publish.
9. Confirm That Campaigns and Content Queues Are Complete
If most of your campaign ideas and social media approvals are buried in your inbox or your Slack workspace, you may struggle to confirm that your campaigns are complete.
Solution
When you combine a social media approval process with a high-powered scheduling tool, you can see each post take its place on the publishing calendar before approving campaigns.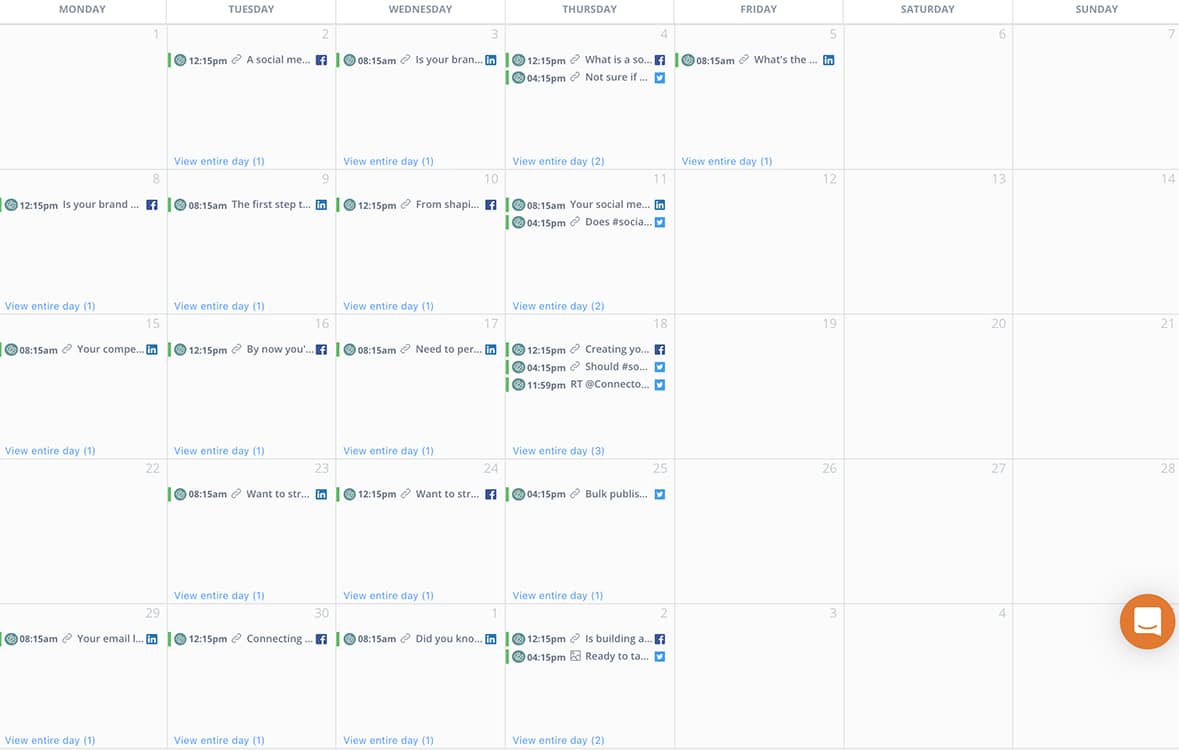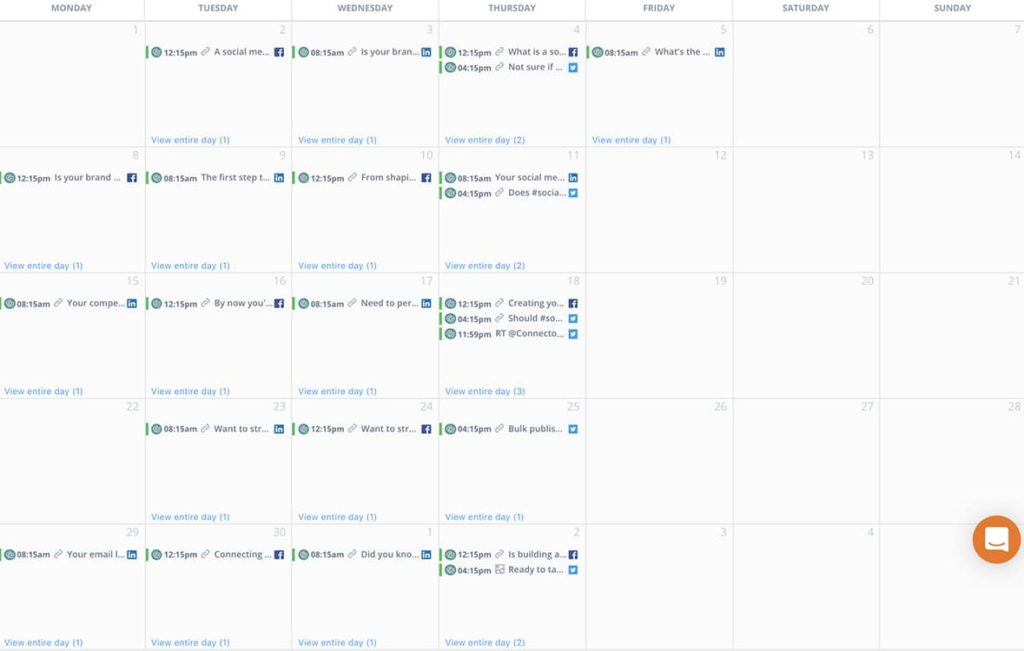 To take advantage of this functionality, use Agorapulse's scheduling tool and approval feature.
Once your content creator, graphics team, and copyeditor have done their jobs, upload your social media content in bulk, and add it to a campaign queue.
Then send each post for approval so your marketing manager or client contact can sign off. Once your campaigns are scheduled and approved, your social media team can view the entire campaign can view every post in the publishing calendar interface.
Conclusion
Ready to set up your team's social media approval process? Get started by trying out Agorapulse's collaboration features and content approval workflow.