Finding B2B leads can't get much easier than using LinkedIn Ads. LinkedIn boasts having the world's largest professional network which is the ideal pool to find your target audience when dealing with the business to business market.
LinkedIn B2B leads can be found using LinkedIn's targeted self-service ad center.
You have two options when creating LinkedIn Ads – Sponsored Updates and Text Ads.
What Is a LinkedIn Sponsored Update?
This type of ad helps you get your content in front of your target audience. These are also called "native ads" as it pushes your company's updates to a new network to attract new followers which will allow you to build relationships and drive leads.
Let's walk through creating a Sponsored Update together.
Related Post: LinkedIn 101
1. Open LinkedIn Campaign Manager
First you'll need to open your LinkedIn Campaign Manager. From this screen you'll select the type of ad you want to create – either Sponsored Updates or Text Ads. Right now, we're creating Sponsored Updates so next to this option, hit select.

2. Set Up Your LinkedIn Ad Account
If you've not run any ads before, you'll need to set up a LinkedIn Ad Account. Select whether you have a company or showcase page already created, name your account, and select your preferred currency.

3. Create Your LinkedIn Sponsored Update Campaign
Now, we need to name your campaign and choose your language.

4. Choose Your Sponsored Content
Now, you'll need to select what content you'd like to sponsor from your company page. You can either sponsor existing content from your page or LinkedIn will prompt you to create something new to feature.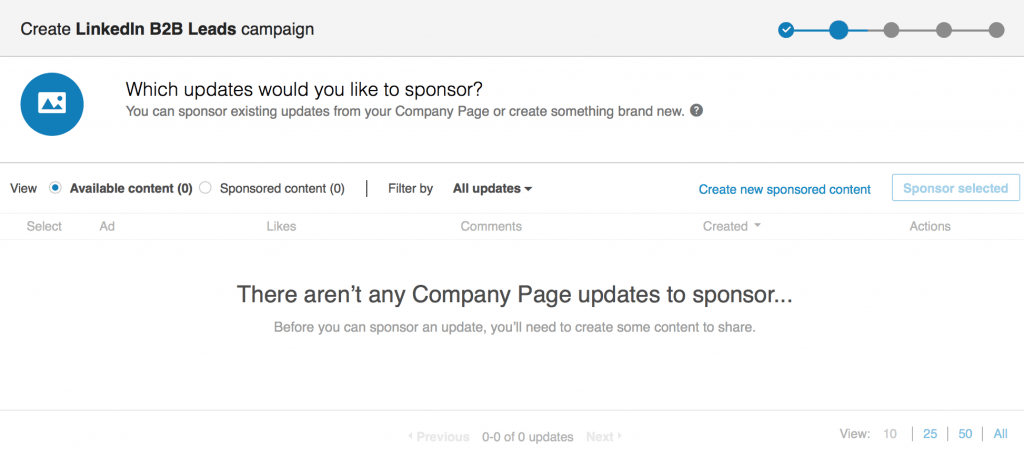 If you choose from content you already have created on your company page, you'll see a list of available updates. Select the piece you want to promote and hit "next" at the bottom of your screen. If you need to create content, click on "Create New Sponsored Content" in the top right of the box that displays.
When creating content for a Sponsored content LinkedIn ad, you'll be able to name the content with a label only you will see. Then you'll choose your content.
Below you'll see where I added a link to a blog post I want to drive traffic to, added some text in the update itself, and labeled it as "LinkedIn Profile Blog" so I know exactly what I'm pushing traffic to with this update when I review my campaign manager later. You can also choose to upload images to this content creator.
LinkedIn suggests that images uploaded with 1200×627 pixels look best.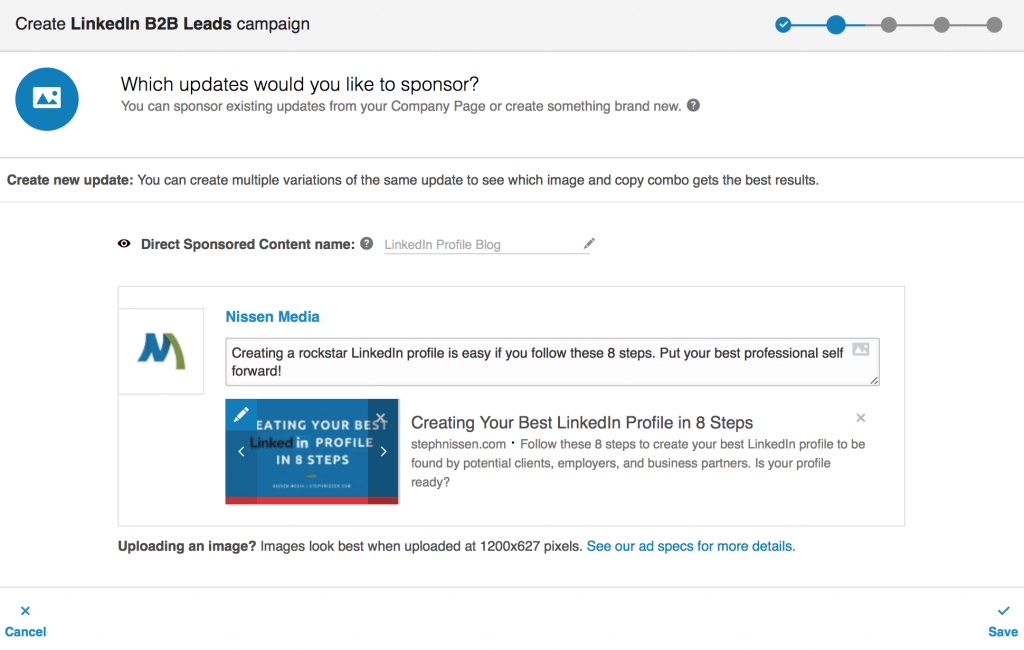 Once I'm happy with my ad, I'll hit save in the bottom right corner. Once hit, LinkedIn will bring me back to the "Which Updates Would You Like to Sponsor?" screen so I can move forward with my sponsored update.
Related Post: How to Use LinkedIn Analytics to Better Connect With Your Audience
5. Select Your Desired B2B Audience
Now the fun part begins with choose your target audience. You can choose based on specific criteria such as:
Location
Company Name, Industry or Size
Job Tile, Function, or Seniority
School
Fields of Study
Degrees
Skills
Groups
Gender
Age
As you narrow down your target audience, LinkedIn will tell you on the right hand side of the screen what your estimated target audience is.
I also have the option to allow LinkedIn to show my campaign to "similar audiences" using their Audience Expansion feature or to deliver my campaign beyond LinkedIn which is currently in beta.
When creating a campaign, LinkedIn gives these tips to target the right audience:
Keep your target audience between 60,000 and 600,000 members
For Sponsored Updates, have an audience above 300,000+ members
Select no more than 20 targeting criteria to zero in on your audience members
6. Set Your Budget and Bid
Now that you've selected your audience, you need to decide how much money you want to spend on acquiring your B2B leads. You can choose either to pay per click your ad (CPC) or pay per impressions (CPM).
Select your bid and daily budget keeping in mind the minimums for each as well as taking in LinkedIn's suggestion amounts for each. LinkedIn will tell you what you should look to bid if you want to reach as much of your audience as possible.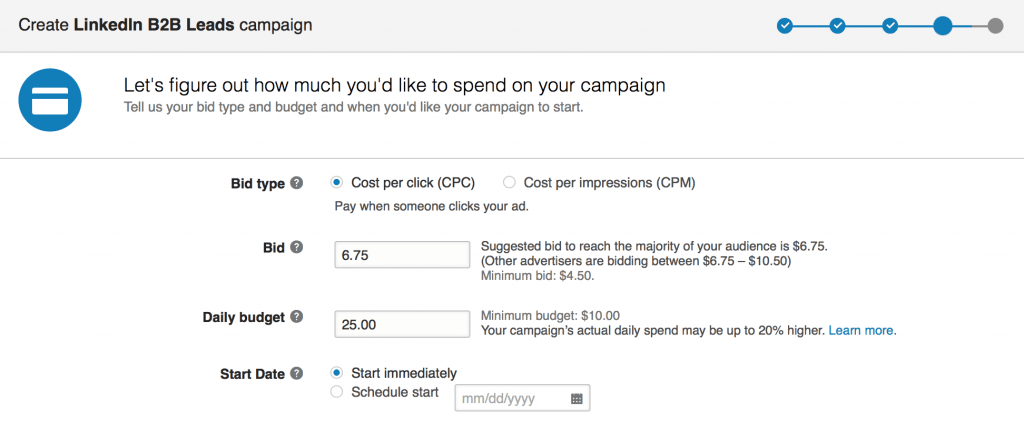 After you set your bid type, bid, and daily budget, choose your start date and end date along with the total budget for your campaign. Once you're ready, hit "next."
The last page will ask you to review all the details of your campaign and add your payment information. Remember that you can edit your ad at any time so nothing is set in stone.
What is a LinkedIn Text Ad?
The alternative to running a sponsored update with content is to set up a text ad. Text ads are used to drive traffic to your website or landing page to bring in leads.
While a sponsored update sends your content into the newsfeed of your potential lead, text ads are shown in various areas of LinkedIn including the side bar and the top of many pages of LinkedIn.
Text ads are also a good option if you have a smaller budget to work with and another bonus is that LinkedIn text ads are very easy to create! Let's create one together:
1. Set Up Your Campaign
We start off identical to creating a Sponsored Update in that we have to open up the Campaign Manager, select the type of ad we want to create (this time it's text ads), name our campaign, and select our language. If you need more help with these steps, scroll up and check out the walk-thru.
2. Build your Text Ad
Now we choose the ad pieces by selecting the following:
Where Should Members Go When They Click Your Ad?
What's your Headline?
What Image Are You Going to Use?
What Should Your Ad Say?
LinkedIn will also show you a preview of what your ad will look like in the various ways it displays them. Be sure to check the square, tall, horizontal, and long views to make sure your ad looks great in each variation.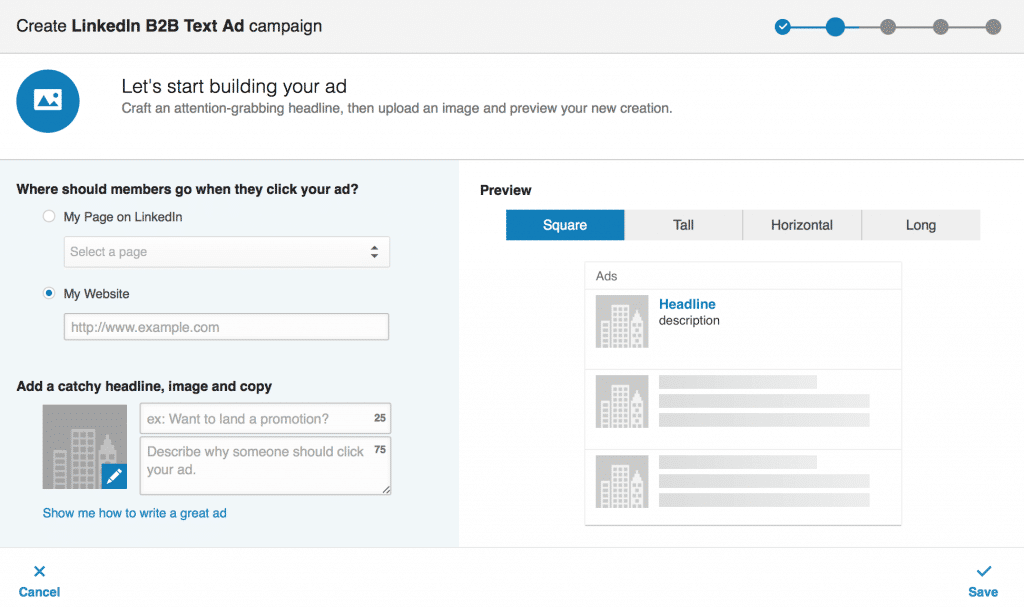 3. Create Ad Variations
It's a good idea to create a few variations of your ad much like you would if you were running Facebook ads. LinkedIn allows you to add up to 100 different variations of your ad, but don't worry that's not entirely necessary.
Create at least 2-3 variations so you can see a clear winner when you review the performance later. As you run your campaign, keep coming back to edit and optimize to pull in the best possible B2B leads.
Change up the headline, text, and image you use on your ads. You must have a headline and copy text for each ad though images are not required.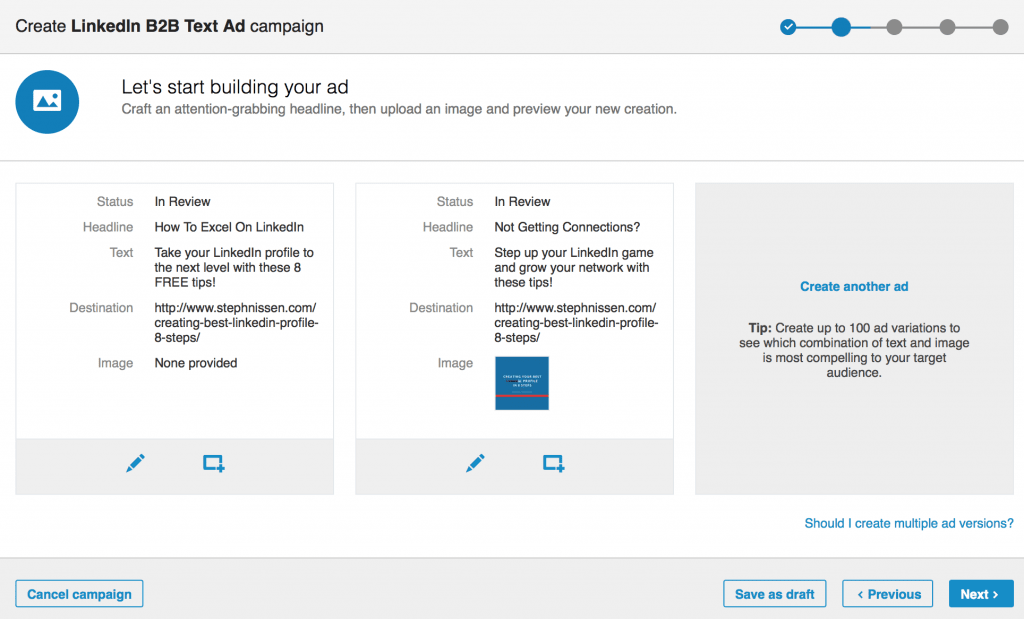 4. Target Your B2B Audience
As with your Sponsored Update, you now get to pick and choose your desired audience for your text ads. I find that this is where the success or failure of pulling in your B2B leads is determined. Pick your audience well to pull in high-quality leads for your company.
LinkedIn says to keep your text ads in an audience of between 60,000 and 600,000 members and to not select more than 20 targeting criteria.
5. Set Your Budget and Timeframe
Again, keeping it similar to the Sponsored Update we ran above, you now need to select your bid type, bid, daily budget, start and end date, and total budget for this campaign. The minimum bid for text ads is $2.00 which is less than half of a Sponsored Update minimum.
This is where those on a stricter budget will do well to try out text ads to bring in B2B leads.
Once you've set these pieces, you'll review your ad and parameters, set up payment, and launch!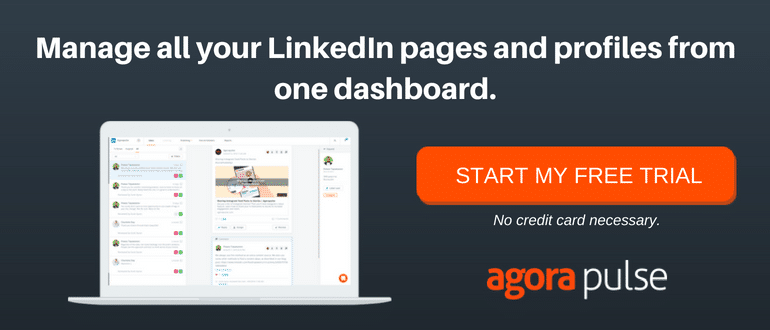 Your Turn
LinkedIn ads are a great way to find B2B leads for your company. This network is large, professional, and brings in high quality leads to thousands around the world.
LinkedIn has an extensive help center to walk you through each piece of setting up ads as well as giving tips to improve performance.
Take control of your social media right now! Check out our free trial of Agorapulse to help you schedule, track, and measure all your social media efforts.