For years, LinkedIn users have had only three options to choose from when engaging with content: liking, commenting, and sharing.
But now recently, the possibilities increased in a big way as the platform announced its new LinkedIn reactions.
Whether you love or hate these responses, they're likely to impact the way followers engage with your content.
Find out how these new engagement options work and learn why you'll want to pay attention to LinkedIn reactions.
What are the new reactions on LinkedIn?
Recently, LinkedIn began rolling out a total of five reactions (just one shy of the engagement options that Facebook offers).
Though Facebook reactions skew emotional (e.g., angry, sad, surprised), LinkedIn's options are more professional in nature.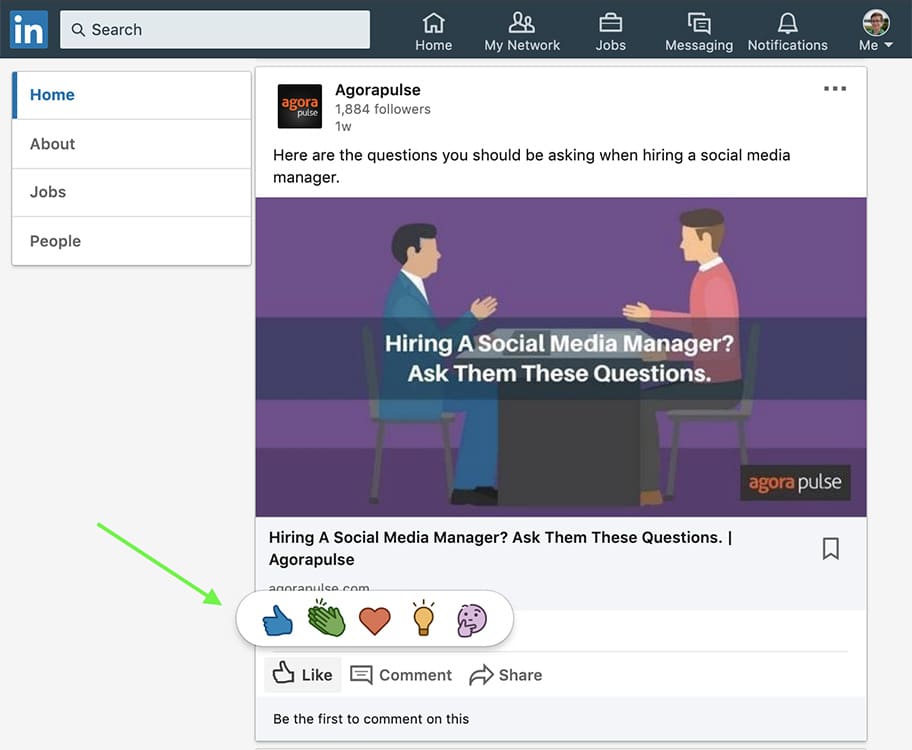 Like. This classic response still holds strong at the top of the list, giving your followers a simple way to show interest in or support for your content.
Love. When your posts resonate profoundly with followers, this response lets them demonstrate a deeper connection to your company's content.
Celebrate. LinkedIn is a smart place to share company news and professional milestones, and this reaction is the ideal response to exciting accomplishments.
Insightful. When you share in-depth data or big ideas, this reaction is the perfect way for followers to spotlight your best contributions to conversations in your clients' industry.
Curious. If you use your LinkedIn company page to start conversations or ask thought-provoking questions, this reaction lets followers show their desire to know more.
Unlike Facebook, LinkedIn allows reactions on posts and articles only. In the future, your LinkedIn followers might be able to react to comments, too. But the platform hasn't announced this feature yet.
How could LinkedIn reactions affect engagement rates?
Adding reactions to the platform probably won't decrease the engagement rate on your LinkedIn pages.
After all, like every social media site, LinkedIn aims to drive more interaction, not less.
As users start to experiment with this new feature, they'll quickly discover more ways to express themselves.
That could mean the reactions you receive when you post to LinkedIn might far outnumber the likes your content once drove.
You might also notice a change (on some pages) in the types of engagement you normally generate.
For example, if your pages tend to receive a lot of short comments (e.g., "Exciting news!" or "Congrats!") your followers may start to use reactions to respond instead.
Because LinkedIn reactions now offer more nuanced responses, your followers might opt for a "Celebrate" reaction rather than a "Congrats!" comment.
In fact, these short comments were one of the focus areas for the engineering team during their initial research for the reactions feature.
As product manager Cissy Chen explains, the team carefully reviewed the platform's most popular one- and two-word comments.
The most common and most helpful comments informed the reactions LinkedIn chose to launch.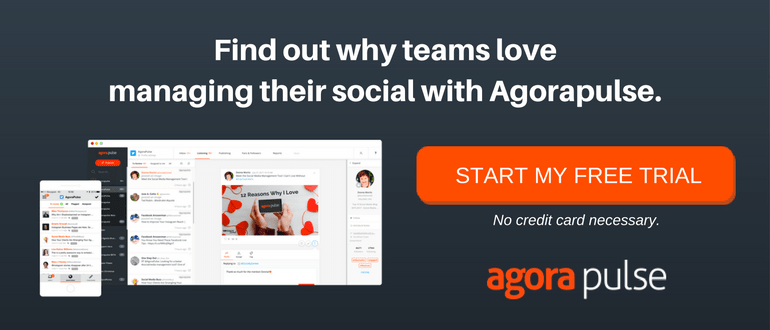 How might reactions affect LinkedIn metrics?
As LinkedIn reactions start to change the way your followers engage, they're bound to impact your social media metrics.
Whether you're managing LinkedIn for a single company or for multiple clients, you'll want to dig deeper into your social media reports so you know what these metrics really mean.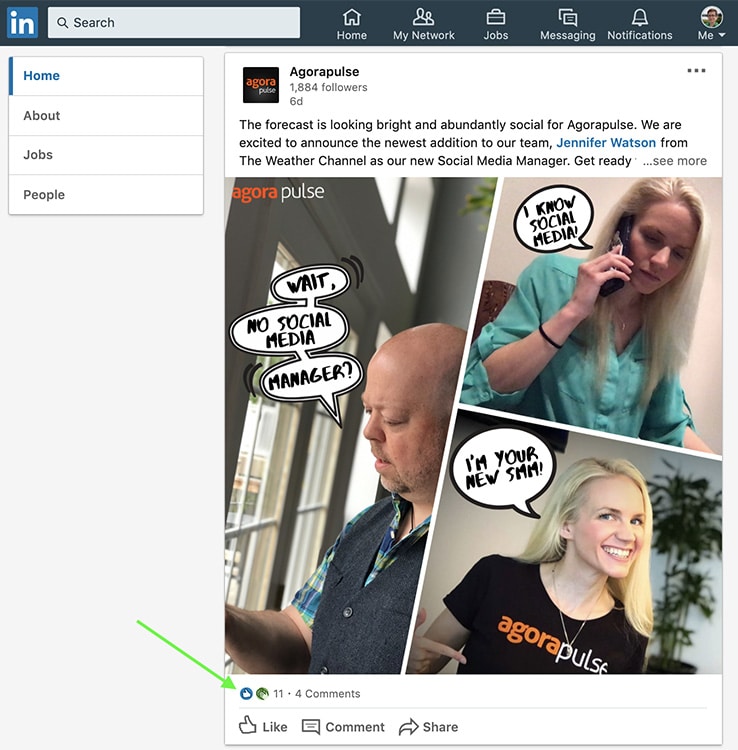 In the past, you might have written off LinkedIn likes as a vanity metric. After all, likes reflect a general interest in your content, but they don't generate website traffic or drive sales.
As you review reactions metrics, however, you'll have much more meaningful data to consider.
When you present big ideas, you can see whether your posts inspire "Insightful" reactions.
When you share exciting news, you'll also be able to determine whether your content encourages "Celebrate" reactions.
But why stop there when you have so much data at your fingertips?
Take your LinkedIn analytics a step further by tracking which reactions drive the KPIs you want to achieve.
You might find that "Celebrate" reactions create more shares and boost brand awareness. Or you might learn that "Insightful" reactions drive more website traffic and lead to email signups.
Just keep in mind that since this feature is still new, LinkedIn hasn't rolled out analytics for reactions quite yet.
Though you might have to track this metric manually at first, doing so is likely to be worthwhile.
No matter what you find, analyzing LinkedIn reactions can help you learn and improve your social strategy.
* * *
Sign up now for a FREE demo.