LinkedIn refers to itself as "the world's largest professional network," and it has every right to. LinkedIn boasts over 740 million users in more than 200 countries and territories across the globe. LinkedIn Company Pages allow brands to win business, hire staff, show off awards, attract partners and investors or share news.
For social media managers, LinkedIn Company Pages are another channel to post to—but they can often be forgotten.
In this article, I'm looking at how to schedule LinkedIn posts to your company page. I'm also going to give you some content ideas and hacks to spice things up. Let's go!
What Can You Post on a LinkedIn Company Page?
Before we learn how to schedule LinkedIn posts, let's look at some content ideas. Remember, you should have social media KPIs set, so you know what you're aiming for.
1. Post career opportunities and news
Posting employment vacancies to your LinkedIn Company Page is a proven way to source top talent. You can also boost posts to get more traction.

In addition to employment vacancies, you can post about promotions, partnerships, internships, and employee posts.
Employee advocacy is hugely successful, too. "Meet the team" videos, welcome packs and "life at" series are super-popular, too.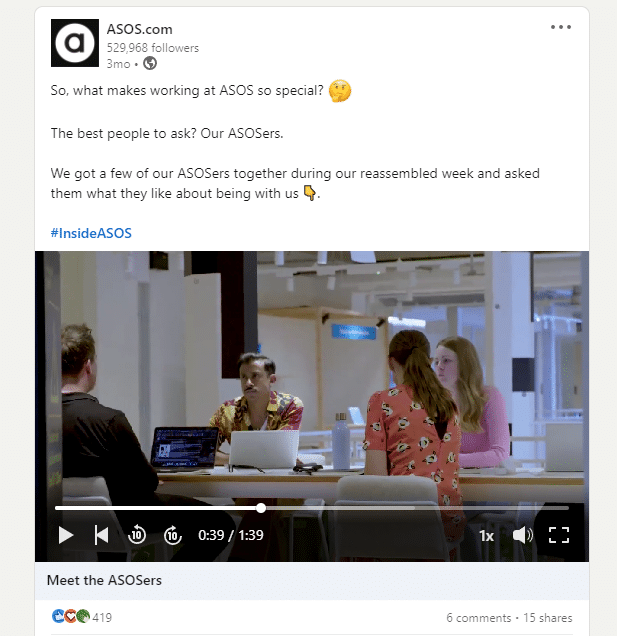 2. Share company news
Top of the LinkedIn company Page content is your company news.
LinkedIn is a more corporate social media network, so followers will expect to see your news. This might include:
New offices
Company recruits
Partnership deals
Financial results
Awards
Events
New products
How you convey the news is up to your brand, but it doesn't need to be dry.
Check out Unlimint's short video as they arrived in New York.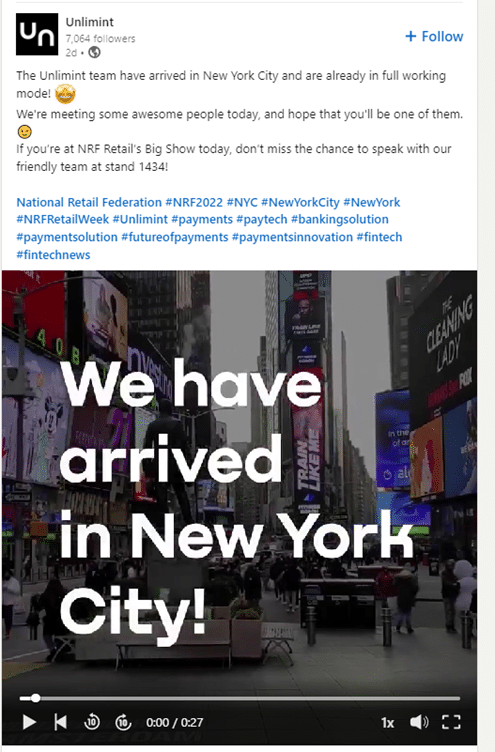 You can also generate interest for upcoming online events like Agorapulse did here: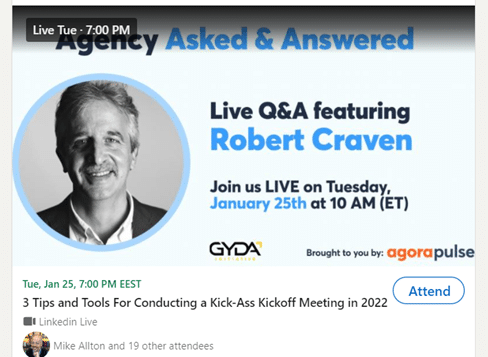 Or reflect on your company values and goals like Wendy's President and CEO did here.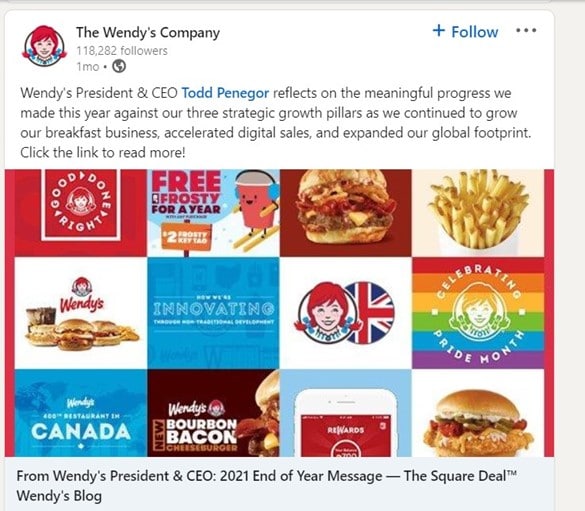 3. Content curation
Who said you can't share posts from other channels on your LinkedIn Company Page? Not us!
If a post or tweet got loads of engagement, made everyone laugh, or sparked a good discussion, screenshot it, and share it to LinkedIn.
It doesn't even have to be your post. Just make sure you tag and credit the author for good social media etiquette points.
We love these user-curated posts from Reddit: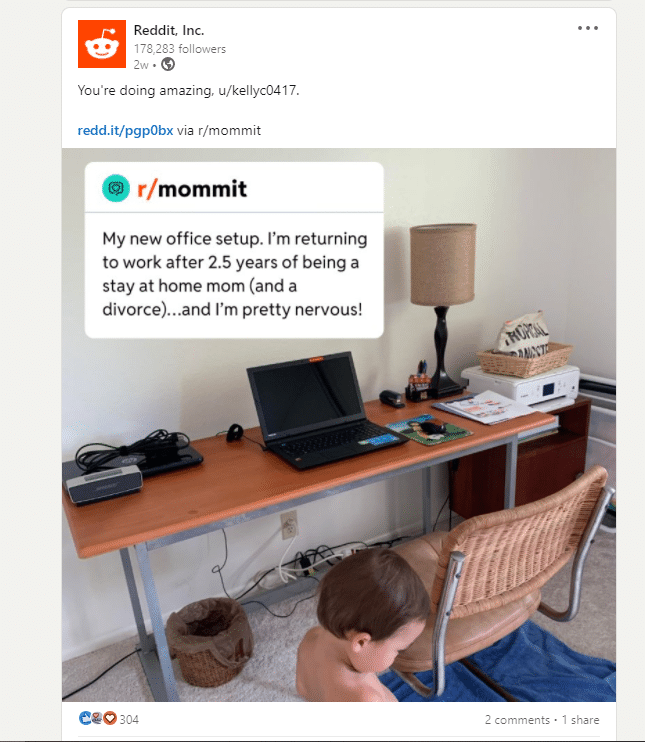 4. Work from home, and meet the pets
With so many people still working at home, it would be wrong not to acknowledge our furry coworkers. Occasionally adding pets to your company page is a huge engagement booster.
Don't worry … We've moved on from the days of deeming them unprofessional.
Check out Monzo bank's post.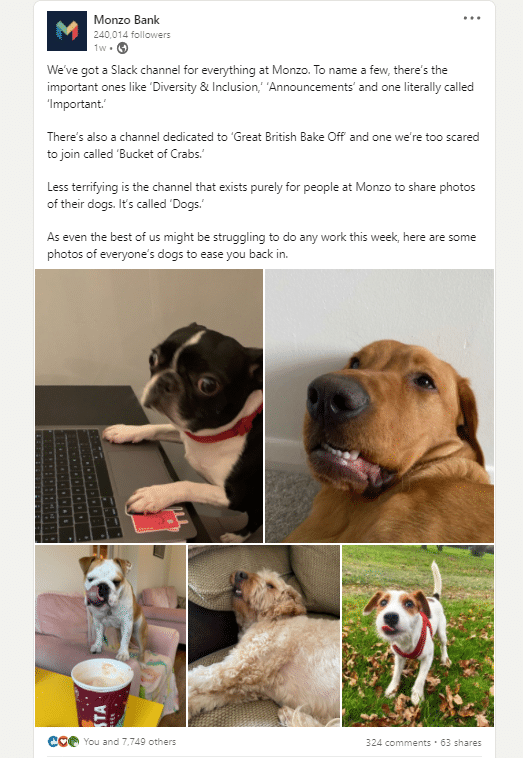 5. Support causes in a meaningful way
Every month (and most days) there is a hashtag to be utilized. But that doesn't mean you have to be involved.
Select hashtags and causes that matter to your organization or that align with your charitable contributions. This was nicely done by New Look.
By utilizing LinkedIn scheduling, you can plan ahead for events or causes that matter to you and prepare a killer LinkedIn marketing campaign! (Don't forget to measure the right social media metrics for it, too.)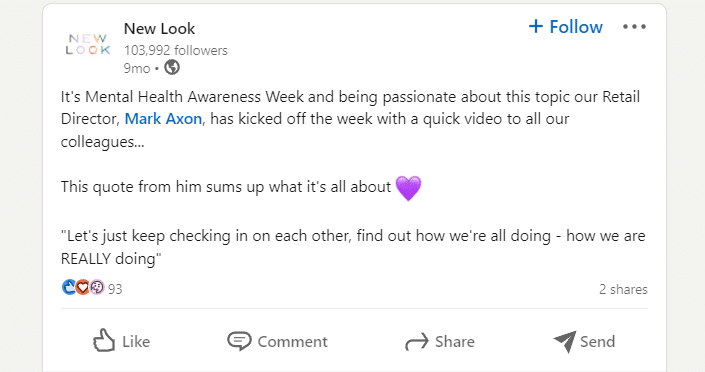 So now you have some ideas on what to post, how can you schedule posts to your LinkedIn Company Page?
The benefits of scheduling social media posts via a platform like Agorapulse include the ability to plan campaigns in advance, holiday, and leave cover and better team communication.
Let's walk through scheduling LinkedIn posts.
How to Give LinkedIn Scheduling Access to Your Team
There are many reasons why you might want to give access to your scheduling dashboard. It could either be for your marketing team, or a compliance/legal officer in a company whose social media you manage.
Contentworks Agency, for example, works with high-level finance companies that can have multiple layers of approval before a post can go live.
With Agorapulse, companies can add employees to the dashboard to approve LinkedIn posts before they go live. Adding colleagues to your dashboard avoids spreadsheets and lengthy email chains, too.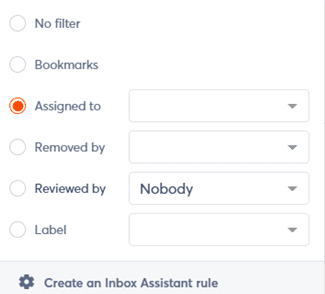 To give access to your LinkedIn scheduling dashboard, you must first ensure that the person is a Super Admin on the LinkedIn page itself. You cannot give posting rights to them if they are not. The other roles of Content Admin and Analyst will not allow scheduling rights.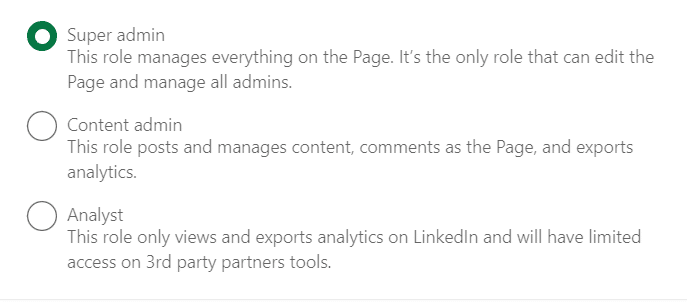 Connect your LinkedIn Company Page with your Agorapulse dashboard. To do that, simply add a profile, and select the LinkedIn Company Page.
Agorapulse will then bring up any LinkedIn Company Pages where you are an admin. Add the page, and you're done!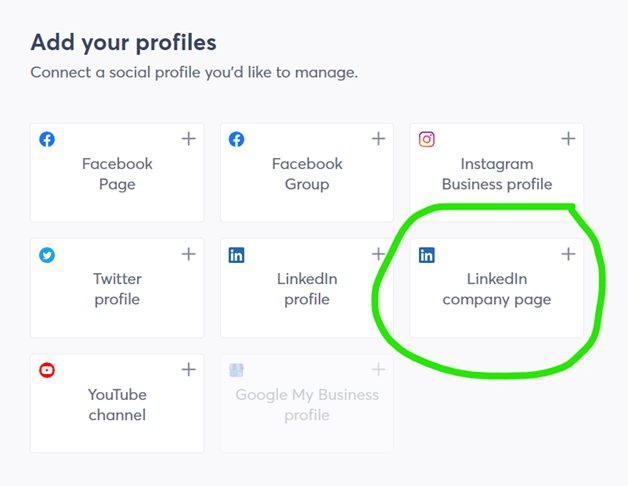 Make sure the right members of your team have access to the newly added profile. You can do this by checking your team and which profiles they are Admins for. Check the admin box next to the new profile for each team member and hit save to confirm your choice.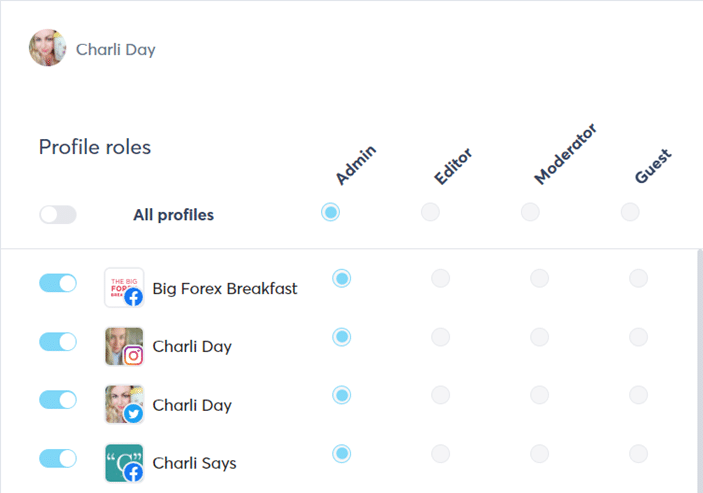 How to Schedule LinkedIn Posts in 5 Easy Steps
Now you've got the profile added to your Agorapulse dashboard and the right team members connected to it, let's look at how to schedule LinkedIn posts to your Company Page.
1. Head to your publishing calendar, and make sure you have the correct LinkedIn profile ticked on the left side
Then you can view all posted and upcoming content and choose when to schedule. Pick the day and month you want and write your post caption.

You can add an image or video to your post or design one using Canva on the handy tab below your caption. Remember to use the right image size though. LinkedIn post image size should be: 1200 x 1200 (square) 1080 x 1350 (portrait) or LinkedIn link post size: 1200 x 627.
LinkedIn videos are 256 x 144 (minimum) to 4096 x 2304 (maximum). If you're adding the same post to different channels, it is better to do so without an image or design a correctly sized one for each.
You can add GIFs to LinkedIn, too. To do this, save the GIF you want to your PC from a site like Giphy and then upload it as an image. GIFs play just fine on LinkedIn company pages and can add some fun if your brand is daring enough.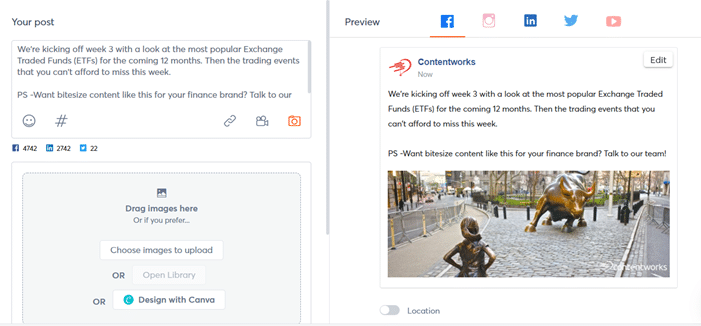 2. Hit Next and move onto the scheduling part of your post
By scheduling LinkedIn posts on Agorapulse, you can create posts in the time zone of your target audience. This is a huge win for social media managers who don't want to be staying up till midnight to post in Australia. (Or the UK if you're in Australia!)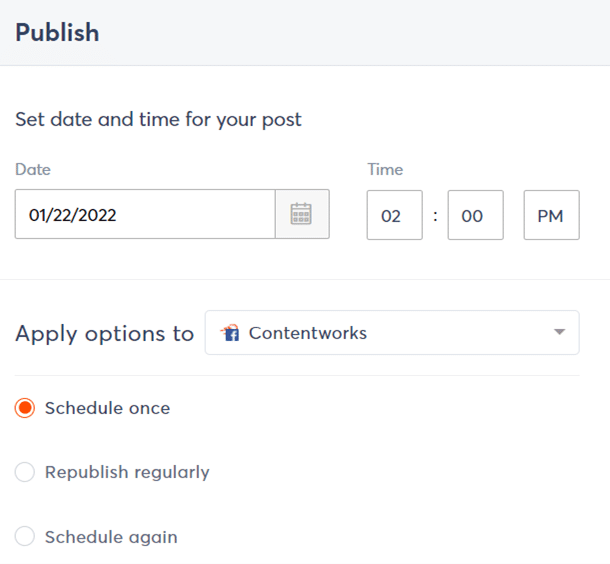 3. On this screen you will see the options Schedule Once, Republish Regularly, or Schedule Again
Schedule Once. This is where you pick a day and time for your content to go live. Once it's done, the content won't be repeated. This is ideal for news announcements, flash sales, employee welcomes, or charity fundraisers.
Republish regularly. With this option, you can choose to repeat your content as often and for as long as you want. For example, every 30 days, 12 times as shown below. This option is best suited to evergreen content or an unchanging company offer. For example, a blog that explains how your core product or service works.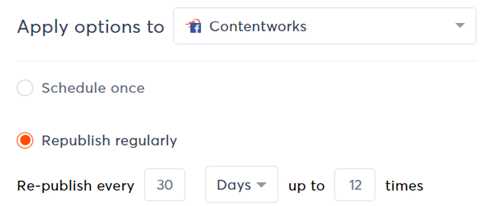 Schedule again. This option means your content gets shown twice and you choose both the dates and times. This is a great option if you want to remind your LinkedIn page fans about an upcoming event or promotion. It also gives you the option to show your post in two different time zones.
For example, Europe on post 1 and USA on post 2. Pick your options and hit schedule. You can then check back in your calendar and you will see that the content is queued up for your LinkedIn company page.
4. Need to delete a post?
It happens to us all in marketing. Perhaps an event got canceled or the terms and conditions in your caption need to be changed.
You can easily delete posts that are scheduled in your calendar. Or you can edit the date to make them sooner or farther away. Do remember, if you scheduled repeats of the post, deleting one will not delete the others.
To change the date, just edit your time and date and remember to hit Save on the bottom right of your screen.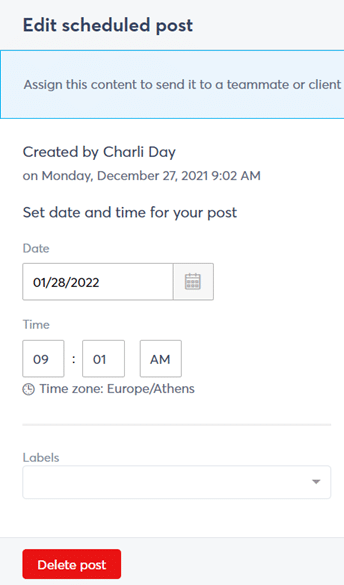 5. Queue categories are perfect for LinkedIn company pages
You can use them to create posting patterns, such as regular theme days or tips. And you can see your schedule immediately. Agorapulse has publishing categories (also known as "queue categories" or "category queues").
Here's how to create queues.
Create a queue category name. This might be something like "marketing tips" "fun videos," or "events" depending on your industry and the type of content you post.
To access this feature simply hit Publishing Lists on your left-hand menu and then Queued at the top.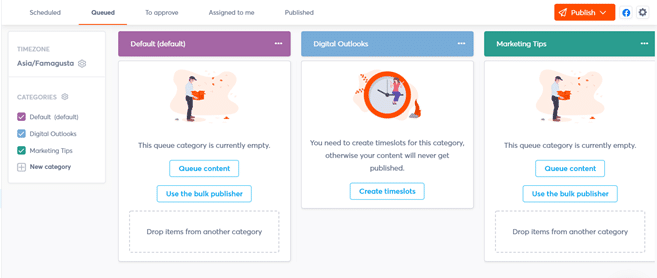 In this area, you can easily set and edit guidelines about how frequently you want the same content posted. You can add content to different categories manually or via a CSV file.
You can also bulk upload from an RSS or add images. Learn more about the differences between queue vs. schedule.
LinkedIn Scheduling Hacks
With Agorapulse you can save sets of hashtags to use in your LinkedIn Company posts. Once you've written them, just save them so you can slot them into your scheduled posts. This is a huge time save for busy social media managers tired of copying and pasting client hashtags from Word docs.
Planning your content in advance goes hand in hand with scheduling.
If you want to capture trends and maximize key shopping opportunities, then you should go live several weeks (or even a month) prior to big events. Events like Christmas and Halloween have shoppers reaching for their wallets way ahead of the actual date.
Duplicate popular content at the touch of a button in your calendar. Just visit any post, click into it, and hit Duplicate at the foot. This will then allow you to publish a duplication immediately, schedule it or add to a queue.
The best thing about this option is that you can also edit the text. So, this post that was written in 2021 as an end of year piece can be recaptioned for 2022.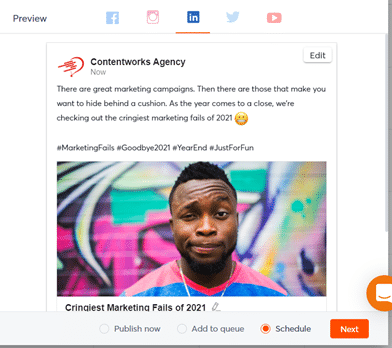 In Conclusion
With Agorapulse, you can easily add and remove clients or team members. It's also super-easy to schedule posts, add images and videos, and plan out your content months in advance!
Get started on saving time and energy on your own social media management! Check out our free trial of Agorapulse to help you schedule, track, and measure all your social media efforts.