Whether you manage social media for agency clients or for your organization, you know that comments and mentions don't stop when you're away from your laptop. You could take your laptop with you everywhere—from conferences to client meetings.
Or you could use the Agorapulse mobile app instead!
With our handy app, you can stay on top of social media comments, create new content, and even approve posts on the go.
Let's take a look at all the features this app offers.
Social Inbox
Tired of switching back and forth between different accounts in the Facebook Business Suite app? Don't want to add clients' Twitter or Instagram profiles to your phone?
The Agorapulse mobile app handles engagement for all your social profiles in a single spot. Just link all the profiles to Agorapulse, and you can manage engagement seamlessly. That includes everything from LinkedIn and YouTube comments to Facebook ad comments and reviews to Twitter direct messages (DMs) to Instagram story replies.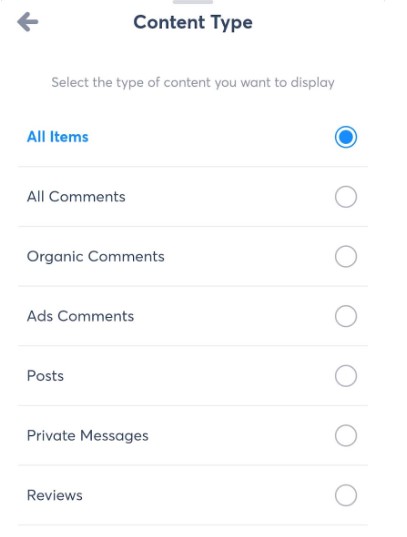 Open the Inbox tab, use the dropdown menu to select the right profile, and start skimming comments and DMs. Tap any Inbox item to retweet, like, or respond.
You can even tap the message bubble icon in the lower right to access your saved replies—which can help you respond faster while you're on the go.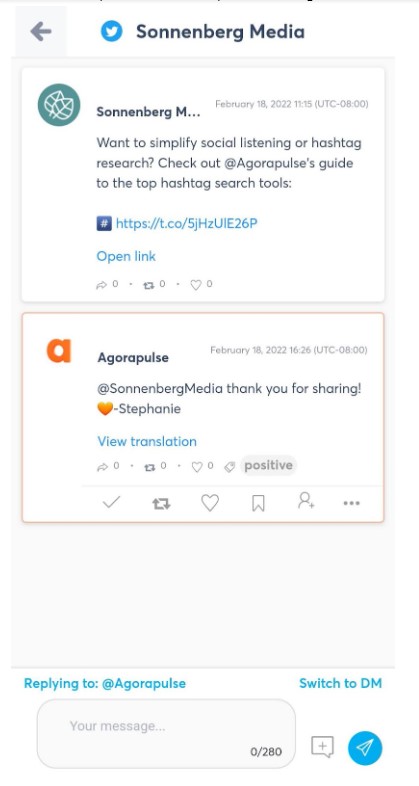 For more context, you can also tap to learn more about any account that's left a comment or send a DM. The Agorapulse app displays the user's bio, lets you follow or unfollow, and allows you to add internal labels.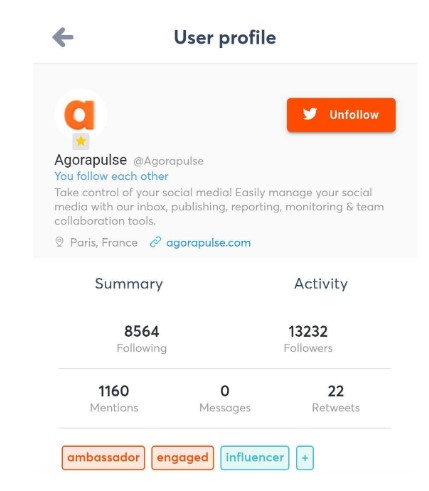 Do you need to follow up on a comment when you're back at your desk? Tap the bookmark icon to keep track of it easily. Or tap the three dots to add a label to the comment or DM.
Did someone leave a spammy or offensive Facebook comment? You can tap to hide or delete comments right from the Agorapulse mobile app. That means you can remove them from public view right away, so they do minimal damage.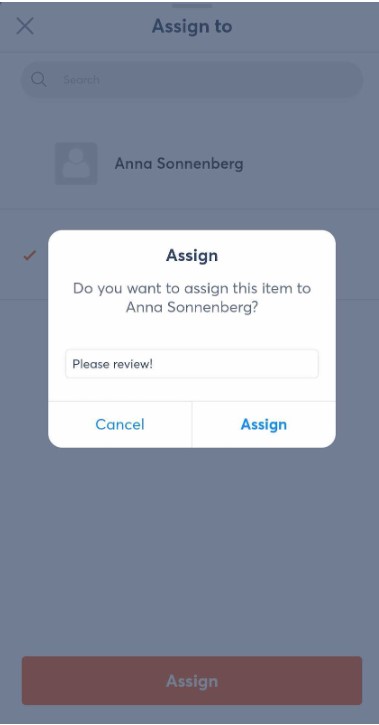 Need to loop in a team member? Tap the person icon and select the person you want to assign the item to. They'll be able to find it in the Assigned feed in their inbox, so it won't get lost in the shuffle.
Social Listening
Are people talking about your brand (or your clients)? Tap the Listening tab to check Facebook, Instagram, LinkedIn, Twitter, and YouTube mentions.
If another account tagged your organization or mentioned your profile in a social post, you can read and respond to it right from the Listening inbox.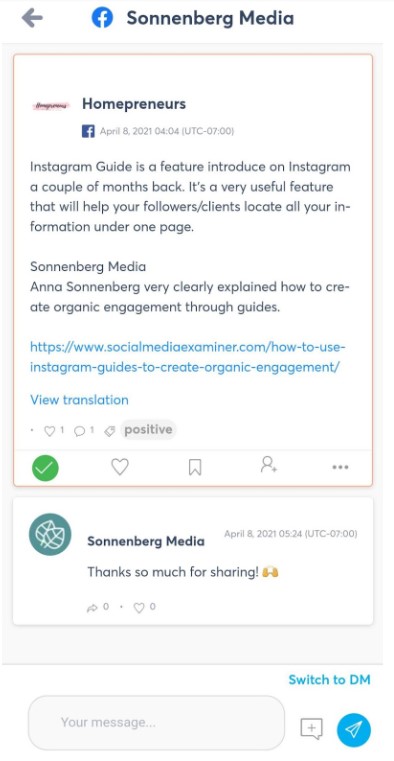 Due to Instagram API limitations, you'll need to respond to mentions that don't directly tag your brand in the Instagram app. In the Agorapulse app, just tap to open the post in Instagram so you can engage with the creator.
In the Listening tab, you can also keep an eye on the custom social listening searches you've set up.
Whether you're monitoring a campaign, event, or industry hashtag, you won't have to worry about missing any of the conversation while you're out and about.
Posts List
Maybe you're live-tweeting an event. Perhaps you got a great idea for a social media post while you're away from your laptop. Or maybe you forgot to schedule something important.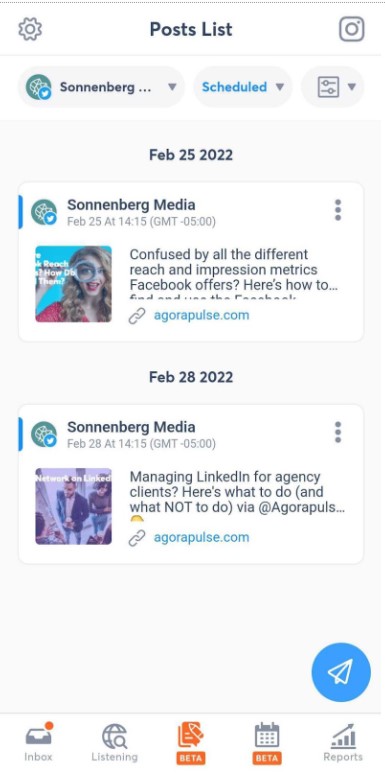 Either way, you can use the Agorapulse mobile app to publish or schedule social media content on any supported profile. Tap the Posts tab and use the dropdown menu to find the right social profile. Then tap the paper airplane icon to create content.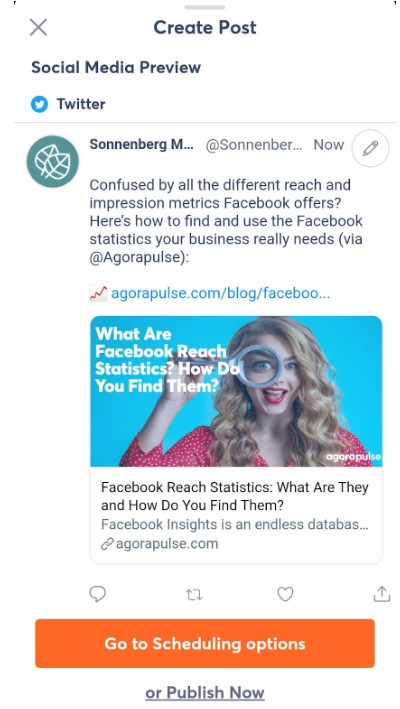 You can upload photos and videos, access your saved hashtag lists, and tag other accounts. The app shows you a channel-specific preview so you can see how your content will look when it's published.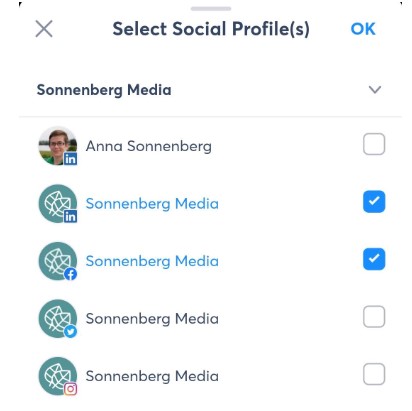 Do you need to schedule similar content on multiple profiles? Tap the plus icon at the top of the Create Post screen. Then select all the profiles you want to include.
On the preview screen, you can tap to edit the post on each profile—so you can optimize your content for each individual social channel.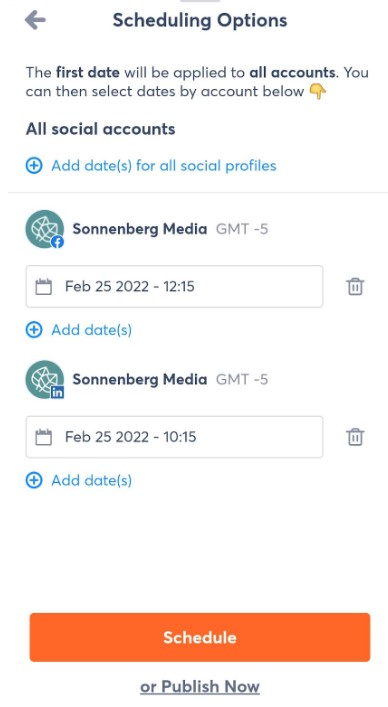 Instagram Publishing
You can use the workflow above to publish or schedule Instagram content from the Agorapulse app.
But you can also use Agorapulse to publish Instagram Stories, Reels, and carousel posts at designated times.
Start by creating your post using either the mobile app or the desktop version of Agorapulse.
In the publishing composer, toggle the Publish a Carousel, Reel, or Story switch. Then select the team member who should complete the publishing process and choose Publish or Schedule.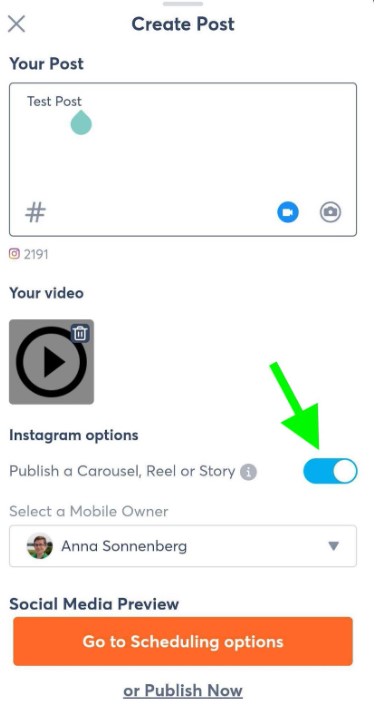 When it's time to publish the content, the person you selected will get a notification on their mobile device. They'll be able to upload the media and add the caption to Instagram, and they'll also have the chance to use filters, stickers, and effects before publishing.
Social Media Reports
Do you need to get a quick read on your clients' audience growth, engagement, or even brand awareness? The Agorapulse mobile app features all the standard social media reports the desktop version offers, making it easy to monitor metrics even when you're away from your laptop.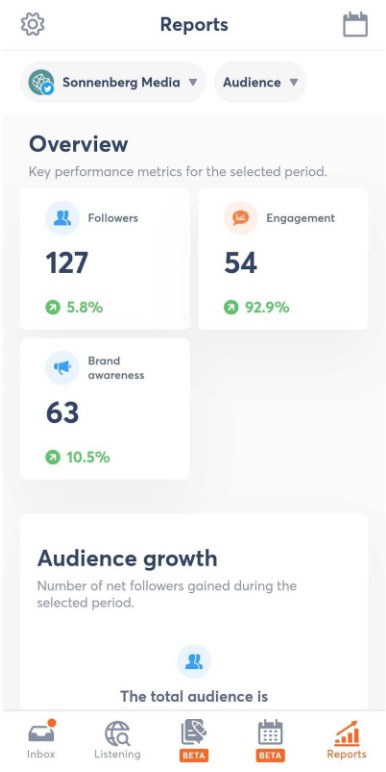 To access social analytics, tap the Reports tab and either scroll through the data or select from Audience, Content, or Community Management reports.
You can quickly gauge:
Audience growth, including net follower gain or loss
Impressions and total reached users
Engagement, including a breakdown by type
Inbox and publishing label distribution
Listening items, including a tally for each social listening search
Hashtags and interactions
Brand awareness
Return on investment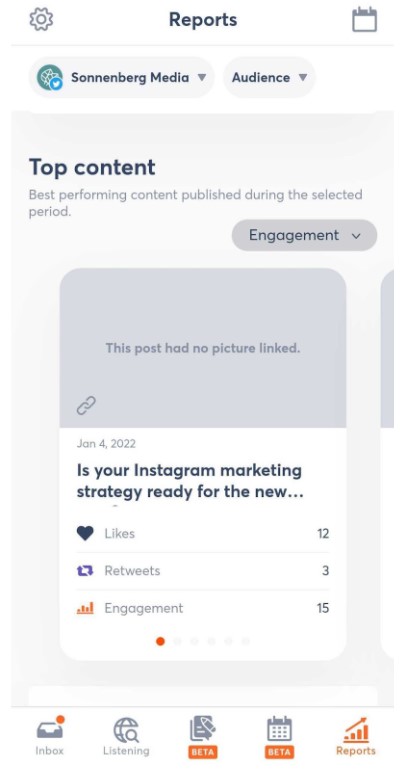 On the content tab, you can see how many posts you've published and scroll through your top posts. The Reports tab also shows recommendations for the best day, time, post type, and label to publish—so you can continue to create content that resonates with your audience.
In Conclusion
Are you ready to streamline social media management using the Agorapulse app? If you're already a subscriber, you can download the app from the Apple or Play store and log right into your account.
If you're new to Agorapulse, setting up a trial is super-simple and completely free. Get started with a free Agorapulse trial here.