Managing social media as a team can be a nightmare.
When you're a social media manager in charge of several social accounts for your brands (or clients), you might work as a lonely cowboy — yet part of a team.
You want to invite your team to participate on your social media channels, but you undoubtedly have concerns:
Should I share our biggest brand's Twitter account password with the new intern?
How do I give team members the ability to get into my accounts but not publish any posts?
Sure, native Facebook has admin roles, but the flexibility there is limited. With Instagram and Twitter, you're stuck with one single access for the entire team.
Here's how you can make it better.
There are several tools are available to help you to manage your social accounts with your team — and AgoraPulse is one of them!
It's all here:
With our new team features, you can invite team members in one click. All you have to do is to enter their email addresses and select which accounts they can manage. That means you no longer have to share your brand/client Twitter password anymore!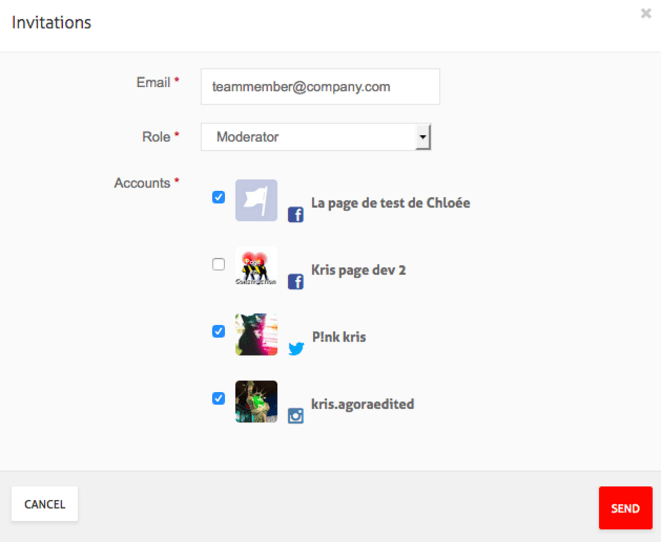 Last but not least: you can decide what your team members can (and can't) do thanks to Agorapulse's role system — which is a LOT easier than the one on Facebook. For example, you can attribute a moderator role to your new intern so they can't publish a post on the page (or a tweet) without your approval. Here's more info on admin roles.
Feel safer, don't you? 
Would you like to give guest access? Awesome. We provide a guest role in Agorapulse: guests are in read-only mode, they cannot perform any publishing or moderation actions.
What about you? How do you manage your team member permissions? Let us know in the comments!