Have you been wondering how to use these new Facebook post options on your business page? We will go through each one step-by-step. Some of them might seem *very* familiar.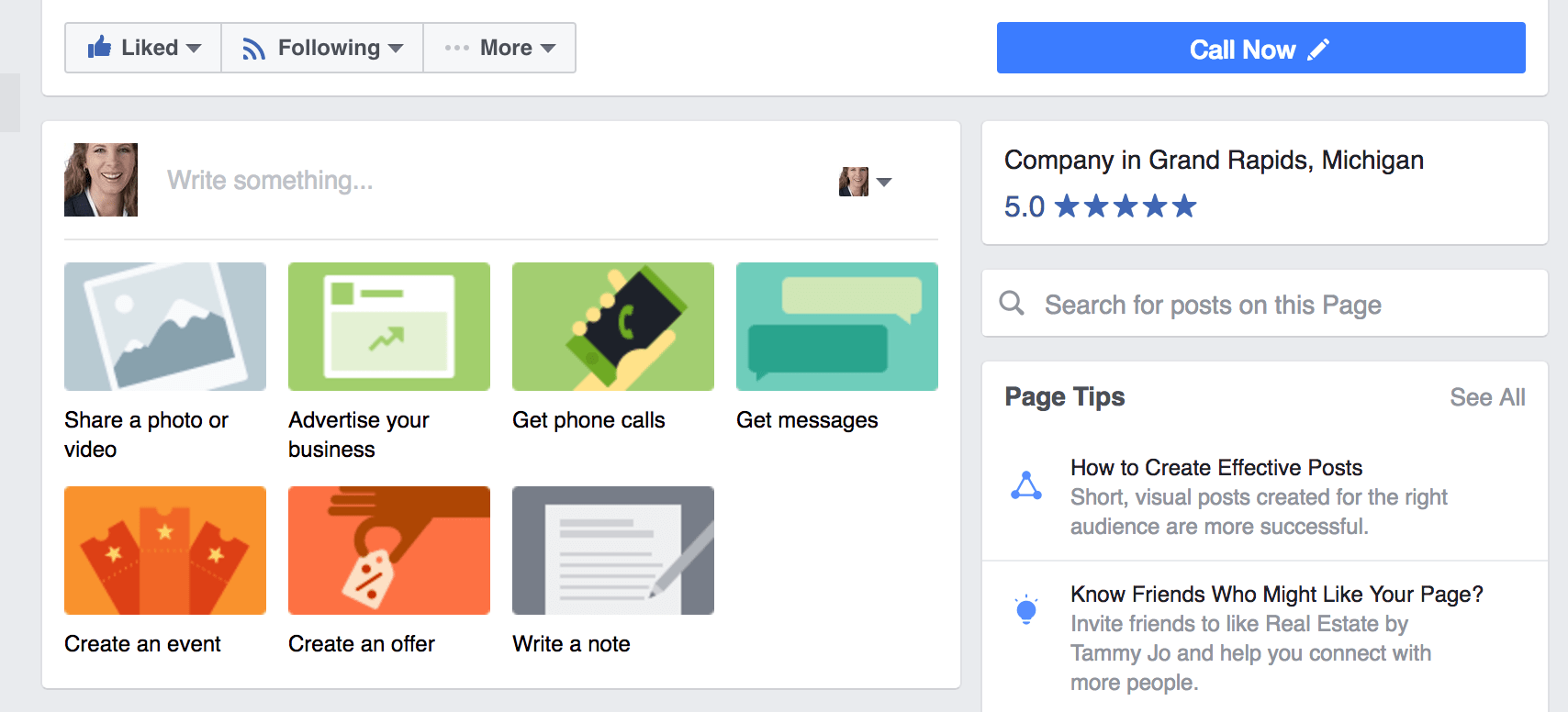 Share a Photo or Video on Facebook
The first option youl'll see is this one — share a photo or video. At first glance, it might seem like this option is the same thing that has always been available on Facebook. But when you click on the option you will see that this is an area that Facebook has upgraded significantly.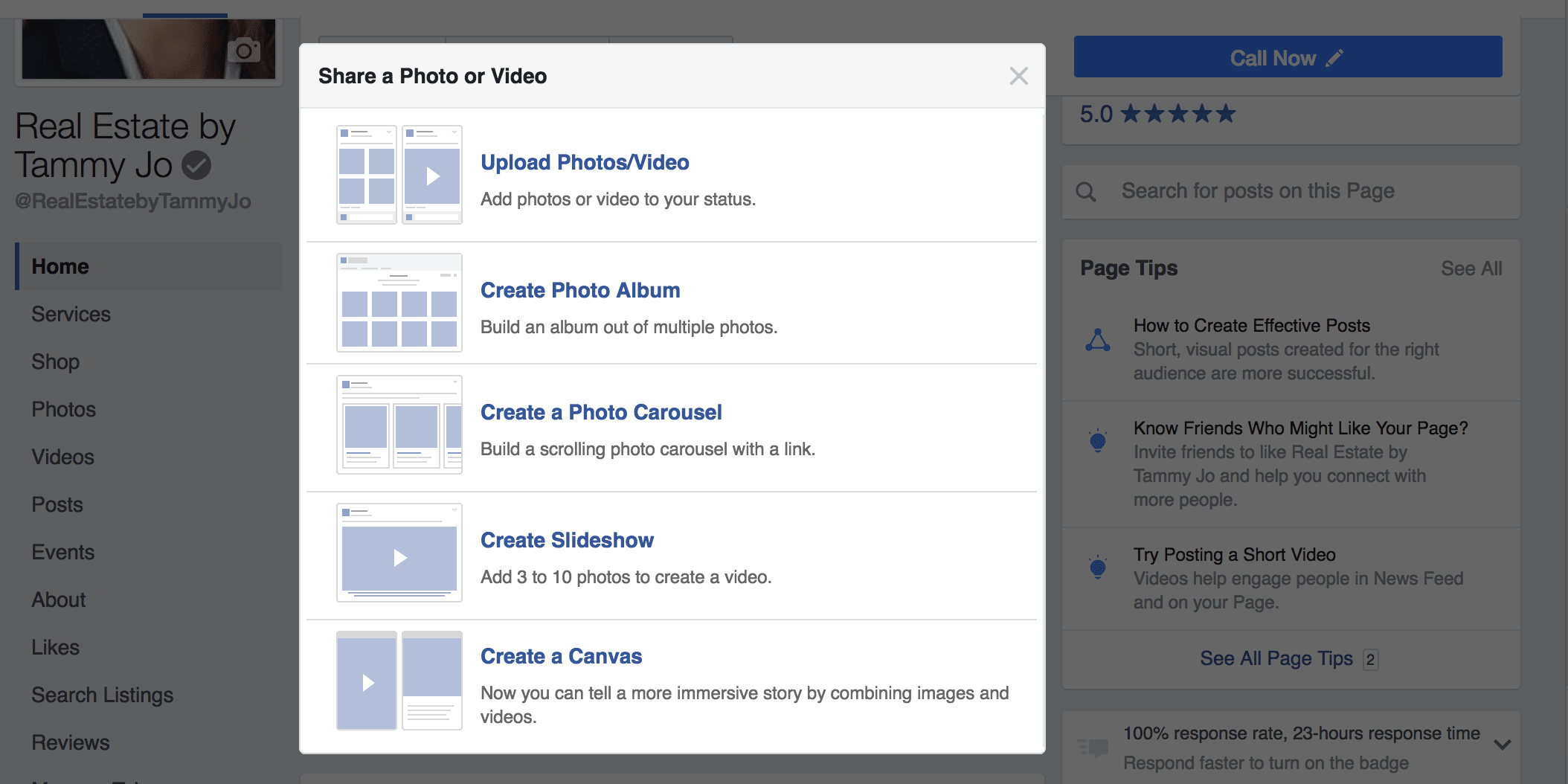 You will see in the Facebook options, that you have five different choices of content to create. The first one is to upload a photo or video. This is the same as what was available before. There have been a couple additions for video specifically, such as a tool to easily add closed captioning to your video, but overall this is post type that you are probably familiar with if you have been using Facebook for awhile.
The second option is to create a photo album. This is one area that a lot of businesses and agencies miss an opportunity to stand out. Think about categories of things that you share pictures of, such as tips and advice, reviews from clients or customers, product information, sales, recipes, etc. What these categories are will totally depend on your business and industry. By creating albums that collect all of these photos as you add them you draw attention back to older posts over time, similar to organizing a pin board on Pinterest.
Creating a Photo Carousel in the New Facebook Post Options
The third option merits its own section — creating a photo carousel. Rather than uploading images from your files, you actually connect it to a website URL to pull the images. This is great for your online store or blog to feature what is available.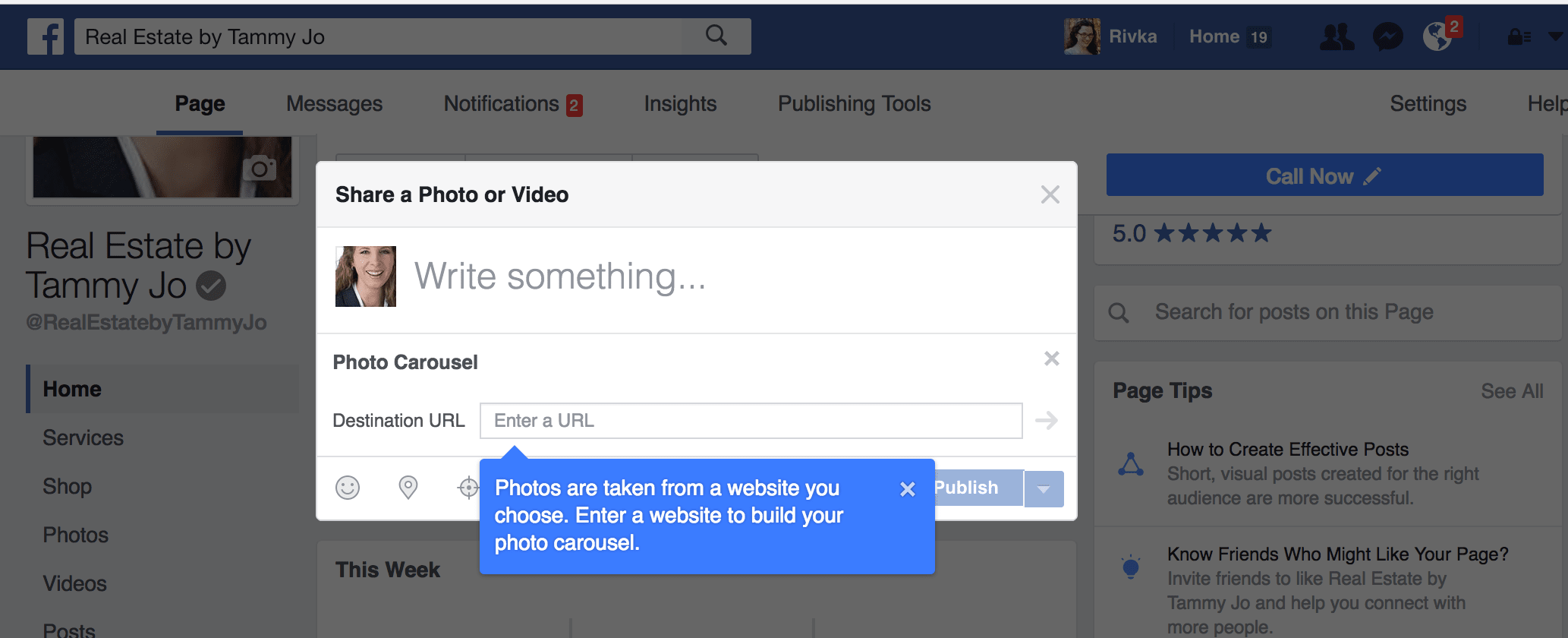 It is important to note that you do not only have to enter the primary URL of a page. You can also add the direct URL to the set of images you want to feature.
Once you add the URL, it will allow you to individually remove images that you don't want to show.
The images show as square resolution, so make sure you have images that are optimized for that size prior to publishing your post. You also have the option to add additional images directly and link them to any site. If you don't want to change your site, this is an option available to you.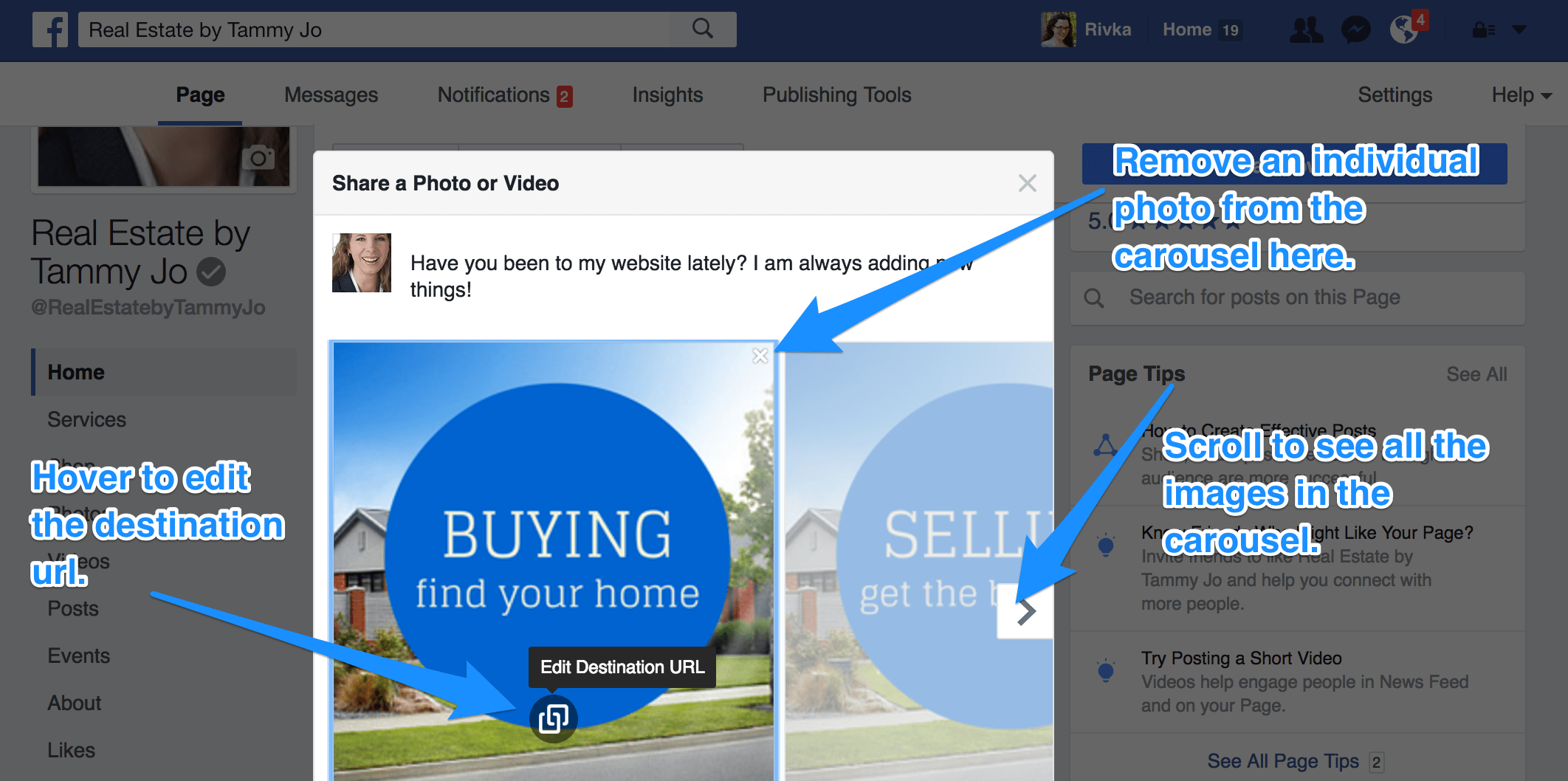 How to Use the Facebook Slideshow Option
Another one of the new photo sharing options in Facebook is to create a video slideshow of your photos. This is probably one of the things I am most excited about as it gives you the power of video in just a couple clicks.
Choose your settings for transitions, time on each photo, and aspect ratio, pick from the royalty-free music provided by Facebook (or add your own tunes), and upload your photos or choose from Facebook photos you already have on your site.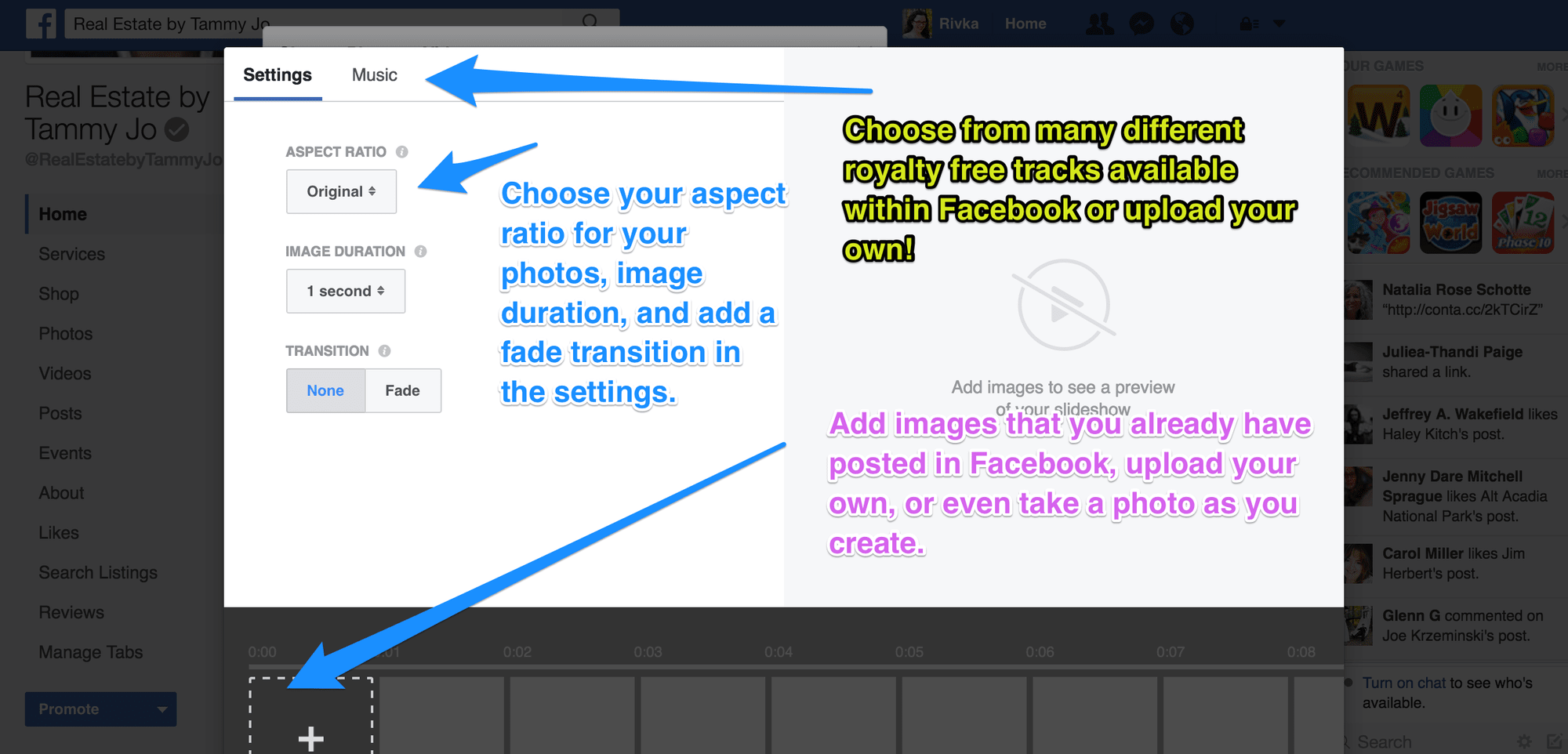 How to Create a Canvas in Facebook Post Options
The last option in the photo and video section is to create a canvas. This is a new concept that allows you to integrate images, photo, and text in a unique way within Facebook. It is a powerful tool that can be used in many different ways. Start by taking a tour to see all your options and then get started using this new tool!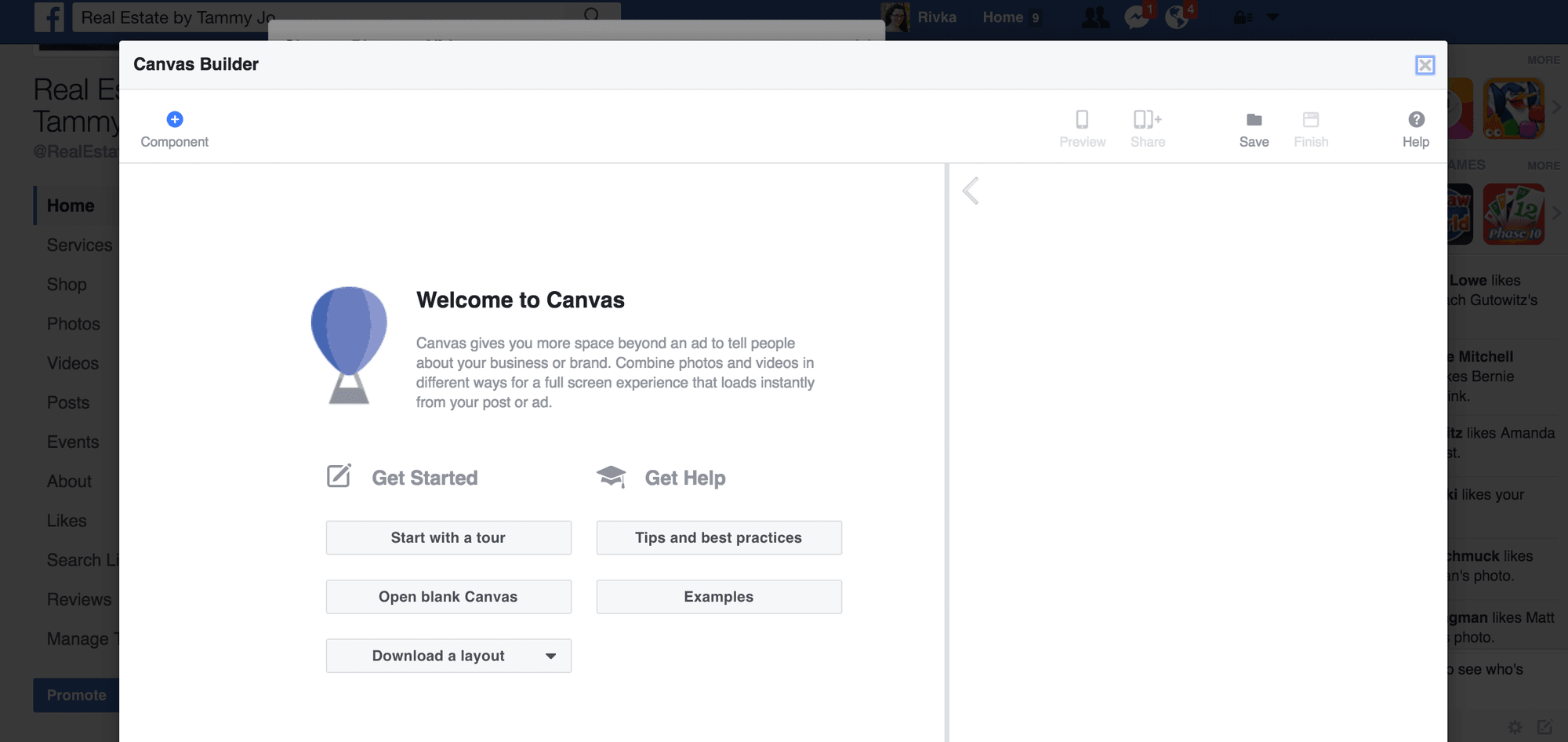 Can you believe you can do all of this just with that first Facebook post option? Let's move on to some of the others now.
Advertise Your Business
If you have avoided Facebook advertising because it seems too complicated, you will love the new "Advertise Your Business" post options. This simplifies the whole process of creating a Facebook ad by letting you start by choosing a specific goal. It then walks you step-by-step to create your ad right within your page.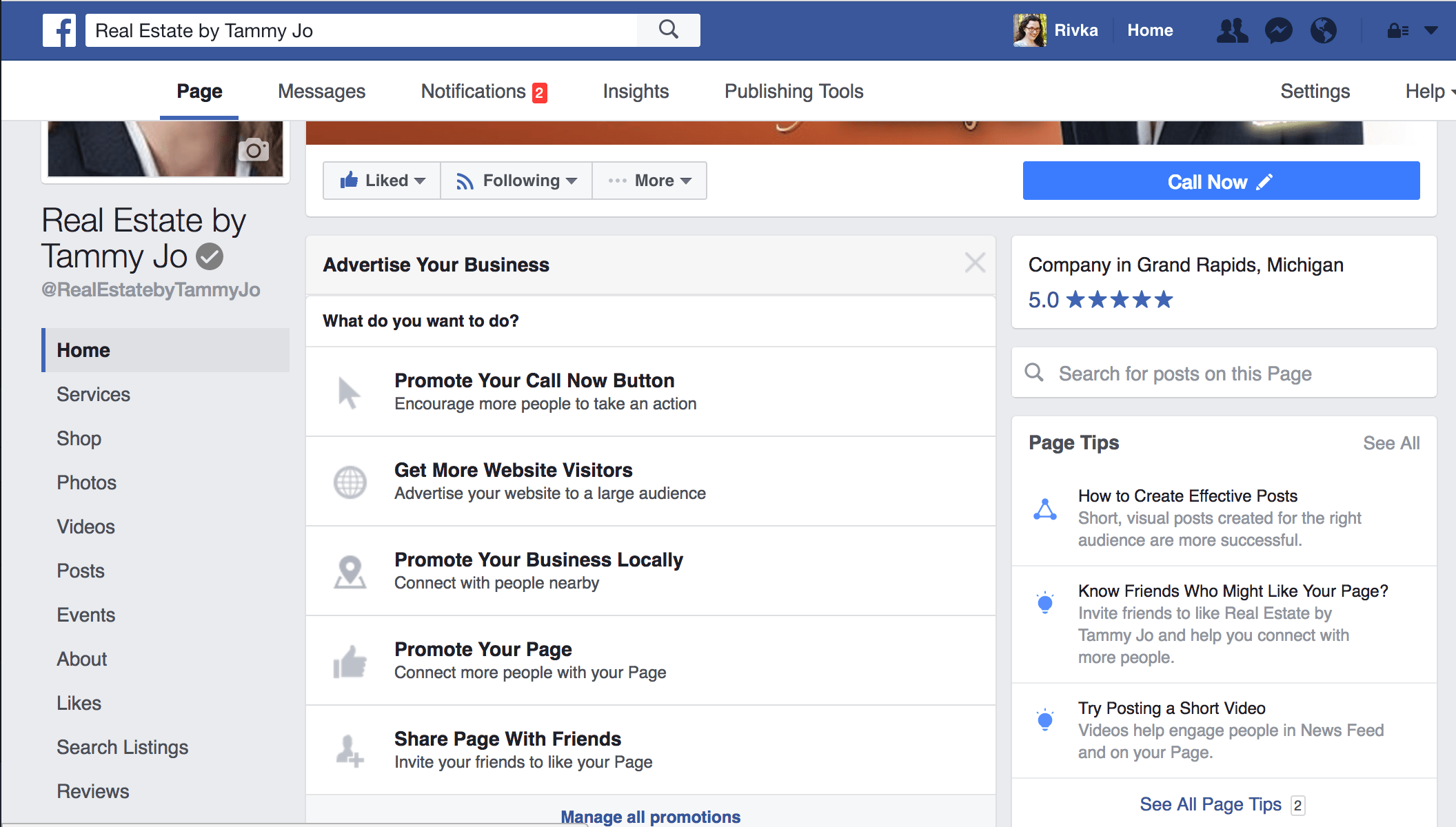 The most important thing for successful Facebook advertising is targeting, so make sure that you know who it is that you want to reach, and what you want those people to do.
Get Phone Calls
Another new Facebook post option is "Get Phone Calls." This option opens a separate window where you can include an image with a link to make a call.
Those viewing the post can one-click dial to a phone number you set from directly within Facebook. The ideal image size for this post is 480 x 250px. Facebook will automatically pull your Facebook header image into this post type unless you select a different photo. It is also important to note that you will only see this option if you have a verified phone number set up for your page.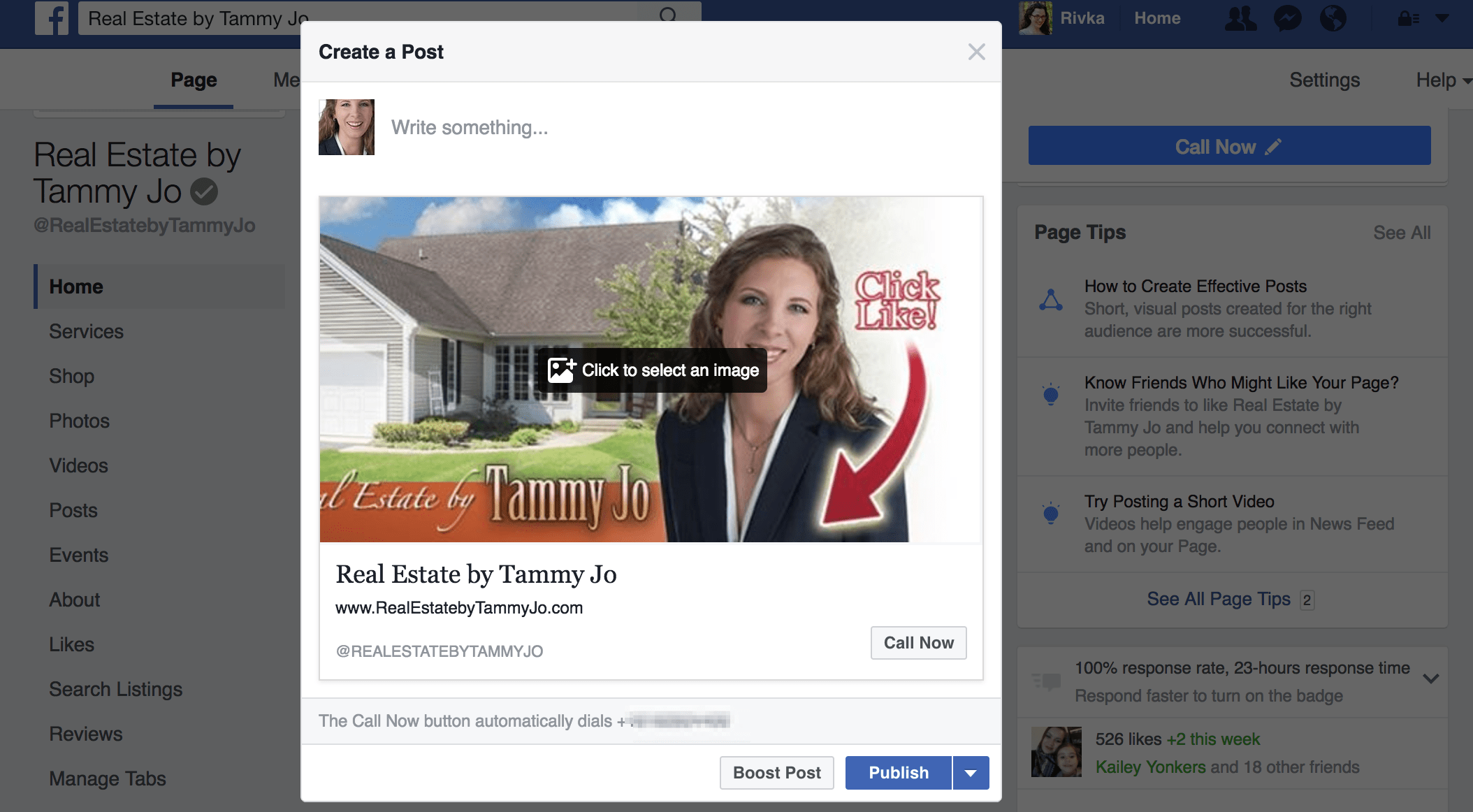 Get Messages
When you create this type of post, it prompts people to send you a message. It is a great way to encourage one to one interaction through your Facebook page. Make sure that you are prompt to respond to any messages if you use this post option.

A tool like Agorapulse allows you to view all unread messages, reply, or assign to the best team member to address the message.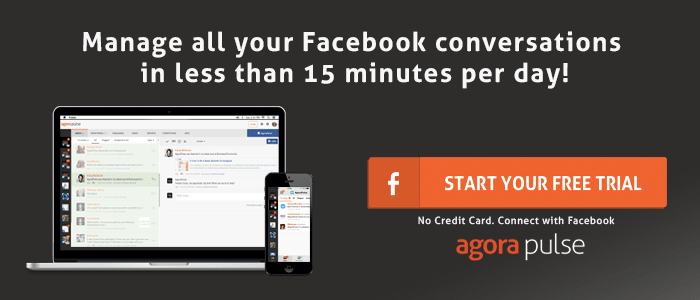 Create an Event
Another new post type is "Create an Event." This is a more streamlined way to create events for your page than before. Always make sure to create a new image for the event using the ideal size of 1920 x 1080px. Like some of the other post types, this one automatically pulls in the Facebook cover image unless you change it.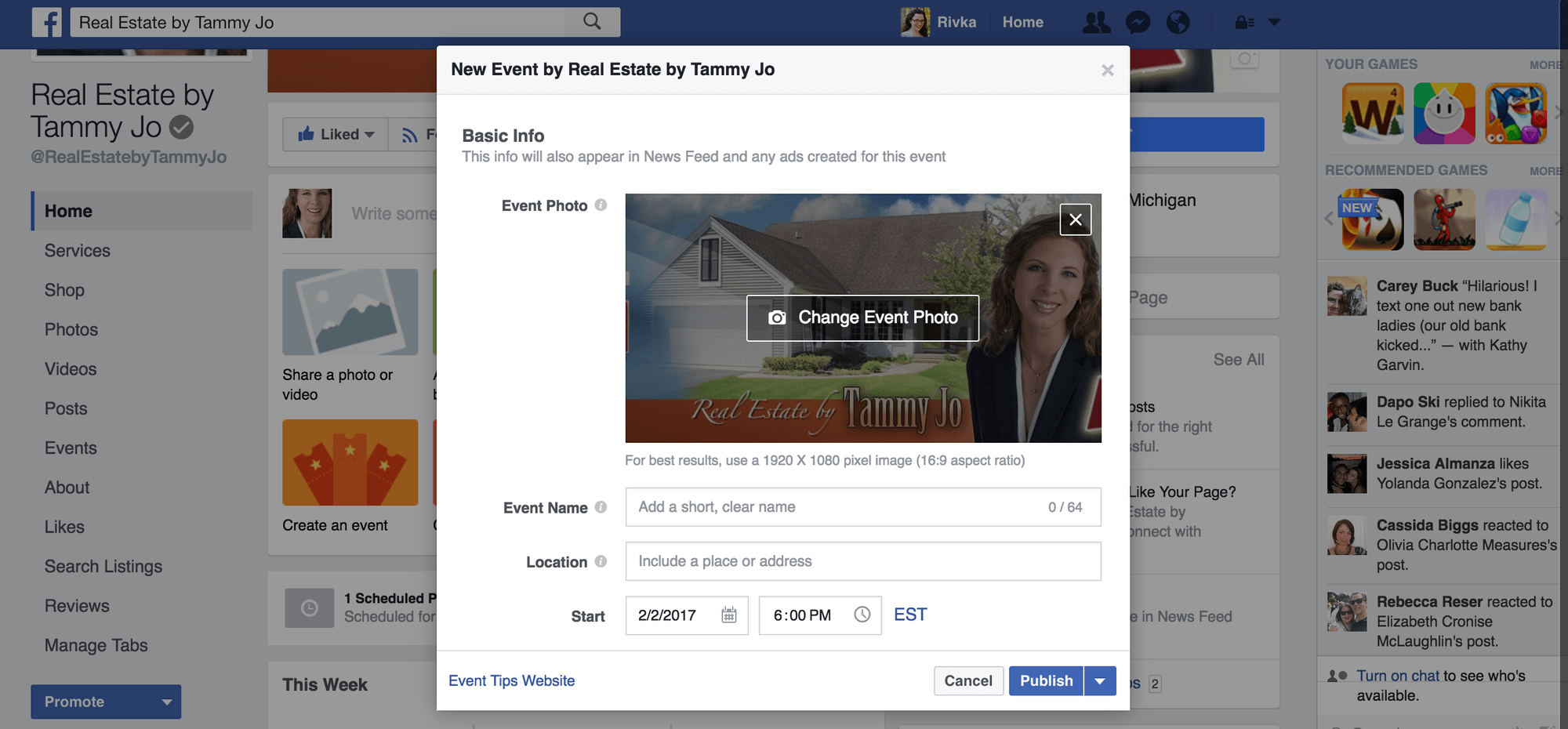 Create an Offer
Another one of the new post types that I think opens whole new doors for businesses is the "create an offer" post type. You can choose to create an offer that your fans can redeem online, in a physical store, or both. Offer types include:
Percent off
Amount off
Buy one, get one
Free stuff
The inclusion of "free stuff" means that you can even include a free consultation or introductory call if you are a service based business.
Enter a title and description, along with a URL where people can redeem the offer if applicable. You can add up to 5 photos, or a video to the offer.You also must include an expiration date for the offer.
Optional items include adding a coupon code for online checkout, terms and conditions, as well as limiting the total number of the offer available. Make sure to view what it looks like in both the newsfeed preview as well as the mobile view preview so that you know it will look great either way.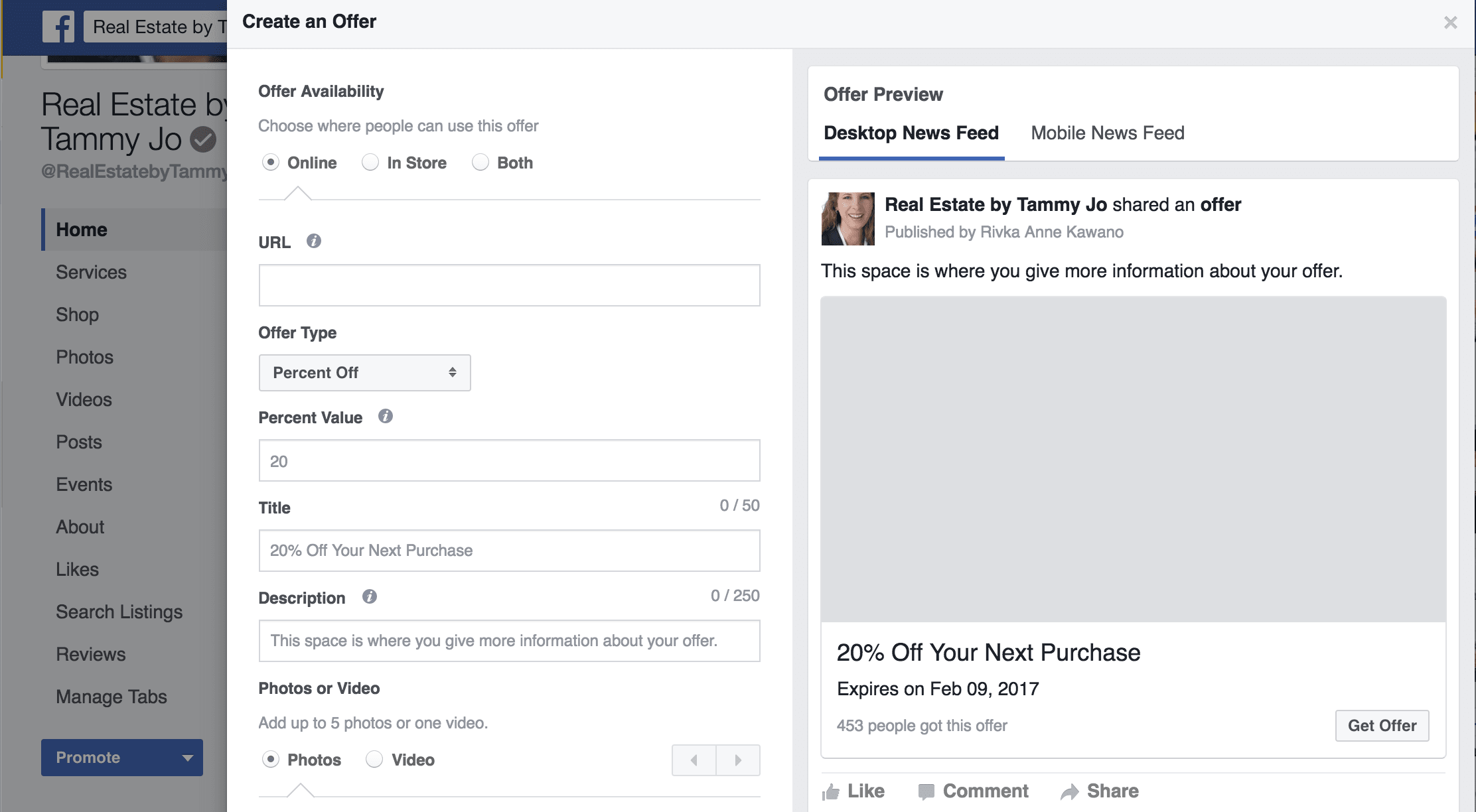 Write a Note
The last new post type on Facebook is "Write a Note." At first glance, that might seem the same as an update, but it is quite different. This allows you to create blog post style posts on your page, including a header image, photos, title, and sub headings. If you don't already have a blog on your website, this may be a good way to start creating more macro content to accompany your micro content on your page.

Which Is Your Favorite?
How many of the new Facebook post types have you tried? Which are your favorite? Have you seen any results? Share in the comments below!