Creating video content for social media can be unrewarding. It's time-consuming to make, particularly long form video.
Even something seemingly off the cuff like live video takes time to prep. Then once you've finished planning, shooting and editing it has a short lifespan.
Don't despair. You can extend the life of your video by adding some repurposing magic.
In this post, we'll look at 7 ways to repurpose video content to give it a longer life. I'll include tools that will help you turn your videos into new content.
Related Post: Social Media Marketing 101
1. Make an Audio Podcast
Video content is hot on social media. Facebook, Twitter, Snapchat, and Instagram are all pushing us to use more video. But not everyone wants to watch.
Viewers have to dedicate their full attention to watching a video. They need to stop what they are doing to watch and listen.
Audio content is easier to consume because it only occupies one of our senses. We can listen to podcasts while doing other things. We listen in the car, when we're doing the housework, when we are working out.
Social Media Examiner has recently turned its popular news videocast 'The Social Media Marketing Talk Show' into an audio podcast.
By doing this, they will reach a larger portion of their audience.
Tool: Audacity
Converting a video to an audio file is straightforward using the open source podcast editing software Audacity. Upload your video to audacity, add an intro and choose 'mp3' as the file format when you export your edited file. (screen grab from Audacity for Mac)
2. Turn Video Content Into a Blog Post
Video can add value to your blog posts, but search engines and some of your readers still like written content. Creating a transcription or a blog post based on your video makes it accessible to readers, viewers and search spiders.
So embed your video in a blog post and transcribe the key points for readers. I publish a weekly vlog on Facebook, YouTube and my blog. I try to squeeze my key points in to just one minute. One minute is never enough time so I direct people to the blog post I write to accompany it.
By giving people who land on my blog the option to watch or read, I'm engaging more people.
Tool: Rev.com
Although I write each post from scratch you might choose to transcribe your video. Rev.com offers a low-cost transcription service.

3. Make a One-Minute Trailer for Instagram
We can upload our entire long form videos to YouTube and Facebook, but other networks restrict the length.
Instagram allows just one-minute of video. Instead of trying to cram everything you want to say into 60 seconds, choose a snippet to share as a trailer. Choose either a hook that tells people what value they'll get from watching the whole thing or find an amusing section to draw them in.
Here's an example from my Instagram.
Tool: Instasize
Even though you can upload landscape and portrait video to Instagram, square video is still the best fit. It takes up more space in the feed and matches the Instagram style. Instasize is a tool for iOS and Android that lets you add a square background to your videos and photos. It's how I created the square video above.
Create a branded background image first using a photo editing tool and use it as a background on all your videos.
4. Create an Instagram, Snapchat, or Facebook Story
Tease your Snapchat or Instagram audience with snippets of your video. Crop your video to a portrait format, chop it into 15-second segments (or 10 for Snapchat) and upload it one piece at a time to your story.
Tool: Cutstory
Cutstory is a free tool for iPhone users (sorry Android fans) that lets you seamlessly snip long videos into Instagram, Snapchat or Facebook story sized clips.
5. Make a Twitter Trailer
Twitter allows up to 2 minutes and 20 seconds of video (that's 140 seconds — very clever Twitter).
Just like you did for Instagram cut a few short versions of your video for Twitter trailers linking to a longer Facebook or YouTube version.
Video superstar Gary Vaynerchuk makes good use of video on his Twitter account. Using square video with text overlay will grab the audience's attention in the feed.
#ThursdayThoughts #ThrowbackThursday … so many are fancy before they earn it … #BetterThanZero .. pic.twitter.com/uu11MRJbmq

— Gary Vaynerchuk (@garyvee) August 24, 2017
Tool: Twitter Media Studio
Did you know that Twitter stores every image and video you create in a media studio so you can access them again? Here's more on that.
Upload your videos here so you can schedule and tweet them as often as you like without having to upload them each time.
Too: Vont
To add text overlay to your video iOS, users can use Vont. There are lots of font styles to choose from.
Tool: Legend
Legend allows you to add funky text overlay to short video clips. It's a great way to create an opening to your videos and is available for both iOS and Android.
Here's a great example from Sue B. Zimmerman promoting a webinar.
6. Edit Short Form Videos Together into One Longer Video
So far we've focused on repurposing your long form video. But shorter videos work well on social too. Short form video is quick content you've created for your social media updates.
This could include animated quote videos, short six second Vine Camera video, looping Boomerang video, Timelapse video shot with Hyperlapse amongst others.
Take a look at the video you have created and see can you edit it together to create a longer video.
Here's one Krishna De made for a recent event I hosted. I love the way she took her clips and combined them with a voice over to make her case for video marketing.
How To Use Video To Build Visibility And Boost Sales

? ? ?‍♀️ Why should you go to Go Do Video? spiderworking.com/godovideo (use code VIP for 20 percent off) Krishna De is one of the most talented marketers I know. Over the last few years she's been focussing on video, most of which she creates directly from her mobile phone. She's also a Live Streamer and hosts a weekly show Live Stream Insiders. She's kindly created this video that show you why and how to create video for your business. #godovideo #sagebizmeetup

Posted by Amanda Webb – Spiderworking on Wednesday, July 12, 2017
Tool: iMovie
iMovie is a simple editing tool for iOS and Mac users for editing clips together to make a longer video.
Tool: Cyberlink PowerEditor
Android users can use CyberLink PowerEditor for editing clips together.
Tool: Camtasia
Desktop users who want a more professional editing tool can use Camtasia. It comes with lots of useful features for transitioning between clips and adding text (amongs other things).
7. Outtakes
I used to love Burt Reynolds films when I was a kid, not for the films themselves (although back in the '80s I did find them entertaining) but for the blooper roll over the end credits.
There's something about watching people's mistakes that makes compelling viewing. So if you messed up when you made your video take out the mistakes and create your own blooper roll.
If you want to check how your Instagram and Facebook posts are doing with these recycled videos, use a good social media analytics tool to check your stats.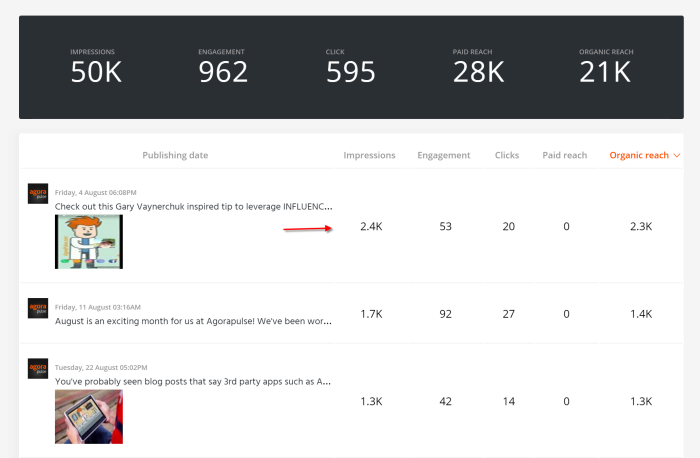 Over to You
Are you repurposing your video content? What editing tools and techniques do you use? What have I missed? Leave me a comment below.
Take control of your social media! Check out our free trial of Agorapulse to help you schedule, track, and measure all your social media efforts.