Think about your SEO writing. It may be good … but you need it to be great.
After all, you already know that SEO (search engine optimization) is important for your website. It gets your business in front of potential customers. But how do you get your social media channels to boost your SEO?
In this article, I'm going to show you my tried and tested SEO writing tips to boost your social media.
How Social Media Helps SEO
Having a basic brand presence on social media is a start, but there's so much more you can do to boost your SEO with social media.
Before we get into the action items, let's look at how social media helps SEO.
Social media captures trends
It's difficult to capture fast moving trends with blog or video content. It just takes too long to produce and by the time you have published it, the trend has changed.
But social media posts can capture trends with relevant commentary and hashtags.
By utilizing relevant trends (including topics, music, videos and themes) you can get more eyes on your brand. For example, I'm obsessed with Ryanair's Twitter for doing this in a fun and harmlessly snarky way.
Gen Z loves authentic content
A total of 86% of people now ignore paid banner ads, choosing to only click on organic search results. This is great for creatives who can craft engaging organic content on social media saving money on paid ads.
Company social media profiles usually appear at the top of SERPs for branded keywords
This is especially true when keywords or phrases are used. Company logos and images from social media also pull through to the SERPs when they are properly named.

Accelerate content distribution
In simple terms, more people will see your blogs, landing pages, and videos if you feature them on your social media. That means better brand recognition, increased traffic, and a better ROI.
An evergreen presence
Social media posts live forever. Something you shared in 2022 may still be picked up in 2025. That reminds us to update old but popular blog posts but not to change the URLs. (Like this post which is one of our most popular!)
Increased web traffic
Getting more web traffic from social media is a win-win. The more traffic you get, the higher your site is prioritized by the SERPs. 75% of people never scroll past the first page of search engines. So if you're not there, you're missing out on huge volumes of potential customers!
Boost searchable shopping
We now search on social media in the same way we would on Google. This is especially true for sites like Instagram and Pinterest. So, it's essential your products are searchable and shoppable from your social media channels.
Channels like Pinterest also provide detailed insights into customer search trends. If you're not utilizing this information, you could be missing out on tangible business opportunities.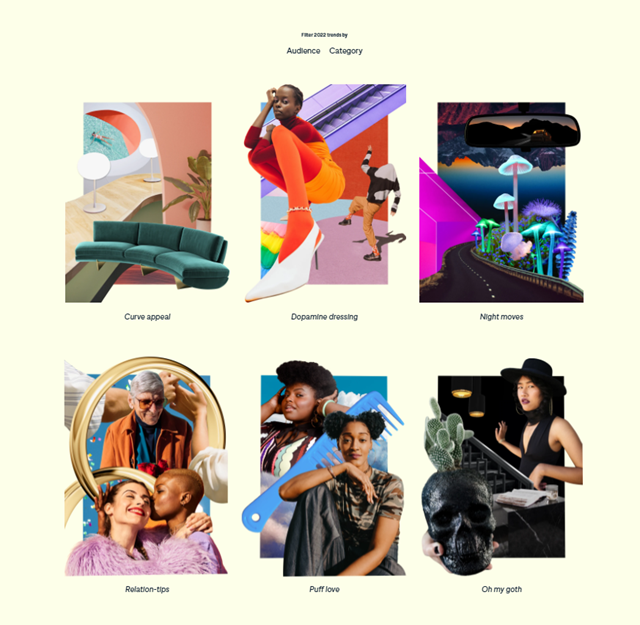 Correct a bad online reputation
Getting your social media SEO on point can help you to hide old content. That's because fresh, relevant content will be prioritized and show up higher on the SERPS pushing the old content down. (This is a technique we use at Contentworks Agency to help conceal bad reviews or negative PR.)
Amplify reach
A retweet or share from an influencer on social media amplifies your reach to a larger audience and boosts your visibility.
Utilizing UGC, influencer marketing, and brand collabs on social media are all great ways to boost your traffic.
Google's "Helpful Content" Update
Google holds 91.94% of the total search engine market share, followed by bing, Yahoo!, Baidu, and YANDEX.
However, Google's algorithm updates are known to cause confusion and even angst among marketers. Panda, Penguin, Hummingbird, Pigeon, Phantom, and Bert (Google updates, not Sesame Street characters) all provided SEO guidelines on the way we write and display content.
But this summer Google is rolling out an update that has been nicknamed the "Helpful Content" update.
Google's new helpful content update reiterates the importance of creating content that answers questions directly and helpfully. That's instead of long waffling sentences aimed at hitting an "SEO sweet spot" rather than helping readers.
Searchers are irritated by landing on unhelpful pages that have ranked simply because they were designed to rank.
Why is Google's Helpful Content update important?
Google's Helpful Content update gives social media marketers the change to provide meaningful, impactful content that can rank well.
You can hit the sweet spot by:
Providing direct answers to questions in one or two sentences
Sharing short and relevant How To videos that provide exact answers to searches
Focus less on keywords and more on the value you're providing
Including genuine user-generated content including reviews
Tips for SEO Writing
SEO can reduce the cost of customer acquisition by 87.41% compared to digital advertising. Your video, link, snippet, or social media post appearing on the first page of a search is the holy grail.
So, how can social media managers boost their traffic for free?
Here are my top tips.
1. Write great social media captions
There's a reason why social media managers are often repurposed (overworked?) content writers. It takes skill to write great social media captions.
First, captions need to be engaging and communicate the message effectively.
Second, they need to be concise and memorable.
Third, they need to be SEO effective.
On social media platforms like Instagram, links are not clickable, so your caption needs extra power to drive an SEO action.
Check out IKEA UK for captions.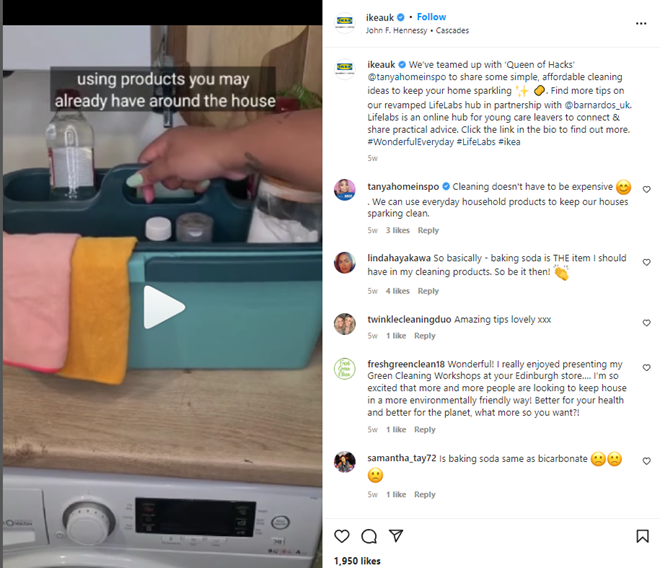 Here's what the brand gets right:
The brand fully utilizes user-generated content/influencer marketing teaming up with Queen of Hacks @tanyahomeinspo. This amplifies its reach to a larger audience and boosts its SEO.
Their captions and posts are timely and seasonal. Sharing videos of outdoor furniture and party set ups was great for the summer and guaranteed more engagement.

The channel uses hashtags like #IKEAUK and #IKEAcatalogue, so anyone searching for the brand will find it easily. There are over 4400 Instagram tags for #IKEAcatalogue.
They use the name of the products in the description, making them searchable like the VEBJÖRN desk with the MULLFJÄLLET swivel chair. Don't expect social media users to go searching for item names. Most won't!
Captions are helpful and explanatory. (Remember that Google update we talked about earlier!). You can see that their timely and well-worded tweets appear on Google page 1 too.

Remember: Grammar rules are looser on social media, but they still exist. In regard to spelling, you have no excuses! Double-check posts before they go live, even if you're a writer.
2. Feature people with a higher SEO ranking than your own
Search engines like Google, factor social media influence into page ranks.
By engaging with micro- or macro-influencers on social media, a brand can reap the rewards of increased web traffic.
Many studies have shown that as follower numbers increase, engagement rates decrease. Working with micro-influencers might even bring higher ROI for a brand.
Thinking of teaming up with a social media influencer to boost your social media SEO?
Here are some points to consider.
Engagement: Forget the follower count as this can be faked. Does the influencer get a good level of engagement on their posts? On Instagram, public figures have the biggest engagement rate with 5.7%. However, influencer accounts with fewer than 1,000 followers get 8%. Anything lower than 5% and you should consider whether the partnership will benefit you.
Channels: Micro-influencers usually favor one or two channels. And they're right to do that. By focusing their audience in one place, they minimize the creatives they need to produce for multi-channel marketing. They also amplify their engagement. The question is, does their favored channel match yours? If they are huge on TikTok and your brand hasn't made TikTok a focus (or your demographic doesn't hang out there) then it might not be a match.
Relevance: Does the content they're sharing match your brand, audience demographic, and ethos? If you're a vegan beauty brand, then teaming up with a gal who loves to hunt and wear leather jackets probably won't sit too well. In fact, this could put a serious dent in your web traffic and ROI. Check out these tips on how to find a social media influencer.
Agreement: What are you planning to offer your influencer in return for their collaboration? How much is the influencer being paid per post? Will they be paid in commission, flat fee or with free products? Is it based on performance? Check out these fundamentals for creating an influencer contract template.
Sephora regularly works with stylists, make-up artists, and product companies.
Here's what the brand gets right:
They tag beauty products that they sell in their tutorials. This massively ramps up SEO exposure and helps promote their product range. I also love the diversity of Sephora's posts, which are inclusive to all ages, genders, body types, skin types, and ethnicities.

They feature real people and real stories like trucker @iamclarissarankin. For me, this hits the right authentic note and steers away from constant product promotion. Keeping on brand, Sephora remains positive and promotes empowerment.

Sephora could easily afford to work with beauty megastars but mostly chooses not to. Instead, the company opts for UGC, micro-influencers, and industry experts like makeup artists or hair stylists. Doing so adds additional clout and authority to its posts.
They team up with beauty influencers for live chats. I love the healthy emphasis on self-care and the regular episode installments, which keep us tuned in.

SEO writing tip: Listen and monitor brand mentions, keywords, and key phrases in your Agorapulse dashboard. Doing this can help you find micro influencers or brand ambassadors to feature on your social media channel.
3. Make everything shoppable (and easy!)
By the end of 2022, US social commerce sales are expected to reach $45.74 billion, with more than half of all adults making a purchase on social media.
This is a trend that's echoed around the world with two years of lockdowns forcing even the most "online resistant" to shop online! For some consumers, that was essential groceries and household provisions. For others, it also included fashion, gifts, makeup, jewelry, and luxury goods.
67% of consumers report that they now shop differently than they did years before. But competition for sales is now fierce. Shoppers are more particular than ever.
"Swipe up to purchase" or "shop link in bio" are now CTAs that we are seeing frequently on platforms like Instagram and TikTok. These combine creative Stories and Reels with a push to purchase. This ecommerce social media activity boosts your SEO by driving traffic to your site. And not just traffic. But hot leads that want to buy from you.
Tips for boosting your ecommerce on social media
Utilize every sales tool you can on the social media platforms you're using. Whether you're tagging products, linking to them, adding an automatic checkout, Catalog or a link tree on Instagram. Make everything easy to find and tempting to purchase!
Linktree is a popular option for Instagram accounts because it allows you to add multiple links into one solitary bio link. Connect your socials, website, store, videos, music, podcast, events, and more.
Over 69% of all online shopping carts are abandoned. To avoid that, you need to make the shopping process simple, trustworthy, and fast with as few clicks as possible.
Utilize brand collaborations wherever you can to boost sales. A brand collaboration doesn't need to be complex. It could simply be a shoutout to a brand that your brand loves. Check out how @petsafe gave Walmart a nice mention below.

Potential purchasers read multiple reviews before committing to buy. Seeing positive user reviews, testimonials, and even product unboxings or demos are proven to sway the sale in your favor. There are a lot of scams and fakes on platforms like Instagram, so UGC wins trust. Be sure to utilize social listening on your Agorapulse platform to stay in the loop for brand mentions!
Brands like Asos are regularly featured on unboxings and product reviews like this one from @diaryofabeautygeeek.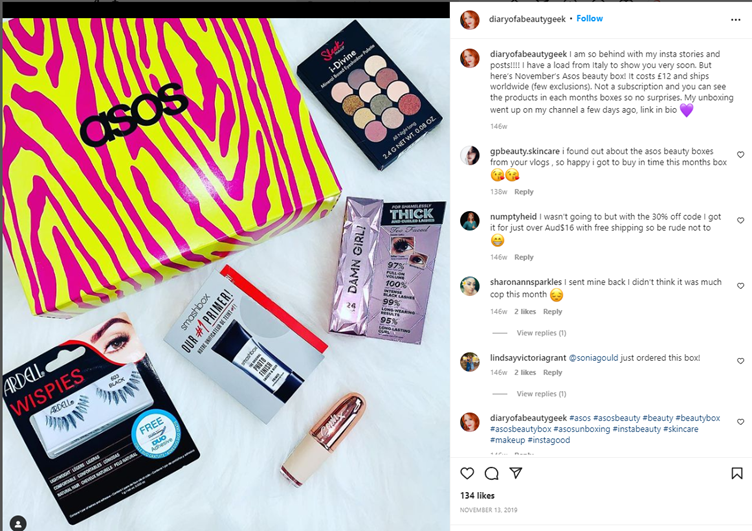 Instagram is all about visuals, especially if you want to sell products. Take the time to create appealing photos or videos that drive sales.
Incentivize sales and web traffic with coupons and limited time offers to drive FOMO purchases. Remember to put an end date on them, though. Otherwise, you won't see a spike in traffic!
Don't forget about Pinterest. Pinterest for SEO is ideal, and many marketers depend solely on Pinterest search traffic to grow their business. Additionally, its business insights are so helpful for retailers.
Utilize carousels or use multiple images to show off different shoppable products in your range or to emphasize different product features. Marketers are getting clever with their carousels to really showcase the features that will push sales. If you are featuring different products in your carousel, take the time to link to each one separately. Don't be lazy and drop social media visitors onto your home page!

SEO writing tip: There's a clever little sales trick that marketers use on carousels to sell the products they want to shift. Add three sale items to your carousel, two being higher priced and the middle being a great price or sale item. Social media users consider the center item to be a great bargain and are more likely to purchase it.
4. Make sure your videos rank for SEO
Viewers retain 95% of a message when they watch it in a video, compared to 10% when reading it in text. And that's not the only reason we love videos. Videos allow us to get fast answers to questions and watch products being demonstrated in real life. Video on social media now includes a wide range of options like YouTube, Reels, Stories, TikToks, or Facebook Live. They all have the power to drive real traffic.
Remember: YouTube is the second-largest search engine in the world with 2.1 billion monthly active users. The platform sees approximately 122 million users per day. Google owns YouTube and often displays videos in search results. A well-ranked and relevant video can help to increase exposure.
So, how can you make your YouTube videos rank you for SEO on Google?
Use keywords
If you want your videos to show up on search engines, then you need to label them correctly.
Label them the way a user would search for them. For example, "easy pancake recipe" or "best pancake recipe." Remember, too, that many users now use voice search, especially when cooking or driving so don't use overly complicated search terms.
Create transcripts
Translating your video content into multiple languages will open your brand to a larger, global market. It also makes your content accessible to the hearing impaired. When creating a script intended for an international audience, keep your language simple and avoid colloquialisms like "the early bird catches the worm"!
Keep your video short
YouTube videos should be short and sweet.
Ideally, a YouTube video should be between 6 and 8 minutes long. Most video marketers agree that you risk losing viewers once your video goes over 10 minutes. If a viewer leaves before your video has ended, YouTube's algorithm will not rank it highly.
If you have more to say, create a playlist explaining different parts of the topic. Over on TikTok and Instagram, shorter videos work best with 15 seconds being the ultimate!
Walmart divides its playlists making it easy to find exactly what you want. They also utilize trending topics like creating a home office and easy meal solutions.


Remember your hashtags
Hashtags do help you to rank because they get you noticed. But a word of warning here: Avoid using too many or nonspecific hashtags. The point is to attract the right crowd to your posts, not spammers!
Reuse video content
If you've made a great Youtube video, think about how you can recycle it. Embed your social media videos into your blog or share them on other platforms to get more views and increased traffic.
If your video is evergreen, schedule it on repeat in your Agorapulse calendar.
Utilize influencers on TikTok
TikTok is cornering the market not only for Gen Z but for millennials and Gen X as well. And what we love to see on TikTok are influencers who know their stuff giving helpful tips.
This is especially apparent in my area of financial services marketing. TikToker Sara Roalia is making over $50K a month through 10 different income streams, including investing and owning her own businesses.
She also has a killer TikTok channel. Her videos are helpful, short, and well-annotated.
Other Social Media Networks That Rank for SEO
Sometimes, we forget that the big six (Facebook, Instagram, Twitter, TikTok, LinkedIn, and YouTube) are not the only social media sites that matter for SEO.
Here are three more you should consider if you're serious about boosting your rankings through social media.
Quora
Quora is great for SEO as it relies on real questions and answers.
Quora users are answering questions that users are asking on Google. Provide Q&As and helpful answers or ask the audience what they need from you.
Quora is good for SEO because it helps you do keyword research and boosts your site's SEO. The results from Quora can rank very well in the search engines.
You also can add contextual backlinks that help search engines crawl and index your content. Quora users also receive emails based on their Google searches so can be prompted to check out your content if it matches.
Reddit
Reddit has more than 1.5 billion registered users, 430 million users are active monthly and another 52 million use the site daily.
Reddit is most popular among users aged 25 to 29 and pulls some punches for SEO. There are 100,000 communities and 853,824 Subreddits. That means that whatever your brand, there is a community to suit you.
Remember though, Redditors don't like marketers or spammy threads. If you don't have any real value to offer, it's better to stay away.
Pinterest
Pinterest really is an important platform, yet it's often overlooked by big brands. Pinterest had a total of 433 million monthly active users as of July 2022. It is the 10th largest site on the internet carrying search engine features like onsite search and Pinterest Trends.
Pins that are properly labeled, captioned, and utilizing the Catalog feature, are boosting their SEO enormously. Once a user enters a search query, Pinterest's Smart Feed ranks and prioritizes pins based on their quality.
What We've Learned About SEO Writing
Social media SEO always starts with great content marketing. Paying attention to your captions, hashtags, video content, annotations, and corresponding blog and web content is key. Throw in micro-influencer marketing, UGC, and good community engagement—and you're set for success.
Get started on saving time and energy on your own social media management! Check out our free trial of Agorapulse to help you schedule, track, and measure all your social media efforts.