If you want to make online sales this holiday, start selling on Instagram. Read how to maximize your chances for a fabulously successful holiday season.
The holiday period is almost here, and I'm excited. I'm ready for pumpkin spiced lattes, warm fuzzy sweaters, and, of course, Santa. But that's not all.
I'm excited about holiday marketing, too.
As director of Contentworks Agency, I know that consumer spending increases during the holidays. And where are people spending those holiday dollars?
Instagram.
In this article, I'm sharing 10 tips for selling on Instagram this holiday season.
First, let's be clear that the holiday period encompasses Thanksgiving, Christmas, Hanukkah, New Year, and a variety of other celebrations.
Here are some must-see stats for holiday marketing:

1. Create a Seasonal Theme
Instagram is all about images. If you really want to promote your product or sale, your images need a seasonal theme for selling on Instagram. even in October!
Forget your usual corporate promotions, and drop the hard sell.
For example, Costa Coffee gave us all the holiday feels in 2018 with its Instagram images using hashtag #wishuponacosta to unify posts.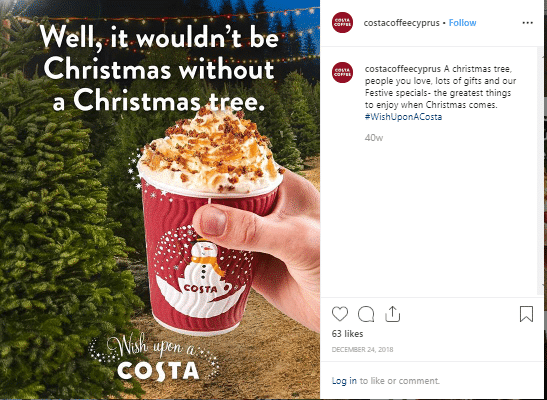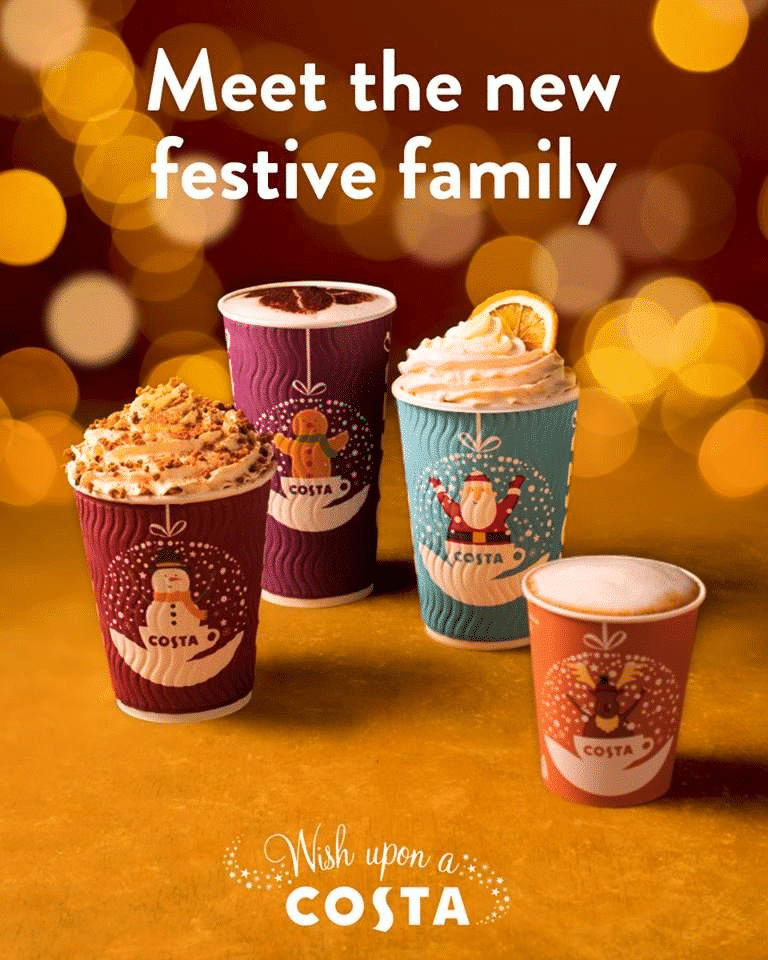 Extra Tip
Start your holiday planning with a theme. #wishuponacosta is a magical holiday theme, which then became a hashtag and spanned into images and videos.
2. Highlight the Holidays on Your Instagram Story
Promote your Christmas gift products with an Instagram Story highlight. That means creating a dedicated showcase of all your holiday products. Users will find it easier to shop for your products.
You can create so many categories with a Christmas feel, depending on your brand and its product, such as:
12 Days of Christmas Shopping
Gifts Under $10
Gifts for Pets
Free Shipping Gifts
Increase impulse shopping with words like:
Sale
Last Chance
Clearance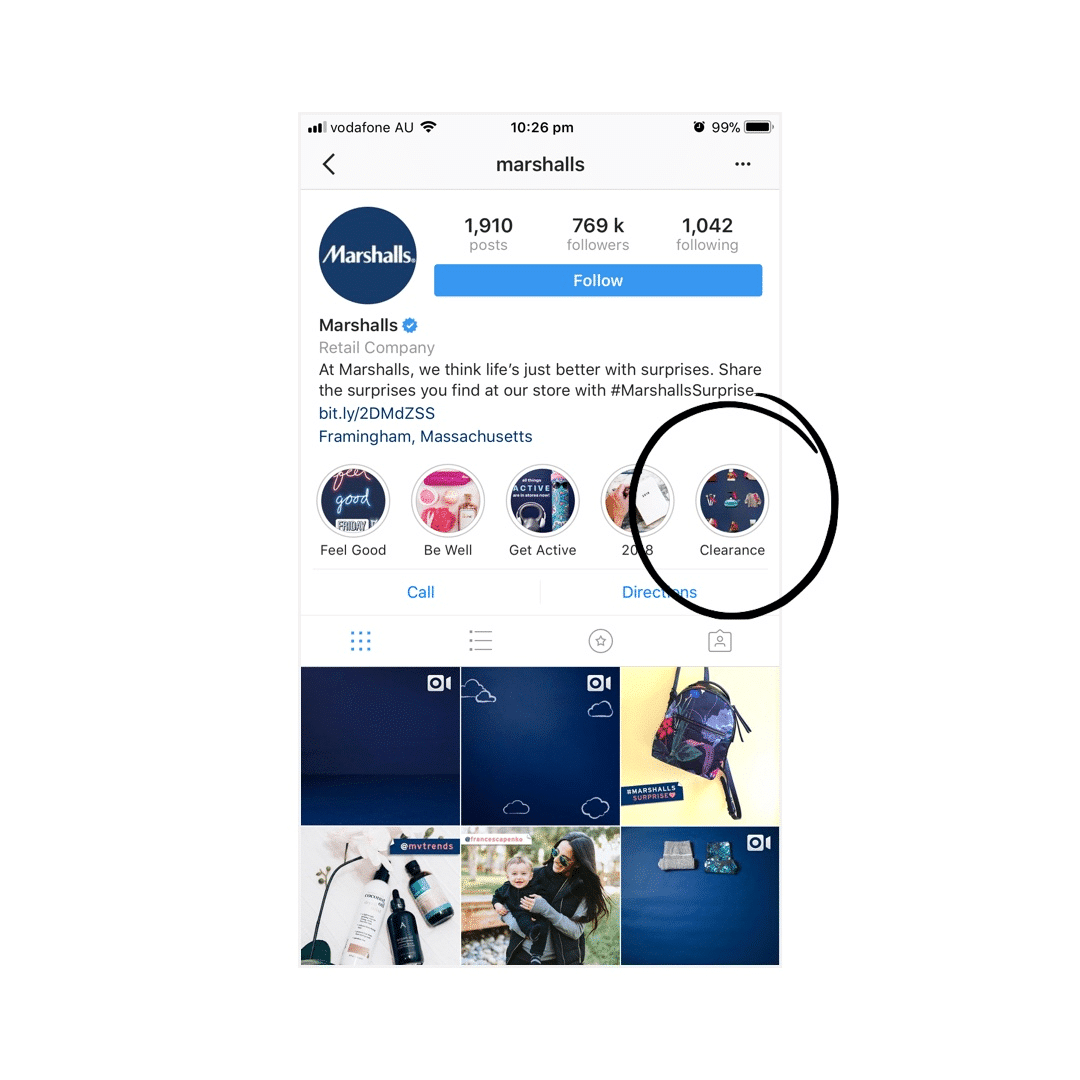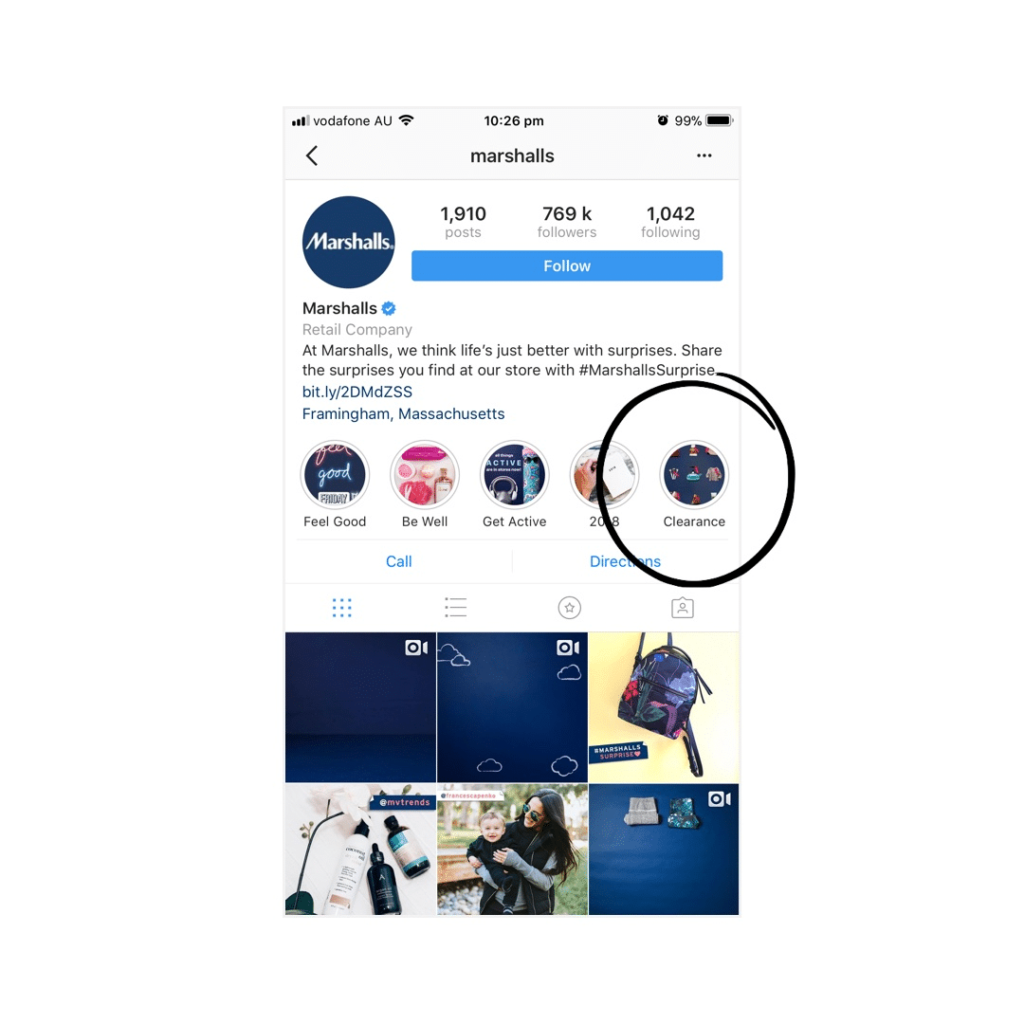 You can also inspire exasperated shoppers with a gift guide: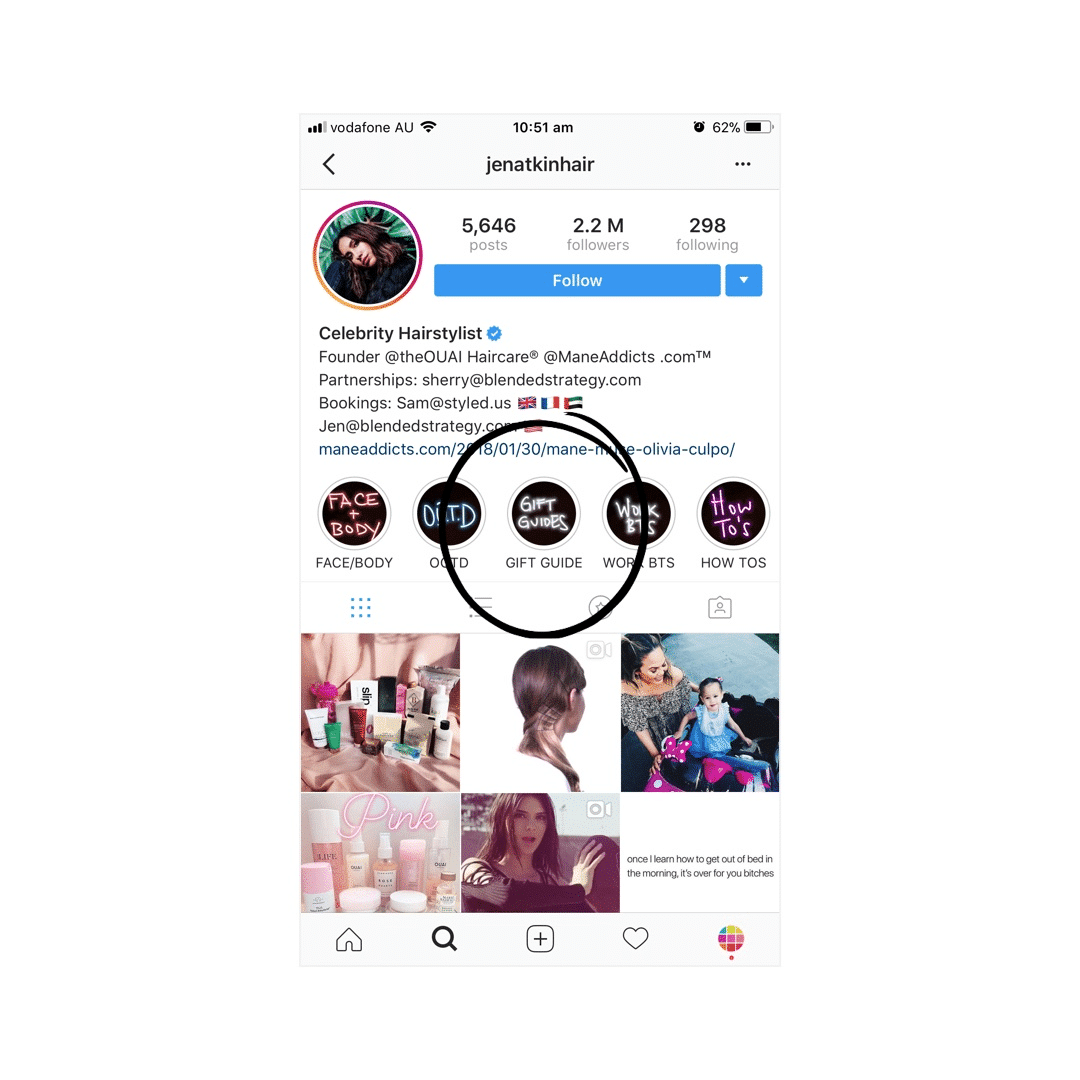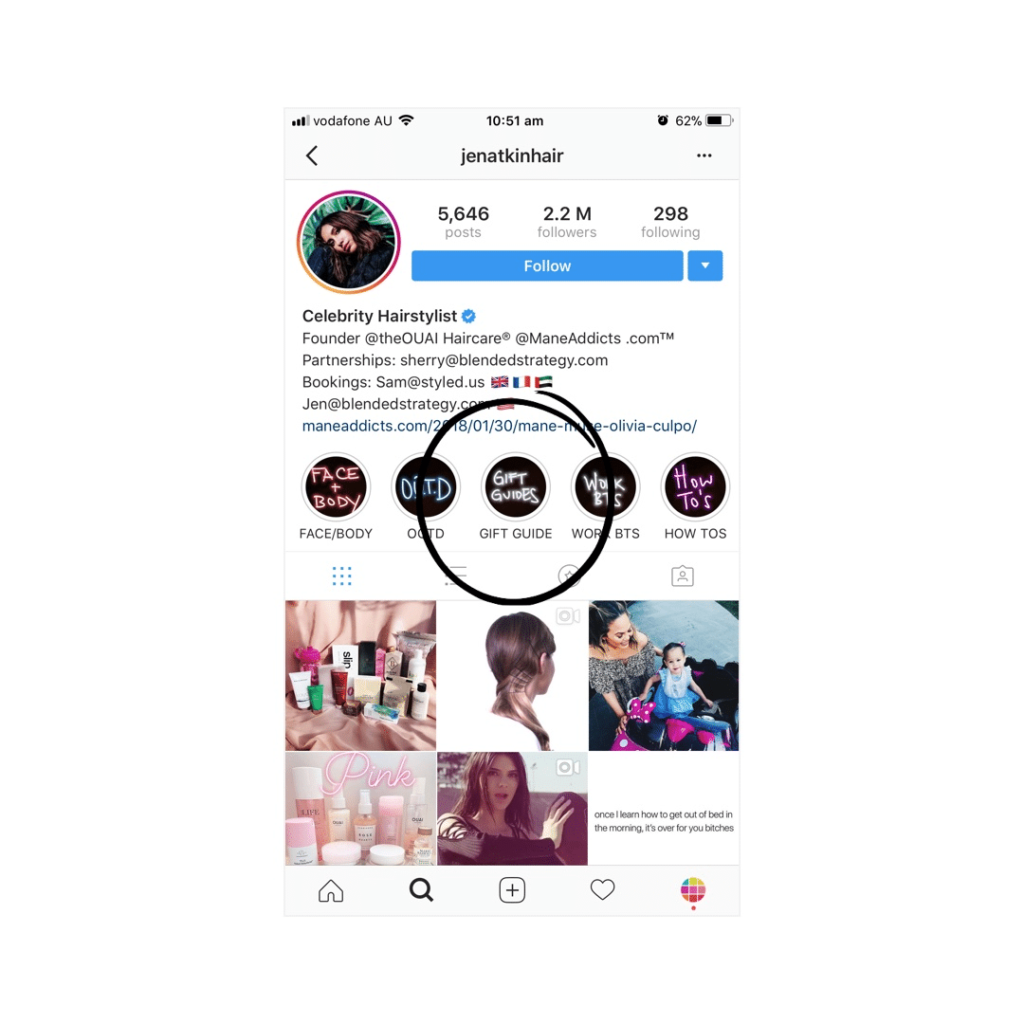 Extra Tip
Creating holiday highlights covers will help keep your users in the holiday spirit and ready to spend those dollars!
3. Schedule Instagram Posts
Have many brands to manage? You will want to schedule some holiday posts.
After all, there's nothing nice about eating your turkey sandwich sitting at your desk working!
Start scheduling now.
I mean actually now by creating Instagram posts in your Agorapulse publishing calendar. Aim to fill up the period between December 23 and January 2 when your team may be away on vacation and sales are high.

Think ahead about what sales you'll run for Black Friday and what you'll do to keep consumer attention post-Christmas.
Extra Tip
Visualize the mood of your audience. Pre-Christmas is a bunch of hyped-up excited shoppers. Post-Christmas is a little fatter, lazier, and more prone to be browsing for deals.
4. Run an Instagram Contest
Running a seasonal contest is a great way to engage followers and grab new ones around the Christmas period. Employing user-generated content on Instagram is a great contest idea for the holidays.
Every year, Starbucks designs holiday cups and encourages users to "make the holiday cup their own." Starbucks then chooses submissions to feature on Instagram, Twitter, Facebook, its website, and in ads.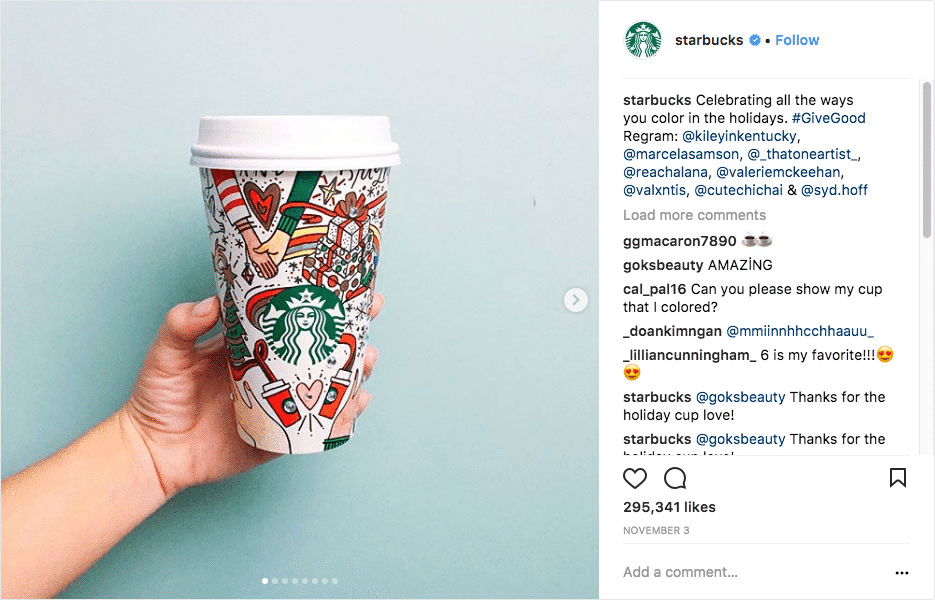 Sun-Maid ran a popular contest called #12DaysOfSunMaid. To enter, users simply had to share a favourite Sun-Maid holiday memory and post their moment to Instagram using #12DaysOfSunMaid and #sweepstakes.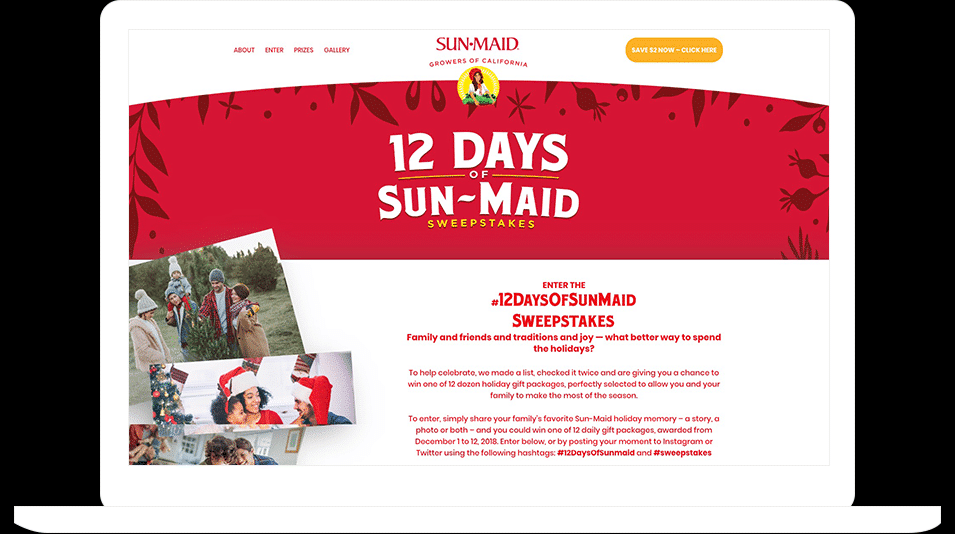 If you are running a seasonal contest on Instagram, remember these golden rules:
The picture must always steal the show.
Follower actions must be measurable.
Remember your contest hashtags.
Offer a great prize to increase entries.
Create a landing page to capture entries.
Follow up afterward with photos and interviews.
Extra Tip
If you don't have tangible products to give away, you can give away exposure by sharing the winning story or photo on your page.
5. Start Using Those Holiday Hashtags
Forget your usual corporate hashtags … or at least add to them. Holiday marketing on Instagram absolutely embraces Christmas hashtags, which will bring increased exposure to your products. The great thing is that hashtags are now relevant across all your social media channels, so you can reuse some of them.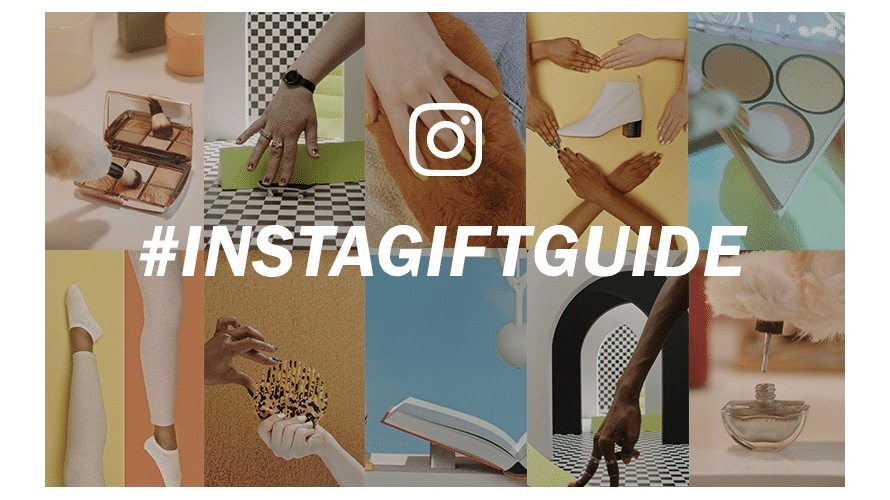 Some popular hashtags include …
#InstaGiftGuide
#ChristmasTradition
#ChristmasLoading
#ChristmasPromotion
#AllIWantForChristmas
#ChristmasPresents
#HolidaySavings
#ChristmasShopping
#12DaysOfChristmas
#StockingFillers
#StockingStuffer
Extra Tip
Remember that hashtags change as the holidays progress. You should also monitor holiday hashtag trends, especially on Instagram and Twitter.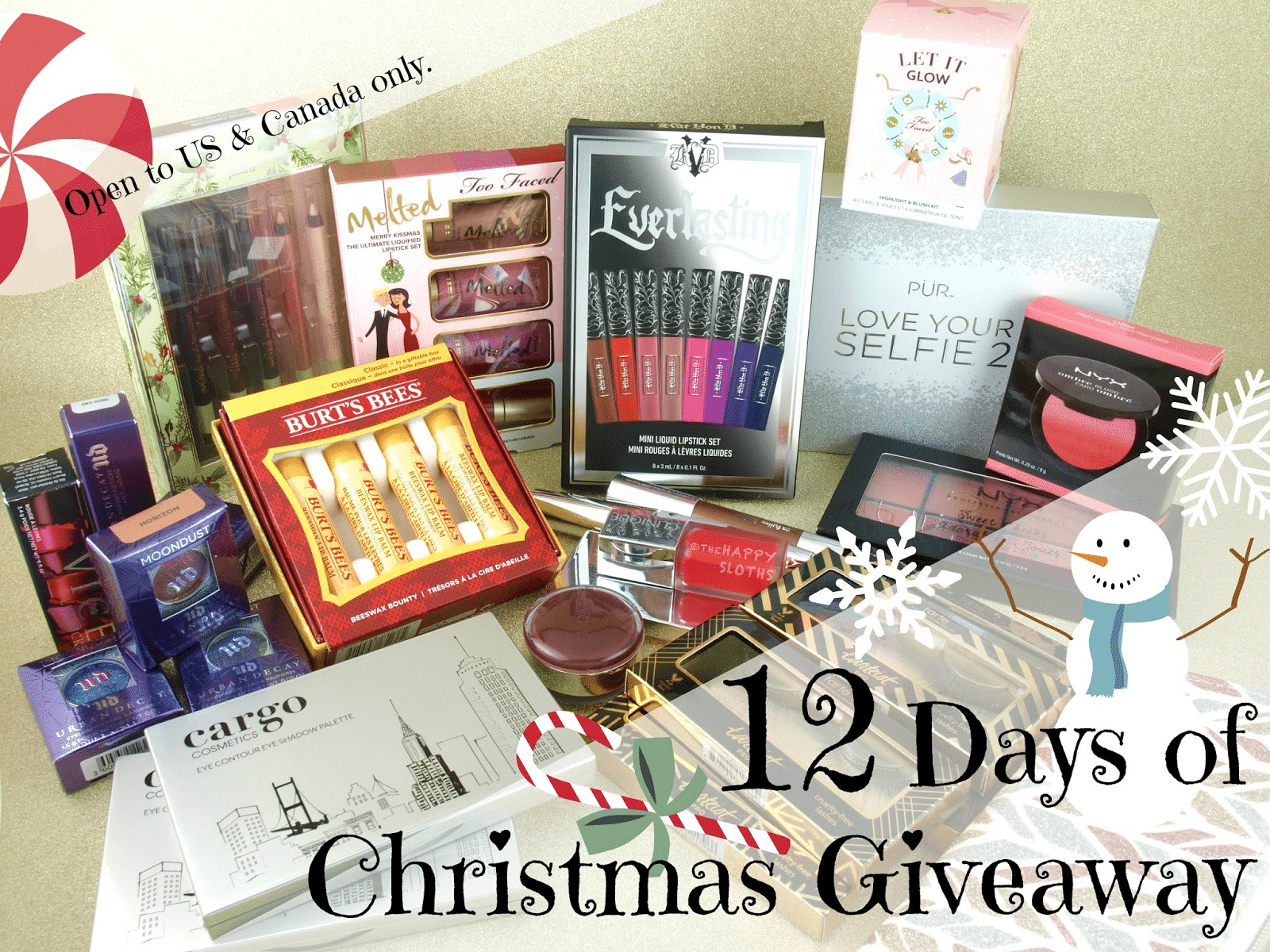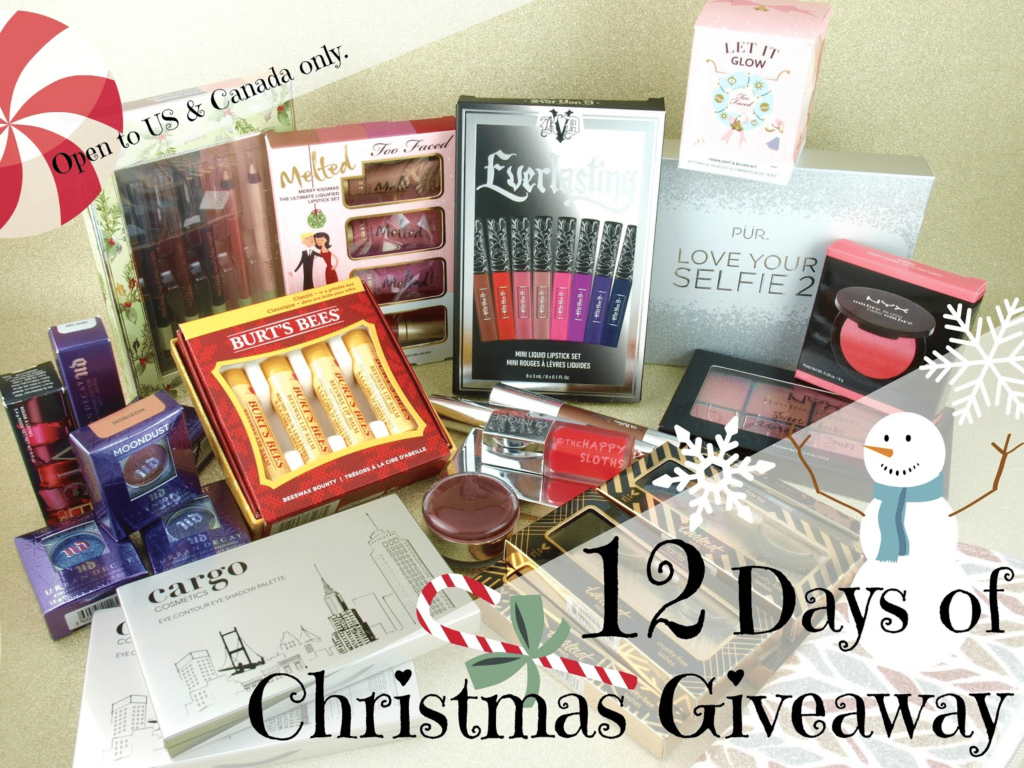 6. Create a Gift Guide
Your followers and fans are on the lookout for gifts, but not everyone is feeling inspired. Help them by sharing your useful and practical guide to gift buying featuring your own products! This could be promoting your own products or simply giving generic ideas.
For example, last year, Instagram teamed up with 34 brands to create a holiday gift guide #InstaGiftGuide. The items featured in #InstaGiftGuide were then donated to Bottomless Closet, a nonprofit organization dedicated to helping disadvantaged women transition into the workforce.
Make your gift guide fun and easy to navigate with guides for families, men, women children, and pets. Another good way to group is by price. Separate your products into "Under $15," "$15-$30," and so on.
Now, if you haven't already set up Instagram product tagging, you need to do it, like, yesterday because this makes your Instagram shoppable.
Make sure you have a business profile on Instagram.
Go to your profile and click options or the gear wheel.
Click Products and tap Continue.
Choose a product catalog to connect to your business profile and click Done.
When you're ready to create a shoppable post, click the tag products option on the share screen once you've selected a photo.
Choose the products, enter their names, tap Done and share.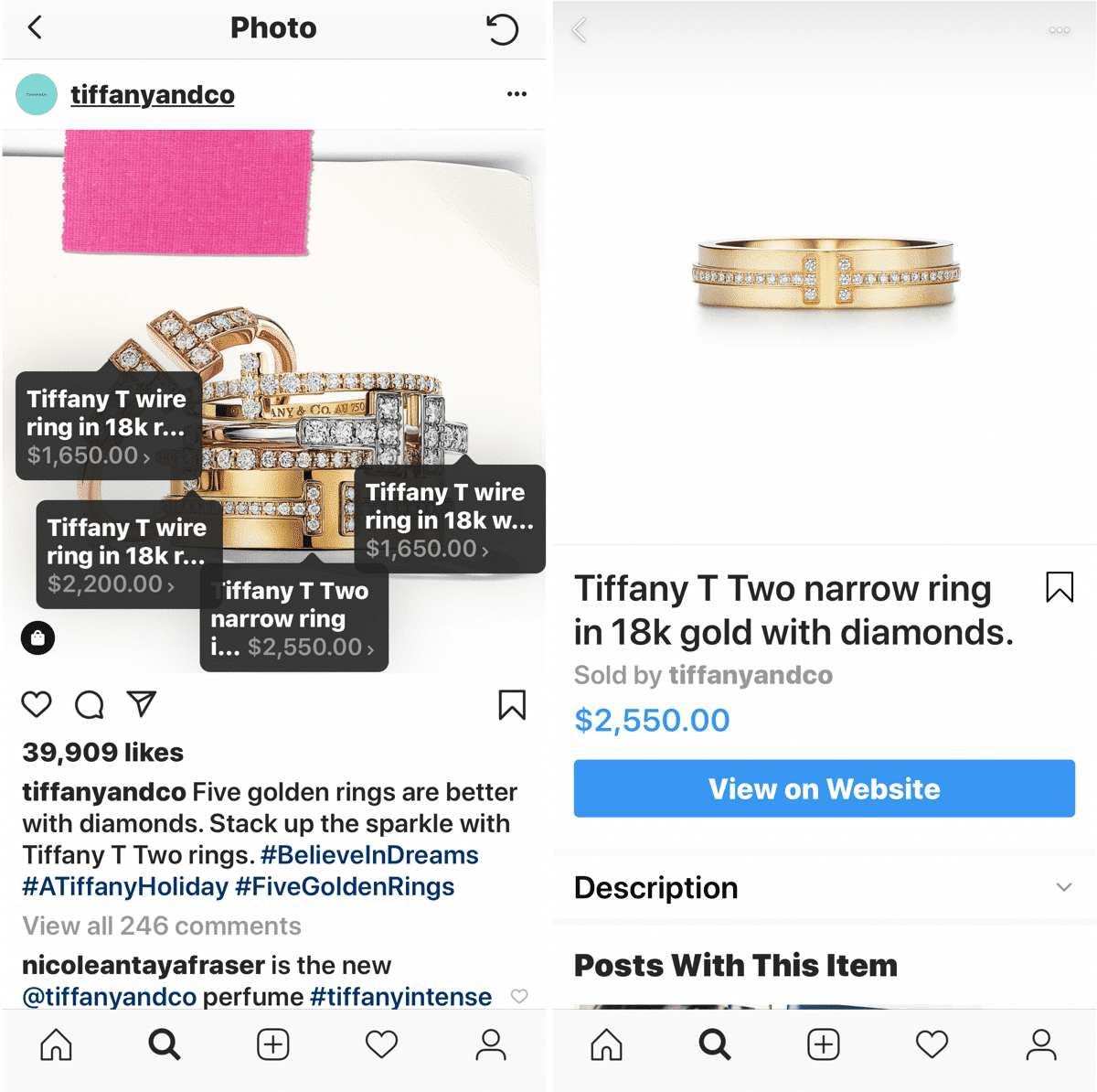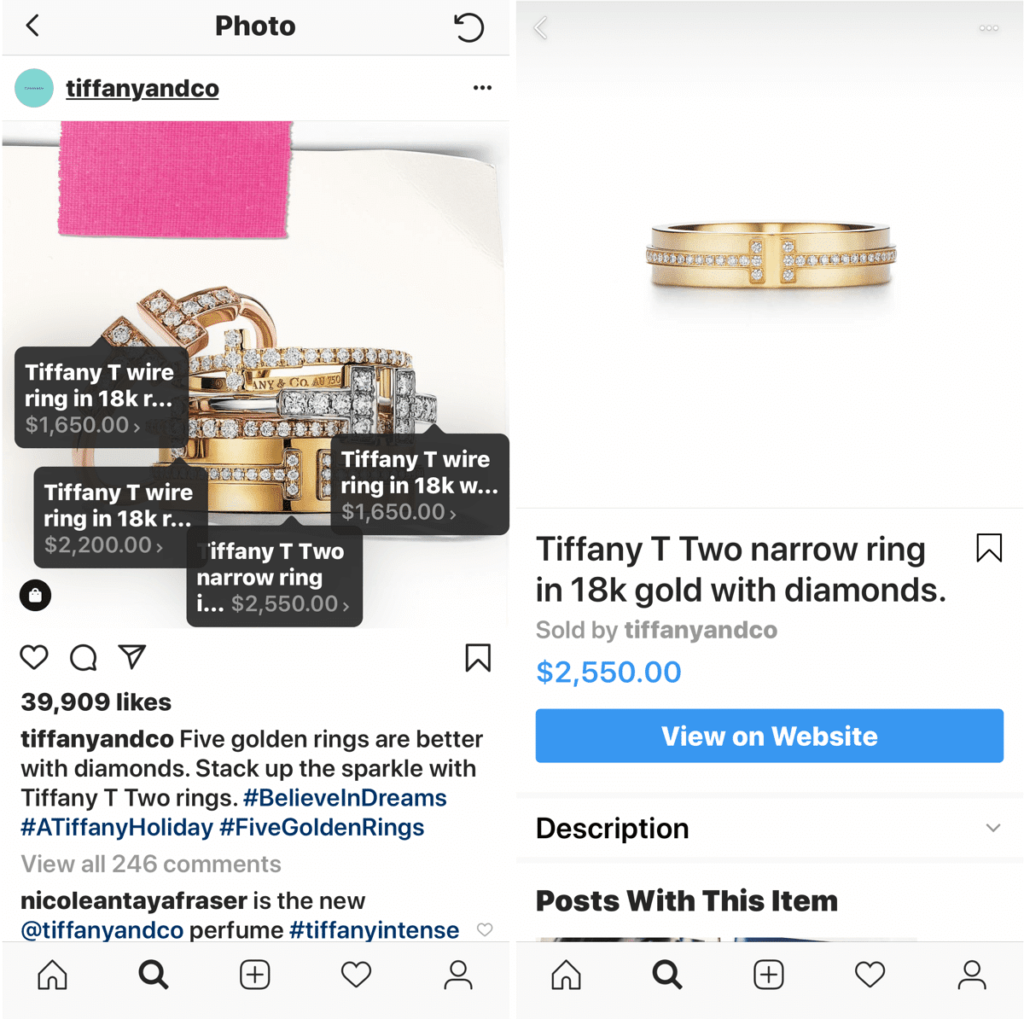 Extra Tip
Customers with coupons and discount codes end up spending 24% more than other customers. Incentivize them to spend with you by utilizing holiday discounts.
7. Taking Advantage of IGTV
Research has proven that 80% of brand audiences would rather watch a live video than read a blog, and 82% prefer live video from a brand to social posts.
IGTV is a fantastic way for brands to connect with their audience over the holiday period and have some fun, too! Even if you don't have products to sell, you can still get involved.
Think about behind-the-scenes content, Christmas tutorials, charitable events, and Christmas parties.
For example, Costa Coffee challenged TV celeb Kate Bottley to roll up her sleeves and don a novelty apron in a Christmas Bake Off, which resulted in hilarious results. Costa tasked her with making a Yule Log … blindfolded. (This is so wholesome—I can't even.)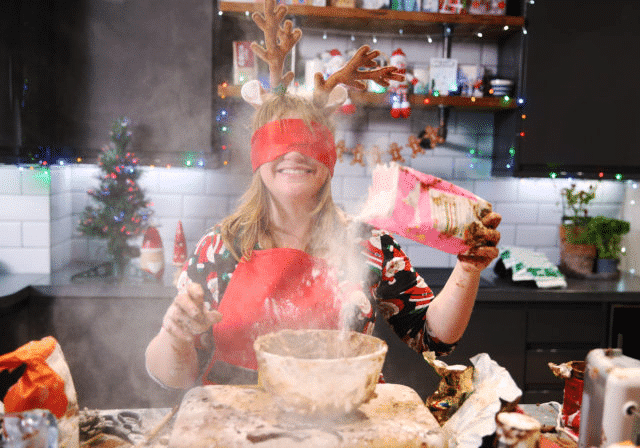 Extra Tip
Recycle video content by embedding your video into your blog, share it on other channels, and feature it on your home page.
8. Get Festive with a Music Sticker
You probably already know that retailers utilize Christmas music during the holidays because it tends to attract customers into their doors. Well, did you know you can do the same on your Instagram?
One of the most popular Instagram updates is the music sticker. This Christmas, you can add festive songs to your Story posts. You can add music directly from Instagram or grab tunes from Spotify, SoundCloud, and Shazam. Now … deck those halls with boughs of holly ASAP.
To add music to your Instagram Stories, simply tap the stickers icon, then tap the music sticker, browse, and choose one of the built-in songs and you're ready.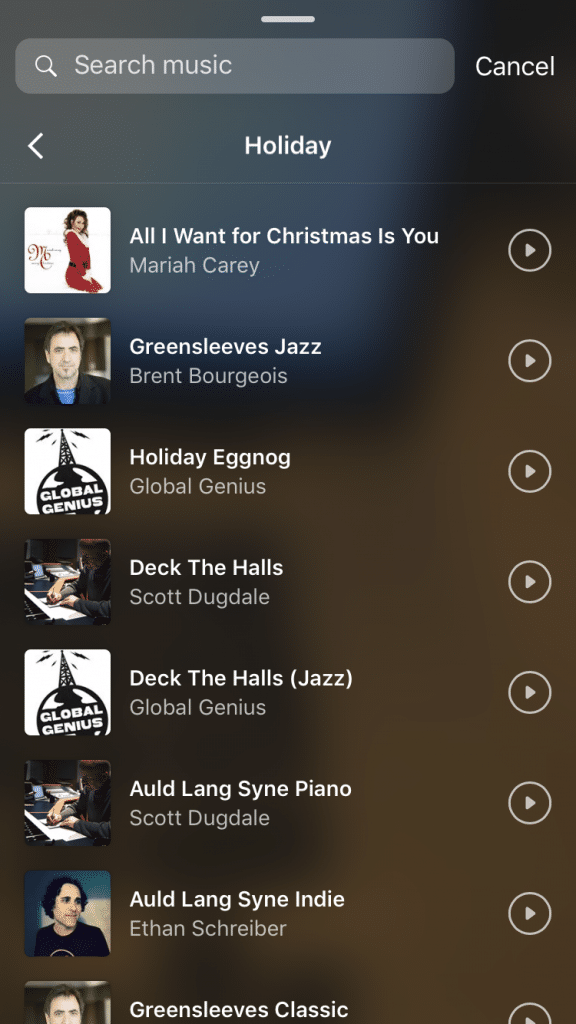 Extra Tip
Get your musical targeting right. Millennials will spend the second-most on holiday sales with the U.S. average of $609 and a U.K. average of £416. The lowest spending amount is with Baby Boomers, who will spend an average of $576 in the U.S. and £350 in the U.K.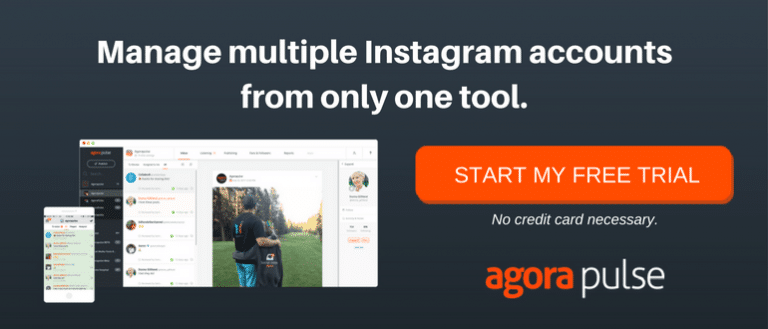 9. Embrace FOMO
FOMO (fear of missing out) can trigger strong emotional responses from consumers. Marketers often use the FOMO concept to kick-start campaigns, increase revenue, and generate a buzz around offers and products. And there is no better time to try out FOMO than during the holidays on Instagram.
In fact, 60% of Millennials reportedly make reactive purchases because they don't want to be left behind. And for your brand, that means sales.
Check out Asos, a brand who totally gets the FOMO effect. During Black Friday, ASOS announced the 20% off promo code, "GOGOGO." They then shared a pair of festively sparkly boots with lightning strikes on them. This Instagram post generated over 13,000 likes on Instagram in just three hours.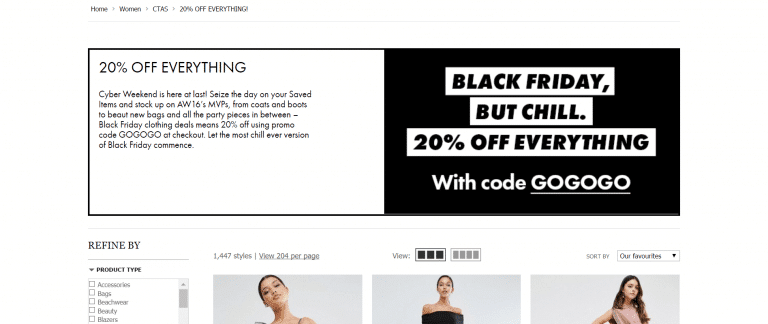 Extra Tip
Use limited editions and limited stocks as a driver for sales. Combine this with a discount code, and you can whip up a shopping frenzy on your channels.
10. Embrace the Holiday Spirit Through Charity
I love charitable marketing during the holidays, especially when it's sincere. In fact, it's the one element that unites people during the season. Of course, if marketed well, this type of initiative can generate lots of buzz and sales too.
UPS campaign Wishes Delivered was an initiative to turn the dreams of customers into reality. Customers were asked to upload their holiday wishes along with the hashtag #wishesdelivered on social media, and the wishes were granted by UPS.
Importantly, every wish uploaded using the #wishesdelivered hashtag raised money for non-profits like Boys & Girls Club of America, The Salvation Army, and Toys for Tots.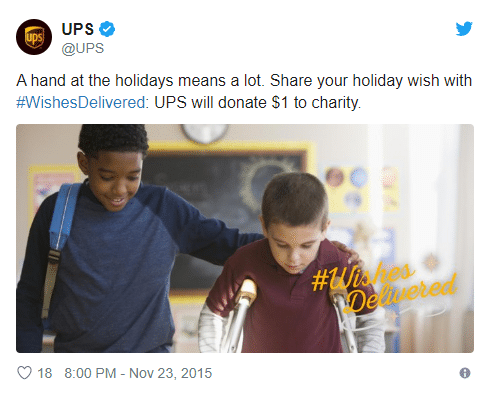 Another way to make the holidays meaningful is to stand for something.
To mark the launch of its non-alcoholic beer Budweiser rolled out "Budweiser Prohibition." The campaign was designed to convince consumers not to drink and drive over the festive period. Budweiser also hosted giveaways of Budweiser Prohibition at Tesco stores across the UK.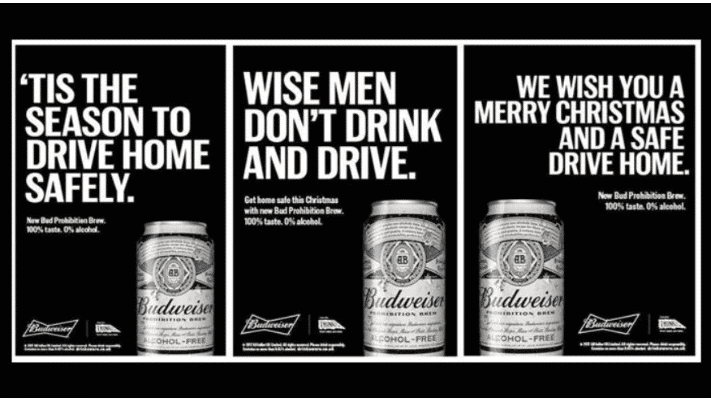 Also, you can combine sales with being good, just like Bombas did. For every pair of socks purchased, the brand donates a specially designed pair to a homeless shelter. It has donated more than 11 million pairs to over 1,700 giving partners in the US.
(I'm not crying, you're crying.)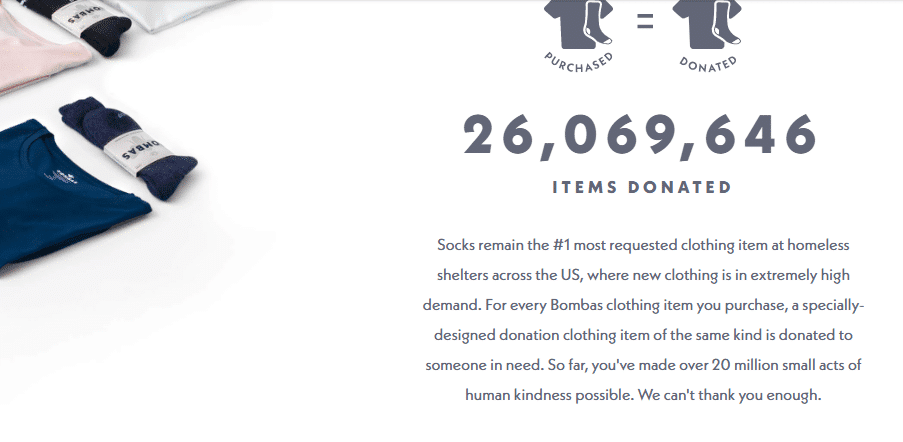 Extra Tip
Don't boost charitable campaigns. This can provoke a reverse reaction and make you seem like you're only in it for the sales. Let your charitable campaigns spread organically.
Sign up now for a FREE demo.