November is here, which means the holiday season is rushing towards us – whether you're ready or not. The first big holiday is Black Friday, followed closely behind by Small Business Saturday. If you haven't thought about taking advantage of Small Business Saturday yet, you should!
Small Business Saturday is always the Saturday after Thanksgiving (and Black Friday) and gives consumers the chance to "shop small," supporting local, independent business owners in their communities. Does your business fit the bill? Then read on for some Small Business Saturday ideas for your marketing!
(If Small Business Saturday isn't a "thing" in your country, use these ideas to get more traffic to your local business any day of the year!)
Use Your Resources
Small Business Saturday was started and is sponsored by American Express. They really do their best to show love to small businesses, and they have a ton of resources on their Shop Small website to help you out.
You can register your small biz and get access to social media posts and graphics, physical promo materials like postcards, flyers and banners, and order swag like shopping bags to give out to your customers when they shop with you on that day.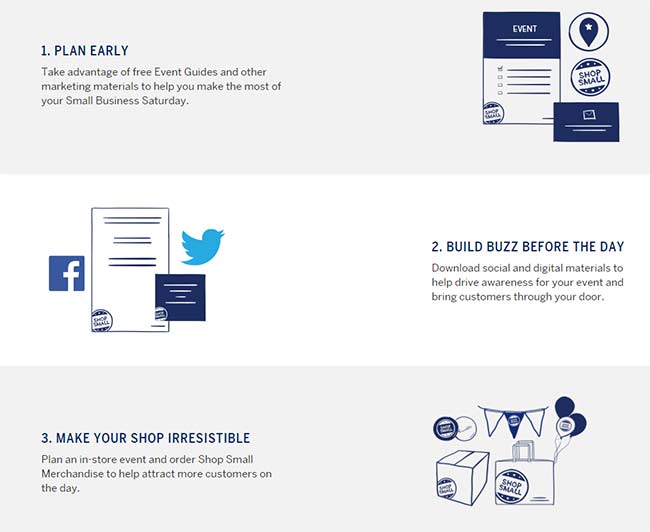 It would be crazy for you not to take advantage of those resources! You don't even have to be a merchant that accepts American Express, which makes their offering that much better.
Get Social
This is a social media blog, after all, and I'd be remiss if I didn't go into some ideas for your social networks.
If you download the social media assets provided by American Express, you'll have some built-in Facebook posts and tweets that are all ready to go – no effort required! However, there are a ton of other things you can do on social besides just posting what Amex gives you.
A Picture is Worth a Thousand Words
You've heard it before, and I'll say it again – visuals RULE social media right now. The good news is, you don't need to use fancy software to make images that will knock your posts out of the park. Webapps like PicMonkey and Canva (my personal favorite) make it super simple to create polished, professional looking images for Facebook and Twitter – and they're free! If you want to make sure your photos are ready for their Facebook closeup, check out our ultimate guide to photo sizes for Facebook.
Put the "Give" in the "Season of Giving"
Everyone loves free stuff. Why not incorporate a small giveaway into your Small Business Saturday marketing?
You don't need to put on a huge contest in order for a giveaway to work. It can be something as small as teasing a free sample on Facebook and Twitter, urging people to shop with you to get some goodies.
Keeping an air of mystery around the giveaway can be key to piquing people's interest – letting them know that because they follow you on social, they're the only ones who are privy to this information, so they should make sure to visit you on Small Biz Saturday!
If you'd like to go the contest route, Agorapulse has two really great tools available.
The first is a free Facebook timeline contest tool – anyone can use it, you don't need a subscription to Agorapulse. How cool is that?
All you have to do is choose the page you want to run your contest on, choose the post you want to include in the contest, and choose the type of contest. My favorite is the sweepstakes, because it makes it really easy for people to enter to win something, and you get increased engagement on your Facebook page. It's a win-win!
The second tool is available with a subscription, and it's the full contest app feature. This will create a tab, or app, for your Facebook page, which you can add or remove whenever you'd like. When you enable it, it will sit underneath your cover photo, next to the "Timeline" and "About" tabs.
To set it up, you'll go to choose the page you want to run the contest on in your Agorapulse dashboard, and click "Apps." You'll then see this screen: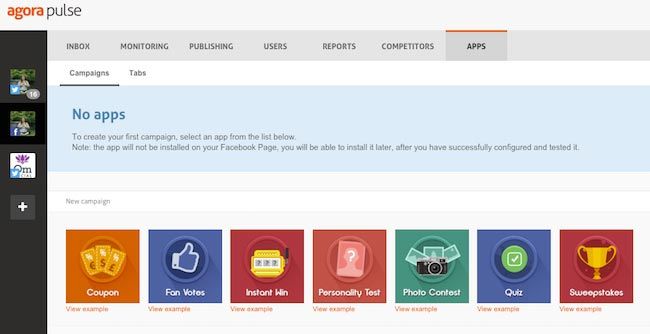 After you choose the type of app you'd like to create, you'll be guided through customizing the tab image and copy, duration of the contest and when you'd like the winner to be drawn. The tab isn't installed to your page until you click "Install Tab" on the right hand column after the tab is created, so make sure to do that so your contest runs when you want it to!
Get Involved in Your Neighborhood
Small Business Saturday is all about bringing people together to support the local community. So why not partner up with some other local businesses to help each other out, and promote the holiday?
A business in Detroit has done just that for the past couple of years. Pure Detroit partnered with 18 other businesses in their area to create a "Small Business Passport." Each of the businesses had their own page in the passport, and each business offered everything from free samples to sweet discounts when you visited them and got a stamp. It incentivized customers to visit as many businesses as possible, and also brought in a level of gamification – try to get as many stamps as you can!
Activities like this are fun for the customers as well as the businesses involved. Customers can visit businesses they may not have otherwise, and you'll make some new friends (and small biz allies)! Plus, imagine the social media exposure you could get – who wouldn't want to post an Instagram pic of their completed passport, scavenger hunt map, or selfie with the staff of your biz?
The Shop Small website also has resources for collaboration ideas, including the Small Business Passport.
It's All About Community
When you really boil it down, Small Business Saturday is about communities coming together to support the local, small businesses that make the fabric of their town or city what it is.
So take a few minutes out of your busy schedule these next few weeks, do a little promotion, and have yourself a happy Small Business Saturday!