Are your content and social media marketing teams having problems working together? These tips can help you get your teams to collaborate successfully.
Content and social media marketing are two departments whose roles very often overlap … yet most businesses and agencies find setting up an effective collaboration between the teams difficult.
The following actionable ideas on creating effective content marketing coordination inside your company will allow your content and social media teams to effectively collaborate and maximize your marketing results.
1. Set Up a Collaboration Routine
The first step to improving communication between the two teams to keep them more informed is to involve your content creation team into your social media sharing and listening routine.
You can scale that through Agorapulse's collaboration tools. Use the platform to set up an automated moderation workflow to assign certain messages to your content team members.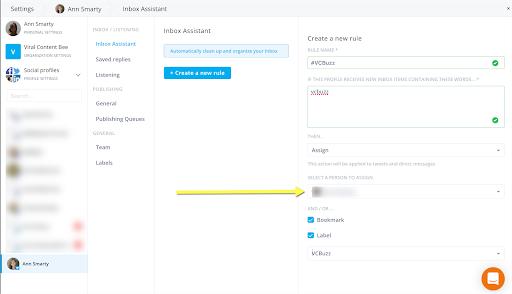 For example, I have set up a rule to automatically notify my Twitter chat administrator of all messages containing our official Twitter chat hashtag: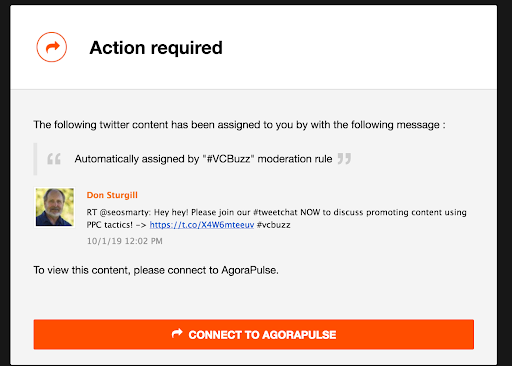 Here are a few rules you may create to automatically notify your content marketing team of important social media updates:
Alert your content team of questions your social media team is asked on social media. Maybe your content team should create a new section on the on-site FAQ page to answer the question. Questions make great content ideas for your blog and/or video channel. Social media and SEO can work together for more effective strategy.
Ask your content team to create a list of influencers they often quote or invite to contribute. Then set up a custom search that would monitor those social media accounts and alert your content and social teams when they tweet anything relevant to your brand. Keep those influencers close to your brand by encouraging your team to regularly interact with them on social media.
Create a custom feed to monitor top blogs and media outlets in your niche for your content team to be promptly notified when some big news is being discussed. Timely covering industry news is a great way to increase your business blog exposure.
2. Get Both of the Teams Work on a Single Content Asset
Traditionally, marketers consider social media to be at the very top of the sales funnel driving people to the site. Content is usually considered somewhere in the top-middle of the funnel as it both drives and engages your leads.
This approach is limiting you and your teams in so many ways.
Social media and content marketing should be working in a never-ending marketing cycle. They should be promoting each other driving both ideation and implementation, etc.
If your social media team knows which content assets are being planned for publication, they may be able to plan out the promotion campaign more thoroughly and even contribute ideas.
After all, keep in mind that:
Social media is a great source of content ideas.
Social media managers know exactly what becomes trendy in your niche.
Your social media team interacts with your customers daily and knows them well. Let them contribute their ideas and thoughts!
Your content creators will appreciate social media teams' insight on timing and current trends allowing to come up with more shareable content angles. After all, your social media team has tested lots of headlines and creatives through PPC campaign: Let them share that insight with your content team!
On the other hand, the content team has already done their research. Some of their findings (keywords, related terms, stats, questions, etc.) may turn quite useful for social media promotion.
Overall, your social media team needs to know what is published on your site, so it can point your customers to a relevant piece whenever they have questions.
Co-creating one content asset that can be re-packaged into both on-site content and social media updates can help you streamline the process and get the collaboration going:
Help both of the teams to understand the long-term goal behind content creation and marketing.
Get two of your teams working together towards both attracting and nurturing sales by creating an effective content re-packaging strategy.
A good digital marketing all in one platform will make the process both more productive and easier to monitor.
Collaborative Content Campaign Example: a Video Course
Whenever I am planning a collaborative content asset, I usually start with a video series or a course. Video content is very re-packageable; that's why I like the format so much.
You can slice and dice video into lots of additional content assets, all working together to promote one another. For each video you create to put inside your video course:
Create mini video takeaways to promote on Twitter, Facebook, and Instagram.
Use images and screenshots from your videos to promote on Pinterest and Instagram (as well as diversify messages across all other channels).
Create a text transcript to publish on your blog.
Create PDFs of each article to offer as bonus downloads from inside your blog (and to attract leads from off-site digital book marketing channels).
Overall, your content synergy strategy may look like this: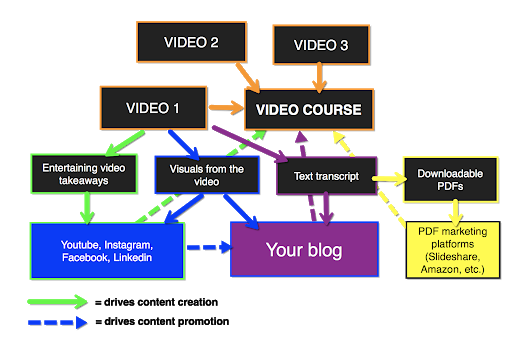 Content synergy is when every piece of content supports multiple channels for content creation, while those off-site channels are all used to promote each content asset.
If you build your content synergy strategy around one long-term asset (like a video course), you can reuse all those channels and pieces to promote it, too.
You can use Kajabi to build an effective content synergy around creating a video course. Kajabi handles video hosting, landing page building, audience engagement, etc. You can also use your own domain name to host your course. Kajabi supports a few pre-made customizable outlines for you to easily come up your final format, for example:
Mini course. A short, one-category course for creating overviews and free courses
Evergreen training. It allows you to drip the contents of your course over time to your customers.
Membership is built for evolving content and allows your subscribers to access content on-demand.
To get your teams to collaborate inside Kajabi, add all of them as contributors. It also allows the following user roles:
Owner and administrators have full control over your site.
Assistants can add, delete and modify site content.
Support specialists can moderate comments and manage your user base.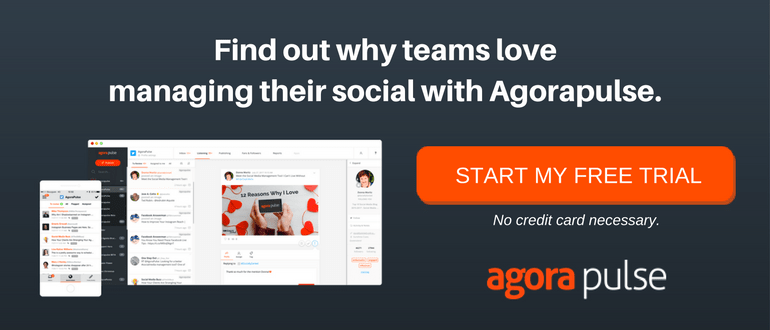 3. Use Consistent Voice and Style Across Both On-Site and Off-Site Channels
Your site pages and social media updates marketing them should have a consistent style. Re-use calls-to-action (CTAs), messages, images, etc. from your site in social media campaigns.
People coming from social media platforms will feel more confident landing on a page with the same branding, similar messages, and maybe even familiar images.
Making your users feel at home has a few obvious benefits:
If they feel comfortable, they feel like clicking some links and buttons.
If things look familiar around them, they may not leave right away and will browse.
Seeing the same CTAs on social media and your own site may trigger a "foot in the door" effect. For example, if they were considering clicking on the "Download now" button on your Facebook page then seeing the same CTA on your site will prompt them to actually do so.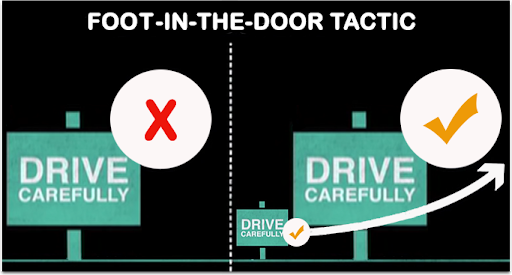 Creating a consistent look and feel across all your channels (on- and off-site) will result in better brand recognizability, higher click-through, and better on-page engagement. Using Creatopy, you can create multiple images and banners to use everywhere. The feature makes it super easy to resize any of your creatives and create a consistent brand image across top-of-the-funnel and bottom-of-the-funnel assets:
Get Both of Your Teams Collaborate on Creating Actionable Content and CTAs
Your brand needs to have a consistent voice, so allow your teams to create that voice together.
For each social media campaign (which is supported on-site), let them have a brainstorming meeting to come up with taglines, CTAs, visual concepts, creatives, etc.
Creating engaging copy for social media users involves creativity and experimentation. The more your teams brainstorm together and share knowledge, the better the results.
For inspiration, try Text Optimizer, a semantic analysis platform that includes "Action words" section allowing you to create action-oriented content: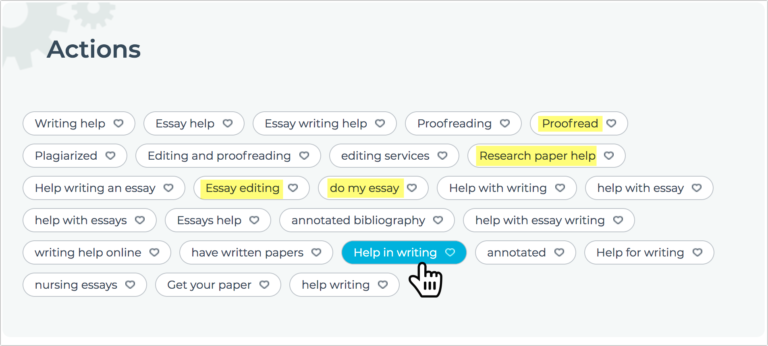 Use these suggestions to create actionable context that should be consistently used across both on-site content and off-site channels. If your teams are remote, using Voip would make this collaboration more efficient.
Reuse Social Media Visuals on Your Site Using on-Site Retargeting
Tools like Finteza allows you to set up personalized advertising campaigns based on your users' referral path or even past interactions with the site.
You can set up a personalized campaign to show up for all people coming to your site from Twitter, for example: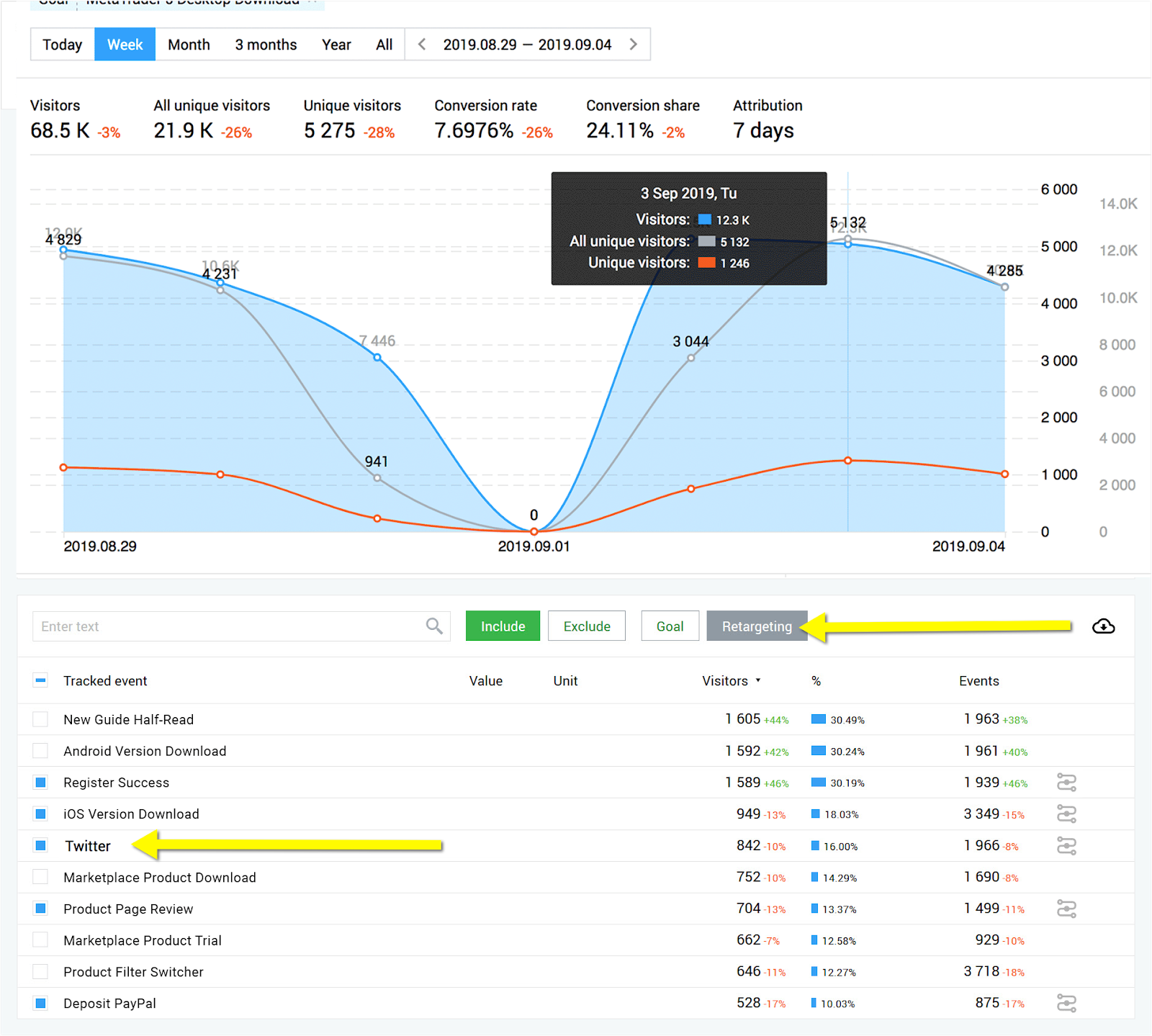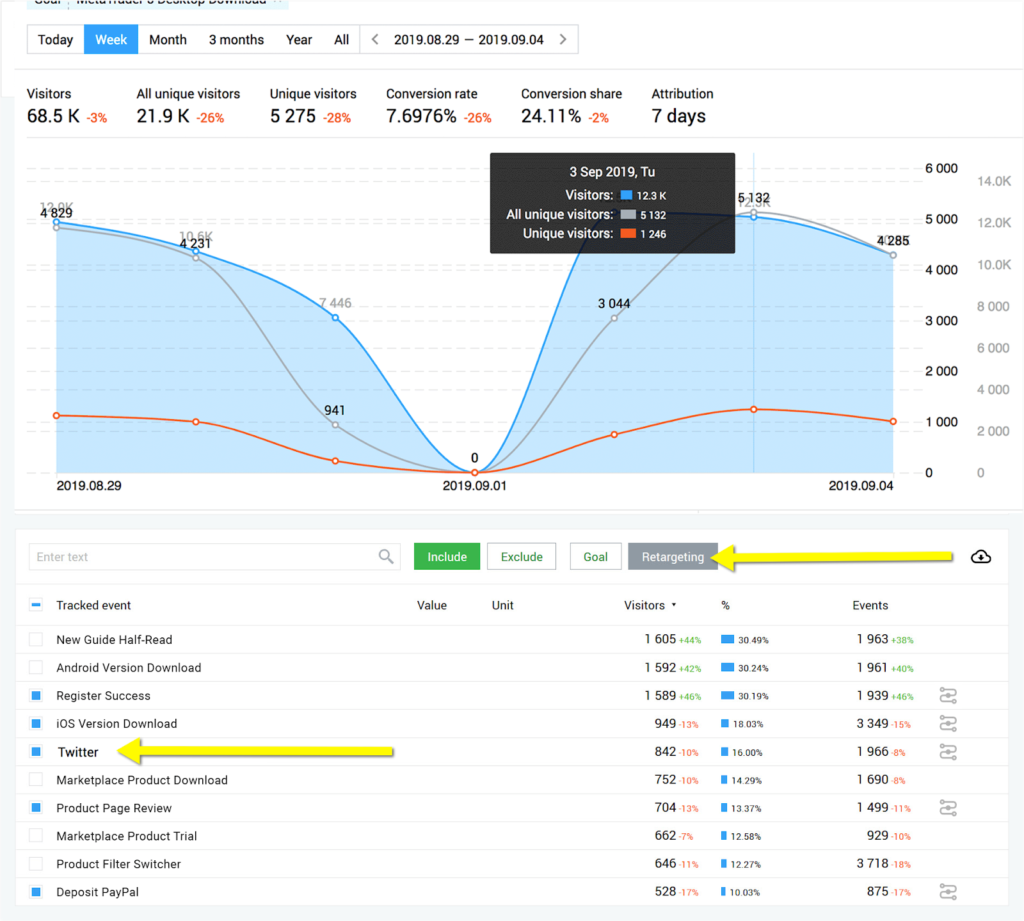 Finteza's ads bypass ad blockers and can be set up to serve specific devices or localities (in case you are running a local marketing campaign on social media).
Retargeting works in the opposite direction, too. You can re-target your site visitors with on-site visuals and CTAs using Facebook remarketing pixel.
Additionally, you can reuse your on-site visuals to create social media videos. For example, if you are selling floor mat cleaners online, you could use existing product photos and create a video for Instagram showcasing how easy it is to keep floors clean! Content re-packaging is a highly productive marketing tactic allowing you to make the most of your existing assets and build cross-channel recognizability.
Tools like Placeit make content re-packaging easy and fast. Use it to quickly put together slideshow-style videos using your site visuals. You can then use those videos across multiple channels to drive more engagement:
In Conclusion
There are a lot of pieces to digital marketing puzzle. Creating a marketing strategy that focuses on content collaboration is a great way to put many of those pieces together and maximize your marketing results.
* * *
Get started on saving time and energy on your own social media management! Check out our free trial of Agorapulse to help you schedule, track, and measure all your social media efforts.