Have you been putting off creating a social media calendar? Never fear—here's what you need to put together a social media calendar that helps you get the job done.
There are two things guaranteed to cause social media managers to sigh: setting social media KPIs and creating a social media calendar. A social media calendar keeps your channels organized, pumping out content, and ready for future events. It prevents gaps or duplications and ensures your team are not chasing deadlines like an episode of "Tom and Jerry."
But the problem is this: Everyone tells you that you need one, but nobody tells you how to do it.
What should you include? How do you find the content? And how do you schedule ahead?
In this article, I'm going to share my hacks on how to create a social media calendar.
Do I Need a Social Media Calendar?
If you're managing social media channels professionally for a social media marketing agency or digital agency, you need to create a social media calendar.
At my company, Contentworks Agency, we create a social media calendar that plans 4-6 weeks ahead, and it absolutely saves our sanity. We do this for each client and for our own social media accounts.
Benefits of a social media calendar
If you're managing social media channels for a marketing agency or brand, then it will really help you to create a social media calendar.
At my business, Contentworks Agency, we create a social media calendar that stretches four weeks ahead. We do this for each client and for our own social media accounts.
Here are some of the benefits of creating one:
Align your content with your strategy and social media KPIs.
Plan for trending days, celebrations, and sector-specific dates.
Allow time to create graphics, GIFs, and videos for your channels.
Organize your paid ads in advance and tie this in with your budgeting.
Match your upcoming blog posts with your social media content.
Editing, fact-checking information, or even vetting it with organizational stakeholders like compliance or legal team are all a lot easier when you're working days or weeks in advance.
Organize Reels, Stories, or AMAs with company employees.
Create an engaging mix of created/curated content.
Key opportunities like Christmas or Black Friday can begin early to capture sales.
You can take a vacation—yes, a real live vacation!
Knowing you're in control of your content and social media calendar is a great feeling. You know what's coming up, what's missing and what you need to be working on.
So how do you create a social media calendar?
Let's get started.
What Does a Social Media Calendar Look Like?
Your social media calendar can be stored in different places and in different ways.
The key things to make sure are:
Other team members or clients can access it (if you want them to).
It should be live to avoid causing file conflicts.
You can set permissions and editing rights. (Not everyone needs to edit!)
It should be easy to read and understand.
It's accessible from your phone as well as your computer.
Expert tips for building your social media calendar
A social media calendar is an overview of your upcoming social media posts. You can store it in a Google Drive spreadsheet or interactive dashboard.
The following are some of the fields you can include.
Remember, the idea of a social media calendar is to simplify your life and not to complicate it. If you don't need a field, don't include it.
Region(s) to be posted. If you have multiple pages or target posts to different regions then have a checkbox to show where posts should go.
Channel specific format (static post, Story, poll, Reel, Carousel etc.)
Date to be posted (include times/ time zones if you want to)
Copy to be included. This should include any hashtags and links.
Translation languages required. You can add additional columns for other languages.
Risk warning or disclaimer if appropriate. Often these will change for different post types or regions and may need to be approved or amended.
Visual request for the designer (Photo, video, infographic, GIF, etc.)
Trending or evergreen? I highlight evergreen posts in green so the team knows they can be reused.
Approved by compliance, legal or the client? Add this as a column.
Social media calendar tip
You may find that for certain clients, you can schedule straight into your Agorapulse calendar. This will depend on the level of approvals and complexity of the calendar and client. It may also come after a probation period has passed and the client feels confident and happy with your work.
With Agorapulse, you can allow colleagues and clients view your calendar by creating a sharable link.
Shared Calendars is a feature that allows you to create social media content and share it with users that don't have access to Agorapulse. These users can view the scheduled content you assign to them, accept or reject it, or even add comments and assign back to you, the creator. Typically, this works well if you're an agency with one or more clients and you want them to review the content you're scheduling on their behalf.
But here's the great part, users of a Shared Calendar can't create content or delete any posts entirely–they can only reject with a comment leaving full control with you.
1. Create a Posting Schedule for Your Social Media Calendar
One of the important reasons we create a social media calendar is to stick to a posting schedule across different social media channels.
When you're inconsistent, results aren't usually great. Post infrequently … and your brand awareness, web traffic, and sales drop. Post too much at once, and fans will probably get annoyed and unfollow you.
Here is my posting schedule. Yours may look different depending on your resources, sector, and audience demographic.
Weekly social media content schedule
My weekly schedule template is …
Facebook pages: 3 per week–Monday, Wednesday, Friday
Twitter: 5+ times per day–Every day
Instagram: 1-3 times per day–Weekends and one weekday
LinkedIn: 3 per week–Monday, Wednesday, Friday
TikTok: 1 per week on a Friday or weekend
Expert tips about creating a posting schedule
Curate content. Remember content doesn't have to be yours. Content curation can form part of your content calendar. Just make a note of some reputable sites that are not competitors from which you can share content. You can also use Agorapulse to source micro influencers and top fans to share content.
Vary the times. Repeat content at different times. This is one of my favorite hacks for evergreen content, and Agorapulse makes it so easy. An evergreen post is essentially one that's good all year. It isn't time-sensitive, won't go out of style, and can fill content calendar gaps to drive web traffic, educate or entertain. Choose to repeat the content once or schedule it regularly, for example, every 10 days up to 5 times. (Not convinced? Here are reasons for reposting on Instagram and republishing content on LinkedIn to ponder.)
Use a digital calendar. Don't write it all down in a notepad or bits of paper. (I see you!) Use a proper online calendar that can be accessed by your team like the Agorapulse calendar. There you can add team members, legal or compliance and anyone else who needs a snapshot of your planning. You also have a level of accountability later.
Be aware of time zones and cultures. Your posting schedule will depend on your target region (country and time zone), user behaviors, and the nature of your business. Always remember your target audience!
So, I'm in Europe, but say I want to promote a restaurant in Sydney, Australia. I need to work on Sydney time and create content that hits user feeds when they're thinking about food. So, 11AM for lunch or 4PM for dinner. There's no point in posting about your mouth-watering burger at 3AM.
Example: This Burger King post went out just before thanksgiving to remind fans that there's an alternative to traditional turkey!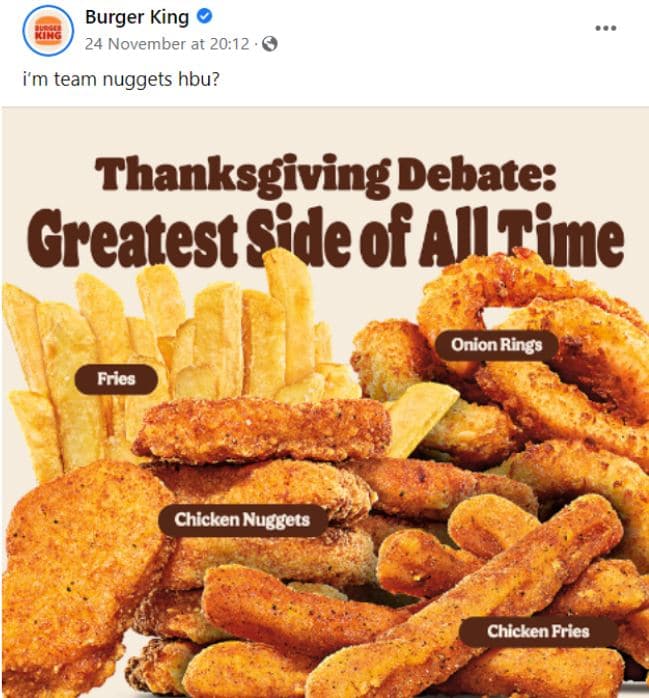 Agorapulse's reporting shows you when your fans are most active. Once you see a pattern, use it to your advantage and schedule posts for those times: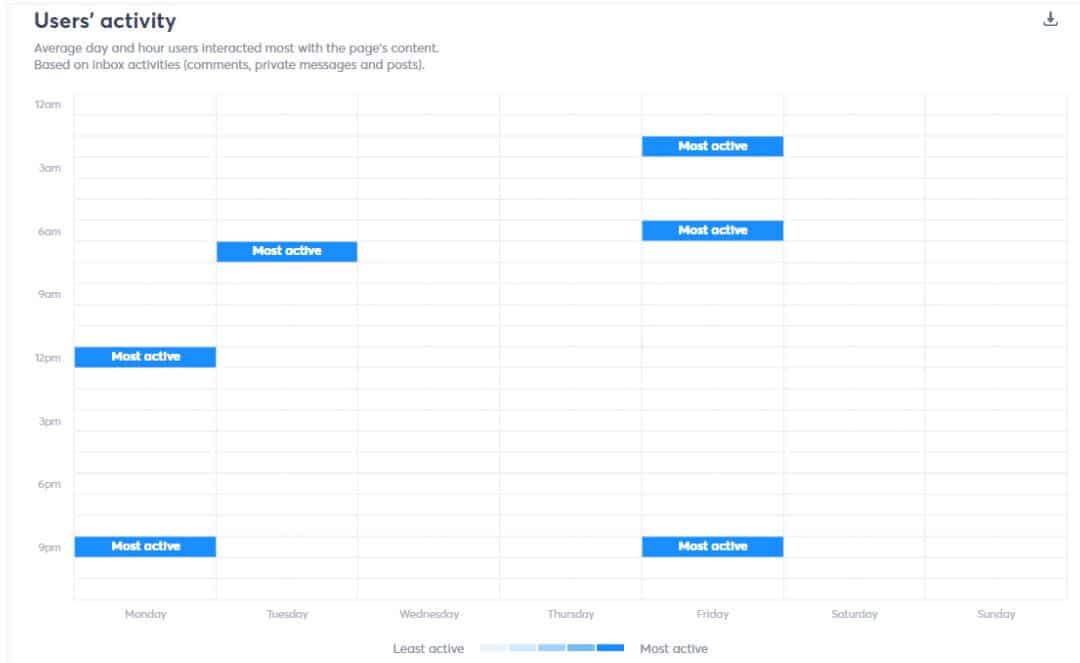 You can also see your most popular content. Once you see a pattern, use it to your advantage and schedule posts for those times and content that your audience loves. Here's what that looks like for Contentworks: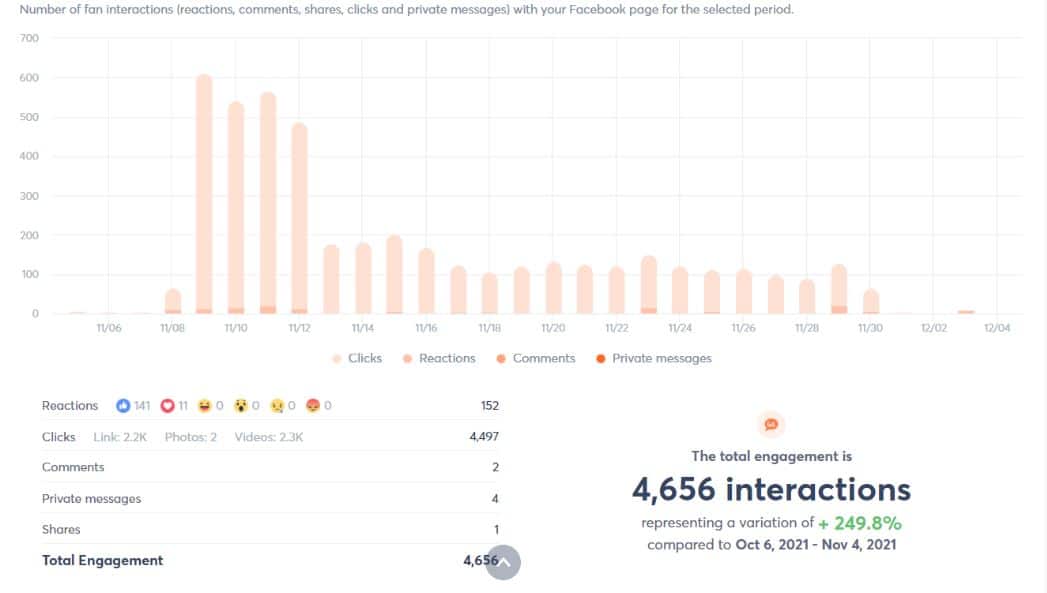 We can then hone into popular posts like this one on November 9 and see that, yes, a Tiktok AMA posted to Facebook gets great engagement!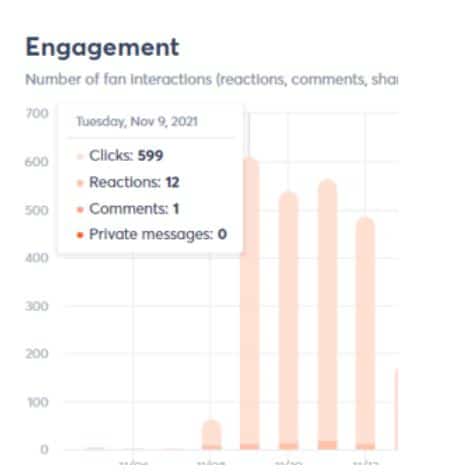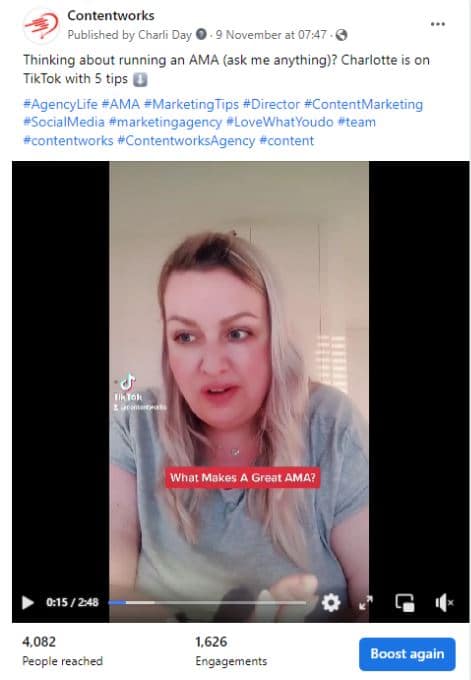 2. Know Your Sector Events
The content that goes into your calendar will depend on your sector.
Each sector has specific days, hashtags, and events associated with it.
For example, if like me, your clients are predominantly in the finance sector, you need to consider regular monthly events, hashtag days, one-off events, and then trending.
Regular events. Nonfarm Payroll announcements, Monetary Policy meetings, consumer confidence, and ECB meetings
Hashtag days. #WorldMathsDay #financialawarenessday #FibonacciDay (yes, it's a thing)
One-off events. Presidential Elections, Brexit, or a finance conference/expo
Trending. You can't plan for these. Trends pop up each day, and you will decide whether they are relevant and should be included in your social media.
Big events like a presidential election can form several weeks of planned posts and content. Some events are only for the day.
Expert tips about social media content calendar planning
Use a free tool like Days of the Year to easily see what's coming up for hashtag days. You can sometimes make them relevant to your own brand too. I love this post from Canva for Fibonacci Day:
Bookmark websites that provide information about events in your sector. For finance, it might be a site displaying an economic calendar for example.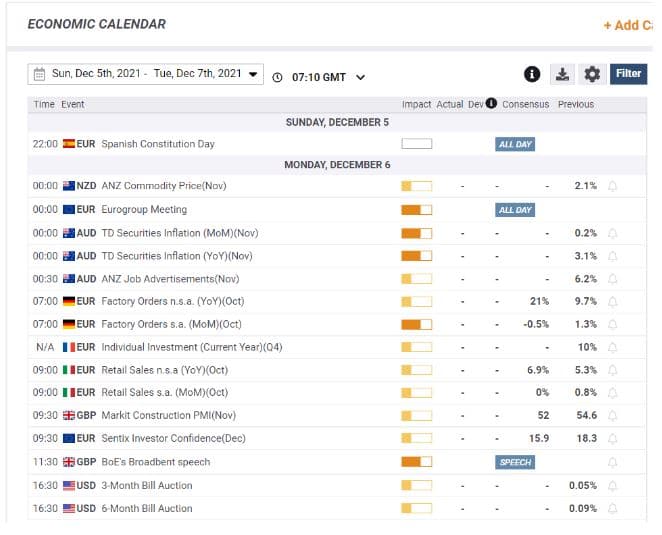 Be sure to check on them at least one month in advance.
Knowing the key events in your sector means you can create and schedule the right social media content.
Create a library of images for regularly recurring events or generic use. Here's one from our library of "trending" images. This allows us to create the text fast and add a great image without needing to wait. You can create images in different online tools if you don't have a designer and size them for different channels.
3. Factor in Live and Trending Content for Your Social Media Calendar
Your content calendar should factor in live posts and tweets each week where possible.
These might include:
Breaking news (retweeted or curated from reputable sites)
Funny trends, memes, or challenges that you want to participate in
Live videos from your company (Perhaps something exciting has happened unexpectedly or your marketing team fancies a dance challenge!)
Coverage within your industry, such as photos from an event or webinar
Flash sales and promos (can sometimes be scheduled, but actual photos cannot)
Crisis management or company responses to a breaking situation
Don't passively wait for trending news to hit your desk. Be the first to learn about it first by having a trending tab open on Twitter. You can also set up media monitoring using Google Alerts or listening via Agorapulse.
4. Listen to Your Audience
Creating a social media calendar means preparing content in advance. But that doesn't mean you can't look back for inspiration. And your audience metrics can really help you out here.
This is where it really helps to use a proper social media scheduling tool like Agorapulse for your social media content. Within two minutes, I can pull off all the top-performing posts for each channel in the last year, six months or any other timeframe. I can view organic reach, paid reach, click throughs and engaged users.
The example below shows our five best performing Facebook posts in the past year. Doing this means we can gain a deeper understanding of the content our audience enjoys and aim to create more of it!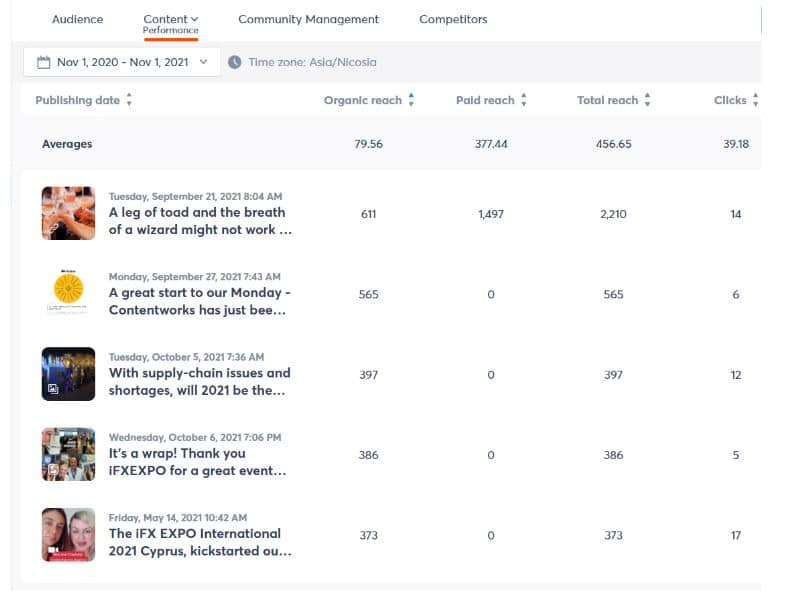 Expert tips about social media content calendar planning
Go with what your audience likes. If a piece of content or post worked well, repeat the style or topic. Repurpose old articles with fresh images, GIFs, or a rewrite. Upload top-performing ebooks to Slideshare and reshare them.
Research hashtags. Search for hashtags or keywords in your industry and see what content is getting the most engagement.
Look for audience questions or comments. You can utilize competitor analysis techniques to help you here.
Craft posts that are highly relevant to your audience. Ask your sales or customer support team what customers are asking. Perhaps they are asking how to perform an action or about store opening times.
Create a FAQ. Answer frequent customer questions to fill out your social media calendar.
5. Share Your Social Media Calendar With the Right People
Experienced social media managers know that it's essential to collaborate with their team. Your graphic designers, content writers, videographers, SEO managers, Ad buyers and everyone in between, may have vital roles to play in the success of your posts.
Excellent communication and a clear process and chain of command reduces mistakes and speeds up processes. Mistakes like the McDonalds Black Friday calendar fail. Never forget.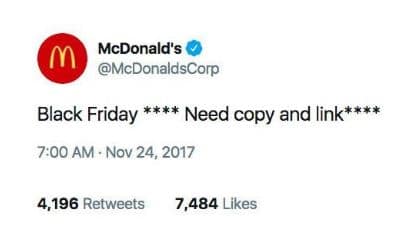 Expert tips for social media management
Start each week by checking the calendar and what's coming up. This will remind you of any outstanding actions or assets you're waiting for.
Double-check that the posts you scheduled have gone out and that there are no issues or delays. This can happen if there is a platform error.
Implement a clear chain of command. For example, social media manager Sophia creates the posts on Wednesday, and compliance officer Jack approves them every Thursday. Graphic designer Jessica will add images on Friday and Sophia will start posting on Monday.
Know who oversees what. With Agorapulse, you can set clear roles within the content calendar. That allows you to document actions and easily track approvals and schedules.
Add your designers to the social media calendar. They need to know what's coming up and the designs or videos they need to create. It's likely that you will need to send a proper email brief about this, too.
Add your writers to the calendar even if they are not creating social media posts. If you plan to create a series of posts about Halloween, your writer may want to create a blog article that you can link to. Timing is everything as you will need the blog link in advance.
Share your reporting and post success with others. This is likely to inspire confidence, reinforce your strategy, and emphasize your expertise.
Draft template replies ahead of time, and have them approved and ready to go. This will save you tons of time later. Replies might be about how to return a product, your shipping times, etc.
Ask other departments for their input. They don't need to be added to your social media calendar, but they might help you to formulate it. For example, Human Resources might be holding a recruitment day. Or your development team might be launching a product update or bug fix.
Don't add everyone

. Your entire company does not need access to your social media calendar. Similarly, the compliance and legal teams don't need edit access to the content. Instead, give them their own column to add comments or a risk warning. Allowing everyone edit access will mean nothing gets approved and your schedule is always behind. Trust me on this.
What We've Learned About Social Media Calendars
A social media calendar is your ultimate planning and organization tool.
It keeps your posting consistent, your approvals on track and your content relevant and engaging.
Get started on saving time and energy on your own social media management! Check out our free trial of Agorapulse to help you schedule, track, and measure all your social media efforts.