Whether you're applying for your first social media manager job or you're looking to level up, you need to know what kind of salary to expect. And if you're hiring a social media manager, you need to get up to speed on competitive rates.
So how much does a social media manager make anyway?
In this article, we'll explore the average social media manager salary in 2023, including the factors that have the biggest effect on earnings and tips for negotiating higher pay.
What Is the Average Salary for a Social Media Manager?
As of April 2023, the average annual salary for a social media manager is about $50,000 in the United States. Salary comparison sites like Indeed, Glassdoor, and Mint all report a slightly different number, as each site uses slightly different datasets and methodologies.
Indeed reports that the average base salary for a social media manager is $56,782. Those with salaries on the low end of the scale earn an average of $35,467 per year, and those on the high end earn $90,907 per year.
To calculate this pay scale, Indeed aggregates self-reported data from users. The chart above includes data from nearly 3,000 user reports.
Glassdoor reports that the average pay for this role is $51,533. This number includes about $47,800 in base pay and about $3,800 in additional pay—which can reflect bonuses, commissions, and profit sharing.
Glassdoor calculates average salaries a little differently. Unlike Indeed, this site uses a machine learning model to aggregate user-provided data and statistics from government sources.
Mint reports that the average social media salary is $46,500. This site provides the widest potential pay scale, with the lowest average pay around $18,500 and the highest pay around $97,500.
To get these numbers, Mint relies on income tax data from partner brand TurboTax. The figures above reflect the average from 3,350 users who indicated a social media management job on their tax return.
How experience affects average social media salaries
The numbers above show the average salary for social media managers, regardless of seniority or experience in the field. But it's helpful to know what you can expect to earn as you gain more experience.
For example, Payscale reports that social media marketers with five to nine years of experience earn an annual average of $64,000. Those with 10 to 19 years of experience earn an average of $75,000.
What does that mean for social media marketers? As a general rule, you can expect to increase your salary by 50% as you go from an entry-level social media marketer to your choice of senior roles. If your earning goals are much higher, consider pursuing a social media director salary (see below).
How industry impacts average social media salaries
Before you start a social media job or look for clients in a certain niche, you need to know how their industry could affect your average wage. Companies in some industries reliably pay significantly more, which may make them worth considering as a niche.
According to Glassdoor, information technology (IT) businesses pay social media managers 35% more than average. Likewise, financial services, manufacturing, and telecommunications businesses pay 25% more than average.
How can social media marketers leverage this information? Overall, companies in the professional services industry pay the most—so if you have B2B marketing experience, these niches could be a good fit with great pay.
How location changes average social media salaries
Historically, location has been a key factor in determining salaries for social media marketing professionals. Although location can still affect pay, it's really only a factor for in-office or hybrid jobs.
So where can you expect to earn the most for a social media role? According to Indeed, social media managers based in places with a higher cost of living (like the Northeast and the West Coast) earn 15% to 25% more than average. For example, those in New York, New York earn an average of $68,341 per year.
However, in states with a lower cost of living, salaries can be 15% to 25% less than average. For example, those in Asheville, North Carolina, earn an average of $42,849 per year.
Salaries can also vary significantly outside the United States. For example, Glassdoor reports that social media managers in Paris (above) earn an average of €40,205 per year, while those in London (below) earn £40,703 per year.
How contract type influences average social media salaries
If you're looking for a full-time job with a company, then the numbers above offer a solid idea of what you could earn. But if you're thinking about freelancing or if you want to compare the two options, then it's important for you to know how different the pay could be.
According to Glassdoor, the average annual salary for freelance social media managers in the United States is $60,005. The most likely annual salary range is $49,000 to $75,000.
How to Negotiate a Higher Social Media Manager Salary
Whether you're looking to get started in the field or you're aiming for a promotion, you don't necessarily have to limit yourself to average pay ranges. In many cases, there's room to negotiate higher full-time salaries or client fees. Use the suggestions below to increase your salary or raise your rates.
Education and certifications
Most social media jobs require a bachelor's degree. Although the field doesn't always matter, majors like marketing, communications, business, journalism, and English are relatively common for social media professionals.
If you have a college degree, you can typically qualify for social media jobs that pay average salaries—such as the ranges we covered above. But if you want to negotiate for a higher salary, advanced education can help.
Graduate degrees
Since a graduate degree generally reflects mastery of advanced marketing and business concepts, having a master's degree can help you qualify for a higher pay scale and land senior-level social media marketing jobs.
Which graduate degree provides the most value for social media specialists? Historically, a master's degree in marketing has been the best option for ambitious social media professionals. Yet graduate degrees in social media management are becoming increasingly common and may be better options.


Professional certifications
A graduate degree isn't the right choice for every person or role. Sometimes, the cost and time commitment can make a master's degree seem unreasonable, especially if you're looking at a relatively small increase in pay.
For some social media specialists, a professional certification may be a better choice. Not only are certifications faster and less expensive to complete, but they also allow you to demonstrate key skillsets.
Here are a few professional courses and certifications to consider:
Pulse Academy (powered by Agorapulse) offers free courses in all major social media platforms. You can take one or all to master channels ranging from Facebook and LinkedIn to TikTok and YouTube.
HubSpot Academy offers a social media certification that's completely free. You can complete it in one day to demonstrate your social media knowledge.
Meta Blueprint offers a social media marketing professional certificate. You can use it to level up your knowledge of Meta apps like Facebook and Instagram.
Before committing to a graduate or certification program, take some time to compile a list of dream jobs, including those a few levels above your current role. Analyze job postings for these roles and create a chart of certifications or degrees you need to land these higher-paying positions.
Social media marketing skills
To excel in this field, you need a standard set of social media manager skills. For example, your daily routine will typically require hard skills (i.e., technical capabilities) like:
Copywriting so you can compose catchy social media captions that fit your brand voice and reflect relevant messaging.
Strategy so you can plan social media campaigns that align with business goals like brand awareness and lead generation.
Analysis so you can make sense of campaign results and turn them into actionable insights that help the business succeed.
Market research so you can find your audience on social media and understand what drives engagement and sales.
Project management so you can set goals and juggle multiple tasks while managing time efficiently and staying productive.
Social media dashboard management so you can oversee social media accounts efficiently, whether you use Agorapulse or a more complex martech stack.
To manage all the responsibilities of a social media professional, you also need soft skills like:
Collaboration so you can work smoothly with social media teams and a variety of internal and external stakeholders.
Communication so you can connect with your brand's audience and share information with your social media team.
Creativity so you can find new ways to share the same ideas with different messaging or formats—using each platform's latest tools and features.
Adaptability so you can not miss a beat as the social media industry changes or as challenges arise.
Trend-spotting so you can stay on top of what's happening on social media and in your industry—and leverage trends relevant to your business.
If you master more advanced skills, you can better position yourself for more in-demand roles. For example, Indeed reports that some of the skills below can increase your earning potential significantly:
Media buying, which involves purchasing advertising space on social media and requires high-level knowledge of paid social campaigns
Social listening, which involves analyzing conversations on social media and using the data to improve strategies and make better connections with customers
Artificial intelligence (AI), which involves using technology to automate processes ranging from social media copywriting to paid campaign development
Digital marketing specialties
It's easy to assume that all social media management roles are the same. However, that's not the case at all. The area you specialize in (i.e., your niche) can have a major impact on how much you earn.
Content creator
As a content creator, you storyboard and produce video- and image-based content for brands. Often, this entry-level position is a freelance role, which can allow you to gain experience in the field. Content creators earn an average of $19.60 per hour.
Copywriter
Copywriters are responsible for creating written content for social media. That might include social media captions, video scripts, or text overlays. The role may also cover copywriting for paid campaigns.
On average, copywriters earn about $58,500 per year.
Social media strategist
As a social media strategist, you design paid or organic social media strategies based on the company's future goals, their past results, and current trends. Most social media strategists earn an average of $59,500 per year and have prior experience as social media managers.
Community manager
As a community manager, you oversee social media engagement, build relationships with customers, and manage your company's groups—such as Facebook or LinkedIn groups. On average, community managers earn $61,100 per year.
Paid social media
Paid social media experts are responsible for running ad campaigns across Facebook, Instagram, Twitter, TikTok, YouTube, and other social media channels. Paid social media jobs tend to pay the highest in the field, with an average salary of $80,400 per year.
Value of your work
No matter your niche, you may be able to negotiate higher pay by proving the value of the work you've done. One way to do that is to develop case studies or campaign overviews that quantify what you've achieved.
If you typically focus on paid campaigns, then quantifying results is relatively simple. All you have to do is compile ad campaign reports and calculate the return on ad spend (ROAS) or other key social media metrics.
But if you focus on organic campaigns, proving your worth can be a little trickier. You can't track revenue or other value-based metrics directly on social media platforms.


Instead, you'll want to use a tool like Agorapulse's ROI dashboard to demonstrate value. Using this dashboard, you can show the value of any organic campaign you've tracked. You can also attribute ROI to certain channels, profiles, posts, or even engagement.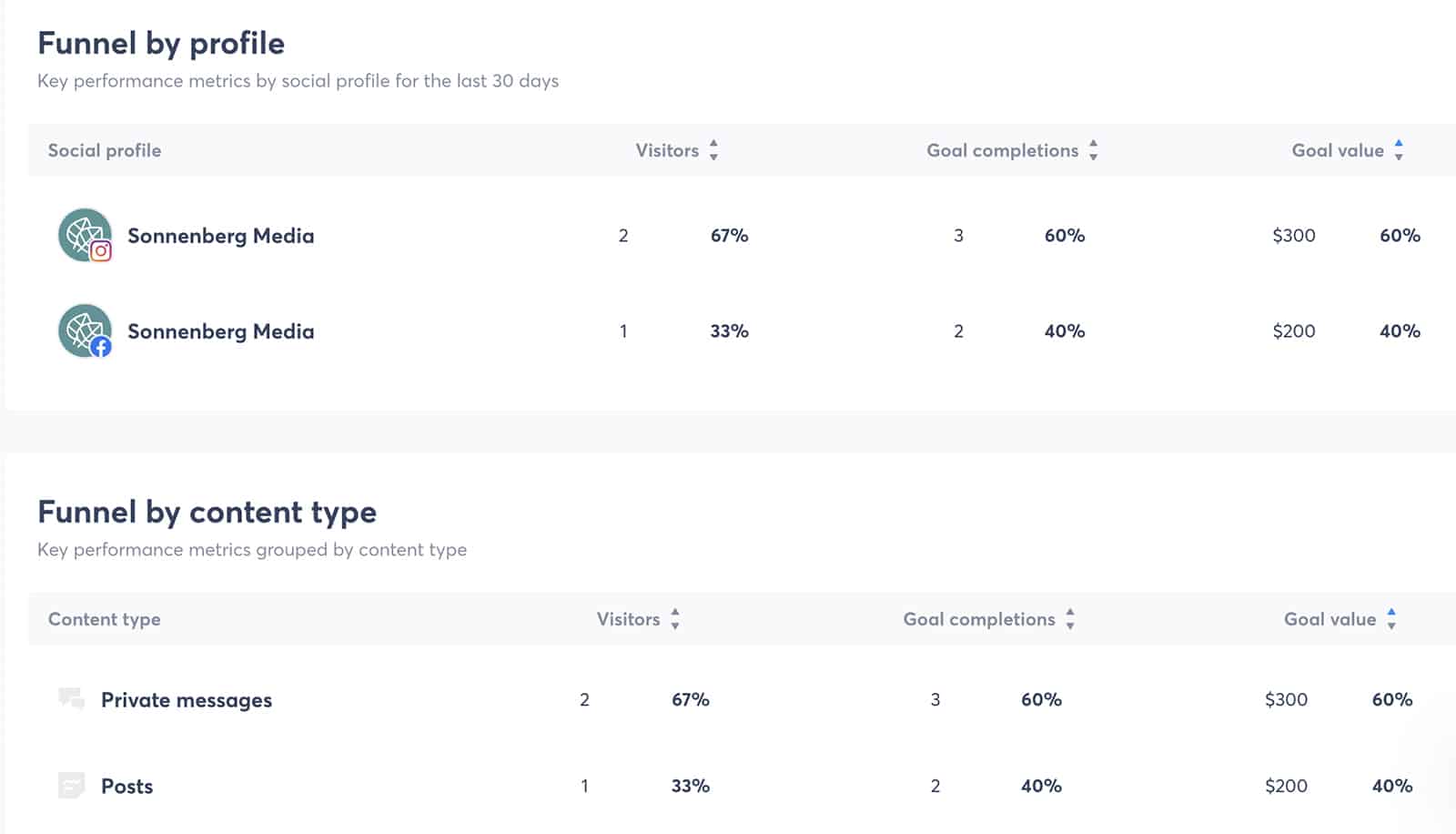 Career Paths for Social Media Managers
As you gain experience in the field, you can graduate from your social media manager role to a more advanced position with higher pay. Consider including one or more of the roles below in your career path as you plan for the future.
Marketing manager
Marketing managers develop organic and paid social strategies and plan end-to-end social media campaigns. In some cases, this role may focus completely on social media. But in others, it may include overseeing other channels—such as integrating email or pay-per-click (PPC) ads.
In addition, most marketing managers supervise teams. As a result, this role can provide experience in managing more entry-level marketers.
Marketing managers earn an average of $73,100 per year, making this role a solid step up from the average social media manager salary.
Social media director
Social media directors are responsible for marketing a company's brand through social channels. They determine key performance indicators (KPIs), oversee paid and organic strategy, and manage advertising budgets.
Most senior-level professionals in this role supervise marketing managers or other team leads. Social media directors earn an average of $126,600 per year.
Chief marketing officer (CMO)
CMOs are executives who play important roles in the C-suite. Although they usually have extensive experience with creating content and running marketing campaigns, CMOs generally have a much more strategic role.
They're in charge of understanding the organization's position in the market, setting goals to expand or cement that position, and developing a strategy to make it happen. Because they hold the highest-level marketing role, their responsibilities extend far beyond social media. They're typically responsible for an organization's marketing, branding, and advertising efforts.
CMOs earn an average salary of $142,100 per year, which is one of the highest marketing salaries and an excellent long-term goal for ambitious social media managers.
Wrapping Up What We've Learned About Social Media Manager Salaries
Ultimately, average social media salaries depend on a ton of factors ranging from education and experience to location and industry. With this salary guide, you can get a sense of what to expect from your next social media role and make a plan to negotiate for higher pay.
Sign up for a FREE demo and find out how Agorapulse can make a social media manager's workday easier, more efficient, and just plain happier.