Are you paid enough as a social media manager? Here's a look at the numbers for a social media manager's salary.
As a social media manager, you may have a few questions about salaries, such as:
What is the average social media manager salary?
Which factors affect the pay range for this role?
How much room do you have to negotiate?
After all, you need to know what's reasonable for the industry before you walk into a salary discussion.
Average Social Media Manager Salary
In the United States, the average salary for a social media manager is around $50,000 per year, according to most major job listing sites.
LinkedIn reports that base earnings are $50,000 per year on average.
In addition, 18% of social media managers receive an annual bonus of about $2,000.
The average base pay in the U.S. is $50,473, and this role doesn't typically include bonuses or additional compensation, according to Glassdoor.
PayScale reports a slightly higher average annual salary of $51,262 in the U.S., which includes a bonus, commission, and profit-sharing.
Worldwide Salary Comparisons
Around the globe, pay scales for social media manager jobs vary.
Glassdoor reports that the average base pay is £32,030 per year in the United Kingdom. (That's $42,704 in the US.)
In France, the average annual salary is €43,859 ($53,265.88 in the US).
Social media marketing manager wages also vary from city to city.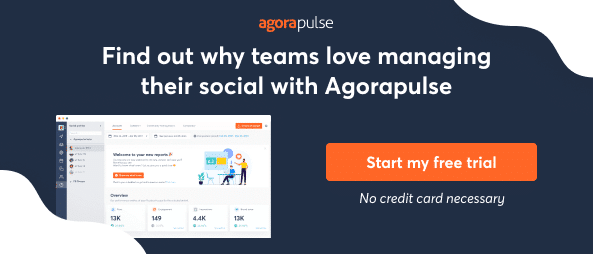 PayScale reports that companies in American cities with high costs of living, such as San Francisco and New York, pay up to 47% more than average.
Firms in cities like Paris and London also pay a small premium.
Indeed breaks down salary data by state in the US. Overall, companies in Colorado, Rhode Island, Vermont, and Maine typically pay 25% more than average.
Industry
Many social media managers specialize in certain industries, which can also affect their average pay.
Larger firms also tend to pay more than small businesses. Companies with more than 5,000 employees pay about 25% more than those with 50 or fewer employees, Glassdoor reports.
Experience
Employers in any industry can expect to pay lower salaries to entry-level social media managers with minimal experience.
Candidates with less than a year of experience have average annual salaries of about $40,000, according to PayScale. In contrast, experienced social media managers who have worked in the field for 10-19 years earn about $67,000 per year on average.
How to Negotiate Your Social Media Manager Salary
Applying for a new social media manager job? Be sure to have an idea of the salary range you can expect from an offer. (If you need to job hunt but don't know how to get started, check out these expert tips.)
But what if the offer you receive doesn't meet your needs or align with what you think you deserve?
Take a look at some of the most effective ways to negotiate your salary and demonstrate the value you add.
Education
Your education level can have a significant impact on your earning potential in the marketing field.
With an associate's degree, you can expect a salary of about $40,000 per year—or about 20% below average—according to LinkedIn. If you have a bachelor's degree, you can expect an annual salary of $51,000, which is close to the average for the role.
However, if you have an advanced degree, you could have additional power to negotiate.
Candidates with master's degrees earn an average of $55,000 per year. Earning a Master of Business Administration (MBA) could get you closer to an average of $60,0000 per year.
Studying marketing, advertising, or communications could help you qualify for this type of role. Those fields of study, however, aren't the only ones that could help you increase your earning potential.
In fact, social media managers with degrees in journalism and political science have some of the highest average salaries.
Skills
As a social media manager, you're expected to have a few essential soft skills:
Adaptability so you can experiment, learn, and lead your team to success
Analytical thinking so you can review data and optimize your strategy
Communication skills so you can develop effective messaging
Creativity so you can design and execute innovative campaigns
Organization so you can handle multiple social media channels seamlessly
If you have advanced technical skills, you may be able to negotiate more successfully.
Indeed reports that social media managers with media buying and budgeting skills could garner a salary 40% higher than average. Customer relationship management and creative writing skills could boost your earning potential by about 33%. Social listening skills could increase your salary by almost 25%.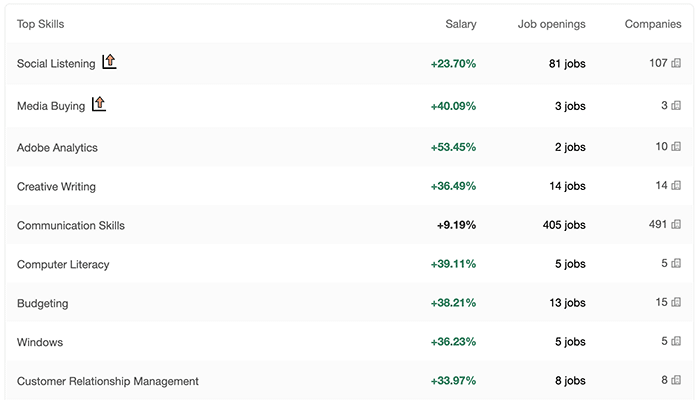 Responsibilities
As a social media manager, you can look for an in-house job with a single company or a role with an agency, where you'll manage multiple clients in a number of industries.
Both roles typically include standard responsibilities like:
Designing social media strategies that align with marketing and business goals
Creating brand style guides and campaign briefs
Developing paid and organic social media budgets
Coordinating content development, including copy and creatives
Overseeing social media channels, including Facebook, Instagram, LinkedIn, Pinterest, Snapchat, TikTok, Twitter, and YouTube
Managing social media engagement and brand reputation
Supervising staff members, including social media schedulers and community managers
Analyzing competitors, audiences, and industry trends
Monitoring social media metrics and campaign results
If you go the agency route, you may also have to tackle duties like:
Setting and achieving key performance indicators (KPIs)
Performing client research in a range of industries
Leading client onboarding and status update meetings
Presenting routine reports to clients
Supporting clients in several time zones
Another big difference between the two types of roles is the social media manager salary.
In general, in-house roles have higher salaries and may offer more room for negotiation. In contrast, agencies tend to pay slightly less. Yet agencies may provide you with a wider range of experience, especially if you manage a diverse range of clients or brands in a highly competitive niche.
Value
If you're considering joining an agency, you may need to contribute more than skills and experience alone. You may also have to demonstrate the value you would add to the agency.
For example, you might show prior results you've achieved or prepare a case study to share with the agency.
Here are a couple of ideas you can use for inspiration:
Paid Social Media: Review the metrics from a lead generation campaign you managed. Explain the social media tactics you used and show the return on ad spend (ROAS) the campaign achieved.
Organic Social Media: Prove the return on investment (ROI) from your organic social strategy over time. Use a social media dashboard to calculate ROI quickly based on the metrics that matter.
In Conclusion
Whether you're hiring for or applying for a social media manager role, it's important to know what type of salary to expect. Use these figures to effectively negotiate a social media manager salary that's reasonable for you, your company, or your agency.
Get started on saving time and energy on your own social media management! Check out our free trial of Agorapulse to help you schedule, track, and measure all your social media efforts.