Brands, businesses, and influencers are utilizing the power of TikTok Live to engage audiences, promote products, and build their communities. But how do you go Live on TikTok, and what should you do? Lights, camera, action—let's look at how to go live on TikTok.
Going Live on TikTok: The Basics
Before we get into the fun stuff, let's cover some TikTok Live basics. You need to know all this before you try to go live.
There is no LIVE tab on the video upload + menu bar for Contentworks.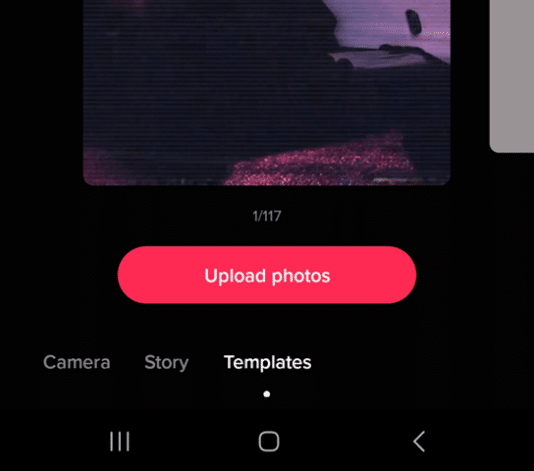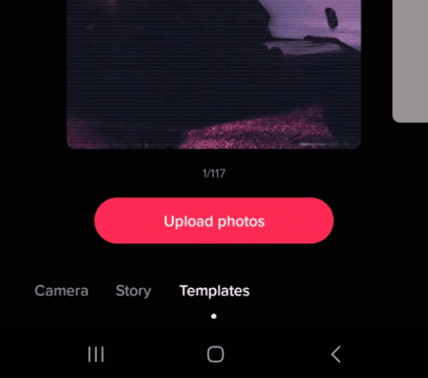 But for @charlisays, the LIVE option appears: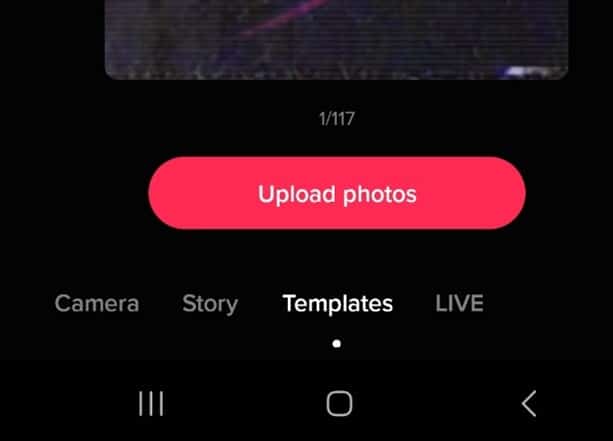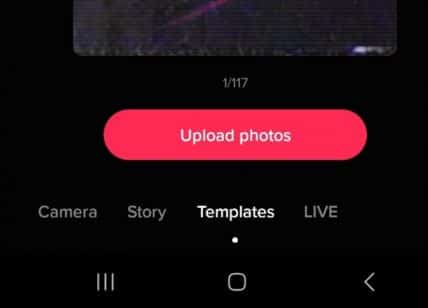 How to Go Live on TikTok
If you meet the criteria above, then going Live on TikTok is really easy. Here's a quick run through of the steps you need to take.
Open TikTok on your phone, and tap on the + at the bottom of the screen.
Scroll across to Live and tap on it to open the Live screen.
You can see the prompts on the screen which include title, topic, goal and image. The title has a 32-character limit, but you probably won't want to go over that anyway. Keep your title short and enticing. Live Goal is a lot of fun because it translates to the money you can earn through TikTok credits. You can add a charity you're raising money for or something you're saving for. You choose an icon, which equates to physical money (when you're over 18). Choose your icon wisely based on your audience. You're more likely to get lower end donations from fans, but, of course, these equate to less money for you. If you don't want to set a goal you don't have to, for brands it usually wouldn't be the right move.
As TikTok explains: "The TikTok Rewards is a referral program for us to show our way of showing gratitude towards the thriving community of TikTokers around the globe. Under this program, every eligible user can avail TikTok rewards and benefits."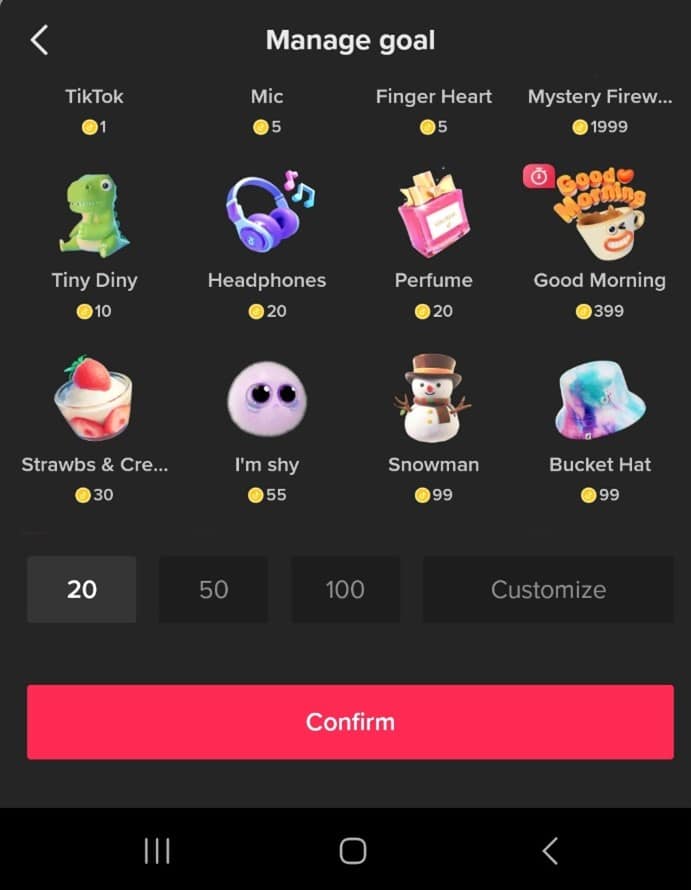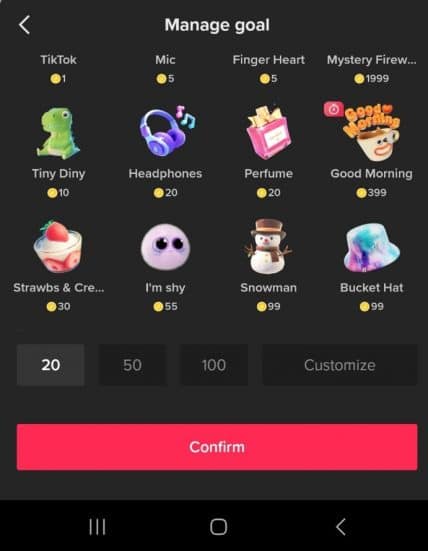 It's time to go Live! When you hit that button, your followers will be notified and can join your stream if they want to. You can add up to 20 co-hosts for your live session, and you can also edit various features while you're Live. These include the camera flip between selfie and front facing, effects, and filtering out comments.
Your TikTok Live video can be up to 60 minutes. However, TikTok recommends 30 minutes based on audience attention spans. For me, 30 is still quite long, so only use that time if you can remain engaging throughout. (Live ideas coming up in a minute!)
After ending your LIVE video, the LIVE replay will be available from LIVE Center. You can then choose to rewatch your LIVE video, download it to your device, or delete it.
To access your LIVE replays follow these steps:
In the TikTok app, tap Profile.
Hit the Menu button at the top.
Tap Creator tools.
Choose LIVE Center, then tap Replays.
Free Ebook: How to Launch a Brand on TikTok
LIVE replays are available for 90 days, and you can delete them from Replays in LIVE Center at any time. For more information about your archived Live videos, check out TikTok's help centre. TikTok live videos will disappear once the broadcast has ended and will not remain on your profile for fans who missed it. If you want to watch it again later or upload it then you need to save it when it is still broadcasting. TikTok only allows you to save your live streams.
Related reading: How Agencies Can Manage Their Clients' TikTok Accounts
TikTok Live: What Not to Do
Before we look at some TikTok Live ideas, you need to know what you are not going to do:
Go Live with no idea about what you will say or do.
Stream with a corporate PowerPoint or other bland presentation.
Fail to tell your fans it's happening or promote it on other channels.
Broadcast without some purpose or objective (even if it's just engagement).
Forget to engage with your audience, acknowledge comments and questions and thank users for their participation.
Miss the right time slot. There's not much point in going Live on TikTok while everyone is asleep or even at work!
Forget to think about the technicalities. It's annoying to watch a video where the presenter has a lot of background noise, a crackly microphone, or inadequate lighting. Check your sound and Internet connection first and try to record with good sound and lighting.

Four Ideas for Your First TikTok Live
Going Live on any social media platform is exciting because it's a space where viewers can ask questions and engage with you in the moment. It's spontaneous, unedited, and a bit scary! We've got three ideas, however, to get you started.
1. Product launch
The excitement of a Live TikTok is perfect for a product launch. You can hype your TikTok Live beforehand using Agorapulse scheduling. Let your audiences know what time you're going Live and a sneak preview of what might happen. You can also use a launch hashtag so that you can track activity around the launch.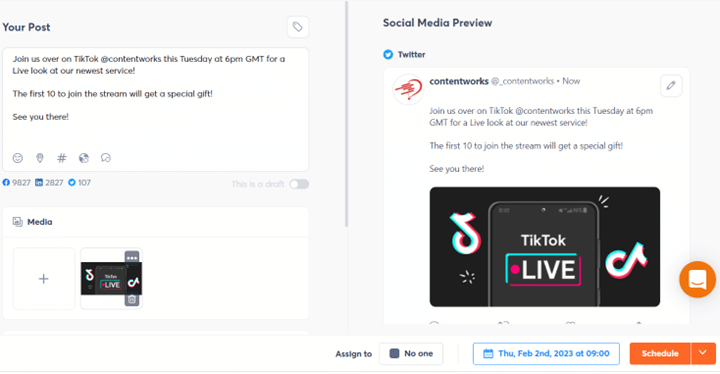 In a product launch video, you can:
Talk about your new product or service and the features and benefits for customers.
Give away products to the first to join, or those who comment below.
Demonstrate the products live with your team or key members of your organization.
Make the audience feel a part of your launch and company milestones.
Answer questions live by reading the comments left by participants.
Related reading: What to Know About TikTok Ads
2. Q&A Session
81% of online shoppers conduct research online before making a purchase? So, buyers have a lot of questions, and they don't always have a place to ask them. Enter TikTok Live! By holding a live Q&A session on TikTok Live, your potential buyers can engage with you, ask the questions they can't find answers to and see the products in action.
In a Q&A Session live video, you can:
Easily explain difficult concepts or solve product problems with a Live demo.
Improve the authenticity of your brand by putting a friendly face on camera.
Gage audience sentiment for your brand or product. If there are tons of negative comments then you can feed them back to your product team.
Make sales by dropping any product links into the stream in case users want to purchase.
Embed the Q&A in your website blog or FAQ section.
Regain trust after company changes or a PR crisis.
Q&A features are available in LIVE, giving creators the ability to quickly see Q&A questions in their stream chats from a separate panel. Q&A features are available to users with Creator Accounts. To turn on Q&A, go to your settings and privacy page, select Creator, tap Q&A and hit the "Turn on Q&A" button.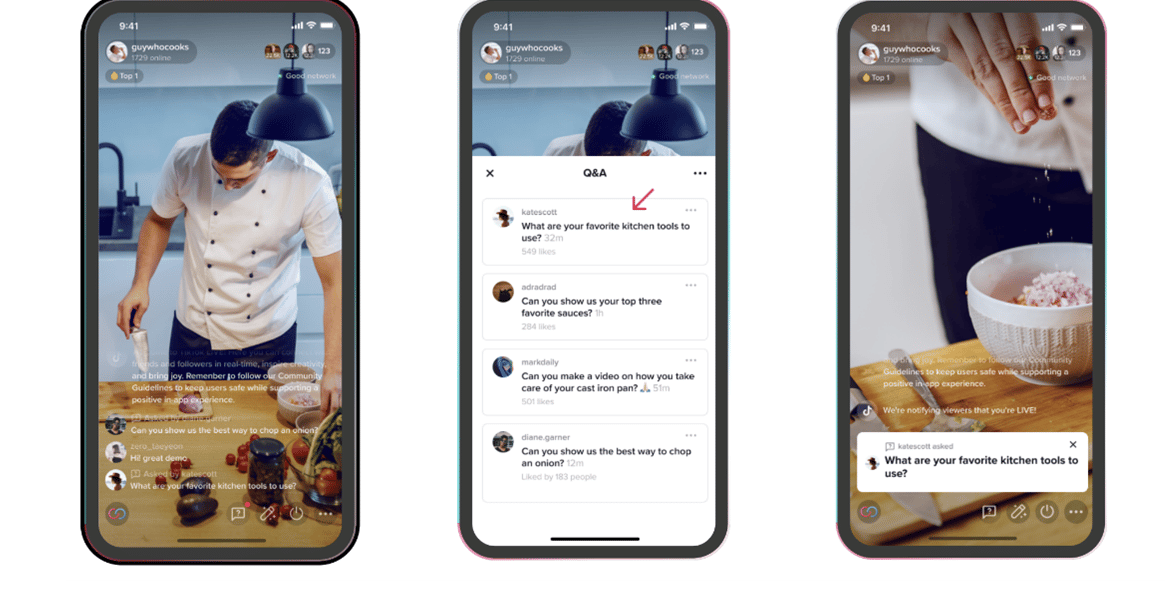 Going Live on TikTok tip: Be ready for difficult questions that might be off topic. I've seen Live Q&As where the presenter is asked about recent PR problems, gender pay gaps, CEO statements, and outstanding customer complaints. There is no place to hide when you're live, so either answer the question honestly or say that you don't know and will contact the user privately.
Related read: How to Launch a Brand on TikTok
3. Live shopping
Drive engagement for your products to shoppers who are more likely to buy with TikTok Live Shopping.
With TikTok Live Shopping video, you can
Tell the world about your TikTok shop and encourage new viewers to follow you.
Promote the features of an individual product or showcase a matching range like a bag and shoes.
Partner with influencers or creators to amplify your Live reach. Remember you can add cohosts to your Live stream.
Offer exclusive discount codes for Live viewers. Hint at the discounts when you promote the Live to ramp up views with some
Be happy and love what you do like this roller skating queen (learn more about Live shopping ads).
4. Showcase the process of making your product
Another TikTok idea is to show "the making of" your product. You can go Live on TikTok and show an order being made for one of your customers. This would work for any product based business whether it's food delivery, jewelry, makeup or crafting. You could also do a "cook along" like Buzzfeed's Tasty. Here viewers are joining a live cooking show and can choose to cook along with Jasmine if they want!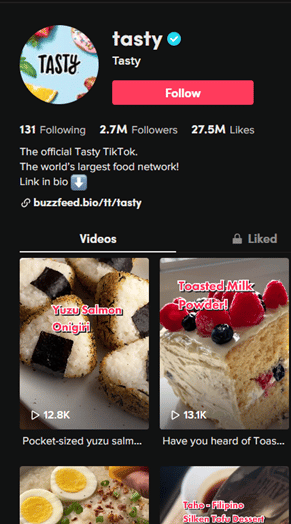 The channel also embed the downloaded Live videos into their blog making for some super-smart content recycling!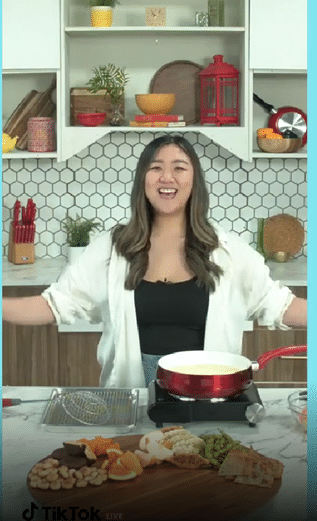 In Conclusion
Remember, with Agorapulse you can manage your TikToks, promotions, scheduling and analytics in the same place as your other channels. That means you can dig into your video insights and pull off some great reports for your company or client.
Start crafting some amazing TikTok content and more with Agorapulse. Schedule a FREE demo today!