Whether in an organization, freelancing, or working at a marketing agency, social media marketers can agree on one thing: On social media, problems can escalate at the speed of light. So, you need a crisis management plan for your social now.
A social media crisis happens fast. Problems such as a misjudged tweet, an influencer running rampage, a poor customer review on Facebook, ill-chosen words from your CEO on LinkedIn, or a negative story about your brand.
You Need a Crisis Management Plan for Social
Just 20 years ago, most people wouldn't find out about a misstep or error in judgment. But that was before social media.
Bad news can now go viral in a matter of hours, and corporations can quickly feel the backlash.
That bad news can impact brands, not only in terms of their social media, but also in customer loyalty, purchases and ultimately profits.
Facts to keep in mind about a social media crisis
Social media crises happen a lot. The impact does matter.
78% of people who complain to a brand via Twitter expect a response within an hour.
Only 6% of brands have automatic alerts set up against their brand name and keywords.
59% of businesses have experienced a PR crisis, but only 32% have a disaster recovery plan.
85% of consumers trust online reviews as much as personal recommendations.
A dissatisfied customer will tell between 9-15 people about their experience.
70% of unhappy customers will forgive you IF you resolve the complaint quickly.
Let's take a look at how brands can perfect their handling of them. We're also going to show you how to use the right tools to safeguard your brand's reputation.
Crisis Management Plan: Define the Issue
What's a social media crisis?
A social media crisis and a PR crisis are related but not exactly the same.
Essentially, a social media crisis is one that begins on social media and can potentially be contained there.
A public relations (PR) crisis is usually bigger and may involve newspapers, television, radio and social media. There is an overlap though and both have the potential to damage your brand's reputation and hinder future business.
Examples of a Social Media Crisis
A negative review on your Facebook page is gathering traction. Adam S. from London found a fingernail in the ice cream he bought from you, and he is not happy. He's left a negative review on Facebook and might copy it elsewhere too.
A complaint post tagging your brand. Kathy A. from LA had a bad customer service experience at your store. She has 15,000 followers on Twitter and just tagged you in a tweet. Other people are starting to comment and retweet it.
An ex-employee just wrote a scathing post on LinkedIn. Jenny B. from Sydney, Australia just quit from your company because of alleged mistreatment. And she's written a post describing her treatment and warning other potential job seekers not to apply to your company. People are obviously appalled and have started to comment and share the post.
Crisis management plan: A real-life example
Back in 2019, a star player from Duke university named Zion Williamson, suffered a knee injury when a malfunctioning Nike shoe fell apart. This was a huge social media crisis for Nike because Zion was well-respected, this was a highly publicized event, and … sports shoes shouldn't do that!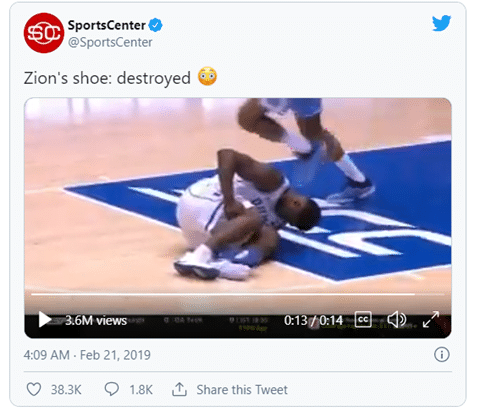 Media outlets and social media users quickly began chattering with memes, jokes, and speculation rising.
On Twitter, former President Barack Obama, who was watching the game courtside, expressed his well-wishes to Williamson, as did NBA giant LeBron James.
Even Puma jumped in (but later deleted their tweet).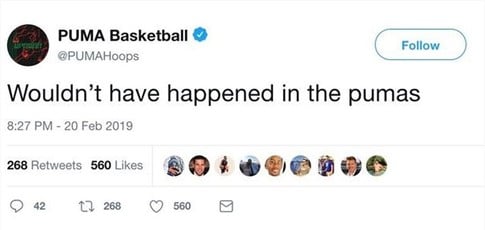 The accident was so bad that Nike stock dropped 1.8% the following day.
But the company did manage to turn it around.
Crisis management plan: What Nike did
They monitored sentiment and trends on social media.
The brand released a statement expressing its concern and good wishes for Williamson.
Nike reassured the world that its teams were "working to identify the issue."
The Nike team visited their manufacturing site in China and returned with improvements for future shoes.
A month later, Zion Williamson returned to the court with custom Nike shoes!
He told reporters they were "incredible" and thanked Nike for creating them.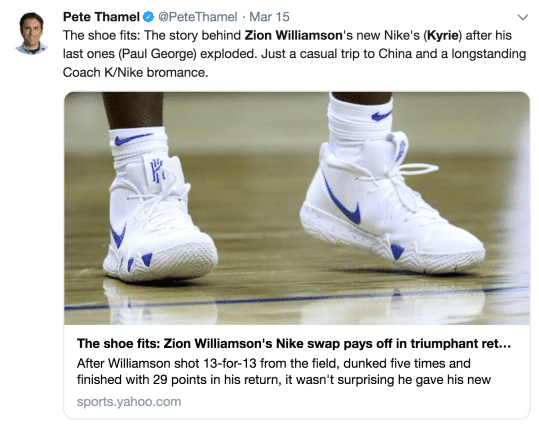 The crisis was averted so well that there are now parody Twitter accounts for Zion's shoes.
Nike gets a gold star for their handling of this social media crisis. They responded with immediate concern, apologized, investigated the fault, made improvements and then finished with the gesture of a great custom pair of shoes.
Examples of a Public Relations Crisis
Here are some examples of how fast a crisis can go on social media.
Your CEO made a homophobic comment live on TV.
He says he didn't mean it, but all the news channels are picking it up. Journalists have called asking for statements, LGBTQ+ charities have slammed your brand, and social media channels started using hashtag #ResignNow in conjunction with your brand.
There's been a natural disaster leaving customers from your holiday company stranded. This isn't your fault. But how you handle it and communicate with customers and their family members will dictate how well your brand is perceived later. The same applies to a technological crisis.
There's been a terrorist attack or a man-made disaster.
From an attack on a plane to employees putting poison into painkillers, the crisis is not something you planned. But when people's health, or even lives, are at stake, the situation can become a PR crisis very quickly. How you handle it and implement future safeguards could make or break you.
For example, in 1982, a wave of poisonings of Tylenol (Johnson & Johnson) containers shook the United States.
The CEO ordered the company to pull all 31 million containers off the shelves. Johnson & Johnson's proactive response and spending $100 million on tamper-proof packaging convinced the public the product was safe.
Tylenol regained its #1 position as a trusted painkiller.
Your company has been caught out.
Lying about emissions from your new vehicles, mis-selling a beauty product, or failing to disclose how a product is made are all huge issues. Lies from big organizations have the makings of a huge PR crisis when they're not handled properly.
A real-life PR crisis handled badly
The Boeing story is first and foremost one of human loss and tragedy.
But it was also a cautionary PR crisis handling tale.
On October 29, 2018, a Boeing 737 Max 8 plane crashed into the Java Sea and killed 189 people. Just five months later, on March 10, 2019, another 737 Max 8 plane crashed in Ethiopia and killed 157 people. The casualty total from both crashes was 346 people.
It started off with PR being handled OK. The company acknowledged the incident and promised updates on Twitter.
But Boeing took five days to ground its entire 737 MAX fleet. PR Week later observed that "Boeing lost control of the public narrative and appeared to be reacting to public pressure rather than putting the safety of passengers first."
Boeing then tried to downplay the incidents and blamed it on pilot error (something that turned out to be untrue).
Boeing didn't post anything about the incident on its Facebook page. Instead, it continued with a "business as usual" theme. A Dreamliner post that appeared on Boeing's Facebook page on Nov. 21 seemed ill-timed, considering Nov. 21 was when Boeing issued a press release pertaining to the first crash.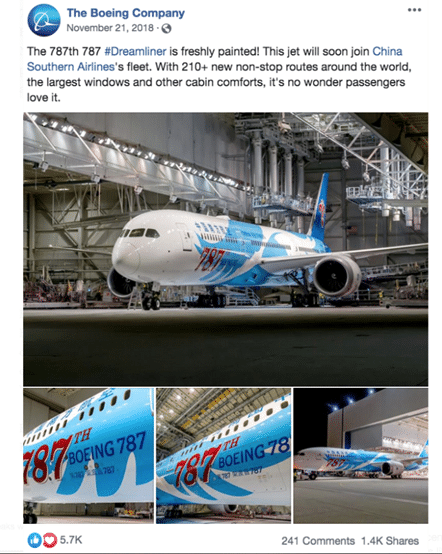 Nothing at all was posted to their Instagram. This, too, was a "business as usual" channel.
It also came to light that there had been multiple internal emails circulating where executives "mocked their regulator and joked about safety."
These rumors spread like wildfire on social media—with little action ever taken.
Later, it was revealed that former CEO Dennis Muilenberg left the company with assets worth about $80m. This was deemed to be in poor taste and greatly angered social media users.
And lastly, they may not have resolved the issue at all!
Just six months after Boeing's 737 Max was cleared to fly again, the aircraft finds itself under intense scrutiny once again. Critics claim the 737 Max was allowed back into service prematurely and that issues that could have contributed to two fatal crashes have not been fully analyzed or addressed. This is a huge safety concern. It also indicates that Boeing may have swept problems under the carpet.
Gordon Johndroe, vice president of global media relations and public affairs for the Chicago-based aircraft manufacturer, recently said: "We have plans that allow us to act in a 24/48/72-hour situation. With the MAX, the playbook ran out after a few days, and we were in unprecedented territory. We need to plan for beyond 72 hours. You need a cadre of people within your organization who have media relations as a backup skill set…so the core team can catch their breath."
The social media crisis examples don't seem nearly as bad as the bigger PR ones.
Make no mistake: Social media complaints or posts have the potential to become much bigger if they're not handled right.
Keep reading to learn how to prevent that happening with a social media and PR crisis plan.
How to Craft a Crisis Management Plan
Marketers already have content strategies, copy style guides, social media strategies, KPI documents, monthly planners, yearly targets, etc. It seems like you're constantly creating or updating them.
But a social media crisis planning can save you a whole world of trouble later on.
To handle a social media or PR crisis like a pro, you need a plan that allows you to act fast. Time is of the essence. The longer you wait, the worse it will be.
Though you can't predict the type of PR disaster that could come your way, you can plan out different courses of action. Organizations with a strategic crisis plan can mobilize more swiftly, stabilize business operations, and respond effectively to disruption.
Did you know … A recent PWC report shows that 62% of companies used a crisis management plan in their response to the COVID-19 pandemic.
Crisis management plan: Questions to ask
Who are the decision makers in your company?
Detail their roles and responsibilities in the event of a crisis. It could be your CEO, head of legal and shareholder, for example.
This needs to be updated if there is an organizational shift. Your document should contain contact details of key decision makers. This is not a document that will be widely shared, so include emergency out-of-office contacts.
What will you do if the decision makers are away?
If your CEO is in hospital or out of the country and unavailable, can your CTO take decisions in her place?
This issue needs to be clearly and concisely detailed in your document. What is your "out of office hours" emergency plan? Be sure that the people included in this are aware and compensated appropriately.
What are your key communication channels?
If your brand has a presence on numerous channels, you might want to pick one to communicate your crisis-handling message. This depends on whether you have a large team to handle community management on each channel.
If you don't, then it could be better to keep it to one channel and handle it well.
Do you need to get statements approved by legal/compliance?
Honestly, you probably do.
If your PR crisis has any kind of magnitude, you should get your posts and answers approved.
Social media users are very savvy at taking screenshots and recording brand responses, so you won't be able to take them back once they've gone live.
Who will handle social media?
This is an incredibly important part of your planning, especially in a large organization where you may have multiple social and community managers.
One person should oversee proactive messaging and remain in direct contact with the decision makers. Of course, it's essential that this person brief the rest of the social media team on the ongoing crisis, what they should do and how they should be responding to client messages on social media.
Who will brief the company?
You don't want your employees jumping into social media arguments, causing confusion, answering journalists or making statements.
If in doubt, ask employees to report concerns or enquiries to the decision makers mentioned in the planning documentation. Reassure them and keep them informed of your actions.
Questions to help you plan your crisis management plan
Who are the decision makers in your company?
What will you do if the decision makers are away?
What are your key communication channels?
Do you need to get statements approved by legal/compliance?
Who will handle social media?
Who will brief the company?
Keep your document concise and visually impactful. In an actual crisis, the last thing you want to be doing is sifting through hundreds of pages of content to find what you need.
So, you've got your planning document. But what do you need to do if a social media crisis hits?
How to Respond to a Social Media Crisis
A social media crisis has hit your brand. What do you need to do in terms of damage limitation and restoring consumer confidence?
1. Get your facts straight
First things first … gather your key people and get your facts straight.
What happened?
Who was there?
Does anyone else need to be involved?
What will you say?
Remember we talked about gathering your decision makers and briefing the company?
Now's the time.
2. Check who has access to social media accounts
Weak passwords or the wrong employees (ex-employees) having access to your social media accounts can increase your risk of making a social media crisis worse.
Always use a centralized social media management tool like Agorapulse where you can check immediately who is on your team.
Don't have spreadsheets floating around with all your passwords and always change passwords when a member of the team or agency, leaves.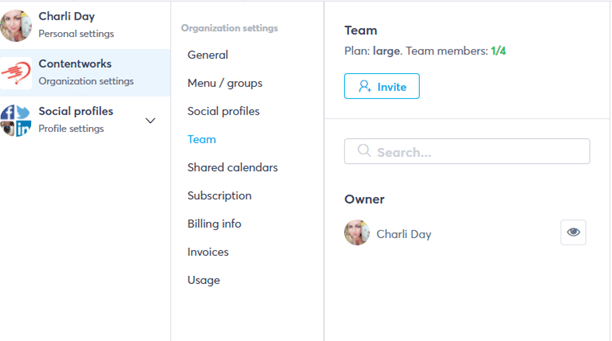 Example: When the New York Daily News laid off 50% of its workforce, a departing member of the social team started posting GIFs to the paper's Twitter account. These were later deleted but not before they were screenshotted!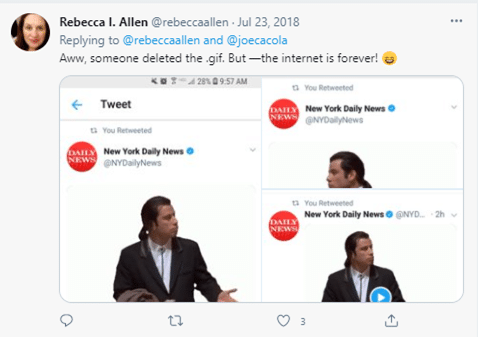 Using Agorapulse, you can assign posts to other team members to check or approve. This is super useful if you are dealing with a potential or ongoing PR crisis.
3. Pause scheduled posts
Depending on the severity of your crisis, you may want to pause scheduled posts.
The worst thing that can happen in a social media crisis is for your prescheduled posts to carry on regardless.
Wishing everyone a super-fun Saturday when there's been a serious accident involving your products, for example, won't work out well.
After the crisis has passed, review all future posts to check that the tone and messaging is correct.
Check YouTube, Facebook, Instagram, Twitter, and LinkedIn Ads, too. Pause any RSS feeds to your channels (easily paused if you use systems like DLVR, Triberr, Quuu, and other Feed aggregators). (Here's a walk-through pausing social via Agorapulse.)
Check your pinned posts on Twitter and Facebook as well as Facebook Groups to ensure they're not tone-deaf on social media.
Check your website's copy especially on the home page and blog to make sure it's not oblivious to the current situation.
Pause any scheduled emails or posts from your company.
Using a central social media scheduling system is crucial here. This way, you can see all the scheduled posts immediately.
If you use too many tools, there could be tweets scheduled on Tweetdeck by one social media manager or directly through Facebook's creator panel by another.
Check your scheduled posts and if in doubt, delete them.
If you want to keep the content, simply reschedule it for a month's time and then review them again later.
You can do that by simply editing the calendar date and time and resaving the post.
4. Listen to sentiment
Do a good sweep of your social media channels. Check for trends, breaking news and brand name mentions.
You need to keep your finger on the pulse and monitor your social media and online reputation.
Listening to your audience is essential, and it can include monitoring sentiment across all social media, forum and web channels.
Doing so will answer the following questions:
Have other social media users got involved in the crisis?
Has the media picked up on your crisis and to what extent?
What's the public sentiment? For or against you?
How many people are talking about this?
What are people saying about you? Are their comments true?
One of the biggest pain points for brands is missing the conversation or complaint threads.
Use Agorapulse to set up monitoring on key phrases and words associated with your crisis.
You can easily listen to sentiment using your Agorapulse panel.
All plans include unlimited keyword and hashtag tracking on Twitter and YouTube.
On Instagram, you can track as many hashtags as allowed by the Instagram API.
Let's say that the Tylenol crisis were to happen now. You could set up a new search to monitor potential hashtags. Once you know the actual trending hashtags people are using, you can add them to the list.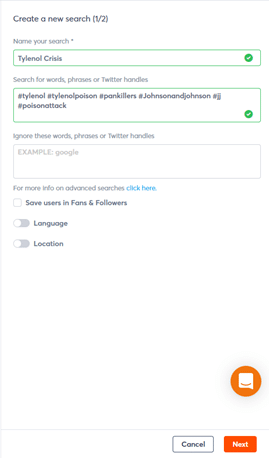 We are pleased to say there are 0 results showing for that particular search!

You can monitor hashtags for your brand name or anything related to an incident or product.
(Actually, this is a great thing to be doing anyway.)
Include hashtags, words, phrases and usernames.
Once you've created the search, sit back and relax because it will keep reporting until you cancel it.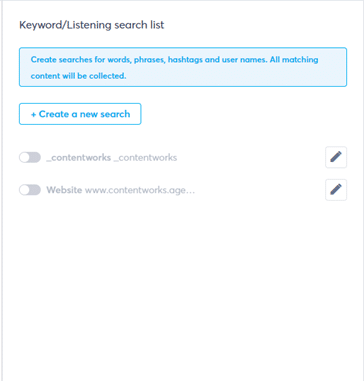 OK, don't really relax.
The Agorapulse listening feature automatically captures public mentions of your Instagram business profile. You can also add other keywords or hashtags for regular monthly monitoring and then PR crisis monitoring.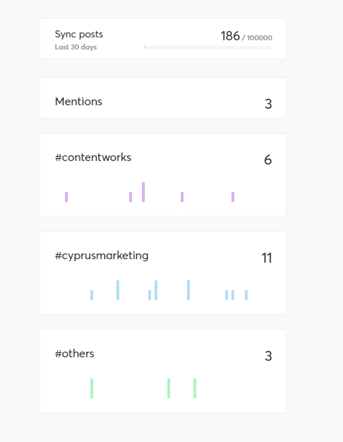 Agorapulse's mobile app lets you continue to listen when you're on the go. If you're in the middle of a social media crisis, you're going to want to do that.
5. Quickly agree on the action you will take
Once you have listened to audience sentiment and fully understood the message you will put out, you need to communicate it fast. Not only to customers but to social media users.
Deciding on your channels is key here.
Include:
Customer email blast
Social media updates
Website changes
Blog updates
Third-party press releases
Updating banner / online ads
Crisis Management Tip: If your crisis is large then make one well-thought statement on your chosen social media page(s) and pin it. You can schedule a statement to go out on all your channels at once using Agorapulse. Doing so is actually a good idea in a PR crisis. It will ensure all your messaging is consistent and social media users see updates at the same time on your channels.
To do this, simply select all your channels and write your content.

You can preview how it will look on each channel by tapping on the icon on the top right above the preview box.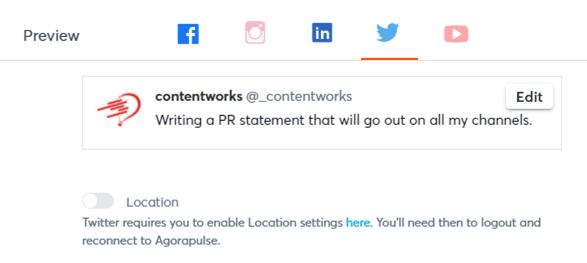 6. Pull off reports on customer sentiment
If you're experiencing a PR crisis or managing one for your clients, then you'll want to utilize the Power Reports feature by Agorapulse.
Power Reports allow you to showcase brand mentions, engagement, brand awareness, replies and much more.
You can break reports down into very precise time frames and compare them to previous days, months or even years.

The brand awareness score is a great indicator of your channel mentions or shares.
Below you can see an example from Facebook. A sharp increase will indicate additional marketing activity, a new product or additional PR (either positive or negative).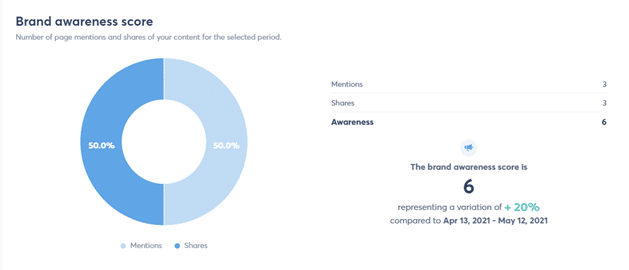 Quick Tips for Your Crisis Management Plan
Understand that sometimes it's best to say nothing when you're riding a PR crisis wave.
Be sure about the information you're providing to avoid causing more distress or confusion.
Provide useful resources that customers can use immediately.
Prepare standard answers for common customer questions. (That doesn't mean they should be copy and pasted, but they will provide a framework for your team to respond.)
Monitor the situation and breaking news closely to stay aware of the latest developments and how it could impact your brand and customers.
If you can apologize, do. Often, apologies are frowned upon by brands that deem them an admittance of guilt and the gateway to a potential lawsuit. However, if the crisis is smaller, a complaint about a delivery delay, for example, then say you're sorry!
Laugh at yourself. Where appropriate, don't be afraid to mock yourself. Remember when KFC ran out of chicken and ran those FCK ads instead? "A chicken restaurant without any chicken. It's not ideal," joked the ad. "It's been a hell of a week, but we're making progress, and every day more and more fresh chicken is being delivered to our restaurants." KFC fully utilized crisis hashtags to drag victory from the jaws of defeat and win back the love and support of the British people. The campaign even won awards at Cannes Lions International Festival of Creativity!
How to Safeguard Your Brand's Reputation
Reputation management shouldn't start when you have a PR crisis. It's something you can do all year round as it helps you to stay connected with your fans via social media.
Here are some of the other reasons to monitor your brand using Agorapulse.
1. Spy on your competition online
Social media listening allows you to listen to conversations around similar products or even your competitors! You will be the first to know if they launch a new product, a new campaign or even land themselves in a PR crisis.
You can easily set up rules like this one for each of your competitors. You can then choose to Review, Assign or Delete. If a competitor is making libelous claims about your products, you might want to assign it to your legal team, for example.
(Disclaimer for the screenshot below: I'm not competing with Agorapulse!)
Tip: If your company name is difficult to spell, include deliberate and common misspellings in your monitoring.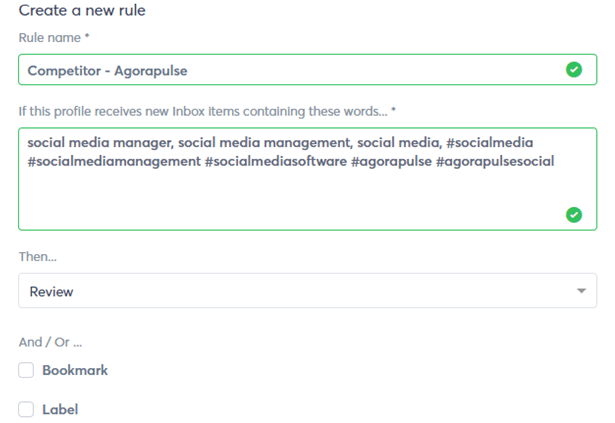 2. Watch out for unhappy customers
Bad reviews can and do happen. So do complaints on social media.
The truth is most won't turn into big PR disasters. But failing to spot them quickly can negatively impact your brand's reputation.
You might be thinking that customers will tag your brand if they are not happy, but that is often not the case.
Monitoring your brand name means you can quickly provide a meaningful service to customers.
3. Enjoy being social
The whole point of social media is to enjoy interacting with other people. Listening allows you to share good comments about your brand.
Retweeting them also helps to improve your brand's image and overall reputation. Kudos to @YorkshireTea whose social media team actively monitor trends, comments, complaints, and fun stuff!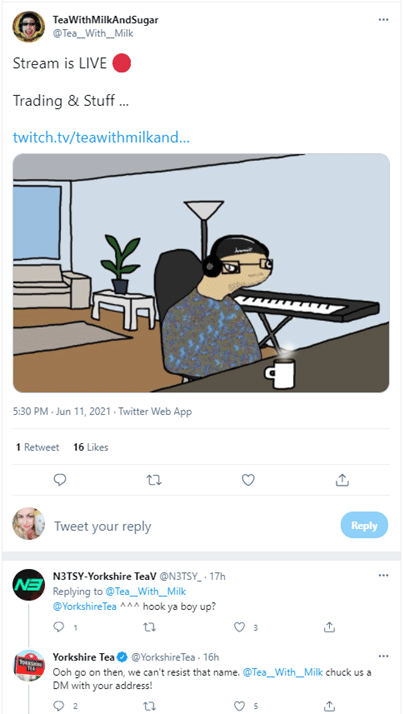 And @Nescafe sharing the love on Twitter!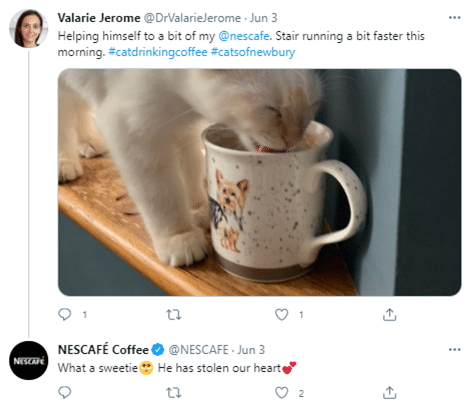 4. Manage your social media influencers properly
If you're working with micro- or macro-influencers, then you need to be sure you manage your agreement with them to safeguard your brand.
Dunkin' Donuts spokesman Snoop Dogg landed the brand in hot water when he spent part of February threatening CBS news anchor Gayle King and calling for the release of convicted sex offender Bill Cosby.
Here are some points you should consider:
ROI
What can you expect to get for your influencer marketing involvement?
Behavior
Does your contract with the influencer cover bad behavior? Is there a get out clause or legal disclaimer?
Guidelines
Have you provided your influencer with guidelines to follow? For example, do you mind if they swear in interviews while representing your brand?
Compliance
Are there any compliance issues involved? If you work in finance, the answer is yes; all posts must pass through your compliance team before they're published.
Remember: An influencer can elevate your brand to the stars or leave you scrambling in the gutter. Aim to safeguard risks as much as you can.
Crisis Management Plan: What Not to Do
Along with a list of correct things to do in a PR crisis, there are also things that you really shouldn't do.
Not only are these actions bad practice generally, but they might also make your crisis worse.
If your CEO suggests any of these, politely lock your CEO in an office with herbal tea for an hour.
Don't delete critical comments
It might be tempting to go down that route, especially in a moment of panic. But deleting critical comments or in fact, any comments, can make a social media crisis much worse.
First, social media users often screenshot their comments, so they can prove that you have deleted them. That looks bad for your brand and indicates that you're hiding something.
Second, by deleting comments, you're driving those commentators elsewhere. They might go to Reddit or other forums where you cannot guide the dialog.
Don't block anyone who disagrees with you
The only time it's OK to block fans is for antisocial behavior that goes against your page or channel rules. That could be racism, sexism or homophobia, for example.
But having an opinion on your brand or crisis is totally allowed. And this is where great social media managers will want to listen and gauge sentiment.
Don't argue on threads
Being argumentative when acting as the voice of the brand or a key brand spokesperson is not a good idea.
Maintaining professionalism, your brand voice and your great customer service is key.
If you have made a statement about your crisis, you should expect fans to voice opinions or engage in heated debates.
In Conclusion
If you're a large organization, you will want to utilize the Agorapulse dashboard for monitoring your social media accounts and safeguarding against a PR crisis.
Media monitoring can be defined as monitoring a range of media outlets such as search engines, forums, TV, radio, to find relevant mentions.
Now that you have a crisis management plan in place, check out Agorapulse for free and discover all the great monitoring, scheduling, listening and reporting tools we mentioned.