Partnering with social media influencers can help you grow your brand and build a community of engaged fans.
But what's the right way to find Instagram influencers for your business or clients?
And how can you transform those initial connections into real relationships?
Let's look at effective ways to connect with influencers on Instagram and strategies for forging successful partnerships on social media.
Why Partner With Instagram Influencers?
Instagram influencers are social media users who have used their expertise or popularity to cultivate engaged audiences. They exist in almost every niche, from fashion and beauty to food and fitness.
They might be celebrities you know from music or TV, or they might be public figures that probably wouldn't exist without social media.
No matter how many Instagram followers they have, influencers can leverage their credibility to drive their audiences to act every time they publish content.
As a social media marketer or a chief marketing officer (CMO), you want to take advantage of every opportunity to promote your company or client's brand. Working with Instagram influencers gives you an extra weapon to add to your social media marketing arsenal.
Here's how Instagram influencers can benefit your brand.
Cost-effective promotion
Have the results from your organic campaigns plummeted, or do you need to limit your advertising budget?
Because organic reach is declining on Instagram and the cost of advertising on social media can add up quickly, promoting content via influencer partnerships provides another option for meeting your marketing goals.
Authentic content
Does your branded content come across as too salesy? Unlike branded posts and advertisements, influencers produce content that delivers their sponsors' messages in a less invasive way.
After all, Instagram influencers usually appear to their followers more like good friends than self-serving brands.
That means their word-of-mouth marketing strategy comes across more like a reliable recommendation and less like a sales pitch.

Trust-building opportunities
Because Instagram influencers appear genuine, audiences can trust them even when they use Instagram's paid partnership feature.
When you want to build trust and drive results for your company or social media clients, influencers can help as long as you choose your partners wisely.
15 Tips for Finding Instagram Influencers
Working with influencers on Instagram can be hugely helpful for your social media strategy.
Yet it's not always easy to partner with influencers.
Challenges of finding influencers on Instagram
The right ones can be hard to find. Sure, celebrity influencers have a way of standing out and making themselves known. But you'll have to do some digging to find top Instagram influencers who are more approachable, more affordable, and more appropriate for your niche.
They're difficult to vet. What makes an influencer good at what they do anyway? It's not easy to know if you should seek out influencers with huge audiences or if you should be paying more attention to social media metrics like engagement and conversions.
It's tough to assess the value they offer. Is it really worth investing hundreds or thousands of dollars in influencer marketing? If you're not sure what you can get out of a partnership, it's hard to gauge value accurately.
Use the tips below to address these issues and find the right Instagram influencers for your brand.
1. Outline goals clearly
It's best to approach influencer marketing campaigns like you would any social media campaign.
Start with a clear goal so you can produce the best results and generate the greatest value.
Talk with your team or your clients to determine what you want to achieve with influencer marketing.
Some common goals include:
Growing your audience. Increase your following by partnering with a brand ambassador who can promote your business at every opportunity.
Improving brand awareness. Spread the word about your brand by partnering with an influencer for a giveaway or a product review.
Driving more website traffic. Get more people to visit your site and view your content by sponsoring a blog post about your brand or product.
Generating new leads. Add prospects to your sales funnel by having an influencer promote your subscription link.
Increasing revenue. Make more sales by asking an influencer to share a promo code or share a seasonal special with their audience.
Once you decide on goals, your team will have a better idea of the type of campaign you should run.
As you start your search, you can look for influencers who have experience with your preferred campaign type.
2. Know your budget
Influencer marketing costs vary widely. Campaigns can cost anywhere from under $100 to over $10,000.
Although some creators may accept products in exchange for content creation, most influencers have standard rates for brand partnerships.
So how much do Instagram influencers make—and more importantly, how much should you budget for a partnership?
Pricing often depends on:
Size of the influencer's following. Nano-influencers typically charge the least. Celebrity influencers often charge the most.
Length of the campaign. One-off campaigns are generally more affordable, while long-term partnerships cost much more.
Scope of the campaign. A few Instagram posts often cost less than a complete package of blog posts and cross-posting across social media.
Whether the influencer has an agency. Working one-on-one with an influencer tends to be cheaper than going through an agency team.
Before you begin approaching influencers or pitching partnerships, decide what you want to spend.
Start by reviewing your social media marketing budget to confirm what your team can afford to spend on a campaign.
Keep this information on hand as you narrow down your list of potential brand partners. Because influencer rates vary so significantly, you won't know how much your preferred creators charge until you ask.
3. Consider your audience
As you start searching for new brand partners, consider your audience. Which influencers do your best customers already follow?
There's a good chance that these influencers would be a great fit for your brand.
To use this strategy to create a list of potential partners, start by defining your ideal customer.
If your brand doesn't already have a buyer persona, you can build one by compiling these characteristics:
Basic demographics, including age range, gender, and relationship status
Location, whether you serve a local area or an entire region or country
Professional field, title, and training
Personal interests and behaviors
Pain points, challenges, and goals
Then take your buyer persona and find a few social media followers who fit this profile perfectly. Scroll through the people they follow. Make note of the top Instagram influencers they like.
Use these questions to decide whether they might be a good fit:
How large is their following? Is it big enough to reach your goals?
What industry or niche do they specialize in? Is it similar to your brand's?
Does their content align with your brand values?
Do they have a history of partnering with brands?
Don't have the time to research the influencers your audience follows? Just ask your followers directly.
Create a social media post that asks about favorite Instagram influencers and let the recommendations roll in.
4. Search for influencers on Instagram
A simple Instagram search can be more helpful than you might think, especially when you're just getting started on your influencer marketing journey.
In the Instagram app, go to the Explore tab and search for keywords related to your brand or industry. If you work with a skincare brand, for example, your search might start with "skincare."
Browse the Top tab to see the most popular content related to your search. Spot a creator whose content you like? Look through their profile to see if they could be a good fit.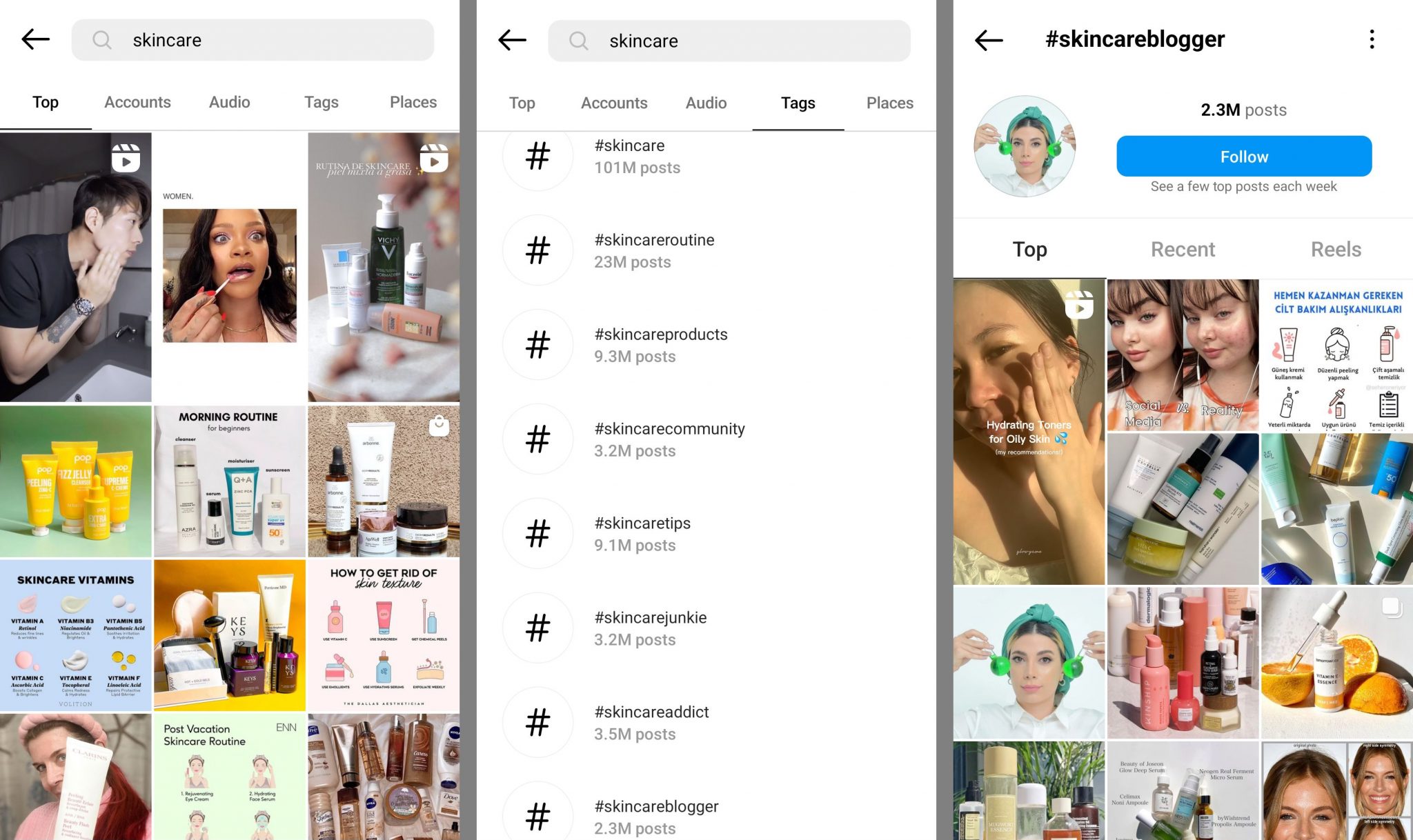 Then return to your search and navigate to the Tags tab. This tab is ideal for finding hashtags that are popular with creators in your niche.
For example, the #skincare hashtag has over 100 million related posts. That's a lot of content to sort through—and it may have a low signal-to-noise ratio.
Scroll down to find some hashtags that are a bit less popular yet still relevant to your niche. For example, #skincarejunkie and #skincareblogger could be great for finding popular creators.
You can tap to view top content for any of these hashtags. Then use the same workflow as above. Find content that looks like a good fit for your brand and tap to review the creator's account.
5. Research relevant media outlets
Influencers who excel at marketing brands often excel at promoting themselves as well. You're likely to find rising stars and established figures alike in media outlets relevant to your industry.
To find them, browse or join:
Newsletters
Blogs
Facebook groups
LinkedIn groups
Podcasts
Clubhouse rooms
Conferences
Networking events
Keep an eye out for influencer content from these outlets. Add any potential partners to your list. When you research them, use the list of questions above to determine if they're a good fit.
Want to streamline your research process? Google "top [your niche] influencers" and review the top results.
If you're part of a large enough industry, the top results might even be lists of the biggest influencers. You can use these lists to compile a list of potential partners to check out and contact.
6. Track engaged followers with a social media CRM
In many cases, you don't have to look far to locate the top Instagram influencers for your brand.
If you've been building your Instagram account for a long time, you may have already attracted knowledgeable influencers.
To find influencers who follow you, start by tracking interactions with your most engaged fans.
With a social media solution like Agorapulse, it's easy to keep track of both engagement and followers. Agorapulse automatically adds every user who messages your brand or comments on your posts into a customer relationship management (CRM) tool.
To find them, go to the Fans & Followers tab. At the top of the list, you'll spot the people who engaged with your brand most recently.
Next to each user's name, you can see the number of times they've commented on your content or messaged your brand. You can click on one to see their entire engagement history.

To view the people who engage with your brand the most, click on the Top tab. Agorapulse automatically ranks users by engagement, resulting in a list of top followers for your brand.
Do you want to get a better sense of a user's content or audience? Click on their username to see their profile on Instagram. When you spot followers who have influencer potential, star them in Agorapulse to add them to your Favorites list.
When social media users engage with your brand, Agorapulse automatically gives them an Engaged or Ambassador label.
But you can also add custom tags to label people as superfans, potential influencers, current partners, or anything else.

Do you want to add more detailed notes about your brand's top fans? Add internal notes in your social CRM to keep your team on the same page.
7. Use a brand monitoring tool
Is your brand creating a lot of buzz?
If so, there's a good chance that customers and fans are talking about your brand on social media. That means you might find potential influencers in your mentions.
To find and track them in Agorapulse, check the Listening tab. Use the dropdown menu to view mentions or Story mentions only. Everyone who mentions your brand automatically appears in your Fans & Followers tab, so you can add labels and notes to keep track of each user.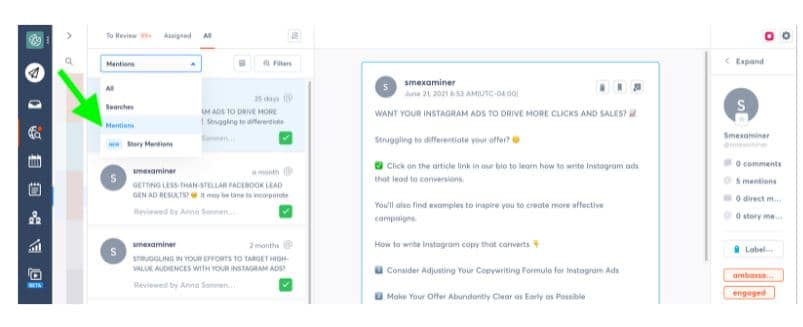 Do Instagram users often talk about your brand without using your @username or mentioning your brand directly?
You can use Agorapulse's brand monitoring tools to track your choice of branded or campaign hashtags.
Add these hashtags to your social listening search and then check the Listening tab to make sure you never miss an indirect mention. You can filter the results by any hashtag you're following to review both content and creators efficiently.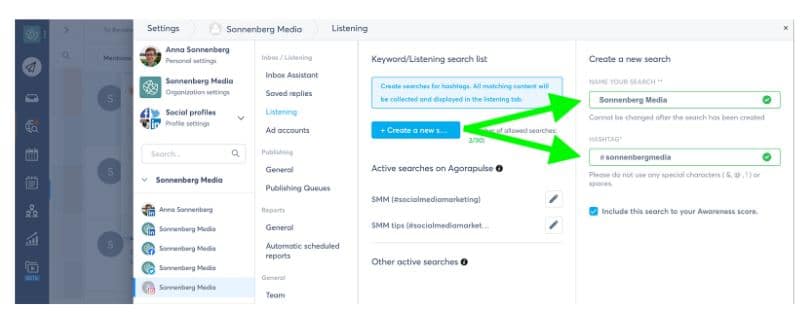 8. Follow hashtags to find popular content creators
Hashtags make discovering high-performing content and popular accounts on Instagram easy. They can lead you to influencers, too.
What's the best way to follow Instagram hashtags?
First, find the right hashtags for your industry:
Type hashtag ideas directly into the Instagram search bar. Then scroll through the list to see the most popular ones, either with your followers or across Instagram.
Alternatively, you can use a paid app like Hashtagify. This hashtag search tool shows how popular a hashtag is, including if it's trending or losing steam.
Following hashtags directly on Instagram can certainly make your feed more interesting. To use this method, tap Follow directly from the hashtag page in the Instagram app.
However, this isn't the most efficient option. You'll miss a lot of content with relevant hashtags, so influencers with the most potential could escape notice.
Instead, use Agorapulse as a social listening tool. First, add relevant hashtags to the social listening tab.

Then monitor your social listening feed to find engaging content and popular creators. You can click to view any content on Instagram, where you can like or comment on the post or follow the creator.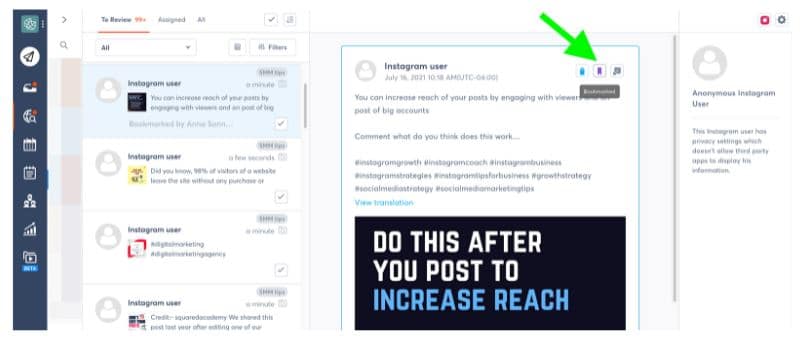 You can also bookmark or label social listening content to track it more easily. For example, you might add a "potential partner" label to interesting content on the Listening tab in your Agorapulse dashboard.
You don't necessarily have to take the time to review each post or creator the moment you spot it in your listening search. Instead, you can review content and creators in batches.
When you're ready to review the items you saved, just filter your social listening feed by bookmarks or labels so you can quickly find and evaluate potential partners.
9. Identify key figures by using dedicated influencer marketing tools
Are you unsure which hashtags to follow or how to narrow down your options?
Social listening and Instagram searches are helpful if you have an idea of what you're looking for in a brand partner.
But if you really aren't sure where to start or how to filter your searches, a dedicated tool can be a game changer. Use an influencer search tool to find the best content creators in your niche.
Some of the most popular options include:
You can also use some of these tools to administer your influencer marketing campaigns. That way you can pitch influencers, make payments, and measure results with a dedicated platform.
10. Get to know nano- and micro-influencers
It's easy to assume that accounts with massive followings are better suited for influencer partnerships.
But remember that it isn't always about who has the most followers on Instagram.
Finding the ideal brand partner often requires much more than looking for creators with the biggest audiences.
A mega-influencer or celebrity influencer may be your best bet if your brand has a:
Well-established global presence or is already a household name
Broad target market that would appeal to a celebrity's wide range of followers
Significant goal, such as growing your audience by millions of followers
Substantial budget that can accommodate celebrity influencer pricing
If these factors don't apply, smaller accounts are likely to be better matches for your brand. Don't automatically write off micro-influencers, or Instagram accounts with under 100,000 followers, if they have great engagement and specialize in your niche.
Instagram micro-influencers often have more personal connections with their followers, thanks to their smaller audiences. As a result, their audiences often view them as more genuine and their content as more authentic.
That means micro-influencers' followers are more likely to heed their recommendations. As a result, campaigns featuring micro-influencers may generate better results. They're typically much more affordable than celebrity campaigns, too.
To work with a partner who has an even more engaged following, consider nano-influencers. These Instagram figures have audiences of 1,000 or less, making them ideal for brands with smaller goals.
11. Check out the competition
Are your competitors attracting tons of new Instagram followers every day? Are they generating the level of engagement you'd love to see for your brand's profile?
It's always a good idea to monitor what other brands in your space are doing on Instagram. By keeping an eye on the competition, you can get inspiration for your brand's own campaigns.
Pay attention to the accounts that comment on everything your competitors' post. Take a look at the Instagram users who tag your competitors in user-generated content (UGC).
Naturally, the people who like your competitors' products or services may like yours, too. By following and engaging with them, you can take the first steps toward building a relationship and vetting them as influencers.
Just take care not to attempt to steal away influencers who are or who have already worked with your competitors. Their followers may not be as receptive to another brand in the same space, and their content may come across as inauthentic. That means your campaign may not generate the results you want, causing a low return on investment (ROI).
12. Review influencer metrics
Once you find influencers you'd like to partner with, take time to analyze their metrics. Even if you like an influencer or you have a good feeling about their work, metrics can tell you if they're really a good fit and if they can help you get the results you want to see.
Some of the most important influencer metrics to check include:
Audience size. How many followers do they have on Instagram? Is their audience size appropriate for the goal you want to achieve?
Engagement rate. Is their Instagram engagement rate average or significantly above or below typical levels?
Location. Do they live in or market to a location that aligns with your service area?
Niche. Do they specialize in your brand's niche, and do they share your brand's values? How about their followers: do they have an interest in what your brand offers?
Audience demographics. Does their audience's gender, age range, and location match up with the market you want to reach?
Sponsored post ratio. How many sponsored posts do they publish compared to organic content? Is their audience already used to sponsored content? Are they tired of seeing it?
In most cases, it's easiest to do this research directly in the Instagram app. There, you can check creator's bios, scroll through their grids, and tap to view engagement.
Although you won't be able to see some metrics—like shares, saves, or sticker taps—you can see public data like comments and likes.
As you review these metrics, remember that engagement is more than a numbers game. Generic comments can pad out influencers' numbers without adding much value. In con
13. Strike up a mutual relationship
Influencer marketing relationships can certainly be one-sided. However, they tend to work better when they're mutual.
This is especially true if you are working on a nano- or micro-influencer marketing campaign. What makes these different is highly engaged followers, as these creators keep the conversations flowing and constantly communicate with their fans. As a result, they expect the same from the brands they partner with.
To forge a relationship that benefits your brand and your partners, make a point of communicating regularly and interacting with your influencers' content:
Follow the influencers you partner with on Instagram. Engage with the content they post, even if it isn't directly related to your brand. Show support via likes, comments, or mentions in your Stories.
Check in with influencers regularly, even if you don't have an active campaign. Find out what they're working on to get ideas for your next campaign. Share your own ideas for future campaigns.
You can easily manage conversations with brand partners from your Agorapulse dashboard. Every Instagram DM automatically appears in your Agorapulse inbox—and you can read and respond directly from the dashboard.
From the inbox, you can use saved replies to respond quickly or use labels and bookmarks to reflect updated statuses. You can also add internal notes so the whole team knows where you stand with each brand partner.
When you're both invested, your partnership is likely to last longer and produce better results for everyone involved. Fortunately, keeping track of influencer mentions and other engagement is easy with Agorapulse's social CRM.
14. Work out campaign details
Once you've established a relationship with a potential brand partner, you can bring up the idea of a partnership whenever you're ready. It's often easiest to do that via DMs, especially if you already have an active conversation.
Any creator you contact is likely to have a few common questions.
Here are a few things you should be prepared to talk about:
Budget. As we covered above, you'll need to have an idea of what your team can afford. Some influencers may prefer to craft a package based on your budget, while others may have standard rates.
Promotion. What kind of partnership would help your team reach its goals? Do you want to promote a new product, raise awareness of your brand, or grow your audience? Be ready to guide creators through what you'd like to accomplish.
Scope. Are you considering a single Instagram Reel or a series of carousel posts? Influencers can often share their past results to give you an idea of what you may be able to accomplish with one or more sponsored posts.
Timeline. Do you need to schedule the campaign in conjunction with branded efforts? Is there an ideal timeline for your promotion? Make sure you understand the influencer's availability so you can time the campaign appropriately.
Assets. Any influencer you work with should develop creatives like images and videos independently. But you may need to provide them with talking points about your brand and products or send them links to include in their content.
15. Review campaign results
Instagram makes it relatively easy to access metrics for influencer partnerships—as long as you set up the tools in advance.
In the Instagram app, go to your brand's account settings and select Business. Tap Branded content and then select Approve content creators.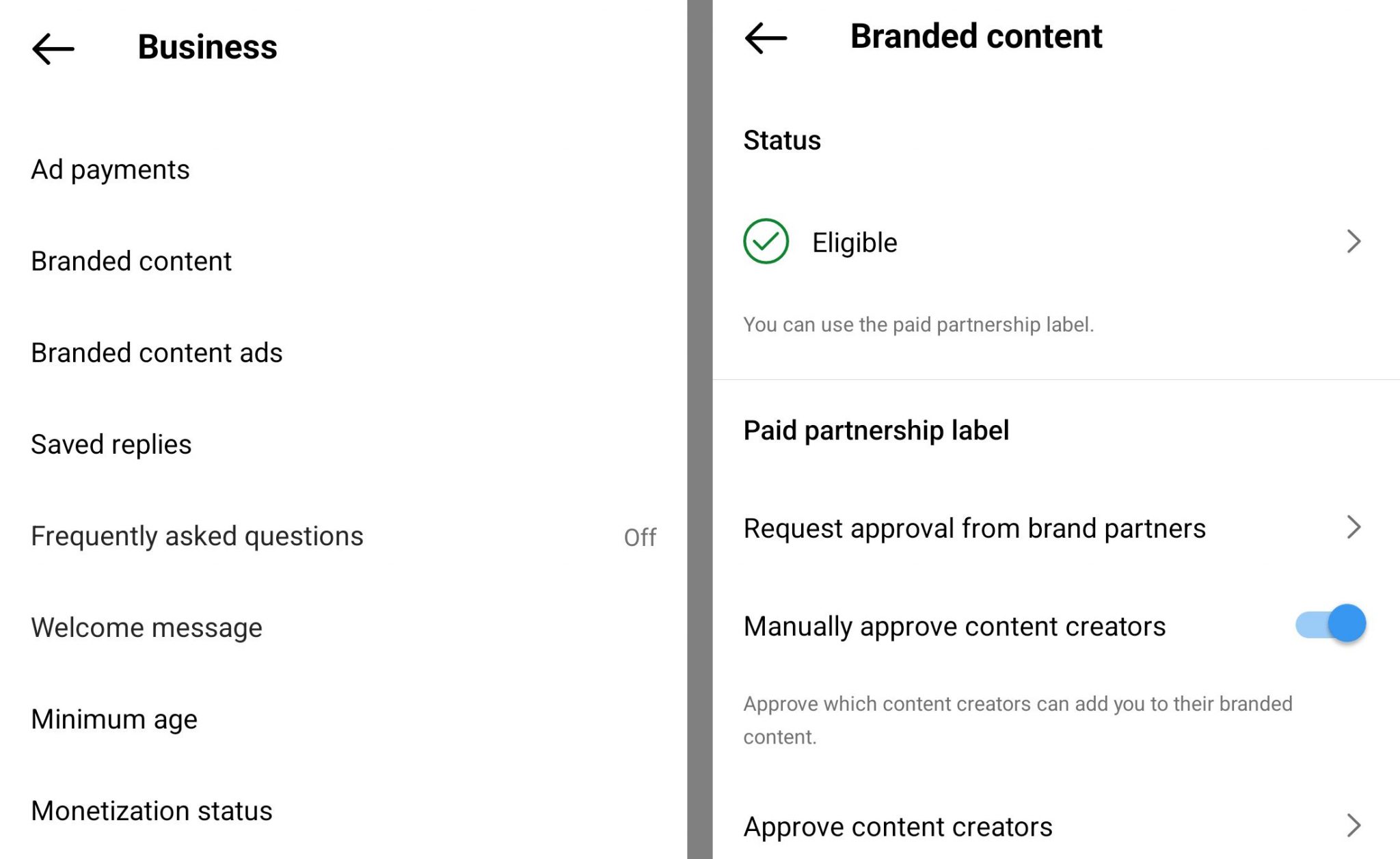 Use the search bar to find and add all the influencers you plan to partner with. When they post the content they've created for your brand, they'll be able to add a Paid partnership tag to their Reels, Stories, or posts.
When their content is live, you can track the results in Creator Studio, one of Meta's native tools.
Open the Monetization tab and go to Meta Brand Collabs Manager to view metrics like reach, impressions, reactions, and comments.

Then recap the results with your team. Did they meet or exceed expectations? If so, you may want to consider another campaign with your brand's top influencers, as budget allows.
What CMOs Should Know Before They Partner With Influencers on Instagram
When you have a great team of social media marketers on your side, you can expect them to handle most of the details of influencer marketing.
But before you sign off on any partnerships, it's important to know what you're getting into—and what to expect.
Choosing brand partners
As a marketing executive, you want to achieve big things for your brand. But remember that for influencer marketing, it's not always about who has the most Instagram followers.
For example, you may be inclined to encourage your team to prioritize partnerships with celebrity influencers.
After all, reaching a potential audience of 1 million or more would be the ideal outcome, right?
Although every brand has its own definition of the perfect influencer, one thing is true across the board. Influencers with smaller audiences tend to have higher engagement rates. For example, micro- and nano-influencers generally have the best engagement.
Rather than focusing solely on audience numbers or engagement rates, focus on the intersection of the two. Make sure your team has a realistic idea of what kind of results they can expect from any influencer.
Your team can also use influencers' media kits as a guide. Many creators share past partnership results to help brands understand the potential value of the relationship.
Aligning marketing efforts
Influencer partnerships can help your team reach marketing goals at any time. But they often provide the greatest value when they support internal marketing campaigns or efforts.
For example, it can be helpful to align influencer campaigns with:
Growth initiatives. Does your brand's executive team want to see certain follower numbers by the end of the quarter? Running giveaways with influencers can be great for rapid growth and attracting your brand's target customer.
Product launches. If your brand's Instagram following isn't particularly large or overly engaged, organic content alone may not be enough to meet your goals. Partnering with influencers can amplify launches while producing plenty of lifestyle content.
Special offers. From limited-time discounts to holiday promotions, influencers can help drive sales. To make attribution easier, work with your team to create promo codes or unique URLs for each brand partner.
Budgeting for influencer fees
Because influencer rates can vary so significantly, budgeting for partnerships can get complicated quickly. In many cases, it's best to allocate a total influencer marketing budget—and then allow your team to choose the right mix of creators within those limits.
The majority of brands spend under $50,000 on influencer marketing, according to Influencer Marketing Hub. In fact, nearly 40% spend under $10,000—but 10% spend between $100,000 and $500,000.
If you're not sure what's reasonable for your brand, work with your team to take another look at your goals. What value do you place on new followers, increased brand awareness, or more web traffic? Work backwards from what your goal is worth to determine what you should spend on influencer marketing.
Still not feeling confident about your influencer marketing budget?
Consider starting with a small campaign to test the waters. Once your team has a better understanding of typical results, you can scale your budget for bigger campaigns.
Keep in mind that influencer fees cover just part of the expense of a partnership.
Depending on the campaign details, you may need to account for complimentary products for influencers or giveaways for followers.
Protecting your brand
When you partner with influencers, it's critical to think about more than just potential audience growth or ecommerce sales.
As a CMO, you're also responsible for protecting your organization's brand reputation.
In some cases, you can look to creators' prior partnerships as a guide. In their media kits, many influencers highlight successful partnerships or share testimonials from brands.
Does a potential partner have no history of working with brands? You may not want to be the first brand a creator works with—unless your team has a specific and convincing reason to think otherwise.
No matter how sure you are about an influencer's good intentions, it's always smart to take steps to protect your brand.
First, you'll want to make sure your team knows to follow Instagram guidelines for sponsoring giveaways and other content.
You'll also want to create an influencer marketing contract that protects both your brand and the creator. The specifics will undoubtedly vary depending on the brand, the creator, and the campaign. But with a signed agreement, you can ensure both parties are on the same page.
Influencer contracts typically outline details like:
Scope of the campaign
Timeline for publishing content
Rate for the complete campaign
Analyzing campaign results
As influencer campaigns wrap up, you'll want to work closely with your marketing team to review and analyze results. The content performance metrics that your team collects from Creator Studio are certainly important.
But it's critical not to let impressions and likes outweigh other metrics. Make sure your team monitors all essential metrics for each influencer partnership, letting the campaign goals guide them.
For example, say you wanted to grow your Instagram audience. You can track Instagram audience growth in Agorapulse, zeroing in on the dates of the campaign.
Alternatively, say you wanted to drive ecommerce sales. If your team provides the influencer with a unique URL, you can use Google Analytics to track campaign-related traffic and sales.
Use your team's insights to guide future influencer partnerships. You may find that they provide enough value to justify additional partnerships—or even allocating funds to influencers rather than social advertising.
How to Choose an Influencer Marketing Tool for Your Organization
Looking for the ideal platform for finding and managing Instagram influencers? Take a look at a few factors to consider as you build out your organization's influencer marketing program.
Search features
When you first begin building an influencer marketing program, it's easy to assume that targeted searches are your best options for finding brand partners.
In reality, however, the top Instagram influencers for your brand are often right in front of you.

With Agorapulse, your team can easily find your most engaged followers and vet them for influencer potential. Using the Agorapulse CRM, your team can also label potential brand partners and add internal notes to simplify tracking.
Messaging features
Comments are great for connecting with potential influencers and getting on creators' radar. But once your team starts pitching partnerships and hashing out campaign details, they'll want to move to DMs.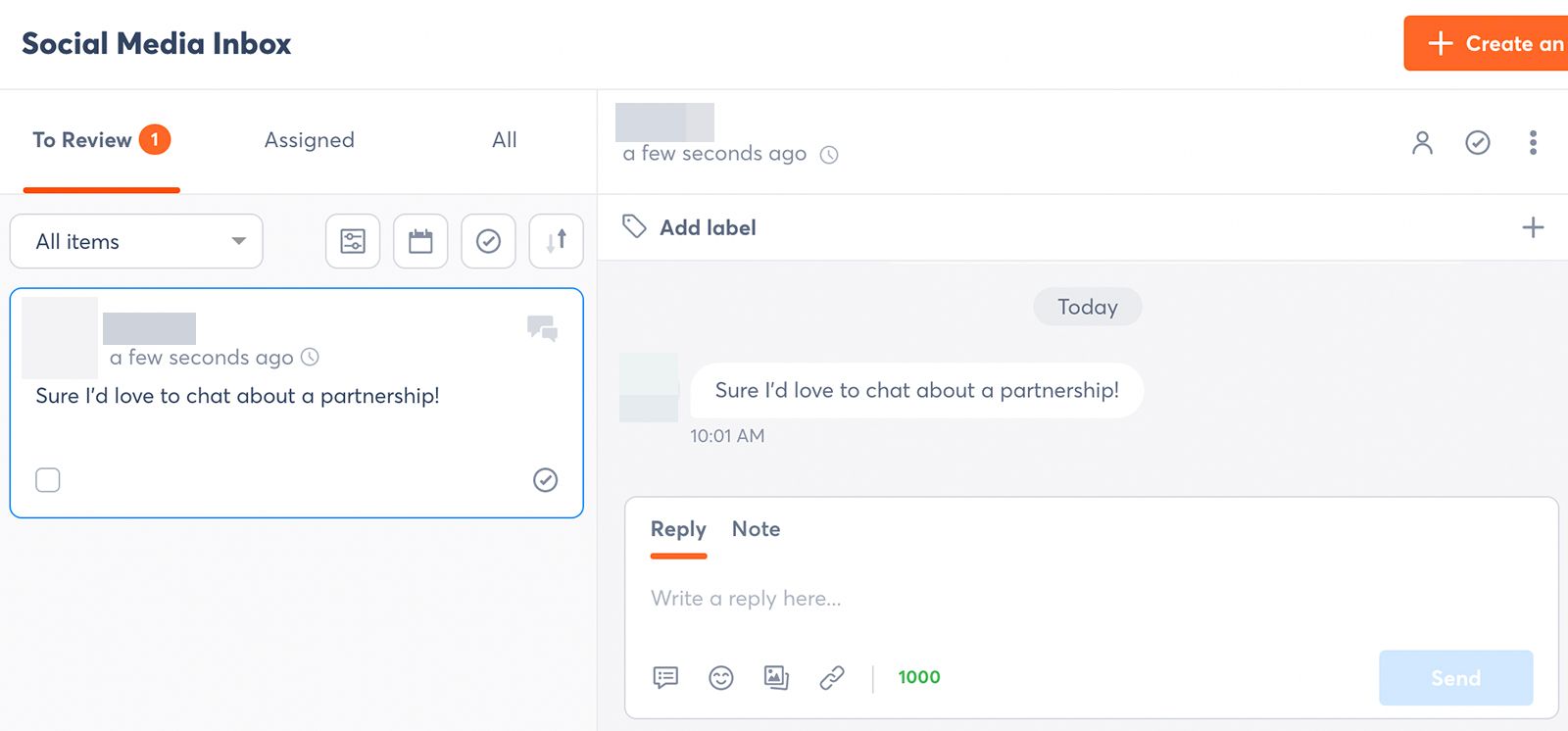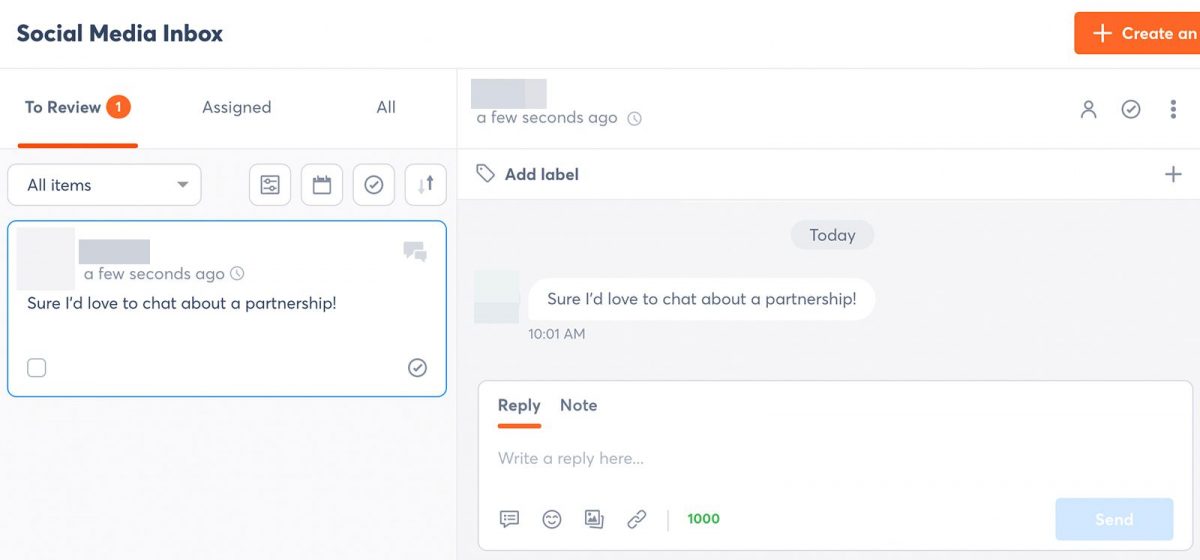 Agorapulse's social inbox automatically syncs with your Instagram DMs and comments so your team will never have to worry about missing a message.
With Agorapulse, your team can engage influencers in their comments on your brand's posts and keep conversations going in your DMs.
Collaborative features
When your whole marketing team is invested in making influencer partnerships run smoothly, collaborative features are a must. From bookmarks and labels to notes and workflows, Agorapulse makes it easy to keep everyone on the same page.
For example, your team can label conversations with potential partners to ensure that no one misses an important message. To get input from specific team members, they can also use Agorapulse's built-in tool for assigning inbox items.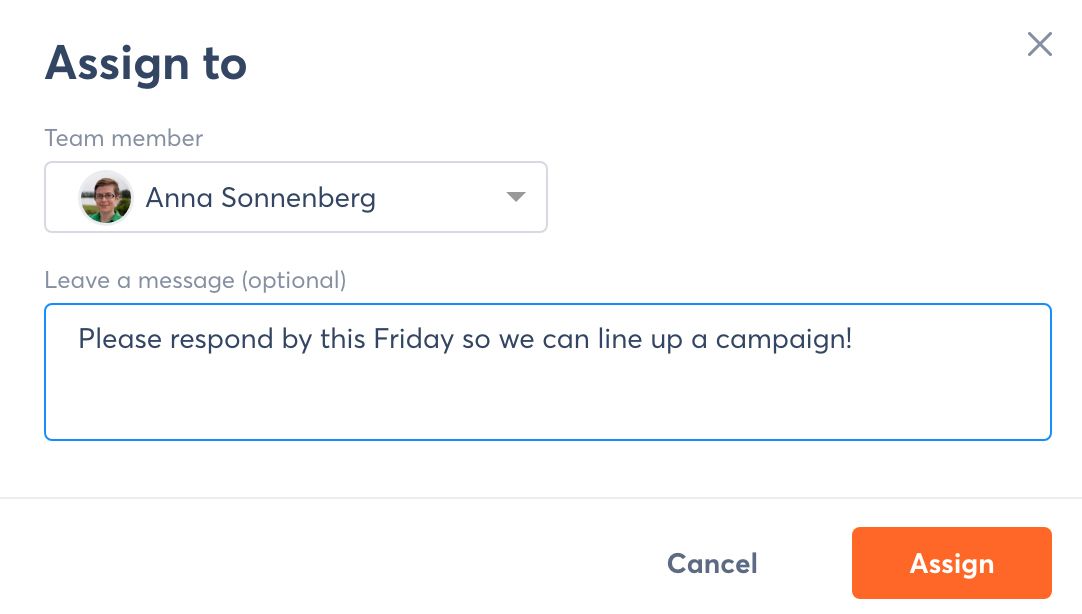 With Agorapulse, there's no need to rely on email or chat apps to have internal discussions about creators.
Instead, your team can use the internal notes feature to share thoughts and status updates.
Platform integrations
Many standalone influencer marketing tools are designed to handle every step of a campaign, from searching to reporting. As helpful as these options can be, they require your team to add yet another tool to your marketing technology (martech) stack.
To streamline your martech stack, consider a tool your team can use for a wide range of social media marketing tasks.
When you rely on Agorapulse to guide your influencer marketing plan, you can also leverage it for social media scheduling, engagement, listening, and analysis.
Wrapping Up What We've Learned About Instagram Influencers
Working with the right Instagram influencers on Instagram, you'll gain an effective partnership that enhances your social media campaigns.
From platforms like Agorapulse to hashtag and search tools, using the right tools to find influencers on Instagram can help you take your social media marketing strategy to new heights.
Take control of your social media right now! Check out our free trial of Agorapulse to help you schedule, track, and measure all your social media efforts.