[[updated January 10, 2018]]
Using Twitter for customer service is not only convenient for consumers, but also for your business. Recently Twitter has rolled out tools to make offering customer service on the network more convenient than ever. Let's look into Twitter customer service a bit more and see how your business can benefit.
Benefits of Using Twitter for Customer Service
Twitter is at the forefront of customer service, with more and more people reaching out to brands on this social channel when they have a problem or question. And there are tons of great reasons for you to take to Twitter to answer back.
Cost effective: Think of the time you'll save using Twitter for customer service instead of say, the phone.
Timely: Real time conversations provide the platform for quick problem solving or opportunity. And the faster you respond, the better.
Effective: Learn about and solve customer issues, answer questions and more, faster than ever.
Opportunities to surprise and delight consumers: Twitter lets you get into real time, real life conversations customers are having with each other. This provides great insight into what they are happy with, what they aren't, and how you can improve your business.
People are asking for it: Did you know companies are struggling to keep up with queries sent to their customer service channels? These are many missed opportunities left on the table.
More reach, retention and customers: Twitter describes communicating on the platform as "one on one to many" – this means a great interaction with your brand can be amplified to reach more than the one customer you helped. Responding to customers and resolving negative tweets tends to increase positive word of mouth activity for your brand on Twitter.
Twitter Customer Service Stats
The happier your customers are with your service the more likely they are to buy from you again, or pay a little more for your products and services.
Last year Twitter teamed up with Applied Science to create a study relating to customer service on Twitter and the airline industry. They report that "when a customer Tweets at a business and receives a response, they are willing to spend 3–20% more on an average priced item from that business in the future."
Twitter's New Customer Support Features
Recently, Twitter further embraced its customer support side by adding new customer support features. Businesses can now add a big message button and support indicators to provide a more seamless customer support experience.
These new customer support features are a great way to show your customers you care, while managing your customer's expectations of when they can hear back from you. The "provides support" feature also pops up when customers searches for your handle, begins a tweet with your username or begins a direct message to you.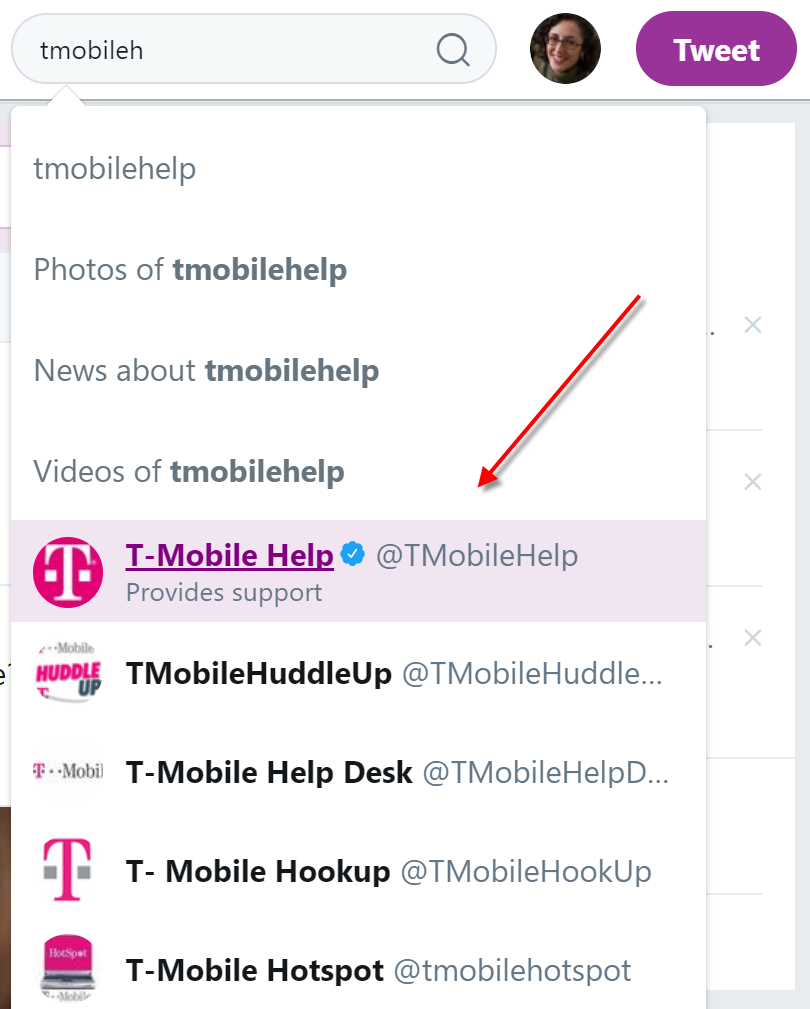 How to Use Twitter for Customer Service
Consider providing great customer service with these ideas.
Tweets. Customers asking questions or reporting issues will not hesitate to tweet at the brand they are having issues with. You can interact with customers directly, or take issues offline when necessary. One more way to use tweets for customer service is to use search parameters to find customers having issues and suggest solutions.
Quick replies: You'll have to work with a Twitter development partner to set up quick replies, but what this feature does is set up responses on an automated system to frequently asked questions.
You can also track customer conversations with Agorapulse.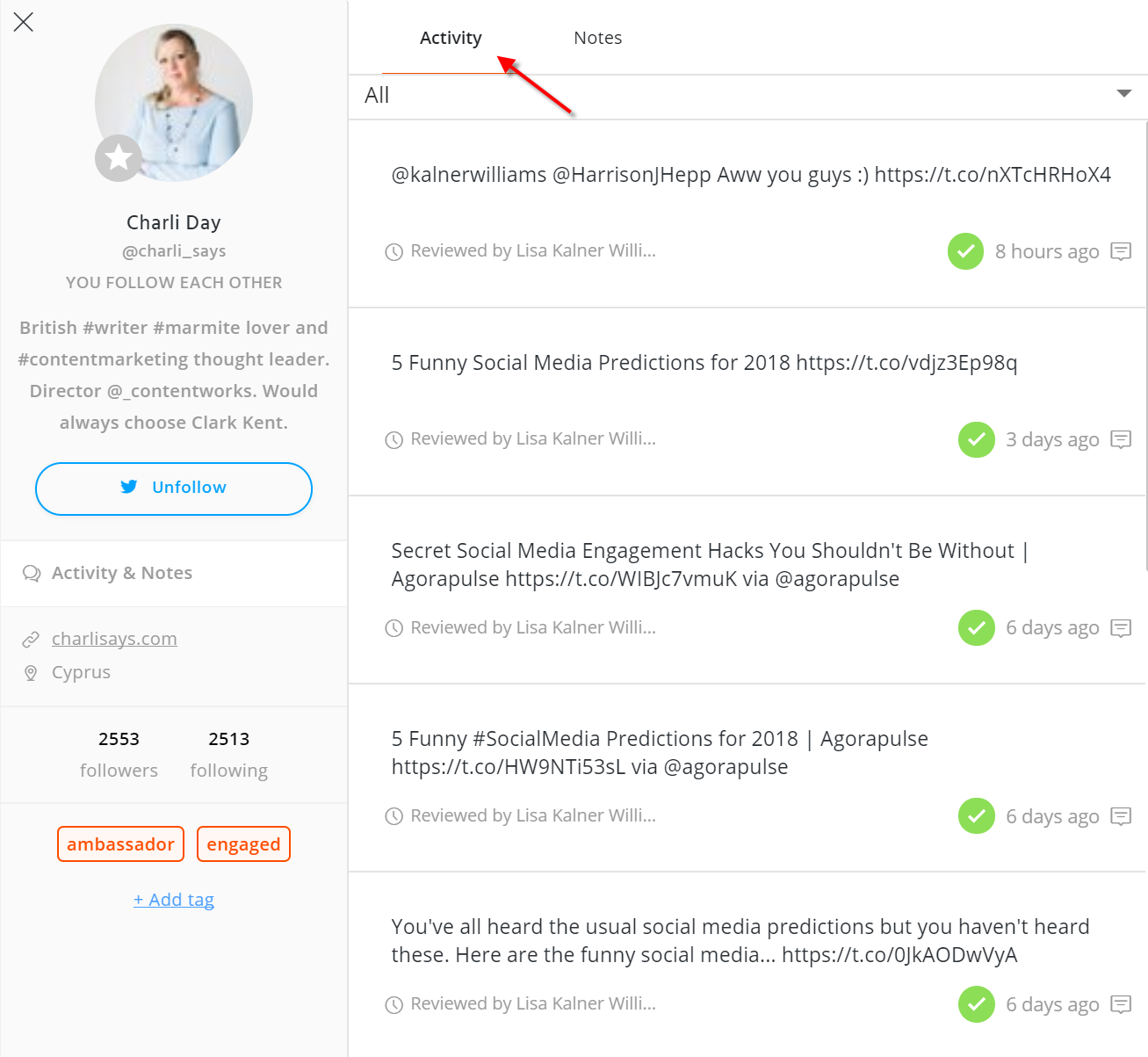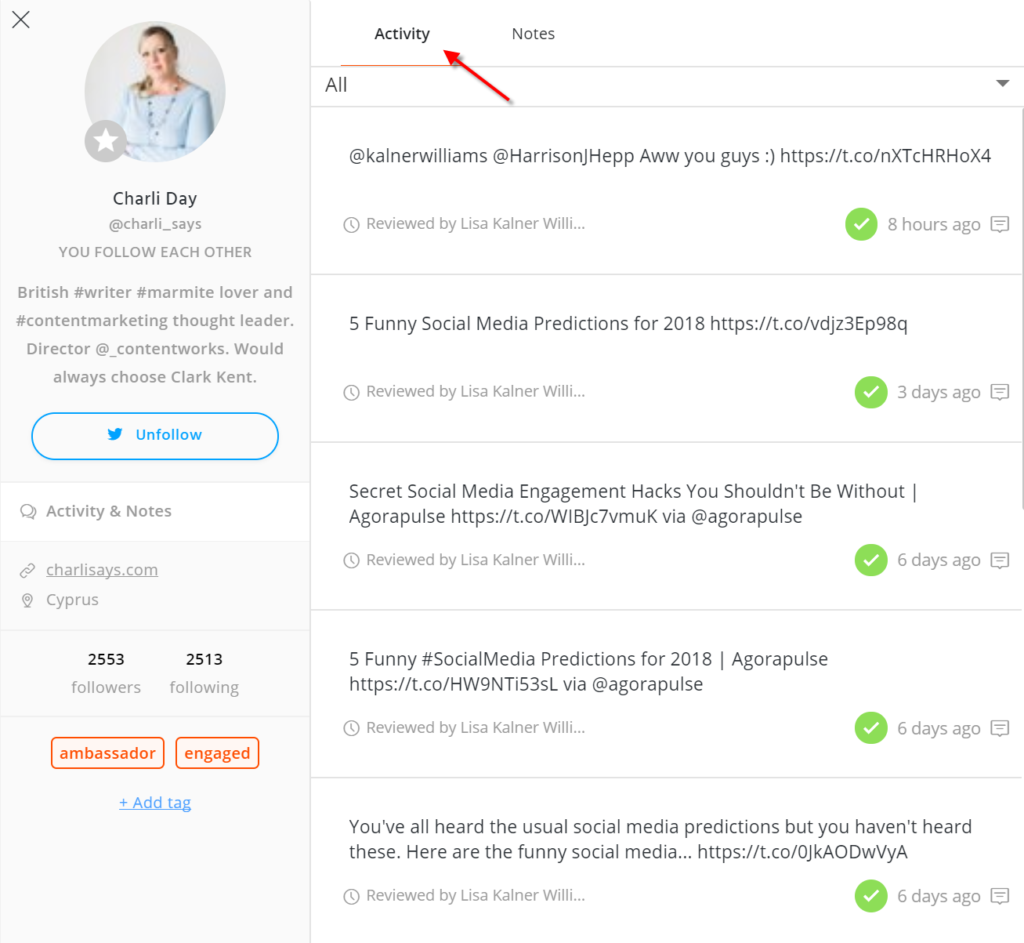 With a click or two, instantly see a Twitter user's conversational history with your brand. See who on your team has review or replied to the user's tweets and direct messages.
If you need more quantitative data, Agorapulse's reports include a customer response time section.


This information proves super handy for bosses or clients who want to know what they pay you for.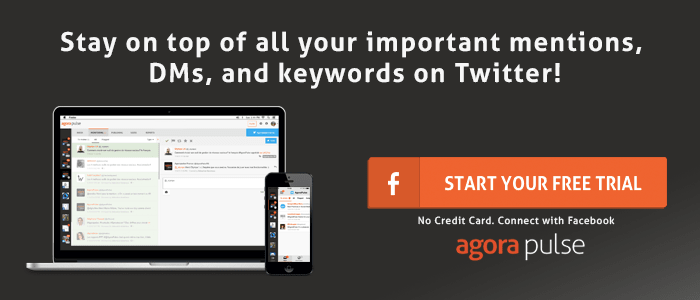 Twitter Customer Service General Tips
Set up a separate account for Twitter customer service: This isn't crucial, but makes tickets easier to sort, especially if your work with a team. All queries can be centralized, easy to access and track from start to finish.
Take complex issues offline. Remember that the sooner you address issues and take them offline the better. What do I mean by taking them offline? Offer your customer a way to speak in more detail – privately. This means sending a deep link to DM conversation or relaying a customer service email or phone number.
Respond promptly. Now a days customers expect a response quickly. Although you or your team can't be in front of the computer 24/7 make sure to check and respond to customer inquiries ASAP.
Initial each tweet. Just like you like to know the name of the customer service agent helping you on the phone, initialing each tweet when working with a team can help keep things organized. This also helps interactions feel more human.
@RocketmanMasseyThis isn't an experience we want you to have. Send a DM with your acct # so we can discuss this issue in detail. -SG

— ComcastCares (@comcastcares) October 1, 2016
Take advantage of positive feedback. Twitter is an awesome network for reach and visibility. Make sure to use this to your advantage by retweeting or featuring positive feedback within your accounts or content.
Twitter can be an excellent customer service tool. The real time nature of the social media networks makes it ideal for customers trying to get help or report issues. Using Twitter customer service also allows your brand to tap into great growth opportunities. Now that you know about all the benefits of using Twitter for customer service, what are you waiting for?