[[updated December 15, 2016]]
Do you want to know how to use hashtags on Twitter?
Hashtags are powerful tools to get attention in a noisy social media world. Using hashtags on Twitter the right way can give you better results than plain text alone. Here's how to get the most out of Twitter hashtags.
In this article, we will go over why to use hashtags, how to pick the right ones, how many hashtags to use and where they should go in your tweet, and more!
Why to Use Hashtags on Twitter
Hashtags serve many purposes on Twitter. They can add humor to a post, put more information into the tweet in fewer characters, or create an emotional connection.
Hashtags in Twitter are not just there to add humor or inspire comedians however. They also serve a purpose by connecting threads of conversation. Every hashtag on Twitter is a clickable link that allows you to see the posts of other people using that tag. It can help you be found in Twitter searches. The hashtag can also work collectively to help certain topics trend on Twitter. Trending hashtags bring even more attention to the topic (great for groups, conference organizers, and thought leaders).
[Tweet "Avoiding #hashtags on #Twitter is like mumbling at a party – you are much less likely to be heard."]
If you are hosting an event, doing a fundraiser, or trying to coordinate any other effort, talking about your hashtag strategy should definitely be a part of your overall planning. Hashtags should also be a part of your social media policy for your agency. Decide which hashtags to use, how to include them, and when to add your voice to a trending hashtag.
Getting Started with Hashtags
The first step is to choose your hashtags. You should have some that you use regularly for your business, as well as hashtags that you use from time to time.
Do a search for any hashtags that you are considering using. This is important so that you don't end up using something that is already in use, but for a very different purpose than you intend.

Analyze your own SEO. Use keyword search tools to see what people are searching for most that is related to your niche. This data will help you pick hashtags your audience are already searching.

Search for related hashtags that are already being used and see what is getting the most response from people within your target audience
Once you have identified the Twitter hashtags that will be best for your brand and goals, then you can start including them in your tweets.
The "How Many" Question about Twitter Hashtags
Unlike on Instagram, where more hashtags are usually better, there is a sweet spot on Twitter. Research shows that tweets with hashtags get twice as much engagement, but tweets with three or more hashtags get 21% less engagement. Part of this is due to Twitter's 140 character limit on tweets. Reading a whole string of nothing but hashtags is hard to read at best.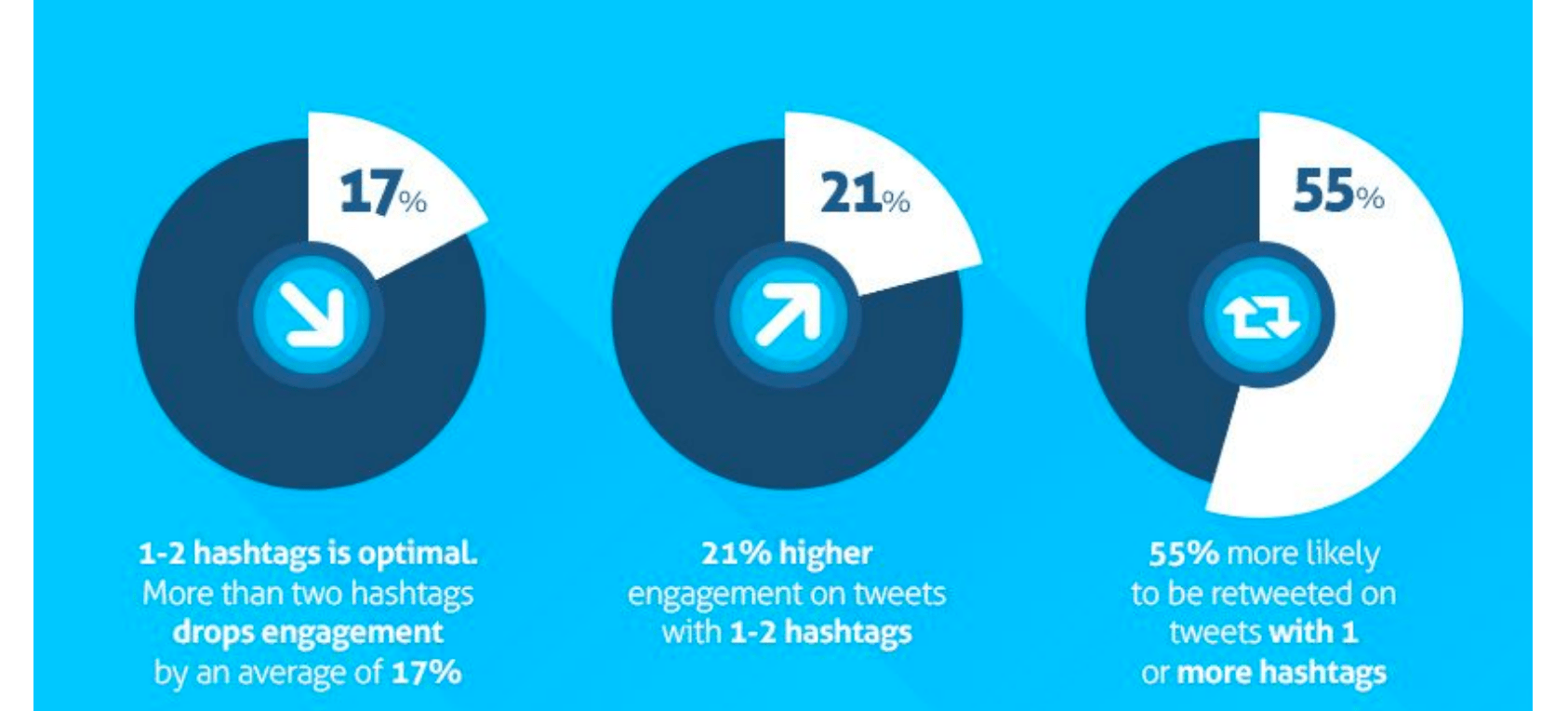 Image Source: Quicksprout
How to Use Hashtags with Twitter Chats
Another way that hashtags come in useful on Twitter is during Twitter chats. The hashtag allows people to log on at the same place and time and talk about a topic. Even if you can't log in during the chat, these events can still be useful for building your business. To participate, search for the hashtag being used for the chat. This allows you to read other people's tweets in the same chat stream. Be sure to include that same hashtag when you tweet as well so that people can find you in the conversation.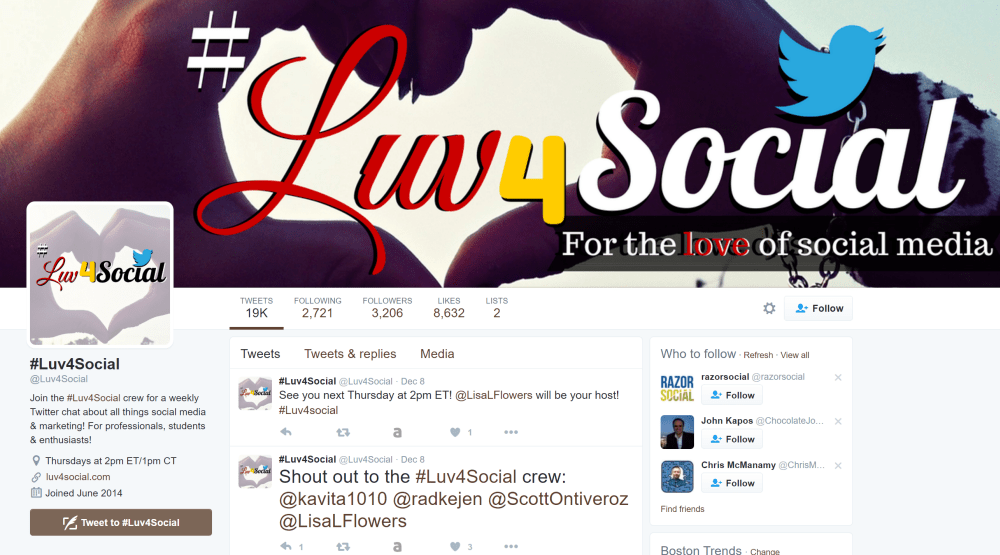 One of the advantages of Twitter chats is that it is using real time interaction. This way you know that the people and accounts you are interacting with are currently and actively using Twitter, allowing you to start conversations about topics you both care about.
How to Spot Twitter Hashtags as Trending Topics
Another way that hashtags are important on Twitter are that they highlight trending topics that lots of people are talking about. As a result, Twitter is known as an important news source that can spread the word about things sometimes before anyone else.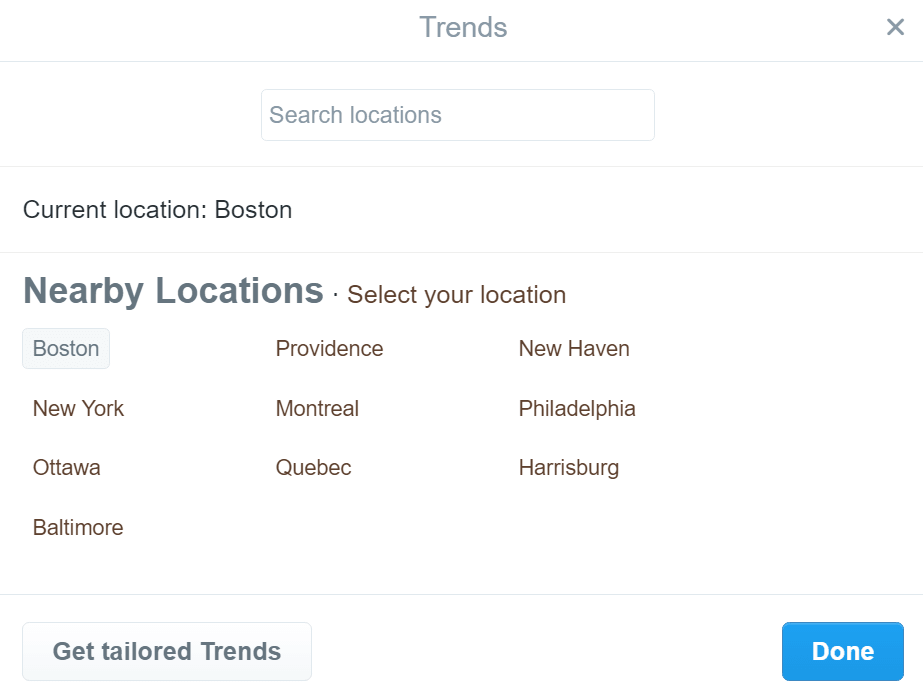 The default is that trends show up based on an algorithm by Twitter based on your location and who you follow. Any user can manually change this to what is trending in a particular location instead.
Trends are determined by the number of tweets within a short period of time, so coordinating efforts is very important if you want to get one of your hashtags to trend on Twitter. How many tweets you need to get a topic to trend depends on how active Twitter is and what the competition is.
It is important to note that Twitter has specific rules about the use of trending hashtags. Specifically, you can't "hijack" hashtags by using them in an unrelated tweet, repeatedly use a hashtag without adding value to the conversation, or use it for unrelated advertising purposes. If you do not follow these rules, your account may be suspended or deleted.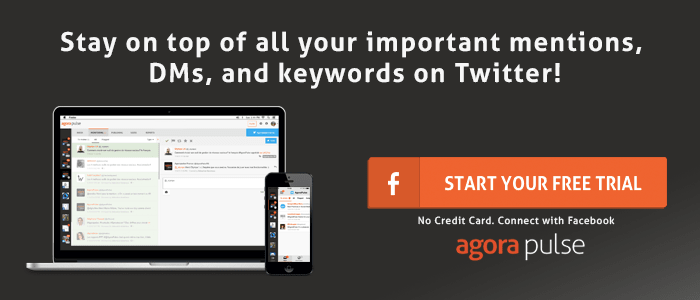 Discovering the Best Twitter Hashtags to Use
Other than trending hashtags, there are several ways to search for the best hashtags to use in your tweets. If you find hashtags that are relevant to your brand and used often, you may also want to keep track of them so you can join in on the conversation frequently. One way to do this is through the monitoring feature of Agorapulse. You can set up searches for any hashtags that you want (and even make rules about what to show and not show), and then be able to check in during your social media management.
Where to Use Twitter Hashtags to Be Effective
Once you have picked the hashtags you want to use, where in your tweet should you place them? The most important thing is readability. You want to make sure that people can read and understand the tweet without making their eyes hurt.
Trending hashtags – it is usually best to put these at the beginning of the tweet. For example "#MotivationMonday: it is a new week full of new possibility!"
Sometimes they make the most sense within the tweet itself. For example:
[Tweet "Do you want to use #hashtags more effectively on #Twitter? Read this!"]
In a Twitter chat, the hashtag should always go at the end as it is there primarily as a search tool, not a part of the content of the tweet. This also holds true if you are using a hashtag as part of a live event or conference.
If the purpose is humor or to make a point, then use it wherever it gives the most effect.
If the Twitter hashtag is one of a couple to help people find the content, then put them at the end of the tweet.
There is a lot of flexibility on where in the tweet you place the hashtags. Read it out loud to see if it makes sense.
How Do YOU Use Hashtags on Twitter?
Are you using all of these tips already in your Twitter marketing? Have you had any successes? What was your biggest takeaway from this post? Let me know in the comments!