Twitter is well-known for learning about breaking news, sharing funny GIFS, and connecting with friends.
But for businesses, Twitter is an opportunity to build relationships with customers and cultivate brand awareness.
So is it really possible to use Twitter for sales? Here are four ways your team can do it:
1. Create Promoted Tweets
Research reveals that 80% of Twitter users have mentioned a brand in a tweet. People are actively engaging with businesses online.
Take advantage of this engagement by spending your advertising dollars on promoted tweets. Chuck Frey, director of content marketing at Cultivate, offers a description about these Twitter ads:
"Promoted tweets are written like normal, unpaid tweets, but advertisers purchase the ability to reach a wider group of users or to spark engagement with their followers…As with unpaid tweets, viewers can retweet, forward, and reply."
Promoted tweets can help draw attention to your upcoming sales event or product launch. It's a chance to get more people interested in your brand.
Below is an example of a promoted tweet from T-Mobile. The mobile communications company announced a live webcast for followers to attend.
To optimize your promoted tweets, make sure your team includes a call to action, familiar customer language, and a captivating image. Experiment with different copy and photos to uncover what attracts your audience.
2. Deliver Exceptional Customer Service
Offering multiple forms of customer service channels has become the norm in our tech-savvy economy. Consumers are now expecting businesses to answer their concerns on social media.
Twitter customer service features allow your team show customers you care and manage their expectations without the hassle. Consumers can click the Message button on your profile to start a conversation, or you can add a deep link to a tweet that allows the customer to send your company a Direct Message quickly.
Experts report that 77% of Twitter users feel more positive about a brand when they receive a reply. So, respond promptly to your audience and share helpful information.
"The best thing about Twitter is that it's easy to spark up conversations with your target audience. But to avoid coming off like a spammer it's crucial you start by showing you're listening. A tweet can often be an invitation for help, but it's never a request for hard sell," writes Carl Henderson, a social media and content marketing manager for Salesforce in the UK.
Retain current customers or entice new ones with top-notch service.
3. Track Leads Effortlessly
Is it possible to collect leads when using Twitter for sales? Yes, the platform has something called lead generation cards.
These cards encourage people to take action within the tweet, like signing up for a free trial. The consumers simply click the link and their contact information goes directly to your dashboard.
"Twitter lead generation cards increase conversion rates by capturing in-app form-fills from your followers. Think of them as embedded landing pages within your tweets, except they're much more concise and require much less work from your followers," states John Bonini, marketing director at IMPACT Branding & Design.
For instance, Priceline.com offered interested consumers a 10% hotel coupon if they signed up within the card.
Your team also can pursue leads by monitoring hashtags and important phrases. It's an effective method to learn more about consumers' likes and behaviors.
The Agorapulse monitoring feature can help your business track specific keywords of tweets. The custom tag feature in the "Users" tab can help categorize potential leads.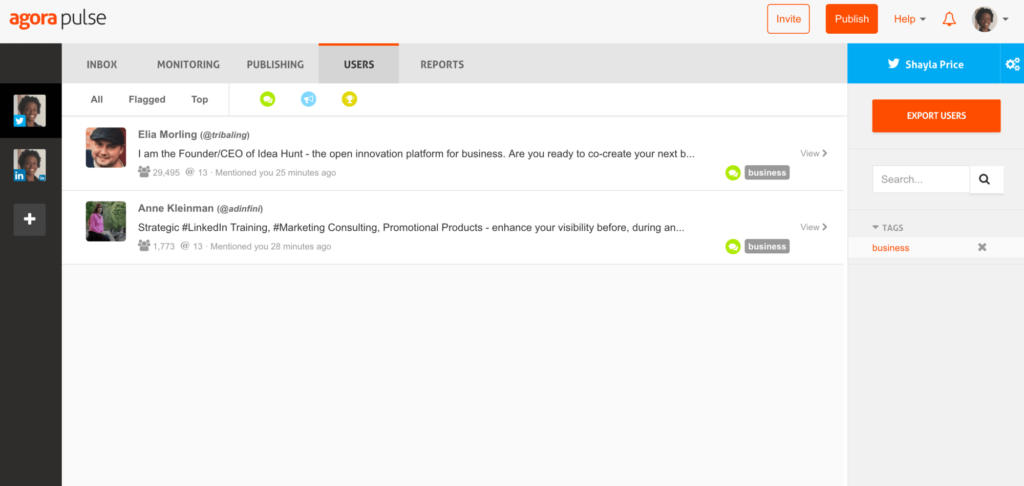 4. Keep Followers Informed
More than 500 million tweets are sent every day. That's 6,000 tweets every second!
People are receiving lots of messages from family members, friends, and other brands. Therefore, it's vital that your company stand out from the crowd.
Most consumers use Twitter to learn more about services and to check out new businesses. These individuals are hungry to find information that makes your brand special.
Impress potential customers by sharing tweets about noteworthy events, team culture, or even product releases. Give people an inside look at how you operate and what you do to serve your surrounding community.
Asics uses Twitter to highlight the achievements of brand-sponsored athletes. Below is an inspirational tweet about Sara Hall finishing the 2016 New York City Marathon.
Share heartfelt experiences with your consumers. Build that trust to earn the sale.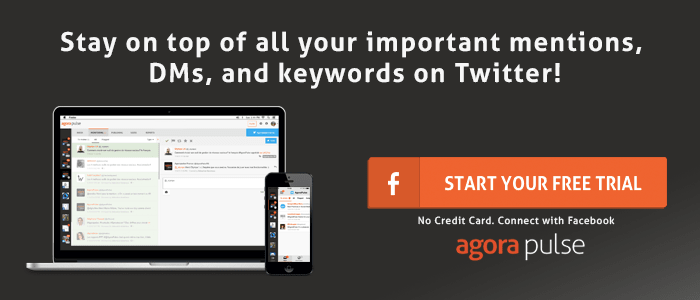 Selling on Twitter
Fuse Twitter into your business's sale strategy. Use the platform to promote products and deliver superb customer service.
Stay relevant as you interact with customers. Close the sale with the help of Twitter.
How does your business use Twitter for sales? Let us know in the comments below!