Looking for solid, time-tested advice on how to build a brand on Twitter? Read on to find expert tips on how to grow your Twitter brand.
Can you really build a brand on Twitter 280 characters at a time?
The answer is YES! I've built my brand even though I live in a small historical town that not many people have heard of. (Hello from Melaka!) In fact, I've been doing so since March 2009.
Last year, Brand 24 monitored over 3.7 million tweets and 23M interactions in social media, and ranked the top marketers based a number of mentions that they have on Twitter.
I was fortunate enough to be ranked #43 among the top 100 marketers in the world. It was a huge accomplishment for me.
Brand 24 is just one of the many sites that I've been featured on, and that list includes the likes of Forbes, Success, Entrepreneur, and more. I also recently did an interview on Resonate who wanted me to share my story and how I started social media to where it is today.
You might be wondering, how does a guy from a little town in Malaysia compete with everyone else in the world using Twitter?
Branding.
That's what helped me over the years. My brand on Twitter has helped open doors for me. That's also how I landed a job here at Agorapulse. It was through my brand and connections that opened up this opportunity.
Today, I want to share with you all my secrets to help you grow your brand on Twitter.
1. Sharpen Your Twitter Profile
The first part may sound basic (and it is!), however, sharpening your profile can help take you from zero to hero.
Think of it like dressing up. It gives the impression of who you are.
To sharpen your Twitter profile, you can:
Have a clear image for your brand and what you do
A clear picture of your face (not your company logo)
An excellent cover photo
Link to relevant pages about you (about.me, LinkedIn, etc.)
A strong Twitter bio (I used a humorous approach.)
Link to your blog
It's important to keep your profile photo consistent with what you use on other platforms. That way people can easily recognize you.

Having said that, I do recommend changing your profile picture every year or so. I see people still using a timeworn photo that is six years old.
Example of a fantastic Twitter profile
Here's a really good example of a complete and powerful profile from Mark Schaefer. Mark's profile is complete with a strong bio about what he does (keynote speaker, author, consultant) and his cover photo accentuates what he does for a living.
2. Be Active Daily on Your Twitter Brand
Think of it like working out. The more consistent you are, the faster you'll notice results.
If you're new, spend every time you can engaging and connecting with others. Stay on it every single day without rest. Engage with others and post regularly.
If you already have an established relationship, spend at least 15-30 minutes daily maintaining that relationship. I recommend you schedule your content and spread it out. Get our free social media content calendar if you need tips, ideas, and planning space for your content.
If you plan ahead, you can spend more time being active.
Simply being active on Twitter helps you get noticed. I've done it and it clearly has helped me. Here's an example from Agorapulse's recent Social Pulse Summit on Twitter.
#Stats https://t.co/XaRo3vZlVu

— Aaron Lee (@AskAaronLee) November 18, 2020
I recommend you to have a routine. For me, I like to go onto Twitter whenever I finish writing an article. Engaging with others relaxes me.
The power of five
When I started my journey on Twitter, I made it routine to:
Reply to five of my tweets
Engage with five people I know
Engage with five new people
Follow five new people
Retweet five tweets
I did this every single day for more than five years. I call that the "power of five." Doing all that daily will have a snowball effect.
Example of an active Twitter account
Madalyn Sklar is an excellent example of someone who has branded herself well. She has a routine or schedule that she follows every single day. She responds to tweets she gets and has her own gifs too! How cool is that? She's one of the most consistent people I know on Twitter.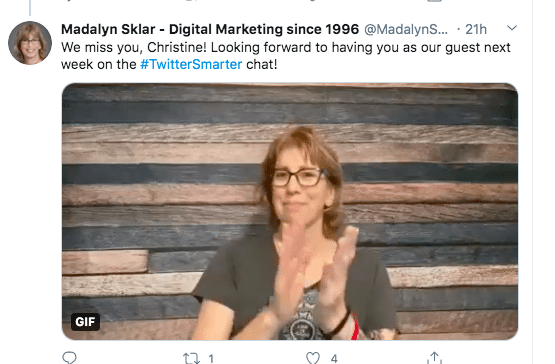 3. Follow the Leaders
I'm sure you've heard of the saying, it's not what you know, it's who you know.
Follow the leaders on influencers in your industry.
Twitter lists
I recommend creating a Twitter list of leaders for you to connect with.
Do this by:
Responding to their tweets
Retweeting them
Saying hello
Helping them if they ask
Take it up a notch by following them on other social media platforms like Instagram. Instagram is where many people are more personal compared to other platforms. Use some of the personal posts that they share there as a conversation starter on Twitter.
For example, if you see on Instagram that someone you want to connect with was at the beach. A few days later, that person posts something on Twitter. Respond to that tweet and add a personal touch like "How was the beach the other day?"
Here I was engaging with @iSocialFanz and I recalled seeing pictures of him celebrating his birthday so I asked how it went. While it was simple, it adds a personal touch compared to me asking him how is he.
When you are connected to industry leaders, they can connect you to other experts in your industry.
You'll get to know the who's who in your industry.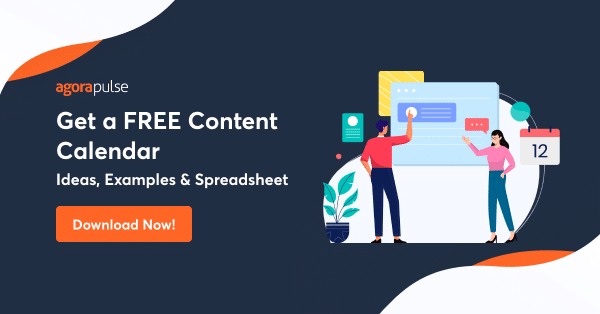 4. Provide Value in Your Tweets
Value adds context to your brand on Twitter.
Here are two quick ways you can provide value.
Share other people's post
Share your post
I recommend doing both. Find a ratio for those tweets.
I like to keep mine 50:50 at least since I already have quite an amount of posts that I've written on numerous blogs and my own blog.
5. Publish Personal Posts
Yup! I said it. Post personal posts! Some aren't a fan of this, but I am! Why? Because we're human!
I'm not a fan of sticking to only posting hard content.
It feels robotic and insincere. Posting a personal post of a photo of you, your dogs, your favorite food, or anything behind the scenes adds human elements. These help you to stand out. In fact, my personal posts tend to be my most engaging content.
People like to feel like they're connecting to a person, rather than an avatar. Those personal photos, including your selfies, can help. It makes you more memorable.
Here's a superb example of me posting a photo of a meal I made recently.
It caught the attention of the one and only Chris Brogan.
He even remembers it when I wished him Happy Birthday.
6. Join Twitter Chats
Twitter chats are essential. The people you meet during those chats are some of the best people to start engaging with.
They are active on Twitter, and they are sincere. I still actively engage with many of them until today.
They are also open to people joining their community. In fact, many would encourage you to. Join them, and you'll have an instant community there to help you if you need. Remember to start by adding value first, of course.
Favorite chats
Some Twitter chats I recommend you join are:
#Mediachat
#Twittersmarter
#CustServ
#AgencyChat
If you continuously add value, you'll also be invited to be a guest on the Twitter chat. Being a guest is an instant way to boost credibility.
Just a while back I was invited to be a guest on Madalyn Skylar's #twittersmarter Twitter chat. I was able to share what I learned about getting leads using Twitter and was able to connect with so many on the chat.
7. Follow Other Active People
I love to follow active people on Twitter who share tweets and are actively engaging with me.
For me, following is the quickest way to connect with people and grow the followers that you have.
Following people works a few years ago, and it still works today.
Agorapulse has a really neat feature that shows you who these people are in their user tab.
You'll be able to find out if you have followed these people. I recommend you do to keep them actively engaging with you.
8. Have a Blog
If you asked me to list out the single most important factor that has helped me brand my Twitter account, it would be my blog.
Twitter is the perfect platform for short content, for engaging with people, and for having your own voice.
However, when trying to showcase your expertise to build your brand, a blog takes it to a whole new level.
Your blog is where you showcase your expertise. Blogging adds context and is the perfect complementary platform to your Twitter brand. It goes hand in hand.
I like to think of my blog as my thoughts and Twitter as the voice for my thoughts.
9. Take Advantage of Videos
One method I noticed that worked really well are Twitter videos. People who take advantage of videos stand out. Think about recording a reply or recording content to share.
If you want a good example, I recommend you look at @PTwyford.
@AskAaronLee pic.twitter.com/stXIiNXih3

— Phillip Twyford (@PTwyford) November 14, 2016
I love the way he uses videos to respond on Twitter. It's personal and it clearly stands out.
I engage with quite a number of people, and he is one of the most memorable because I've heard his voice can I've seen him.
10. Brag
Yup! Brag is what I'm calling it.
If you've been mentioned in an article, listed in an expert's list, listed in a list to follow, tested something, and saw results or anything relevant to your personal brand, Tweet it! "Brag" about it.
Here's an example:

The reason why we want to do that is we want to show the people who are following you that you've achieved something. It again adds context to show that you are an expert on something.
I noticed many don't take advantage of this. They take the more humble approach of not saying anything.
If you don't, people won't notice you.
11. Be Authentic
I kept the best for last. Be genuine and be yourself.
Someone once told me to be professional on Twitter.
I didn't listen because it wasn't me. I like to add some sassiness to my tweets and some fun. That's me in real life, and that's me online.
The same applies to the content you're sharing. If you don't like to share quotes or personal photos. Don't do it.
Be YOU. Implement the best practices but at the end of the day, be YOU.
In Conclusion
These are all things I've learned through my years of being on Twitter. It has helped grow my brand on Twitter tremendously.
I've proved that many of them do work, and it will work today as I've continuously seen results from them.
Get started on saving time and energy on your own social media management! Check out our free trial of Agorapulse to help you schedule, track, and measure all your social media efforts.