So many video creation tools exist! So, how do you choose the right video creation solution? After all, what works for your social media agency may not work for another. Our comprehensive guide can help you decide.
You've noticed that video content is booming. You see it everywhere. On social media, websites, blogs, and even on screens on the streets and in the subway.
So, say you're a start-up social media agency that wants to drive free-trial sign-ups, an HR rep promoting company culture and brand, or an internal comms pro at a multinational company needing a way to get information to employees quickly … Video should be a key component of your content strategy.
Here's proof:
So, how do you get started?
Assuming you're not an aspiring filmmaker, you'll need either an online video creation platform or a professional videographer. A small business that produces videos every couple of weeks will not have the same needs (or resources) as a larger organization that wants to publish videos every week.
In this guide, we'll help you determine the best video creation solution for your needs. Whether you want to start small and go big, or start big and go small, our recommendations will help you get to where you need to go with video.
3 Steps to Selecting the Right Video Creation Solution
Get a piece of paper or a spreadsheet ready. Jot down your responses to the following questions, and by the end, you should have a good idea of what you need.
Step 1. Assess your video needs
Answer these questions.
How much video content do I need, and how often do I need it?
Do I have video footage or images available now?
Where (website, blog, social media channels, etc.) will I post videos?
Do I need help with video storytelling?
How tight are my deadlines, including rounds of approvals?
Next, based on your responses above, consider what level of video service is most appropriate for your needs.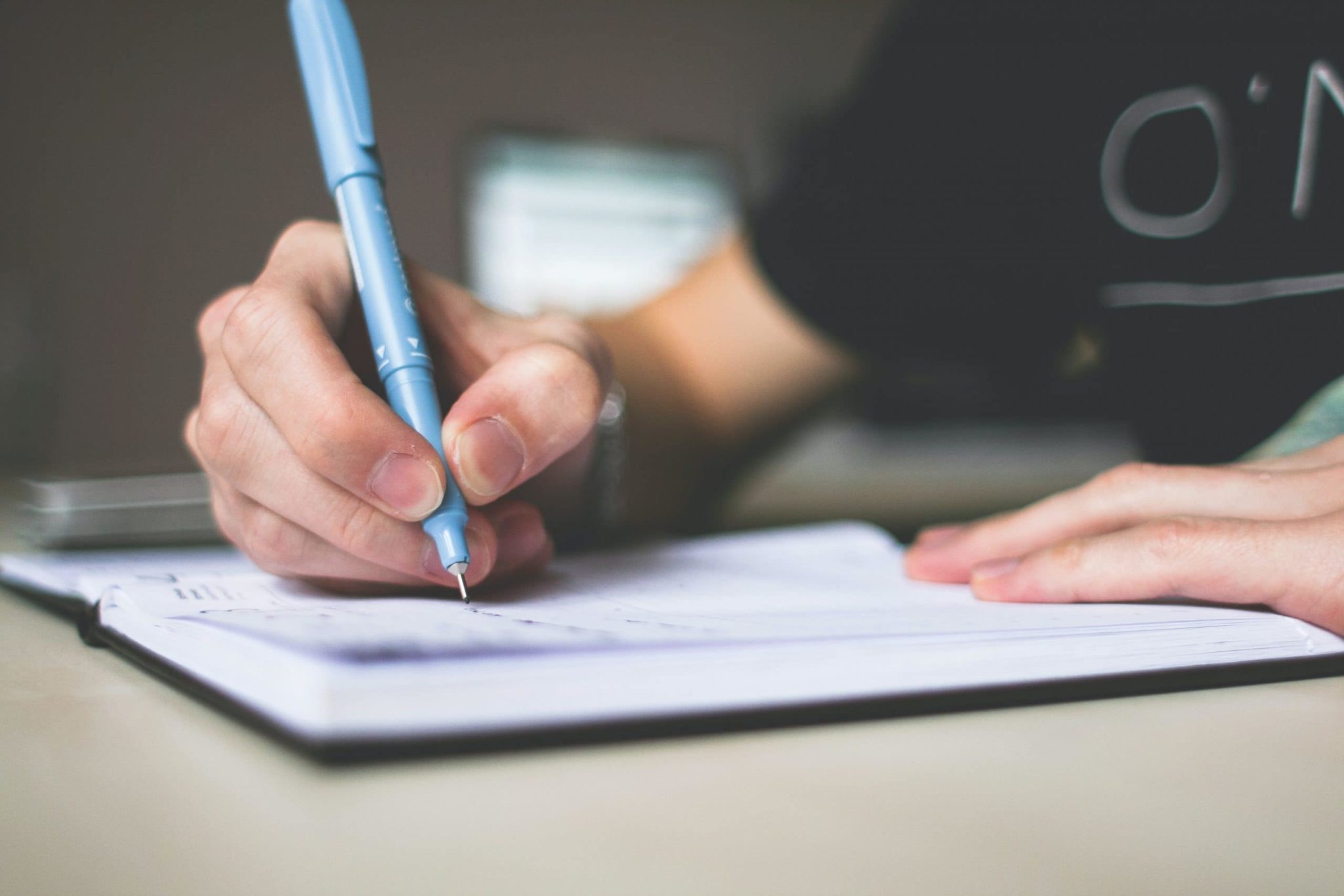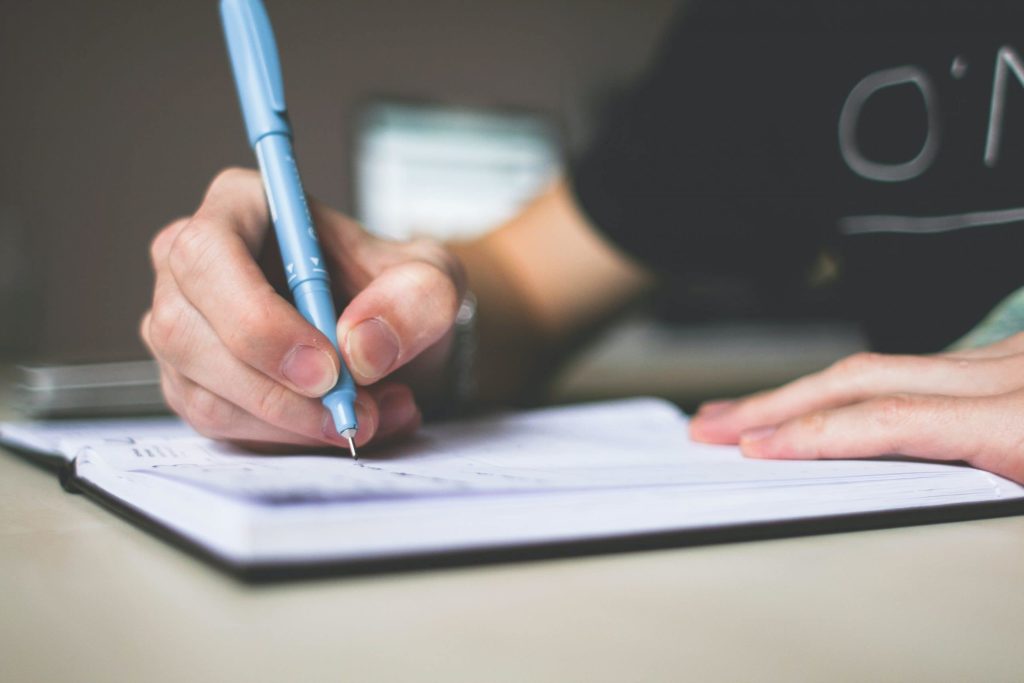 Step 2. Consider your options
Which options suit your needs?
Budget video creation tools: (Animoto, Wave, Spark, Lumen5) For consumers, independents, and small businesses (less than 30 people) with low-scale, video content needs
Business video creation tools: (PlayPlay, Wibbitz) For organizations that need to create professional videos quickly on a controlled budget and gain access to branding, storytelling, and collaboration features
Outsource: (Videographer or agency) For any business that requires long-format or hyper-branded videos or has complex video editing requirements
Step 3: Develop criteria for your video creation solution
What's most important to you?
Simplicity. How quick and easy is it to make a video, even if you've never created one before? Or is outsourcing a better option?
Branding. What kind of branding options are available to make your videos look uniquely yours?
Storytelling. What kind of expert advice or examples are available to help you tell a great story and get your message across?
Pricing. What is your budget for video creation and services? How often will you be making videos?
Once you've done this initial evaluation, you're ready to go a level deeper to evaluate the specifications.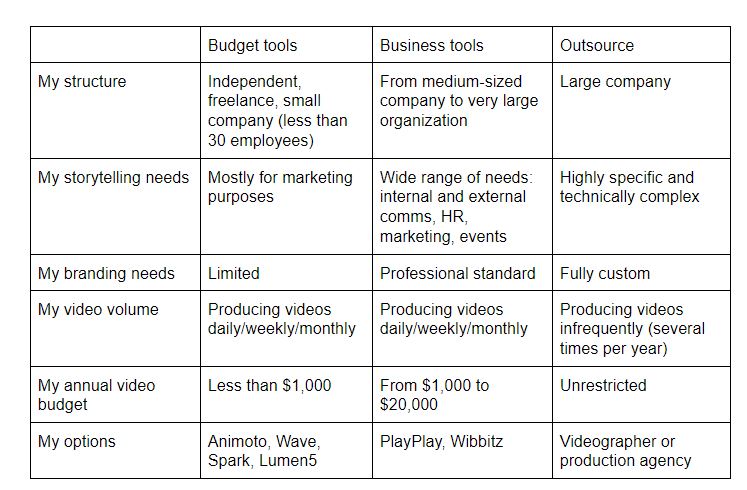 Simplicity: Video Creation Done Quickly and Easily
If you want to outsource, factor in time to research and find the right vendor, explain your video concept(s), your brand, coordinate shoots, handling back-and-forth exchanges, and everything else it takes to create a video masterpiece.
When video is a vital part of your content strategy, you're better off with an online platform where you can quickly create eye-popping, new videos, update existing ones with new music or graphics, or easily repurpose written content.
The best tools empower users to create high-quality video content expected of brands and corporations—and do so in a fast and intuitive way.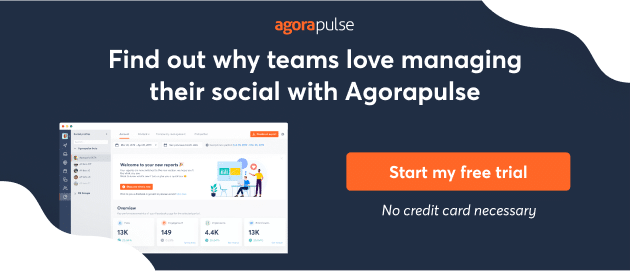 Also, these platforms allow teams to collaborate on edits and approvals.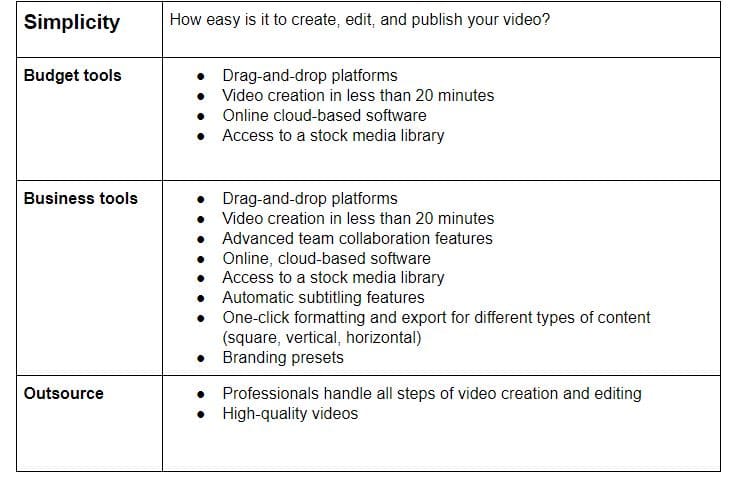 Tip for social media managers and digital agencies
Outsourcing is far more complicated than it seems on paper. In comparison, video creation tools are simple and easy to use.
Business tools are even simpler than the budget tools. You can create videos faster thanks to the premium features that automate much of the production process. With branding presets, you don't have to brand each new video–it's all taken care of for you.
Branding: Connect the Video to Your Brand
Your videos should amplify your brand and look uniquely yours, so your target audience can recognize your content effortlessly. Are you looking for a one-off cinematic video, or do you need regular content to boost brand awareness week in and week out?
Outsourced video professionals will provide an all-in approach to branding that allows you to deliver your brand message in a dynamic, creative way.
Business video creation platforms typically allow companies to preload brand assets (fonts, logos, colors) even before creating their first video to ensure cohesive branding for everything going forward.
Budget video creation tools tend to be quite limited, for example, fonts from a pre-selected list.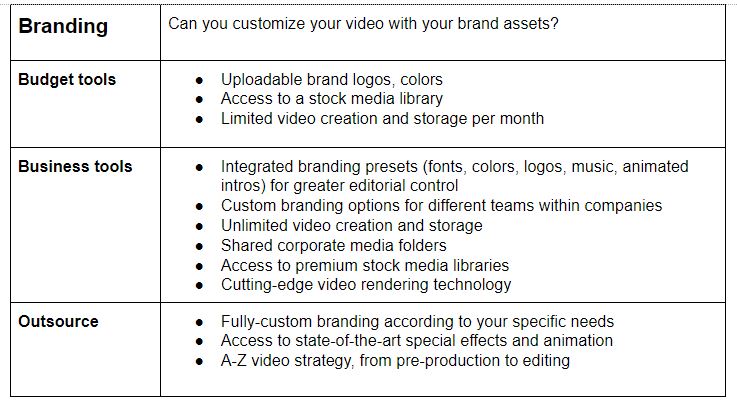 Tip for social media managers and digital agencies
If you don't need any unique branding on your videos, choose a budget tool.
If you need a fully custom video with complex branding specifications, go for the outsourcing option. If you want high-quality branded videos that look uniquely yours, without needing to create the next viral commercial, a business tool is perfect for you.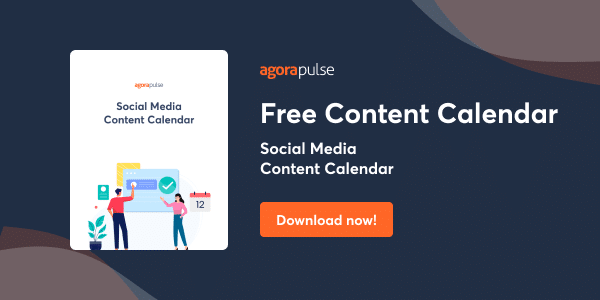 Storytelling: Tell Your Story Your Way
Storytelling is a key aspect of any high-performing video strategy. A good story will catch and hold an audience's attention while conveying a clear message that resonates long after the video has finished.
A production agency will have a whole team of expert writers, storytellers, video editors, and the best equipment on the market.
If you need to produce a lot of video content, opt for a business or budget video creation platform to create more often. Business platforms offer hundreds of templates, expert support, access to an extensive media library, and the tools to enable co-workers to create on-brand videos on the fly.
Budget video creation tools also have an extensive collection of templates, but apart from those, you're somewhat left to your own devices with very limited support options.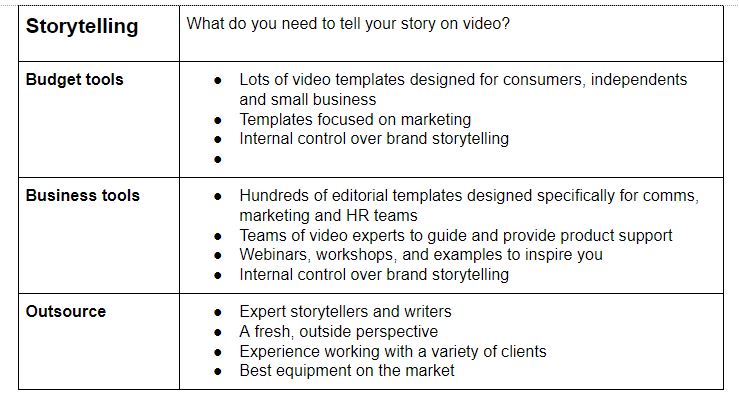 Tip for social media managers and digital agencies
If you mainly need to create marketing videos, such as Facebook ads, the budget option is enough. If you have a variety of storytelling needs, ranging from interviews, social clips, to Stories and event teasers–a business tool is for you. If you have a specific story that requires the firepower of a production company and you don't need to produce videos frequently, consider outsourcing.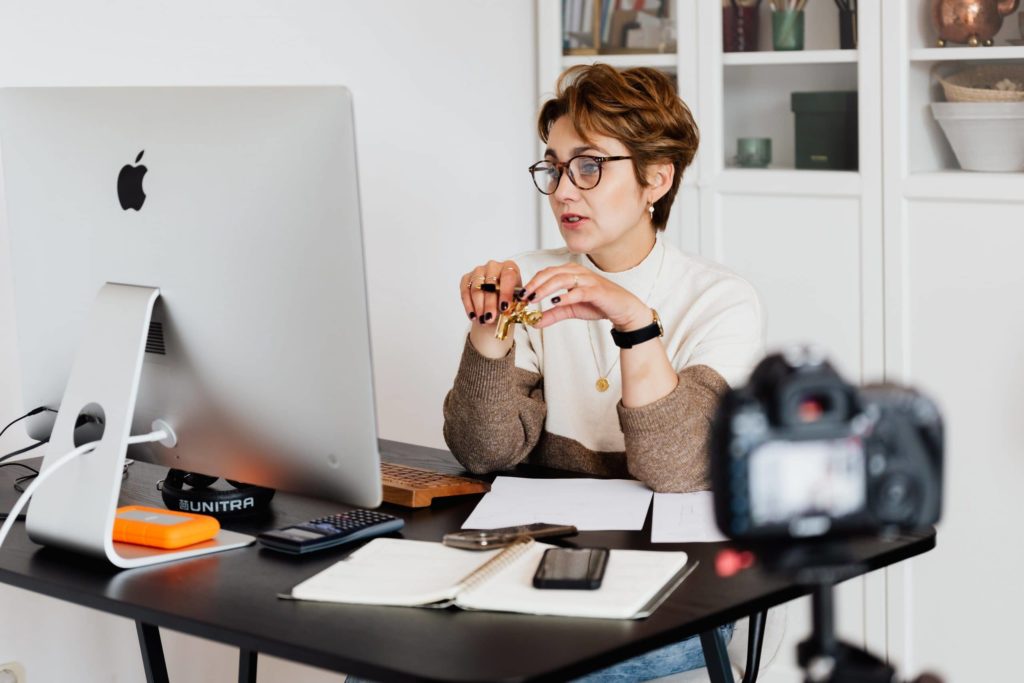 Pricing: What Will Video Creation Cost Me?
The pricing for outsourced videos can vary dramatically. Length, style, complexity will be critical factors in the overall production costs. Expect to pay between $1,200 for a basic video to $50,000 for a premium video.
Business video creation platforms typically offer a subscription model and often a free trial with full functionality. For a platform like PlayPlay, plans start at $160/month/user and then increase for premium features, support options, and other features suitable for larger companies. Budget platforms offer free services, but minimal features and lower quality output.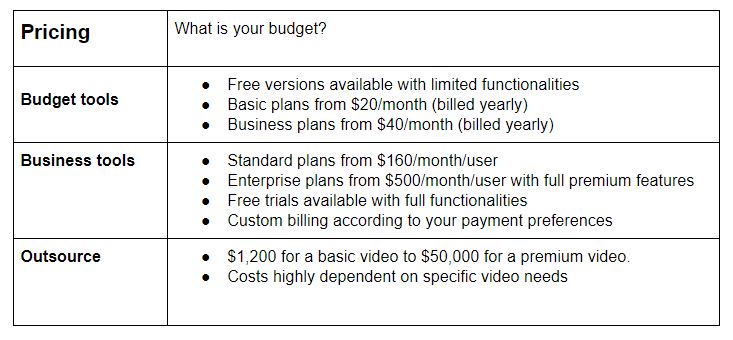 Tip for social media managers and digital agencies
If you need to create videos regularly, ranging from once per week to once per month, a video creation tool will quickly become far more affordable than outsourcing. With an annual video budget of less $1,000, go for a budget tool. With a video budget ranging from $2,000 to $20,000, consider a business tool. If you only need videos every so often (less than 5 per year) and you have an unrestricted budget, outsourcing could be the right choice.
Which Video Creation Solution Is Right for Me?
Budget solutions
If you are a consumer, independent, or small business (fewer than 30 employees), choose the budget option.
Budget tools' limited capabilities make them more suited to consumers, independents, and small businesses that don't have high-scale content needs. These tools are great for personal use and small business marketing and come at a very affordable price.
Without the premium features that business video creation tools offer, such as team branding presets and access to premium support, budget tools don't have the firepower to match large companies' content needs.
Suppose your company needs to create corporate-standard videos for more than just marketing purposes, such as corporate comms, internal comms, employer branding, and community management. In that case, you should consider a business video creation tool.
Business option
If you are a larger company, choose a business-level solution. Business video creation tools enable marketing, comms, and social media teams to produce high-quality videos in minutes, without any need for editing skills.
With hundreds of editorial templates, expert support, webinars, workshops, and a dedicated account manager, the 360-service provided by business tools will galvanize users to create video content that truly captures your brand voice.
By giving customers, employees, followers–whoever your target audience is–regular, engaging video content, your brand visibility will skyrocket, and you'll establish a real sense of community engagement. Help your company develop a powerful video content strategy and produce cohesively branded videos. (Full disclosure: I'm the content manager at PlayPlay, which produced the following video.)
* * *
Get started on saving time and energy on your own social media management! Check out our free trial of Agorapulse to help you schedule, track, and measure all your social media efforts.