As more people find themselves having to work from home, they seek tools to help make the transition easier. Here's a list of some favorite tools for remote workers.
In addition to the obvious health ramifications of COVID-19, it has halted global business operations, leaving many workers quarantined or self-isolated at home.
One emerging problem is that many employees were not equipped to work from home or use work from home tools.
Companies have been panic-buying laptops and mobile phones—but then what else is needed? What tools do you require to work from home efficiently?
In this article, I'm sharing the work from home tools we love at my agency Contentworks Agency in addition to some great ones from the Agorapulse team for working with your team, managing your social, and navigating through your workday.
First, know that if you suddenly find yourself working from home, you have a lot more resources today than ever before.
Remote working has grown rapidly in the past decade:
A survey found that 43% of Americans work from home occasionally.
75% of people who work remotely do so because there are fewer distractions (although the current imposed WFH environment is different).
The biggest problem for 22% of remote workers is unwinding and switching off after work.
Now, make that cup of coffee (or tea), pet the dog (or cat), wrangle the kids, and here we go with 20 work-from-home tools we love right now.
Work From Home Tools for Managing Your Team
Hubstaff's employees are all remote and use their software. (That's a good sign!)
Hubstaff is one of the most popular work from home tools to track employee hours, projects, pay, invoicing, timesheets, and communication.
It even has additional extras like GPS tracking and screenshot monitoring for more secure industries.
Employees can clock in and out wherever they are in the world.
This tool lets you manage a remote workforce and contains tools to:
Access employee information
Log hours worked and overtime
Handle pay requests
Add and monitor vacation and sick time
It also has a one-time license, which is scalable depending on how many employees you have.
Not being able to access passwords is very stressful. If you're suddenly working from a laptop at home, then all your passwords will be cached on your work PC. (ARGGGHHH!)
1Password is literally what its name means: one password for all your other passwords. If you're the manager of a marketing team, you will know how necessary this is.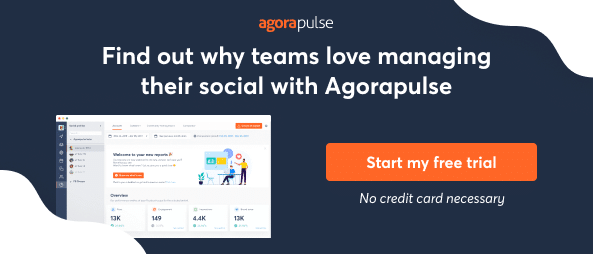 This is a great site for keeping track of world time zones in the different regions you work with.
Remember: Working from home doesn't mean answering emails through the night.
Establish the necessary shift patterns with your team to cover your clients' needs.
I love Trello for managing team projects. It's easy to set up and has everything you need to organize projects of any size.
You can:
Open a card.
Add comments.
Upload attachments.
Create checklists.
Add labels and due dates.
Select the relevant team members to add.
When a card is completed, you can archive it to keep things moving forward.
With Trello, you can also add clients to boards—but make sure your team knows that before they start commenting!
Work From Home Tools for Social Media Management
Already a world-leading social media management tool, Agorapulse is incredible for social media teams now working from home.
The software allows for team collaboration, publishing of all accounts in one place, and multiple user licenses.
In a finance company, for example, your content manager, social media manager, and compliance officer could all have access to your panel for approvals.
Plus, you don't need individual logins for all your social media accounts.
Just connect them all to the dashboard, and your team can monitor them, view the publishing calendar, and respond to fans.
7. IFTTT
Struggling to communicate and get things done out of your office environment?
Sync and streamline your tasks with IFTTT. If This Then That is a creative management tool.
You can use it to build a connection between different apps and devices. It works on an action-reaction model that helps you boost productivity effortlessly.
For example, an IFTTT recipe might be: "If I publish this to my blog, then share this to Twitter." Or "If I add a meeting to my outlook calendar, add it to my phone, too."
Working alone can leave you feeling like you're out of the loop if you're not used to it.
Google Trends allows you to monitor what people are talking about around the world. Use it to plan your content. You can incorporate keywords and key phrases.
Remember to share your findings with your team using one of the communication tools listed below.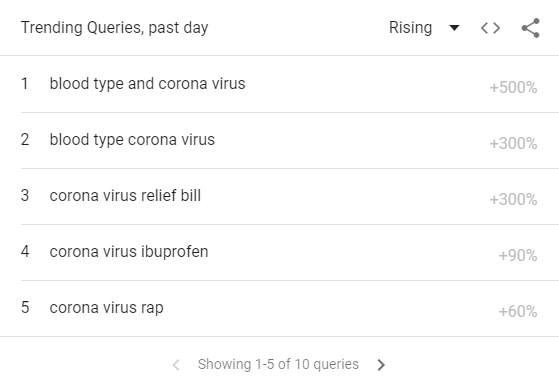 Use free programs such as Easil to create your post images, animated stickers, presentations, and covers.
You can easily create the visual content that you need for your marketing materials, without the heavy costs of a graphic design firm.
The many templates, captivating fonts, and magical color palette generator also help you get exactly what you want visually to maintain your branding colors and look.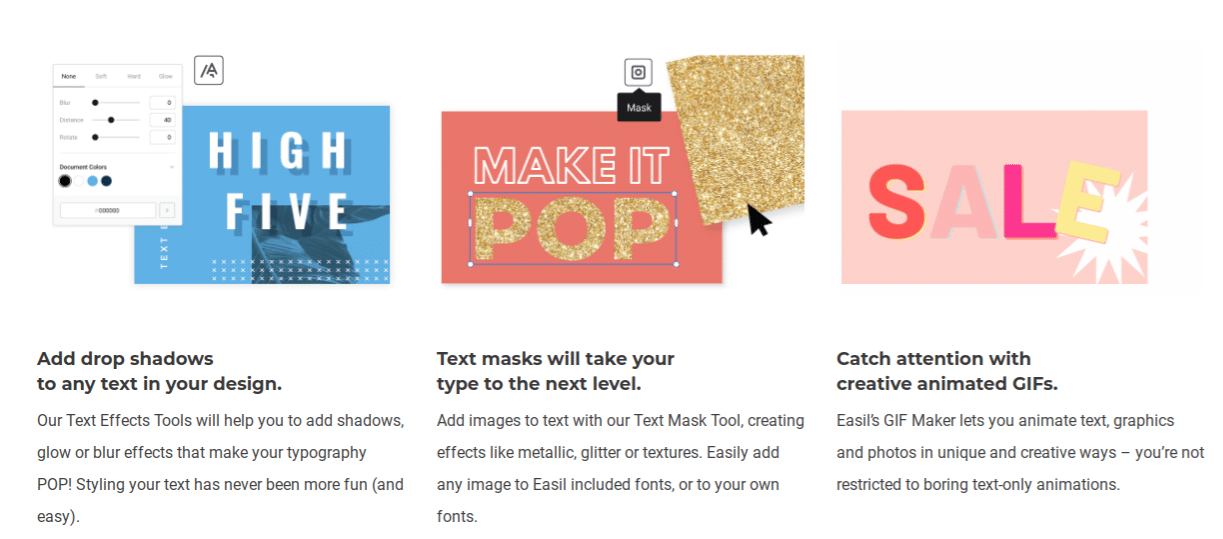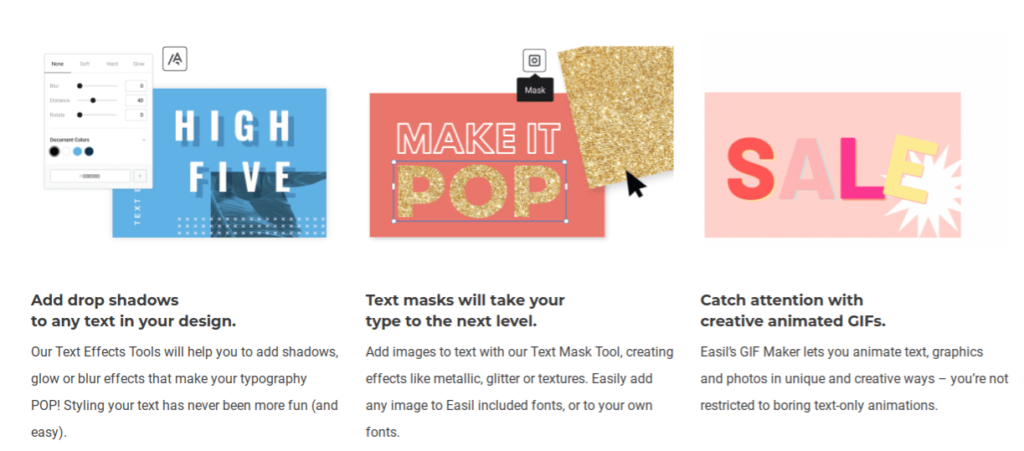 Work From Home Tools for Meetings and Calls
Of course, we all know Skype for conference calls, instant messaging with clients, or chat rooms.
But if you haven't been using it for business, you may have missed out on some new functionalities.
Record Skype calls to capture key decisions, and use live subtitles to read the words spoken. Easily share presentations, images, or anything on your screen during a call with integrated screen sharing.
Access one skype account across multiple devices—even Alexa!
Also, you can now react to Skype texts with emojis and GIFs.
If your sales team needs to make calls, you can obtain a local phone number or call out using Skype credits.
Zoom is another video-calling tool, which is essential if you're working from home right now.
In addition to the usual video meetings, Zoom can be used for webinars, training, and conferences. Supporting up to 1,000 video participants and 10,000 viewers, this is the ideal tool for remote events.
Download Now: FREE "Your Essential Guide to Remote Work" ebook
Workplace by Facebook is a collaboration platform that includes messaging, voice and video calling, and newsfeed features to help teams work together more efficiently. (Like your Facebook News Feed, but about work.)
View updates from people and projects in a scrolling stream of posts.
License prices are from free to $4 per user; it's an affordable tool.
Plus, most of your team likely has a Facebook account, so there won't be any issues installing or learning the platform. That's a HUGE advantage right now.
Need to host a live broadcast or training for your team? YouTube Live is Google Hangout's alternative to scaling a broadcast globally.
You will get assigned a URL unique to you then you're good to go. This could be useful for businesses that need to train customers on new products but cannot do so in person.
It may take 24 hours to get access to live streaming, so allow enough time to get registered.
This is a great app for screen sharing and team calls. It doesn't freeze as often as other tools do either, so that eliminates some of the usual online meeting stress!
Customize your meeting link to whatever you want or brand it to your company or meeting subject.
Work From Home Tools for File Sharing & Storing
If you're suddenly working from home, you will need a server or cloud space to host essential files. That includes client files, ongoing projects, artwork, or employee details. (I've been using Dropbox for over a decade, and I love it more and more each year.)
The great thing about Dropbox is its flexibility.
You can set access permissions for files (for example, senior management only).
Get minute-to-minute syncing across all members and plenty of storage space for all your work. Send files up to 100 GB with Dropbox Transfer, including additional customization options.
There are also security features like invite enforcement, domain verification, and device approvals.
Used by Air France, Deloitte, Sophos, Vodafone and Google to name a few companies, Asana is a great work from home tool.
Project and task management in Asana is perfect for remote teams, thanks to the options available to manage and track tasks.
Create visual project plans, pinpoint risks, and eliminate roadblocks. (Even when plans change.) You can also set priorities and deadlines in addition to assigning tasks.
Asana has a very user-friendly dashboard, so it won't be difficult for your remote team to get up to speed.
I have a love/hate relationship with Google Drive. Drive allows you to store and collaborate on documents, spreadsheets, presentations, and more all with your Google Account.
I love Google Drive for spreadsheets, document storing, and tasks.
However, I dislike it for writing content and never deliver content to clients on Drive. That's largely because it's easy for clients to add and change text and difficult to monitor signoff and compliance.
I love it for monitoring workflows across our global team and sharing presentations or video files with clients.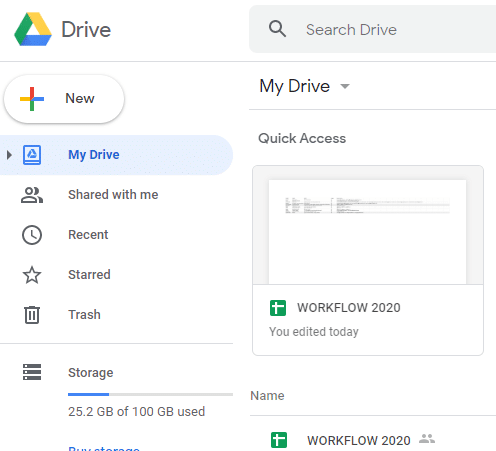 Collect is great when you need to get documents from your clients. You just need to specify what you need to retrieve, a due date and it will do all the process for you.
You know in real-time the status of each request: who is on time, who is running late.
And it also allows you to validate the documents/data that have been uploaded.
What I really like with this tool is that you can integrate it into your process using Zapier or its API,
For example, each time we hire a new employee, it automatically sends an email asking for the documents needed to prepare the contract.
Other Useful Work From Home Tools
Calendly helps you schedule meetings without the back-and-forth emails. Calendly works with your Google, Outlook, Office 365 or iCloud calendar so you're never double-booked.
You can also automate tasks with Salesforce, GoToMeeting, and Zapier plus implement time zone detection. That means you won't be getting meetings set for 10PM your time!
Slack is an amazing tool for chatting, sending funny cat GIFs, and communicating with your team.
Instead of a single overstuffed inbox, conversations in Slack happen in dedicated spaces called channels. Team members can join and leave channels as needed, unlike lengthy email chains.
If you used Slack in the office for friendly team chats, then keep doing so. Communication is key during a spell of remote working and double cat GIFs are called for!
No, it's not strictly a work app. But it's essential you take a break in the same way you would in the office.
Take a guided virtual walking tour through one of five national parks, including the picturesque rainforest of Hawai'i Volcanoes National Park. Monterey Bay Aquarium in California is live streaming penguins, sea otters, jellyfish, and other creatures. Even Disneyworld is offering virtual tours.
Take a break from work to switch off and explore the outdoors, visit a museum, or hang out with some wildlife.
Good team communication is critical when working remotely. Sometimes images like screenshots and annotations can help capture ideas and communicate clearly in a super-easy way.
Markup Hero is a free tool to take screenshots, add annotations, and markup PDFs. Plus, their Slack integration enables you to instantly add markup images and PDF's directly from Slack.
If you're using a timesheet template, it's high time you ditched it! TimeCamp is an automatic timesheet app that tracks time for you so you can focus on what really matters.
The app generates data-rich reports with accurate numbers, billable hours, projects, clients, and team's work hours. You can track your time no matter where you are with the non-intrusive desktop app for Windows, Mac, and Linux, or the native mobile app available for iOS and Android.
ProofHub is an excellent option to bring all your project management and team collaboration efforts together in one central place. It has an easy-to-use interface.
With ProofHub, you can:
Create tasks with deadlines
Build custom workflows to maintain flexibility
Collaborate in real-time using discussions
Share files
Proof and review creative work
Track time
Keep an eye on project progress with the project timeline and custom reports
ProofHubs simple, no per-user pricing makes it a highly cost-effective solution for growing teams.
Bonus Tips for Working From Home
Keep your routine. If Mondays begin with a marketing meeting in the conference room, don't let remote work break that tradition. In fact, it's good to maintain a routine during stressful periods. If you're managing a team, though, be flexible and understand that team members may now be dealing with children, interfering cats, and partners working in their space!
Remote donuts? Yes, please. Send your remote team food vouchers for the online delivery of coffee and donuts. They boost morale remotely as much as they do in the office!
Pack a lunch. I know, right? Why pack a lunch if you're staying at home? Having lunch and snacks prepared from the night before can help keep you in work mode. It also limits the time spent preparing food and nibbling things in the kitchen!
Be presentable. Some calling apps like Zoom automatically open with video! Make sure you are dressed and presentable, and that your background environment is not too chaotic.
Keep to your hours. One of the challenges I had to overcome when I first began working from home was the urge to continually work. Doing this can leave you feeling burnt out and exhausted. Keep to your usual hours and close everything at the end of the day. Don't check emails on your phone when you wake up or reply outside office hours!
In Conclusion
Working from home takes a little adjustment, especially when you've had it thrust upon you. But with the above tools, perseverance, and a can-do attitude, it's going to be all right.
And even if not everything runs perfectly, that's OK, too.
Everyone has days like this guy: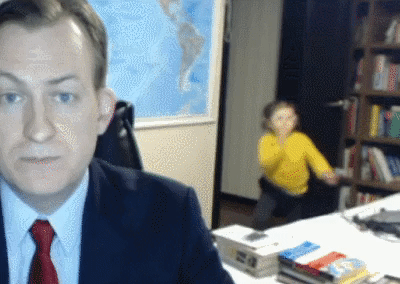 Sign up now for a FREE demo.