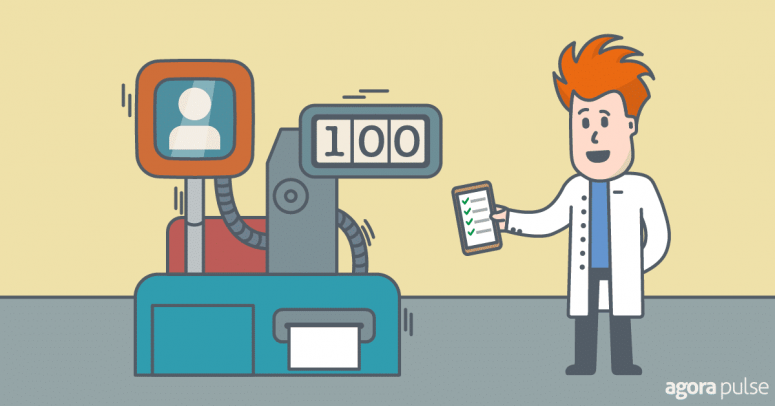 Who NEEDS more Instagram Followers?
Followers. Followers. Followers…
That seems to be what so many focus on when it comes to starting or building an Instagram account.
The amount of followers you have usually means you have more engagement, more engagement leads to more potential sales.
After all, there are over 700 million users on Instagram and Instagram itself has over 226 million followers!

But how can you get followers on a site like Instagram without spending any money on ads or buying followers?
Today's test is going to cover a strategy that promises to add 100 new followers in 24 hours
How to Get Instagram Followers
Subscribe to the Social Media Lab Podcast via iTunes | Stitcher | Spotify 
I ran across a blog on WeekHack that was entitled "How to get 100 Instagram Followers in 24 hours" and I was intrigued.
The blog post promises that if you follow their step-by-step tutorial, you can get 100 new Instagram followers within 24 hours — even if you don't already have an Instagram account.
Sounds too good to be true, which is why I wanted to test this.
So here's their step by step plan:
Optimize your Instagram profile for maximum engagement-Pretty basic stuff here.

Make sure your profile is filled out, has an eye-catching profile image and a good bio.
Make sure the URL you list is to an opt-in page or product page selling something.
They also recommend posting at least 12 images before you start promoting your profile so that people can get an idea of what your page is about before they follow you.

Find at least 30 strategic hashtags – They recommend a few things here.

Choose 30 hashtags with 50k-300k images per hashtags when you search Instagram. Don't use ones with more than 300k images until you have lots of followers. You can simply search Instagram to find hashtags for a popular subject, such as food. The goal here is to be featured in the "Top 9" posts for that hashtag. 
Post these 30 hashtags as a comment under the post, not in the post itself. This is supposed to get you more engagement.

Decide how much content you're going to publish. They recommend posting at least 3-4 times per day. And also recommend posting 1 live video per day and 5+ Instagram stories per day.

Photos of your team, office, you or your product
Motivational, business and inspirational quotes

Locate your target users. –

Find at least 10 accounts that are your top competitors
Choose accounts with only 50k followers or more
Put the 10 in a spreadsheet with the profile URL, name, follower count and likes per post
Go to their account and tap on Followers and start following their followers
Don't follow more than 50 per hour due to Instagram's follower restrictions

Engage with your community. –

Reply to comments on your photos
Like other people's photos that have hashtags, you're interested in
Reply to messages
You can automate most of these tasks with tools like Kicksta – which auto likes relevant IG profiles to grow your followership on autopilot. Be careful though, as this Kicksta review points out, the rate at which your IG followers grow is a bit unpredictable.
Testing Instagram Follower Strategy
To see if this strategy leads to 100 new Instagram followers in 24 hours I'll use my own small business account for Space Walk of Central Texas. (*This account is no longer active on Instagram as of January 2020)
This is the side business I own and have been active on social media for about 3-4 years.
I already have an Instagram account and have been actively posting to it for about 2 years.
When the test started, it had 629 followers.
My goal will be to follow this strategy as much as I can over a 2 week period, then report the results.
Hypothesis: Following this plan will NOT get me 100 Instagram followers in 24 hours.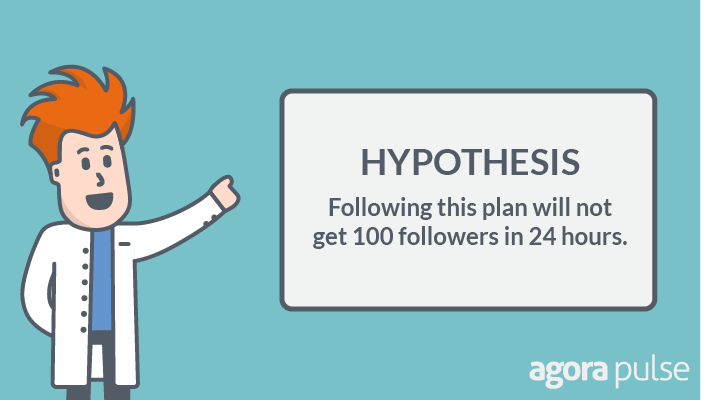 Trying to Gain 100 Instagram Followers
I couldn't focus on pages that had over 50k followers, as this page is a local business and no one in this area has that many followers. (I'm in Central Texas, not New York City.)
Instead, I sought out large businesses in a 50-mile radius of my town and followed their followers as well as followed the pages/people they follow.
I did my best to follow 50 per hour, although that was harder than you might think. Manually clicking on that many "Follow" buttons consistently is time-consuming. After 2 weeks, I followed about 2,500 accounts.
My main focus when finding accounts to follow was to find local businesses that appeal to parents, as parents are my ideal customers. Such as the local Parks and Recreation account: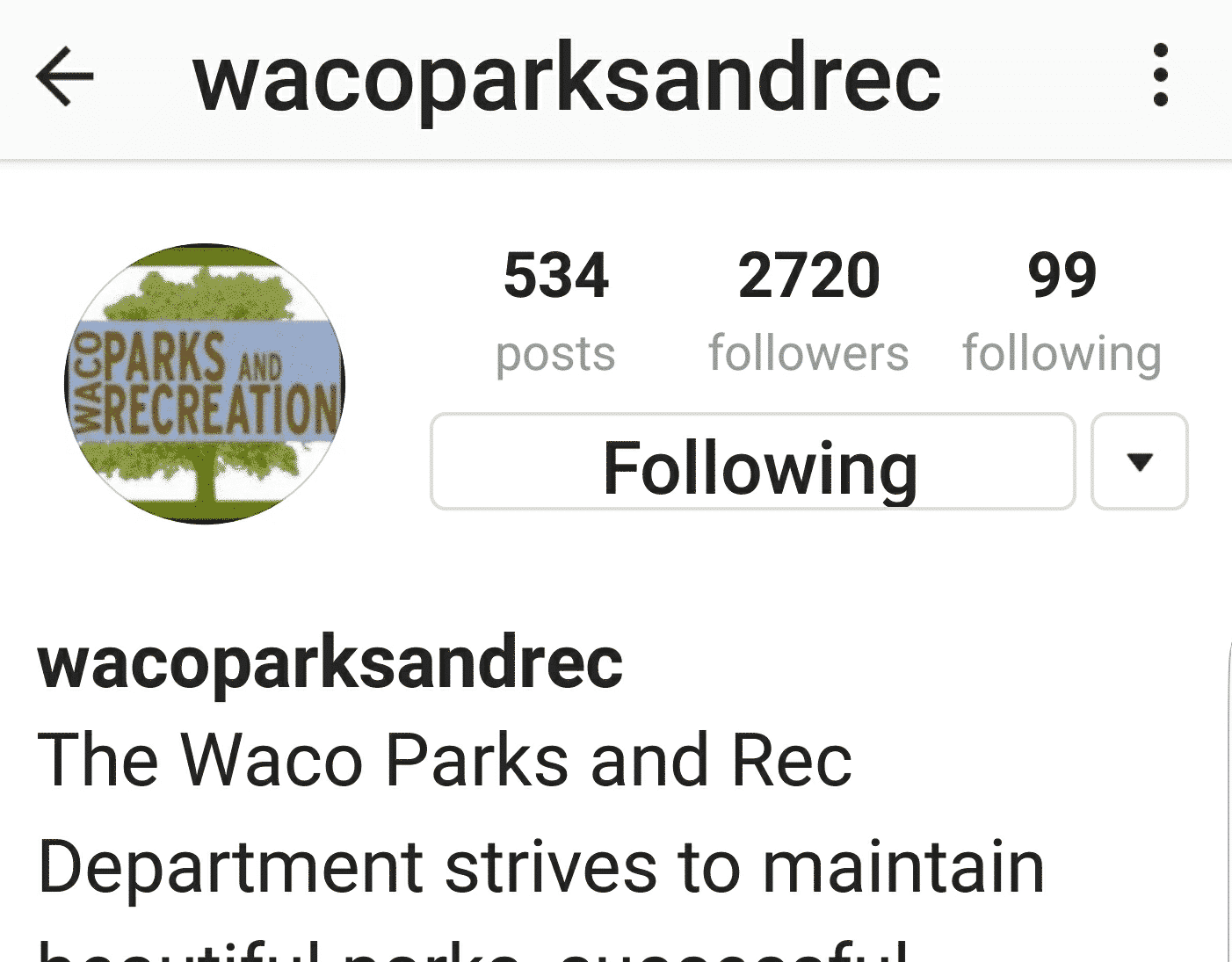 After following I'd click on their Followers and Following and follow those accounts, or Request to follow.
Also during this time, I scheduled out 4 posts per day with photos showcasing my product as well as posting parenting-related inspirational posts.
In addition, I posted 20+ hashtags in the comments of each post, with a few other posts having hashtags in the post itself.
I commented on the last 3-4 posts to show that I was engaging with them and hopefully their followers would see that as well.
During this two-week test, I left about 100 comments.
Did all this following, hashtagging, and commenting work?
Did We Get 100 New Instagram Followers?
After going through this strategy 5 days per week for 2 weeks, did I really get 100 Instagram followers in 24 hours?
Remember my hypothesis was: Following this plan will NOT get me 100 followers in 24 hours.
I started with 629 followers, ended with 983. An increase of 354 followers, which is impressive.
But not quite the 100 followers for every 24 hours I spent during the test.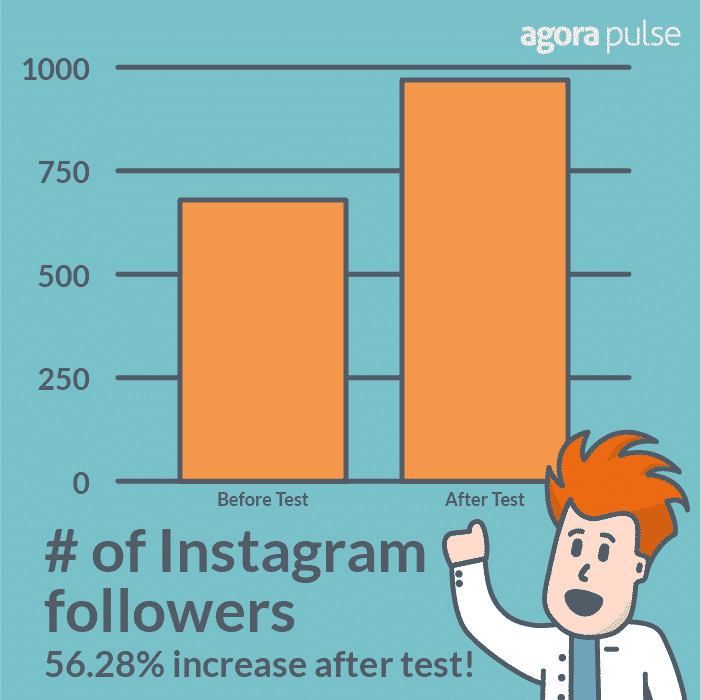 So based on this number I'd say my hypothesis was true.
But was the strategy a total loss?
No!
354 followers is nothing to sneeze at and was an increase of 56.28%.
Granted I had to follow 2500 people to get this increase, which equates to a 14.16% conversion rate if all 354 new followers came from those 2500 that I followed, which they probably didn't.
And due to that increase in followers, my Impressions and Reach are both higher now than before.
Let's take a look at the Insights of a post just before the test started. It received 224 Impressions and 182 Reach: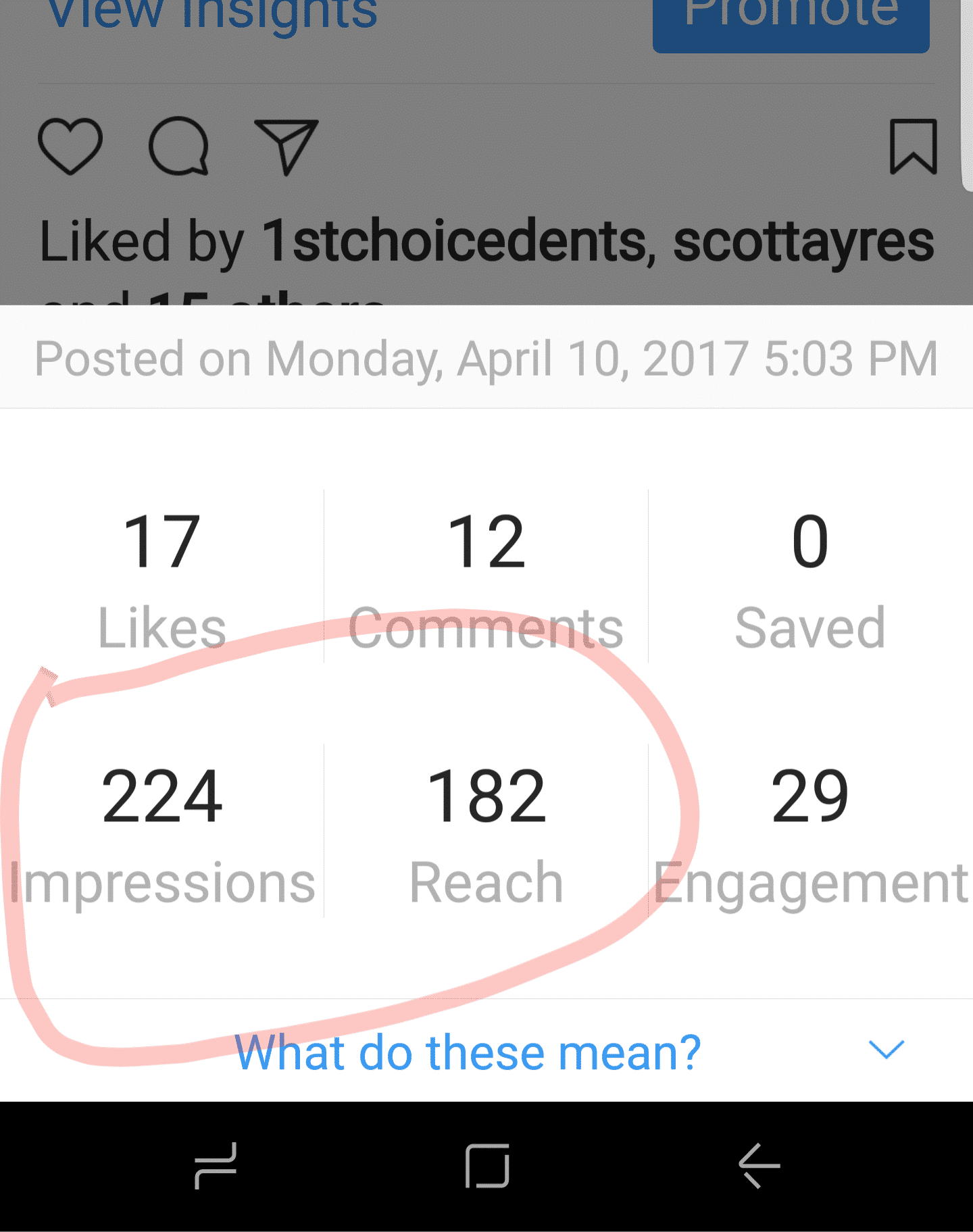 Once I completed the strategy here are the Insights of a post showing an increase in results –received 264 Impressions and 233 Reach: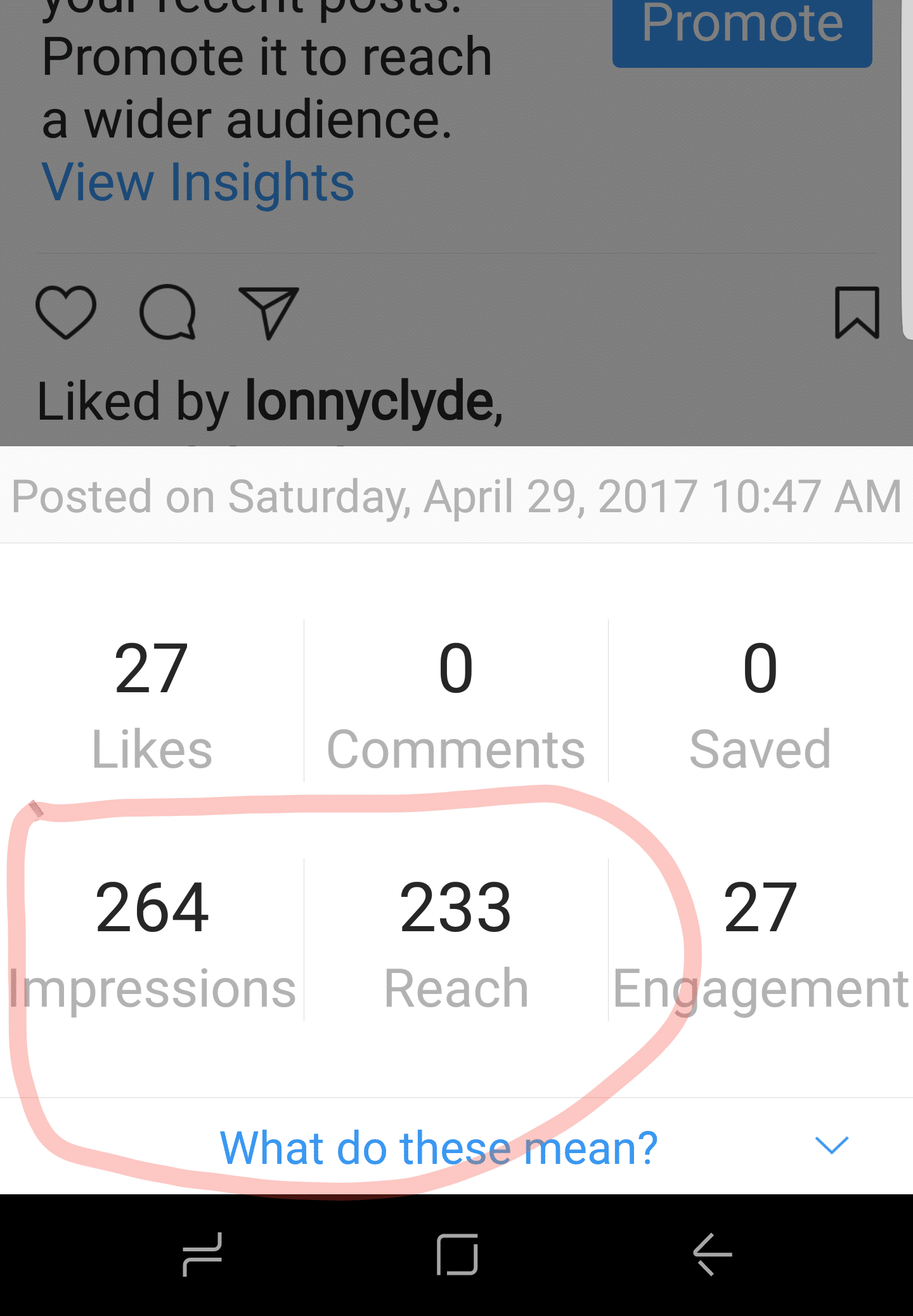 That's an 18% increase in Impressions and 28% increase in Reach. Not too shabby considering the strategy didn't cost me anything but my time.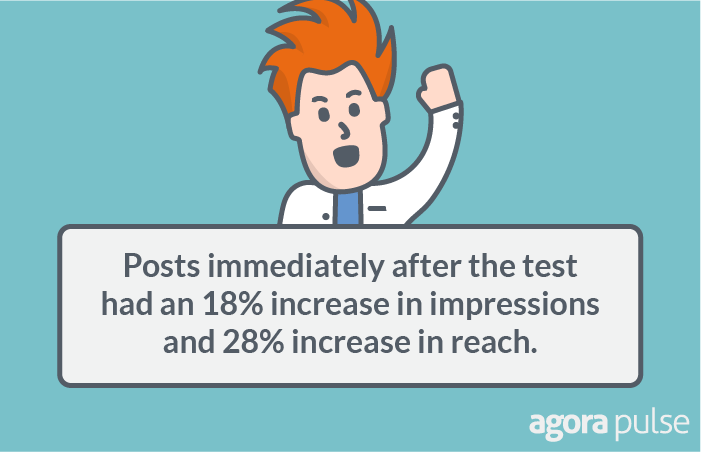 Conclusion — Is this a Viable Strategy to Gain Instagram Followers?
Yes and No.
Yes in the fact that it did produce positive results — not as many as it originally claimed, however.
And yes that all this legwork was done instead of signing up for one of those automated tools out there that claim to do this for you. Given these tools store your login credentials, and its automation could violate Instagram's Terms of Service, you could lose your Instagram account..
(I won't link to any of those tools as I don't want to endorse them and they weren't part of this test.)
But I'd have to give a No for the fact that it takes a lot of time to accomplish.
If you're also trying to run a business or other social media accounts this would be tough to do. And it was for me honestly.
The "follow for follow" mindset and strategy aren't always true as many may never look to see who just followed them. But for those that do tap to see who you are, it is a good idea to have your profile filled out as mentioned and have plenty of posts and be currently active.
In the end, while this strategy didn't give me 100 new followers every day, it did drastically increase my Instagram followers and increased the engagement along with that.
And I've already had a couple of messages and comments inquiring about renting inflatables so it could quickly result in sales — which is ultimately why I have the account anyway!
I'd recommend giving this a try, but maybe not to the full scale I did due to time. Maybe find 20-30 people/pages to follow that are either local to your brand or a competitor and then follow their followers. Dedicate 20 minutes per day to it and see what happens.
Don't miss an experiment!
New experiments and exclusive content straight to your inbox