The last few years have involved a lot of time at home. But I doubt you were bored enough to sit and read the Instagram rules. Have you ever read the Instagram terms and conditions?
Instagram has some strict rules and if you break them, you can have your page, your ad account or both, suspended.
Let's look at the Instagram rules you need to know about.
1. Only Use a Trusted Third-Party Posting App
Let's start with the basics. If you're using a third-party tool to post to Instagram, then it needs to be a trusted one. And by trusted, I mean an official Instagram partner tool or app.
You can use an official Instagram partner like Agorapulse to manage your Instagram business profile and schedule, queue, and publish directly. While you can now publish directly to business profiles following these steps, there are still some notable restrictions in Instagram's terms and conditions.
So that's it right? Not quite. There are other apps you might unwittingly be using that break Instagram rules. Remember, if you're caught it could mean a ban for your brand.
Don't use apps that offer likes and followers. None of these services are affiliated with or endorsed by Instagram, and you shouldn't use these apps or let anyone else access your Instagram account. Using an app that generates inauthentic activity (likes, comments, and shares) can at best result in those comments and likes being removed. At worst, it can be a ban.
Only use a certified Instagram partner like Agorapulse and keep your profile safe!
After all, you don't want to get banned from Instagram for using a rule-breaking partner. (Much better to choose a trusted certified Instagram partner while you implement a picture-perfect Instagram strategy.)
2. Don't Use Banned Hashtags
Not all hashtags are created equal. Using one of Instagram's banned hashtags can land you in hot water, and ignorance is not an excuse.
Instagram has a list of banned hashtags that they don't want people to be using on their platform. If you use those hashtags in a caption for a post, Instagram will restrict that post and it won't be shown in your followers' feeds. They are also not searchable, even if you think they are!
Usually, hashtags are on the banned list because they are associated with unwanted content. For example, drugs, pornography or trophy hunting. They are usually known for violating Instagram's Community Guidelines. But some of the banned hashtags might surprise you. The banned list also includes hashtags like #besties #bikinibody #kissing #singlelife #teens #parties #petite #pornfood #prettygirl #pushups and many more.
An easy way to see if a hashtag is banned is to search for it. If you search for #curvygirls for example, it does not appear in the list below. (other dubious variations do however!)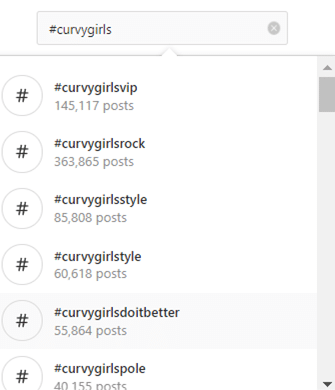 Don't get shadowbanned
Research the hashtags you use carefully, make sure that they are relevant for your audience, and don't have a secret, urban dictionary, or emoji meaning you didn't know about. If you repeatedly use them, you could get shadowbanned.
Shadowbanning is where accounts, posts, or hashtags get blocked without the user's knowledge. When users get shadowbanned, their posts and accounts become invisible to users who don't follow them. Sometimes, even their followers don't see their posts.
Tip: Instagram doesn't publish a list of banned hashtags, and they do change a lot. If you have created a bank of hashtags for your brand, then search each of them to see if they are banned or not. If they are banned, remove them from your list.
Additionally, it's a good idea to have different sets of hashtags to match different posts. Constantly using the same 20 hashtags could indicate to Instagram that you're a bot or a fake account

3. Don't Behave Like a Bot
Instagram favors real human posters, and it can detect bot like activity on the platform. You may not be using bots, but you might be behaving like one!
Behaviors like these can cause issues for your account:
Following and unfollowing over 60 people an hour
Liking more than 300 posts an hour
Posting over 60 comments an hour
Posting the same comment on multiple posts
Using images that violate copyright infringement rules
Repeatedly tagging people who shouldn't be tagged in your posts
Sending unsolicited sales messages to non-fans
Uploading poor quality, pixelated images or videos
If you're a new Instagram user, your total action limit is 500 a day. This includes like, comment, follow, and unfollow. Also, you can send 20 to 50 direct messages a day.
Basically, be a good community member. These rules are much the same on all the main social media platforms, so if you're doing any of these activities, now is the time to stop. (Really, stop it!)
4. Beware of Spreading Misinformation
This is a tricky one and an issue that's controversial right now. Fact checkers or thought police? Why can't you say what you really think?
The truth is Instagram probably isn't the place for controversial debates. And if it is, don't use your brand page to do it. Less censored networks like Telegram are alternatives for real and honest debates.
Instagram says this about spreading misinformation:

If you do fall on the wrong side of misinformation, you may be restricted in one of the following ways:
Instagram users may not be able to tag or mention an account that has repeatedly shared false information.
If someone tries to follow one of your flagged accounts, they'll see a warning letting them know that the account has previously posted false information.
Instagram can also make posts by accounts that repeatedly share false information harder to find.
And finally, the ultimate social media killer. Instagram disables accounts that go against Community Guidelines.
The bottom line is, if they deem you to be spreading misinformation, they will take action. Again, this is not any different to the other main social media accounts. Twitter will activate a 7 day ban for misinformation by users.
5. Don't Break Instagram Content Rules
Running an Instagram promotion or contest is a great way to get new followers, engage your existing followers, and promote your brand. But before you jump in, make sure you are playing by the rules.
You are fully responsible for the way the contest is run and for compliance with any government rules in your region as well as regulations related to any prizes you give away.
So, if you make craft beer and you are running an exclusive contest, it's up to you to make sure all contestants are of legal drinking age and that the contest doesn't break any rules. Instagram squarely puts all the responsibility at your doorstep.
@alleykatbeer does everything right with their contest: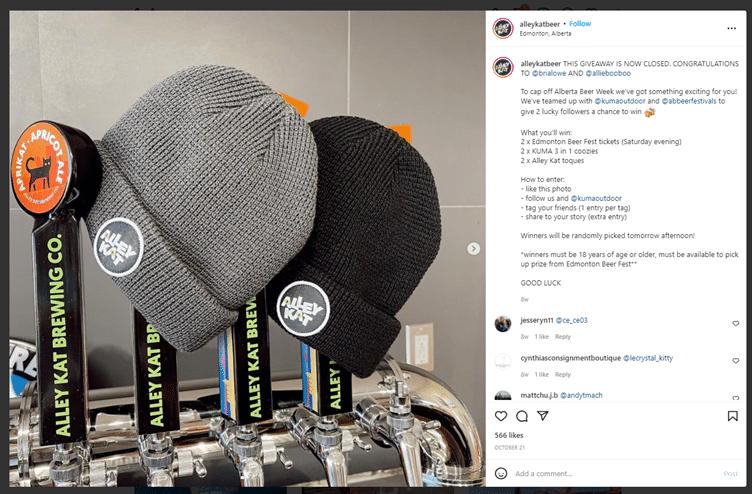 Here are the main rules and best practices for running a contest on Instagram. Take a deep breath!
Instagram's Promotion Guidelines state that you must not inaccurately tag content or encourage users to inaccurately tag content. (For example, don't encourage people to tag themselves in photos if they aren't in the photo.)
You need a working and mobile-optimized landing page for your contest. This should match the ad and not take users elsewhere.
State any brands hosting the contest or giveaway.
Acknowledge that Instagram isn't associated with your giveaway.
Include prize details and any limitations or exclusions.
Obtain permission before you announce the winner's details on your page.
Include the start and end date or your contest.
Disclose when and how winners will be selected.
Announce when prizes will be awarded.
Contact all winning entrants via a private message.
Plus, there are these marketing best practices:
Don't ignore comments. If someone's taken the time to interact with you, engage with them! You can monitor comments (even those on ads) via your Agorapulse dashboard.
Come up with a posting schedule. If your Instagram account is there to help grow your brand, you need a solid posting plan to maximize ROI. You also need some KPIs. But you know that already!
Maximize ROI. Maximize the ROI of your contest by sharing the winner's photo (with permission) and asking the audience to suggest your next contest.
6. Understand Instagram's Forbidden Content
Before we get into the specific advertising rules, let's do a recap on forbidden content. This content should not be included in posts, ads, images, videos or anywhere else on the platform:
Buying and selling of firearms
Buying and selling alcohol
Online gambling
Sexual content
Hate speech
Buying and selling tobacco
Any illegal prescription drugs (even if legal in your region)
Sale of live animals
Financial products that promise wealth or gains
Blackmailing or harassing someone
Threats of physical harm, financial harm, or vandalism
Discussions about self-harm
Promotion of eating disorders or excess dieting
Images or videos that portray unrealistic physical appearances
Videos or images that depict violence
If you do post any of these, this is what you'll probably end up with: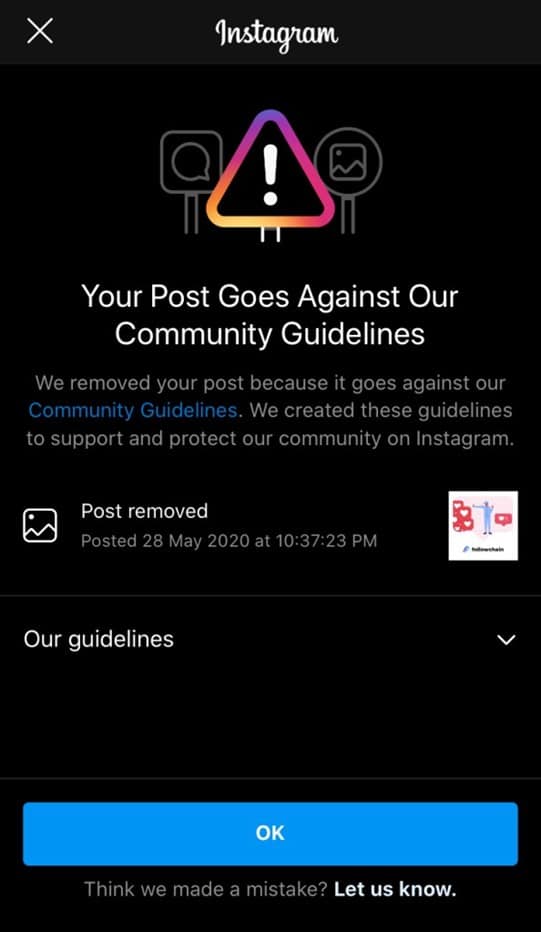 Of course, social media managers know that Instagram (and Facebook) often do make mistakes when they flag content! I've had images of actual Contentworks Agency team members flagged as portraying unrealistic body images (yay,us!). I've also had content removed for discussing financial education with zero sales or CTA included.
Other factors that may weigh into how strict Instagram get with you include:
The age of your Instagram account
The number of followers you have
Your account's engagement
Your account's activity
Arguing your point can be both frustrating and fruitless, so it's better to eliminate any chance of your post being flagged before it goes live. Remember, the content rules apply to images too so don't think you can sidestep the rules with illicit images and clean text!
7. Know Instagram's Advertising Rules
So, we've talked about forbidden content. Let's take it one step further and discuss forbidden advertising practices.
You must not discriminate or encourage discrimination against people based on personal attributes such as race, ethnicity, color, national origin, religion, age, sex, sexual orientation, gender identity, family status, disability, or medical or genetic condition
Health Information Ads must not request health information, including physical health, mental health, medical treatments, medical conditions, or disabilities.
Similarly, advertisers must not create Lead Ads questions to request account numbers, including frequent flyer numbers, loyalty card numbers, or cable or telephone account numbers without prior permission.
You cannot ask about criminal or arrest history without Instagram's prior permission. Lead ad form fields inquiring whether a person has been charged with or convicted of a crime are non-compliant.
You must not request financial information, including bank account numbers, bank routing numbers, credit or debit card numbers, credit scores, income, net worth, or how much debt someone has.
You must not use targeting options to discriminate against, harass, provoke, or disparage users or to engage in predatory advertising practices.
And that definitely goes for elections. When it comes to election advertising, special permissions must be sought well in advance and user identity verified.
Display your rules clearly, for example a landing page or pinned note that links to your contest
Text in the ad image should not be more than 20%. You can use grid tools like those available on Canva to help you
With Instagram Checkout, you can sell your products directly on the platform. Great news, providing you adhere to content and image guidelines and your products are not prohibited. Learn more about Checkout and its rules.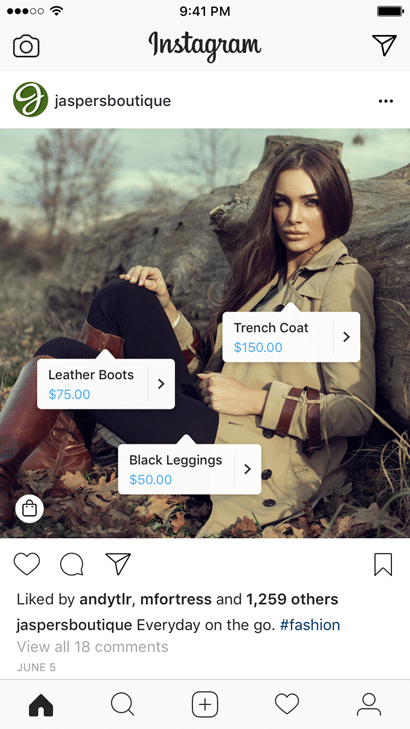 8. Share Other People's Content Correctly
It's social media. Of course you can share other people's content. Right? Well, kinda. Let's look at what you can and can't do. Typically, if you create an original work, you have a copyright from the moment you create it. As a copyright owner, you have certain rights under the law. These include the right to stop others from copying or distributing your work, or from creating new works based on your work. Copyright infringement generally occurs when a person engages in one of these activities without the copyright owner's permission.
Copyright covers a wide variety of types of works, including:
Visual or audiovisual works: Videos, movies, TV shows and broadcasts, video games, paintings, photographs
Audio works: Songs, musical compositions, sound recordings, spoken word recordings
Written works: Books, plays, manuscripts, articles, musical scores
If someone posts their work or photo to Instagram, you are of course welcome to comment, like and share the post on the platform. It's good practice to tag them when you do so.
It's not OK to:
Download and upload the photo as your own.
Copy photos from Google without licensing.
Take credit for someone else's writing or video.
Pretend that the product in the photo is yours if it isn't.
Use someone's soundtrack without obtaining the rights.
Before you post content on Instagram, you may want to ask:
Did I create all the content myself?
Do I have permission to use all the content included in my post?
Does my use of the content fall within an exception to copyright infringement?
The lawsuit against automaker Volvo over an Instagram story is well worth reading. It highlights social media content licensing and rights, especially when it comes to sharing or reposting "public" content. The suit, brought by a photographer and the model he photographed, accuse Volvo of copyright violation, unfair competition, false endorsement, and misappropriation of the model's likeness.
In Conclusion
If you're posting to Instagram for your brand or as an agency for multiple brands, it's worth knowing the key rules of the game. Prevention is better than the cure especially when it comes to blocked ad accounts!
Check out our free trial of Agorapulse to help you schedule, track, and measure all your social media efforts.