Facebook is providing tools to target your ideal customer through advertising at a breakneck speed. Marketers are able to target on Facebook like nowhere else because of the combination of these tools and the insane amount of user data available to them.
The problem: Most marketers are in the dark.
If you start a conversation with the typical marketer about Facebook advertising, that person is undoubtedly bound to focus on the following things:
o
As a result, they're bound to have a tepid reaction to Facebook advertising in general.
The truth is that a goldmine is buried that a small percentage of marketers are accessing. This goldmine is available to everyone, but most are simply ignoring it.
Your first step is to use Power Editor, a free bulk editing browser plugin. And then, make use of the following tools…
Custom Audiences
Did you know that you can target your customer list (email addresses, phone numbers or Facebook UIDs) with Facebook ads? Facebook matches up this data (email addresses, for example) with Facebook users and surfaces them ads.
They don't need to be your Facebook Fans.
It should be clear how powerful this can be. You have a list of people who have proven to buy from you. Show them ads of new products and special deals. Use these ads in addition to the email marketing they are already receiving from you.
And if your list is really well segmented, you can create ads that are relevant to their prior purchases. Maybe they purchased version 1.0 of your product two years ago. Create ads that target them when you are releasing version 2.0.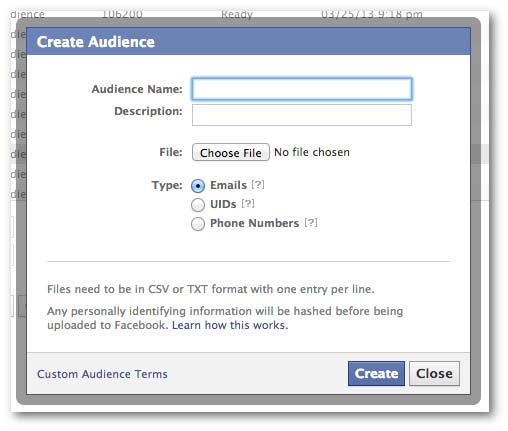 The successful brands are doing this. The big brands definitely are. And there's no reason you shouldn't be, too.
Lookalike Audiences
Okay, so there's one potential problem with Custom Audiences. If you don't have a large list, it's not going to benefit you much.
Since people often use different email addresses when subscribing for content than they do for filling out their Facebook profiles, not every customer on your list will match up to a Facebook user. I typically see somewhere between 30-50%.
So if you have an email list of even 5,000, we're looking at something around 2,000 people you can target. That may be great for a while, but you'll very quickly exhaust that list.
That's where Lookalike Audiences come in.
After creating a Custom Audience, you can create a Lookalike Audience related to it. Facebook finds users similar to those users to create a new list for you to target.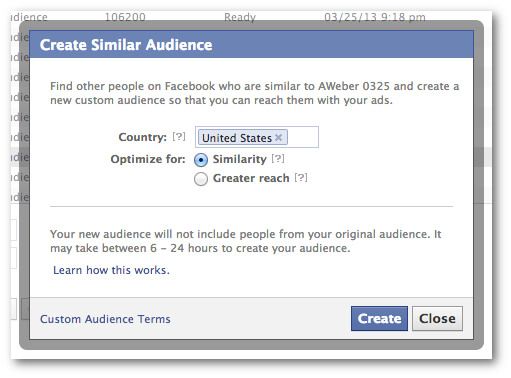 You can generate lists with the goal of greatest similarity (top 1%) or Reach (top 5%). This allows you to expand your Custom Audience list from only a few hundred or few thousand to up to hundreds of thousands or more.
Partner Categories
This is a new feature, and one that may have the most potential.
Facebook partnered with Acxiom, Datalogix and Epsilon to create Partner Categories. These partners are able to generate categories of users based on purchase history and other behaviors performed away from Facebook.
There are more than 500 Partner Categories right now, and Facebook will continue to add more. Examples include:
o
Automobile Purchase Details (age, size, type, make, cost)
o
o
o
Lifestyle Characteristics
The possibilities for this are incredible. Before Custom Audiences, Facebook ad targeting was limited to the information that people share about themselves on Facebook. But now Facebook can match up info on users related to very specific buying behaviors to help target your ultimate customer.
Here's an example…
Let's say you own a Honda dealership in Denver, CO. You can target Facebook users who…
o
Own a Honda Accord
o
Bought that Honda Accord five years ago
o
Spent more than $25,000 on that Accord
You can then target users who live within 25 miles of your dealership.
Conversion Tracking
You can't measure ROI with your Facebook advertising efforts, right? WRONG!
Advertisers can put a pixel (snippet of code) between the HEAD tags of a success page on their website to track things like…
o
o
o
o
o
Other Website Conversions
Then when you monitor the performance of your ad in the Ad Manager, the "Actions" that Facebook tracks will be specifically related to conversions.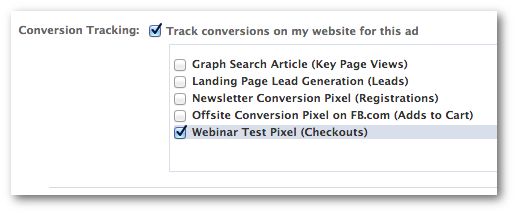 No more guessing how many sales or leads you generated from a Facebook advertising campaign. Now you'll know!
Domain Sponsored Stories
So very few marketers know about this simple ad unit that can be a big boost to publishers and any website owner that gets a relatively large amount of traffic.
Domain Sponsored Stories allow publishers to claim their websites by placing a code snippet within their domain. Advertisers can then promote any sharing of pages from that website by Facebook users and brands.
Why is this great? Because the connection a user has with a friend, someone they follow or a Page they like is far greater than the connection they have with a Page they do not know.
So when Friend X shares a post from my website, that action can be turned into an ad. Not an ad promoting their interaction with my Page, but their actual sharing of the link to my website.
Admittedly, this can be a bit confusing for the end user. It often isn't clear whether the user promoted this action or if it was promoted by the domain owner.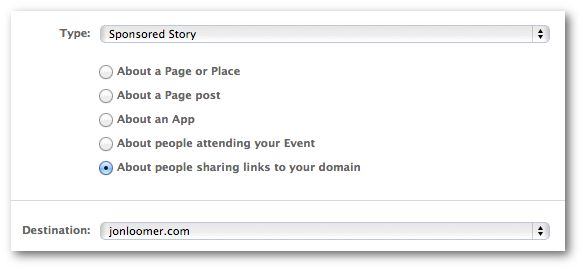 But they are extremely successful. Many have seen CTR upwards of 5-10% and cost per link click in the neighborhood of 10-15%.
Are You a Serious Facebook Marketer? Prove It!
So, do you use the tools described in this post? This is how you separate yourself from the other marketers. This is how you create truly efficient ad campaigns that provide ROI.
Anything that you'd add to this list? Let us know in the comments below!
This article has been written by Jon Loomer. Jon is an awesome Facebook Marketing coach delivering unique and actionable Facebook marketing tips on his blog. Don't miss his Blog and Newsletter: www.jonloomer.com