Happy, successful clients are great for business. Whether you're a marketing agency, SaaS, or service provider, you need to understand and monitor client sentiment. But what are account health scorecards, what do they monitor? And why do you need them?
What Is an Account Health Score?
Put simply, an account health score is a way of scoring your subscribed or retained client accounts.
The actual scoring and metrics will vary based on your sector and product. However, they aim to achieve the same outcome: to track whether customers are happy, achieve their KPIs, and likely to grow or renew. Further, you can track whether clients are ambassadors for your brand.
The idea is to catch problems before they occur and reduce churn.
Businesses employ these measures because churn is expensive. In fact, acquiring a new customer can cost five times more than retaining an existing customer. Likewise, increasing customer retention by 5% can increase profits from 25-95%. You can also upsell to existing clients with a 60-70% success rate. The success rate of selling to a new customer is 5-20%.
Account Health Score Metrics
Each organization will have its own metrics to watch. Some might be tangible account stats. Others will be sentiment-based.
What to monitor for an account health scorecard
Here are some common account health metrics to be monitoring:
Deals & Renewals—Tracking the customer's spend from the start is a good indication of account health. Is the spend consistent, rising or decreasing?
KPIs & Client Success—Understanding clients' KPIs and following their progress can be key to long-term success and account retention. A client hitting or exceeding KPIs will stay retained.
Referrals—If you have a referral scheme set up, you can track referrals from existing client accounts. A client account referring your brand would be considered extremely healthy.
Overall Product Usage—SaaS companies are often able to track product usage metrics. Agorapulse, for example, can see that I utilize all its features daily for our agency clients. (I'm not going anywhere!)
Training & Support—Are you tracking support sessions for your accounts? Training and support, when properly logged, are good indicators of account health. Ending a support session by checking in on customer happiness is a great idea. Did support resolve your problem? Are you happy with the products and services? Do you have any feedback? Those questions can be automated at the end of a support call or chat.
Complaints & Problem Resolution—Customer complaints and how you manage them are good indicators of account health. An account that frequently complains and leaves with unresolved complaints is at risk. On a traffic light system, they would be yellow, waiting to tip over to red.
Survey Results—Monthly or quarterly surveys are an excellent way to monitor account health. Keep them simple with key questions to ensure you get a good uptake. By using tangible scoring methods, you can track a client's happiness over time. For example: On a scale of 1–10 (10 being the happiest) how happy are you with our services?
Product Feedback—If you launch a beta product, product updates or a new service, it can be valuable to check in with your retained users and subscribers. Catching product complaints early can prevent a client from becoming unhappy and leaving.
Invoice & Payment History—This is one of my favorite metrics for understanding the wellness of a client account. Remember that clients don't always leave because they are unhappy. Sometimes, the reason is financial or, in other words, a lack of funds. Invoices paid late or unpaid can point to bigger problems that you need to uncover before it's too late. This is especially true if the account used to pay on time.
Email Open Rate—Do your clients open emails you send them? Do they click through to learn about new products or company news? If they do, they're likely to have a health scorecard. Clients who delete your emails without opening them might not be so healthy.
Future Speak—Is your client making plans with your company? "Future speak" includes discussions about how they want to expand using your products or services. Or an interest in sharing their future with you.
Social Media Interaction—You can link your clients' social media accounts to your CRM or monitor them via your Agorapulse dashboard. An account that frequently interacts with you or talks about you positively is a healthy one.

What Can You Do With Scorecard Results?
The key is to monitor areas pivotal to client success, so you can swoop in and retain that client account if it looks to be in danger. You can also reward and incentivize clients and upsell to them.
Here's what you can do when you have your scorecard results:
Book a Checkup. Your account health scorecard allows you to see whether a client is happy, using your services and paying their invoices. If one or more of these is not happening, you might want to book in a Zoom session to see how your client is doing. Keep your session friendly and interactive, and leave time for the client to discuss any issues with you.
Product Feedback. If you see a pattern of unhappy clients reacting to a product update or new release, then this is an opportunity to feedback to your development team.
Identify Patterns: Account health scorecards help you to understand your own progress as an organization. Are you retaining clients? If not, why not? You can also begin to identify patterns and lifecycles. If you see that clients are dropping off after one year, you can take care to hand-hold accounts approaching that mark.
Create an Account Health Scorecard
Developing a meaningful account health scorecard will require input from all your departments. It will also be unique to your organization, products, services, and customer journeys.
Here are a few ways you can monitor account health:
Utilize an intuitive CRM that pulls together all customer interactions, sales, and social media interactions.
Ensure all account communication is stored in the same place. This will provide a better snapshot of an account's health.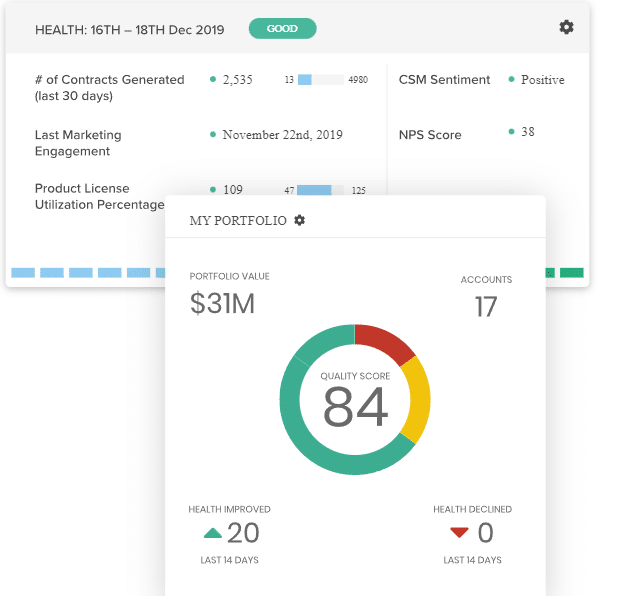 Screenshot taken from Totango
Client success is your success, so an account health scorecard can be key to your growth and product development. Do you use any of these scoring practices in your organization?
Check out our free trial of Agorapulse to help you schedule, track, and measure all your social media efforts.