Likes, shares, and comments are the cotton candy of social media marketing. Fluffy, sweet, and somewhat nostalgic. But are they good for your brand if you use them all the time? Would it be healthier for your bottom-line revenue if you spent less time and budget on vanity metrics and more on driving real ROI revenue?
Let's talk about saying goodbye to vanity metrics and focusing on meaningful analytics.
Webinar: Say Goodbye to Social Media Vanity Metrics!
Want to take a deeper dive to transform your social media for your stakeholders and revenue teams? Check out this free webinar featuring Agorapulse CMO Darryl Praill, Jack Kosakowski, and James Gilbert. You'll discover how to:
Which metrics matter to your stakeholders, and why
The right way to add measurable business goals
How to build a data-driven social media workflow
The anatomy of an ROI-driven report
A Short History of Vanity Metrics
Vanity metrics are stats that look amazing but don't necessarily translate to any meaningful ROI. For example, say your Facebook post got 1,000 likes and 40 comments because you spent $20 boosting it. But you didn't get any business from it. Sure, those numbers can make you happy, but it's an empty sort of happy.
However, most social media managers use vanity metrics (including me). Let's take a walk down memory lane and look at why we use vanity metrics.
Circa 2013/2014. Facebook updated its algorithm, and page managers were left crying at the dwindling engagement. Previously an organic rate of around 16% in 2012. Fast forward to 2023, and the organic engagement for Facebook pages is just 0.08%. And it isn't just Facebook. Instagram has an average engagement rate of 0.96% and Twitter 0.037%. As platforms tweaked their algorithms, more businesses joined the platforms, social media users grew weary of engaging with everything. The term "scroll stopping" entered the frame to describe the wow factor needed to get users to stop and engage.
Ads platforms seemed complex and often required more budget and time to run. So what did social media managers do?
Enter boosted posts. Boosted posts are basic ads you create from existing posts on your social media profiles. Facebook, Instagram, LinkedIn, and Twitter all have a boost functionality. The platforms claim that boosting a post can help you get more messages, leads or calls. And look at that LinkedIn sweetener: "up to 17,000 more impressions by this post."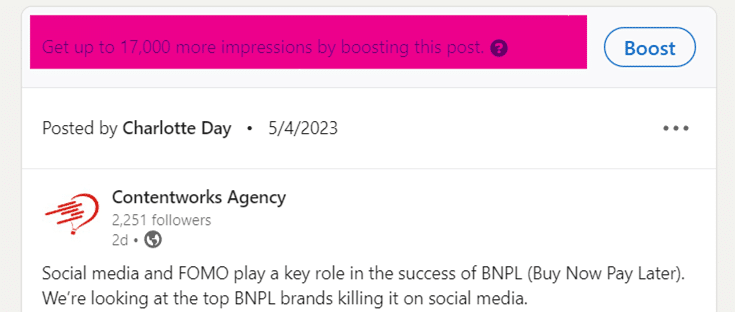 Marketers know that posts with no likes and comments don't look good to visitors or shareholders. Especially when we are competing with brands who use all kinds of vanity likes to look popular. Ever noticed posts with loads of comments asking about the product or placing good reviews? These are paid and count as vanity metrics.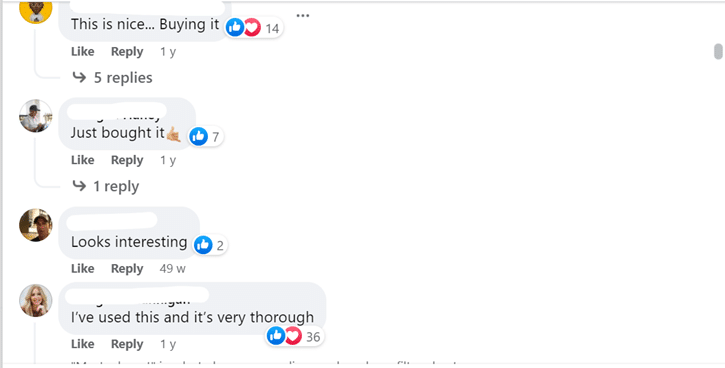 Marketers have long relied on vanity metrics in their social media marketing but are they delivering real world results? And by "real world," I mean money. The pressure is on, and we trudge forward into a recession. Remember your favorite social media heavy companies like Buzzfeed and Vice? Many of them are filing for bankruptcy or announcing layoffs. Let's take a closer look at spending budget on vanity metrics. That's why we all need to focus on the social media metrics that make a difference, especially for ROI.
Related: Measure Your Social Media ROI, Not Just Vanity Metrics
Why the Focus on Vanity Metrics Should Change
Are we saying that engagement doesn't matter? Not at all. Organic engagement shows that you're connecting with your audience, improving your brand awareness score, and increasing traffic to your shopping site or blog.
I also agree with Jack's comments at the 26-minute mark in the vanity metrics webinar. Jack states that social media managers with only a few post likes won't even get to have a conversation with stakeholders. They will see the meager likes, and you're dead in the water right there. You won't even be able to have a bigger conversation. The emphasis here is on expanding past vanity metrics and directing your budget and focus to meaningful social media ROI.
You know those annoying health influencers who suggest you swap your favorite chocolate bar for a handful of lettuce? We won't do that.
But let's suggest some meaningful metrics to swap out in place of the reasons for vanity metrics.
1. Feeling undervalued as a social media manager
Social media marketers are under increasing pressure to show results. This is combined with stakeholders not always taking social media managers seriously or doubting their impact. There's no wonder then that social media managers turn to vanity metrics to prove their worth and showcase success. But stakeholders only really care about dollar ROI and how much revenue your social media activities generate. This can lead to some serious headbutting where nobody really wins in the end.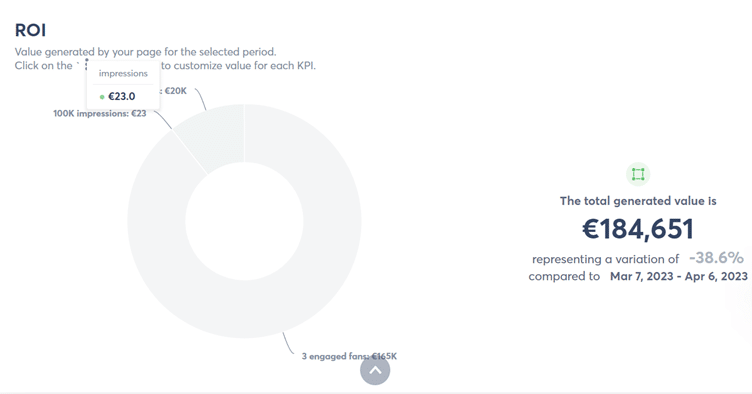 Swap for adding real ROI and proving it
Instead of butting heads with stakeholders, connect your social media channels with your Google analytics inside Agorapulse. That way, you can track your leads, prove actual ROI and secure the respect you deserve as a social media expert.
2. Getting a high bounce rate on your website
There is a known correlation between a high bounce rate on your site and social media boosting. So, the act of seeking vanity likes on a social media post might be detrimental to your site stats. That's because post boosts are not hugely targeted and end up dropping users on your site who won't buy, signup or even read your article. They will exit quickly and cause high bounce rates. This is something we have experienced at Contentworks Agency with bounce rates up to 90% for boosted posts.

High bounce rates (when calculated correctly) are often symptomatic of deeper problems like user experience issues, slow loading sites or poor social media targeting.
Swap it for better targeted site traffic
Targeted ads take longer to set up than a quick boost. I get that. I also get that as social media managers, we often fixate on achieving vanity metrics (likes and comments) and the rest of the funnel isn't really our concern. The problem is, it's becoming our concern as stakeholders are increasingly focused on ROI. Instead of causing high bounce rates with casual boosts, take the time to set up your Ads accounts. Targeted, tracked paid campaigns can be viewed within Agorapulse. And you can add your Facebook ads account!

By clicking on each metric, you can take a deep dive into your goal completions and post ROI. This can all be pulled into gorgeous social media reports.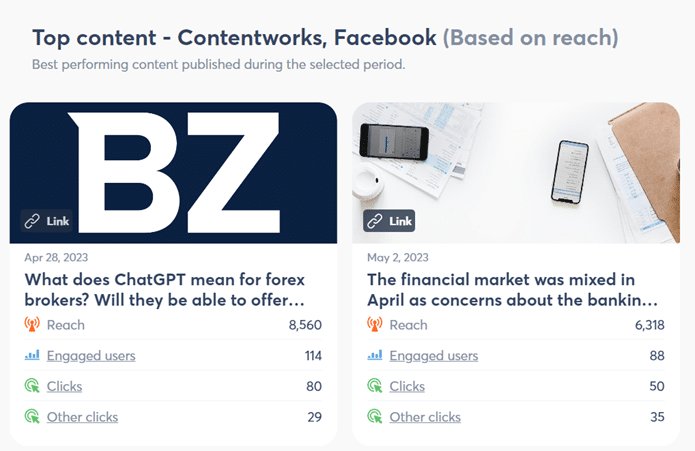 Learn how to set up goals and conversions in Agorapulse.
3. Taking misguided directions on strategy
Here's one of the biggest problems with vanity metrics. They can lead your brand to make the wrong decisions on content, creatives, and channels. This is especially true if you only focus on vanity metrics because these can skew your metrics and lead to misguided strategy decisions. For example, the post below has 2 likes. Unimpressive right? Let's not bother with this kind of content again …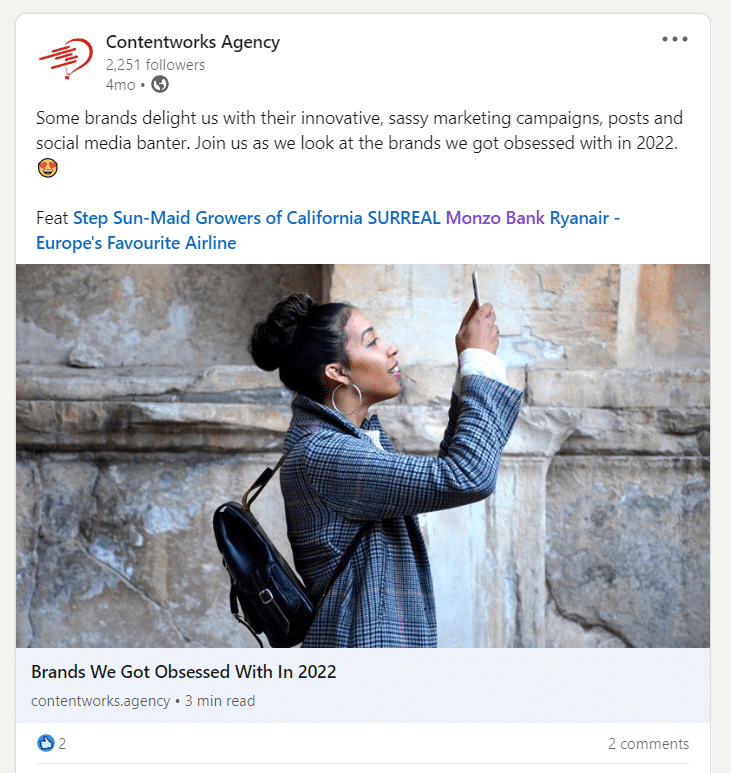 But wait! Dig deeper into the stats and the post had 248 click throughs which later resulted in 2 leads.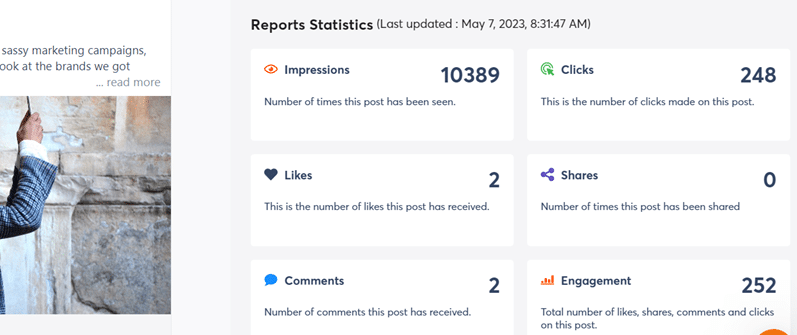 Swap it for solid insights that power your strategy
The great thing about an Agorapulse report is that you can include all your social media metrics to get an accurate picture. You can pull accurate reports in minutes and compare timeframes, campaigns, ROI metrics, and vanity metrics.
Looking at the bigger picture will help you to understand what's working and strategize accordingly.
4. Panic boosting low-value content
I can recall many instances of CMOs throwing low quality infographics or even Power Point presentations and telling me to put them on social media. So, I did it and then what? It didn't get any traction, so I boosted it to anyone and everyone to get some vanity metrics. The result is that this horrible content got tons of likes with absolutely no ROI. And likes that weren't in the target region or demographic we even wanted. Low value content is also a brand killer which turns off potential customers and leaves you in a vacuum where you must boost everything to get noticed.
Swap it for amazing content
Amazing content takes time and strategic expertise to produce. It's different for each channel and one size doesn't fit all. That's why smart brands hire expert content marketing agencies to strategize, create and manage content to fit each channel. Excellent content will garner real organic ROI and can feed into your paid funnels too.
Questions to Ask Yourself About Vanity Metrics
It's important to be realistic about what our social media analytics really mean. Not what we want them to mean but what they actually mean in terms of ROI.
Do these metrics correlate to changes in revenue? They look great but are they impacting the bottom line of your company? This is largely what stakeholders want to know.
Why are these metrics behaving the way they are? What causes spikes and dips in your metrics? Agorapulse will help you to understand user behavior, popular posting times and organic vs paid results. As an agency delivering monthly social media reports to clients, this is something we must be able to explain.
Which channels are driving your dollar ROI? The webinar talks about channels and distribution and how it's important to understand how everything interconnects. By tracking your content, spend, analytics and ROI you can follow the funnel from start to finish. This helps to lead decisions on budget, strategy and resource allocation.
Is your influencer marketing providing value? It looks great, gives you tons of social media kudos and plenty of engagement. But are you getting any bang for your buck with influencer marketing? If you want brand awareness, look at reach, sentiment, traffic and engagement but be realistic about dollar ROI.
Can I prove the ROI for my social media? I appreciate the importance of non-dollar ROI (brand awareness, reach, impressions) and with Agorapulse you can prove all of it!
Does all your content have to produce ROI? I would argue no. At Contentworks Agency, we keep our TikTok channel for non-promotional silliness like our latest video here. It's on brand, reflects our agency personalities and generates great engagement. Did we get any leads from it? Not directly. But we like to show what we can do. And have a little fun at the same time.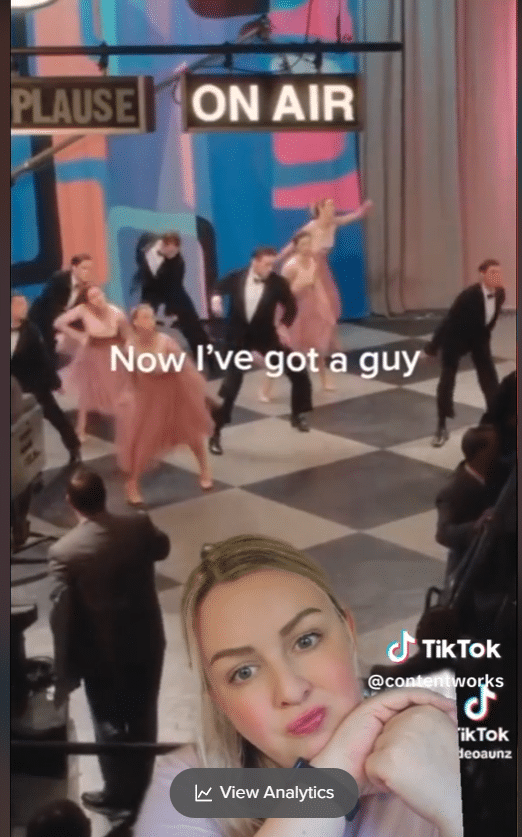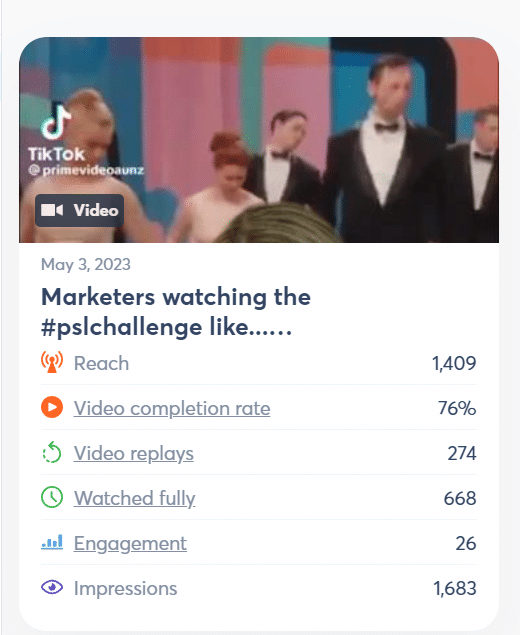 My take on vanity metrics is that they do matter to a point, but should be combined with solid strategy, focused spending and a good grasp of ROI and analytics. Will I still boost posts? Yes, but I am more strategic than I used to be.
Sign up now for a FREE demo and go beyond vanity metrics!